These big and soft, old-fashioned molasses cookies are both delicious and easy. These cookies bake up nice and thick, are wonderfully soft and chewy and with just the right amount of warm spices.
If you are looking for a molasses cookies recipe like grandma made, look no further than these Old Fashioned Molasses Cookies! This vintage recipe produces thick, soft and chewy cookies, with all the wonderfully warming spices you want from a molasses cookie.
The combination of shortening and butter in this cookie dough is a "best of both worlds" combination. The shortening helps the cookies to bake up taller and more tender, while the butter provides the cookies with more flavour, that is often lacking in shortening-only cookies. The result is a soft cookie with a great chewy texture.
Jump to:
Key Ingredients
Molasses - I recommend a light molasses for these cookies, commonly known as "Fancy" molasses.. It's what I always use. A dark molasses such as "Cooking" molasses may work here and provide a stronger molasses flavour, if that's your preference, though I haven't tested this specific recipe with cooking molasses. Blackstrap molasses is not recommended as it is simply too strong in flavour for cookies.
Shortening and Butter - as noted above, using a combination of both solid vegetable shortening and softened butter, provides the benefit of both of these ingredients in baking. I highly recommend using this combination! That said, you can use all shortening or all butter in the same quantities, if you like. The texture/height of the cookies will change somewhat with this substitution, though it won't affect the deliciousness.
Butter - you can use either salted or unsalted butter for these cookies. The recipe specifies salted butter, but unsalted works fine. Simply add a pinch more salt if using unsalted.
Spices - Of all the spices, cloves is often the most contentious. Some like a lot, some like a little. Feel free to adjust the amount in these cookies up or down 1/4 tsp, to your taste. I'm not generally a clove lover, but I find the amount as written just right.
Step-by-Step Photos
Step 1: Place the room temperature butter, shortening and white sugar in bowl.
Step 2: Cream the mixture on medium speed until light and fluffy (about speed 4 or 5 on a Kitchenaid mixer for about 2 minutes).
Step 3: Add the molasses and egg.
Step 4: Beat mixture until smooth.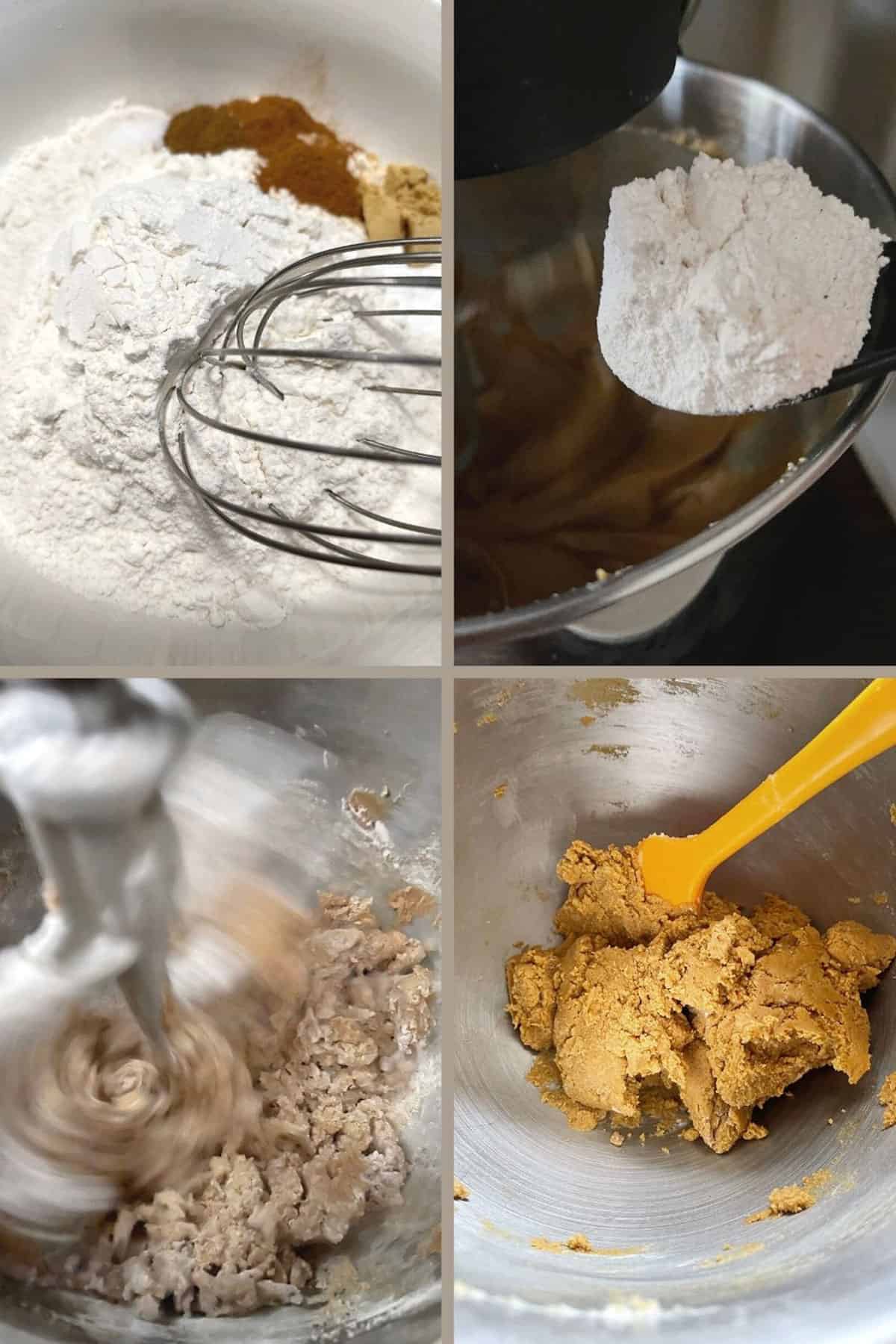 Step 5: Combine the flour, baking soda and spices in a bowl and whisk together well.
Step 6: With the mixer on low, spoon in the flour mixture.
Step 7: Mix on low speed to incorporate the flour, until the mixture comes together as a moist dough with no visible flour.
Step 8: Mix until the mixture comes together as a moist dough with no visible flour.
Step 9: Transfer the dough to a bowl, cover with plastic wrap and refrigerate at least 1 hour or up to 24 hours.
Step 10: Using a cookie scoop or a tablespoon measure, scoop off a piece of dough and roll into a ball about 1 1/2-inches in diameter (test the first one, then make the rest of them the same size).
Step 11: Roll the balls in white granulated sugar.
Step 12: Place cookies onto an un-greased baking sheet spaced about 3 inches apart and bake for 13-15 minutes.
Baker's Tips
Be sure to keep your cookies the same size, so they will bake evenly. You can use a scale if you like.
The baking time is for the size of cookies as specified (1 1/2-inches diameter). If you make smaller cookies, you'll want to adjust the baking time down accordingly.
Oven and baking pans vary from kitchen to kitchen, so the baking time in your oven may vary a minute or so one way or the other. To be sure you get perfect cookies, consider baking a "test cookie" for the recommended time, allow to cool and taste. The cookie should be soft (not crispy) and the inside of the cookie should be set and light. Adjust baking time for the rest of the cookies up or down slightly, as needed.
You'll want to remove the cookies from the baking sheet quite quickly after removing them from the oven (to prevent further cooking). That said, they are quite soft, so transfer carefully.
Top Tip
If you are a "spoon and level" flour measurer, you may want to set that practice aside for cookie making. My experience with baking cookies is that most cookie recipes are written for "scoop and level" flour measurers. I always go this way when making cookies. Alternately, skip the cups and just weigh the flour amount on a scale. It's perfect every time!
Storage and Freezing
These cookies will keep well in an air-tight container at room temperature for 7-10 days.
You can definitely freeze these cookies, as well. Simply transfer to a freezer container after they are completely cool and freeze up to 2 months.
How to measure vegetable shortening
You can spoon the shortening into a tablespoon measure and level it with a knife (a 1/4 cup equals 4 level tablespoons). You can also slice from a block with the measures on the edge of the box. That said, there is a super easy and less messy way to measure shortening! It's called the water displacement method.
Simply fill a liquid measuring cup with water to the 1/4 cup level. Add drops of shortening to the water, until the water level rises to the 1/2 cup level. That's 1/4 cup of shortening! Spoon the shortening out and shake off any excess water, then add o the bowl.
Cookie Troubleshooting
If cookies spread more than expected, are thin and crispy, your dough needs more flour.
If cookies don't flatten out enough from the ball shape, your dough has too much flour.
If your cookies are wet inside, they need to cook longer.
If your cookies are crisp, they need to cook less.
Recipe
More cookie recipes you might also enjoy ...
Save or share this recipe