Easy and delicious chicken souvlaki, served in a pita with lettuce and tomatoes and drizzled with tzatziki. A great grilled meal (or you can make in the oven, too!)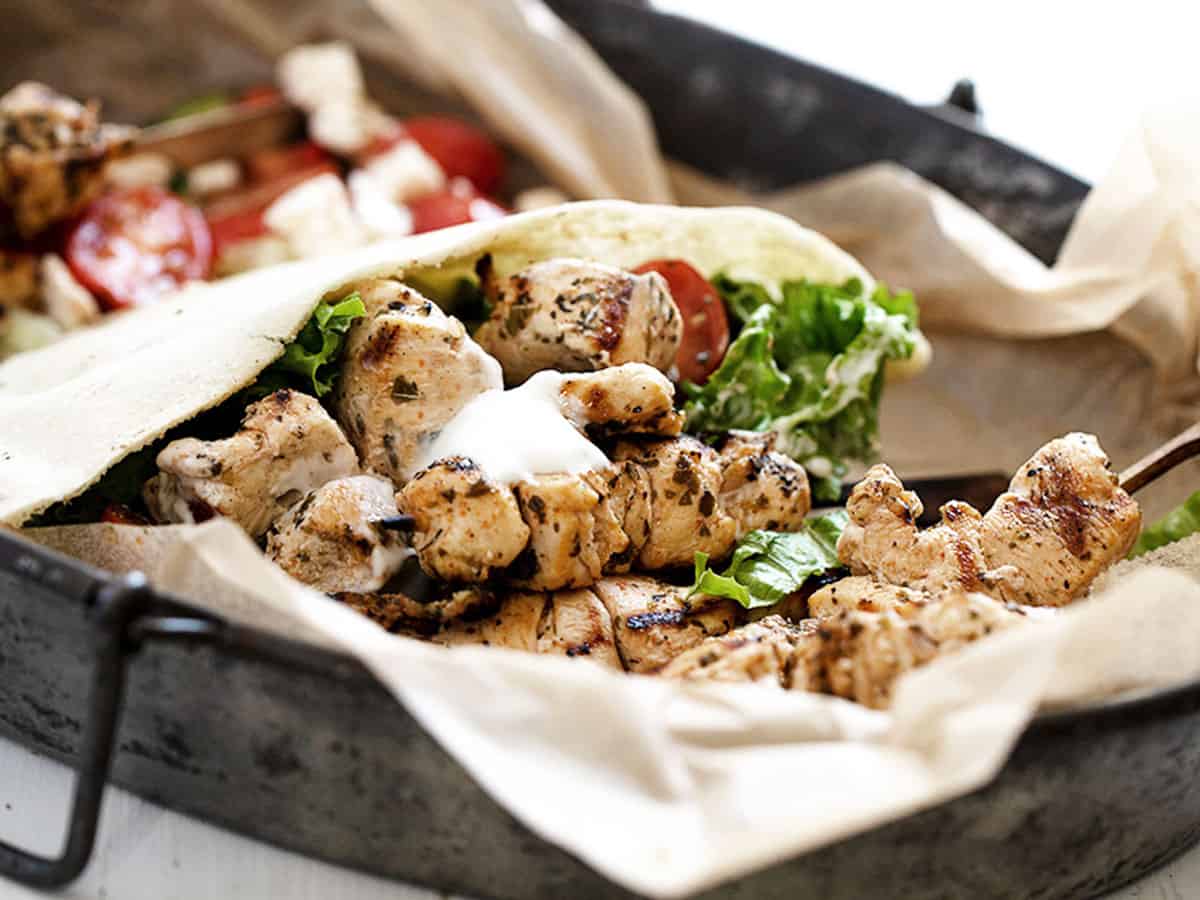 Last week I shared my recipe for Homemade Pita Bread, so this week, I'm sharing something to stuff them with! With BBQ season underway, this classic chicken souvlaki skewers are sure to become a staple. Simply set them to marinate as much ahead as you can, then grill and enjoy.
No pitas? No problem. Make a simple chicken souvlaki platter with an easy tomato salad and tzatziki.
Jump to:
Ingredients
Here are the ingredients you will need for these chicken souvlaki pitas ...
Boneless, skinless chicken breasts
Lemon juice - about 1 large lemon
Olive oil
Garlic cloves
Dried oregano leaves
Dried marjoram - or more oregano
Dried thyme leaves - optional
Dried basil leaves - optional
Paprika
Salt and freshly ground pepper
Pitas, with pockets
Lettuce, tomatoes and tzatziki - store-bought or easy recipe included in recipe card notes
Tips
When it comes to the marinade, the key herb for souvlaki is oregano. It's what gives souvlaki its distinctive flavour. The additional herbs are there to add a more complex flavour. Add as many of them as you have on hand, but don't stress it if you are missing one or two. The paprika is to simply add a little colour to the souvlaki really, so can be omitted as well, if you don't have on hand.
Soak your wooden skewers for at least 30 minutes before grilling, so they don't burn. If you forget (I forget a lot :), simply wrap the exposed ends in a bit of aluminum foil.
No grill? Cook these on a baking sheet in a 400F oven until cooked through. Pop under the broiler at the end to add a little colour.
Don't over-fill your skewers. Leave a tiny bit of space between the chicken pieces, so they will cook through quickly and evenly.
I like a lemon-y souvlaki marinade. If you find it a bit too much lemon for your taste, just scale it back a 1/2 Tbsp or so.
Top Tip
Be sure to cut your chicken pieces small! Small chicken pieces will marinate better, infusing flavour right through the chicken. The small pieces will also ensure that they cook through quickly and thoroughly. And finally, small chunks of chicken will make the chicken pita much easier to eat. Larger pieces of chicken will just make filling and holding the pita unwieldy.
Recipe
More great recipe for grilling season ...
Save or share this recipe