This Chorizo and Manchego Pizza is pizza with a Spanish twist, with manchego cheese, red onion and arugula.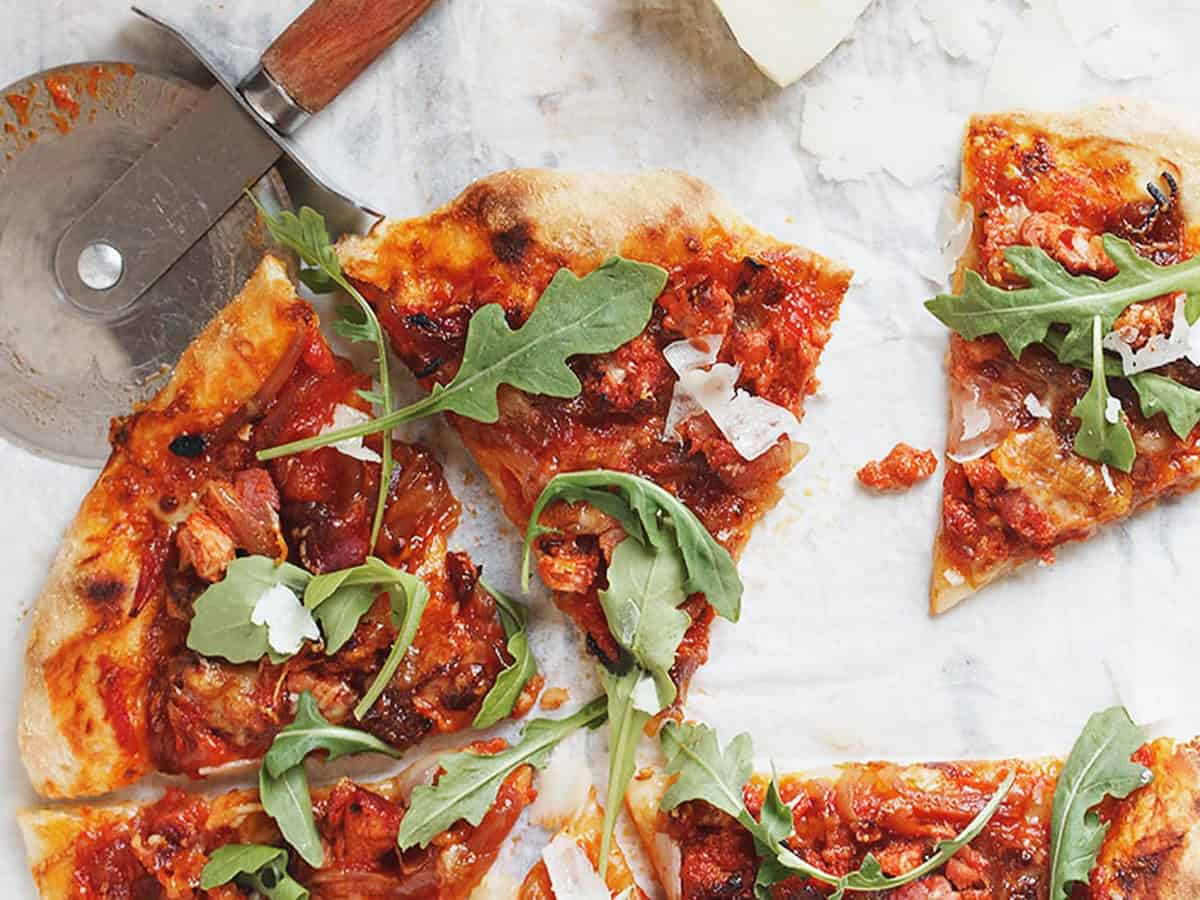 Homemade pizza night at my house has a new star! This Chorizo Manchego pizza was one of several different pizzas that we baked up this week and it was the clear winner. The flavours in this one were truly memorable and will definitely be one that we will make again and again.
The chorizo pizza was a new one to try this week. I had gone to the grocery store intending to pick up fresh chorizo sausage with the plan of crumbling and cooking it before putting it on the pizza. As fate would have it, I couldn't find any fresh chorizo anywhere that day, so I picked up some cured chorizo instead. As it turned out, it was probably a much better choice for this pizza. It cooked up beautifully and was so full of paprika flavour and smokiness, that I don't think fresh chorizo can come close to.
Along with the chorizo, is the nutty flavour of Spanish Manchego cheese. I think it's fairly easy to find these days, but a reasonable substitute would be a Pecorino Romano. Finally, the pizza is dotted with caramelized red onions. I'm not going to lie. Caramelizing onions is not a quick undertaking, but so worth it. If you're not in the mood or short on time, just throw them in to a hot skillet with a little oil and fry them off. You probably don't want to put them on the pizza raw, as they don't really cook enough to develop any sweetness.
After the pizza comes out of the oven, a bit of fresh, baby arugula tops it off, for a bit of green and more Manchego shavings.
Cook's Notes
I like to make my own pizza dough and sauce, simply because I like it better than any pre-made variety that's easily found around here. You can easily use a pre-made pizza sauce and/or pizza dough. Our homemade pizza always starts with Jim Lahey's no-knead pizza dough, that I mix up the night before and leave on the counter until dinner time the next day. The dough is divided into 4 pieces, which makes 4 small personal pizzas for us. As we all tend to have different tastes and crust-thickness preferences, it works well.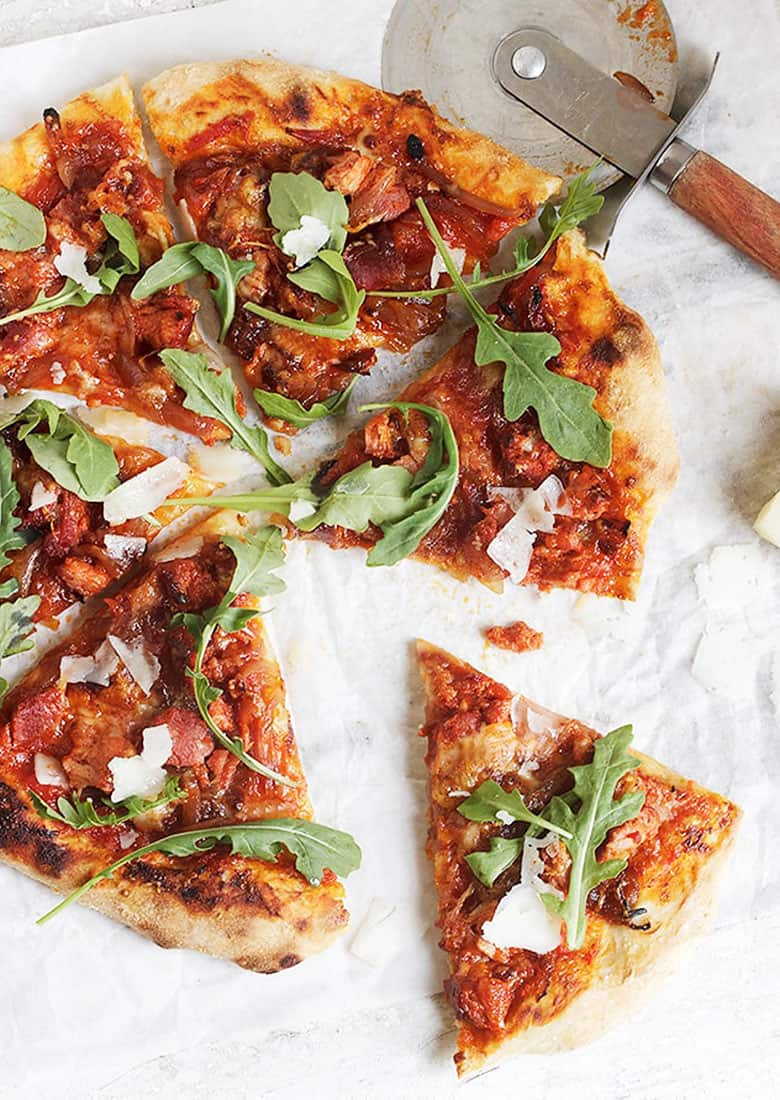 Get the Recipe:
Chorizo Manchego Pizza
If you can't find Manchego cheese, Pecorino Romano would be a good substitute. If using fresh chorizo sausage, remove from casing, crumble and cook in a frying pan before adding to pizza. Will make two 12-inch pizzas or Four 8-inch pizzas.
Ingredients
Pizza Dough (via Jim Lahey) OR use store-bought:
500

grams

all-purpose flour

,

3 3/4 cups

1

gram

active dry yeast

,

1/4 tsp

16

grams

fine sea salt

,

2 tsp

350

grams

water

,

1 1/2 cups
Pizza Sauce (or use store-bought):
2

Tbsp.

butter

2

cloves

garlic

,

minced

28

oz

can plum tomatoes

1

tsp.

ground oregano

1

tsp.

dried basil

1

tsp.

fine salt

Freshly ground pepper
Caramelized Onions
1

large red onion

,

sliced

2

Tbsp.

olive oil

1

tsp.

white sugar

1

tsp.

balsamic vinegar
Pizza Toppings:
10

inch

piece of cured Spanish-style chorizo sausage

,

pulled apart in to small chunks (** See note below)

2

cups

Manchego cheese

,

grated, plus more shaved for the garnish

Fresh baby arugula

,

for garnish
Instructions
** Cured chorizo sausage is not fresh sausage. It has been cured and/or smoked and is semi-dried, like Kielbassa, so could be sliced up and eaten out of hand, if you liked. It is often found in the deli section of your grocery, in sweet or hot versions. Either one is fine, depending on your taste. Try to find one that isn't rock hard (should give a little if squeezed), or you'll have a heck of a time pulling it apart. If you can't find, you could use fresh chorizo sausage (often seen in the meat department, with other fresh sausages), but you would need to remove the sausage from the casing, crumble and pan fry before adding to your pizza.

For the pizza dough: In a medium bowl, thoroughly blend the flour, yeast, and salt. Add the water and, with a wooden spoon and/or your hands, mixing thoroughly. Cover the bowl with plastic wrap or a kitchen towel and allow it to rise at room temperature (about 72°) for 18 hours or until it has more than doubled.

Flour a work surface and scrape out the dough. Divide it into 2 or 4 equal parts (for 2 large or 4 small pizzas, as you like) and shape them. For each portion, start with the right side of the dough and pull it toward the center, then do the same with the left, then the top, then the bottom. (The order doesn't actually matter; what you want is four folds.) Shape each portion into a round and turn seam side down. Mold the dough into a neat circular mound. The mounds should not be sticky; if they are, dust with more flour.

If you don't intend to use the dough right away, wrap the balls individually in plastic and refrigerate for up to 3 days. Return to room temperature by leaving them out on the counter, covered in a damp cloth, for 2 to 3 hours before needed.

For the pizza sauce: In a large saucepan, melt 2 Tbsp. butter over medium heat. Add garlic and cook, stirring, for about 1 minute, or until softened and fragrant (do not allow to brown). Add tomatoes and spices, salt and pepper. Break up tomatoes roughly with a spoon. Bring to a simmer over medium heat, then reduce heat to low and allow to simmer for 30-45 minutes, until reduced and thickened. The sauce won't be super thick or smooth. If you prefer it thicker, allow to simmer longer and/or puree with an immersion blender.

For the caramelized onions: In a frying pan, heat olive oil over medium heat. Add onions and a bit of salt, then stir to coat. Cook over medium heat until onions start to soften. Reduce heat to medium low. Continue cooking and stirring for about 30 minutes more, adding a few tablespoons of water a couple of times and allowing it to cook off. This will help to soften the onions, as well as preventing the skillet from becoming too dry.

Once the onions have cooked for about 30 minutes and are quite soft, increase the heat to medium-high. Add the sugar, balsamic and a bit more salt and cook, stirring, until onions are browned and caramelized. Remove to a bowl and set aside or refrigerate until needed.

To prepare the pizza: Preheat oven to 500° F. with rack 8 inches below broiler. If you are using a pizza stone, put it in the cold oven and allow to heat with the oven. Allow to pre-heat for about 30 minutes.

Form dough into a rough circle. (I like to do this on a cornmeal sprinkled piece of parchment paper. Place parchment on to a baking sheet if you aren't using a pizza stone). Spread a generous layer of pizza sauce, the dot with caramelized onions. Scatter some crumbled chorizo on top, then top with some grated Manchego.

If using parchment, trim the parchment back very close to the edge of the pizza, so it won't burn in the oven. Place pizza on to pizza stone on the parchment. (Or place baking sheet in oven). Allow to cook for 5 minutes, then without opening the oven door, switch your oven to "Broil" and allow to cook 4-5 minutes longer, or until cooked, browned and bubbly.
Notes
Be sure to read the "Ingredient and Cook's Notes" (above the recipe card!), where I share more detailed

 

tips, variations and substitution suggestions for this recipe!
Calories:
465
kcal
,
Carbohydrates:
58
g
,
Protein:
16
g
,
Fat:
19
g
,
Saturated Fat:
10
g
,
Cholesterol:
41
mg
,
Sodium:
1387
mg
,
Potassium:
407
mg
,
Fiber:
4
g
,
Sugar:
6
g
,
Vitamin A:
461
IU
,
Vitamin C:
10
mg
,
Calcium:
365
mg
,
Iron:
5
mg