A wonderfully chunky and apple-filled yeast bread with an optional sweet maple glaze. Delicious eaten out of hand or toasted or makes great French Toast!
This is a fun and fruit-filled yeast bread, filled with lots of fresh apple. What makes it fun is that you get to cut it all up into chunks and toss it into loaf pans. What makes it fruit-filled is about 1 1/2 lbs. of fresh apple scattered out into the 2 loaves.
This is a great bread eaten out of hand, with butter or it makes great toast or French Toast. I've included an optional sweet, maple glaze, as well.
Ingredient Notes
Yeast – You can use either Active Dry Yeast or regular Instant Yeast (such as SAF Brand) without adjustment, as we are proofing the yeast in warm water to start. A quick or rapid-rise instant yeast is not recommended here, as this is a classic two-rise bread.
Flour – I always prefer unbleached all purpose flour for making breads, but regular, bleached all purpose flour will work just fine here, as well.
Milk – the addition of milk to yeast breads makes for a lovely tender and moist crumb, but if you prefer not to use milk, simply replace the milk with an equal amount of additional warm water.
Butter – soft butter is added to the dough in a sort of light brioche way, adding it to be incorporated into the dough as it kneads. If you don't want to use butter for some reason, you'll want to add some fat such as vegetable oil at the beginning of the recipe with the liquids. Use the same amount as specified for the butter. You will probably end up needing to add more flour at the end to compensate.
Apples – I used Granny Smith apples here, which are always a good option for this bread, as they are easily available year round. They are also nice and firm, so they keep their shape well. That said, they are also quite tart, so they will make for a loaf that is not a "sweet" apple loaf. You can use other apples, but try to stick with apples that keep their shape when cooked. Any apple you might use for a pie is good.
You will also need – Eggs (2), vanilla, cinnamon, white sugar, salt. If making the glaze, you will need powdered sugar, milk and maple syrup.
Recipe Video
Cook's Notes
If you like to toast your bread, obviously the glaze is not ideal. If you want to keep all your enjoyment options open, glaze just one half of the loaf, leaving the other half un-glazed for toasting.
While this may look like a sweet apple bread, really only the glaze is sweet. That's great for eating out of hand with butter, as it's a nice balance with the tart apples. That said, an unglazed loaf is great for toasting, sandwiches or try it for French Toast or Bread Pudding.
If you're an adventurous bread baker, you could easily use this bread as a base for any number of fruit additions. Blueberries, peaches or pears, for example.
This bread freezes well. Ideally, freeze unglazed, as the glaze tends to get quite moist and soft after thawing.
You will have a couple of egg whites left-over from making this bread, which would be great for making macaroons or macarons.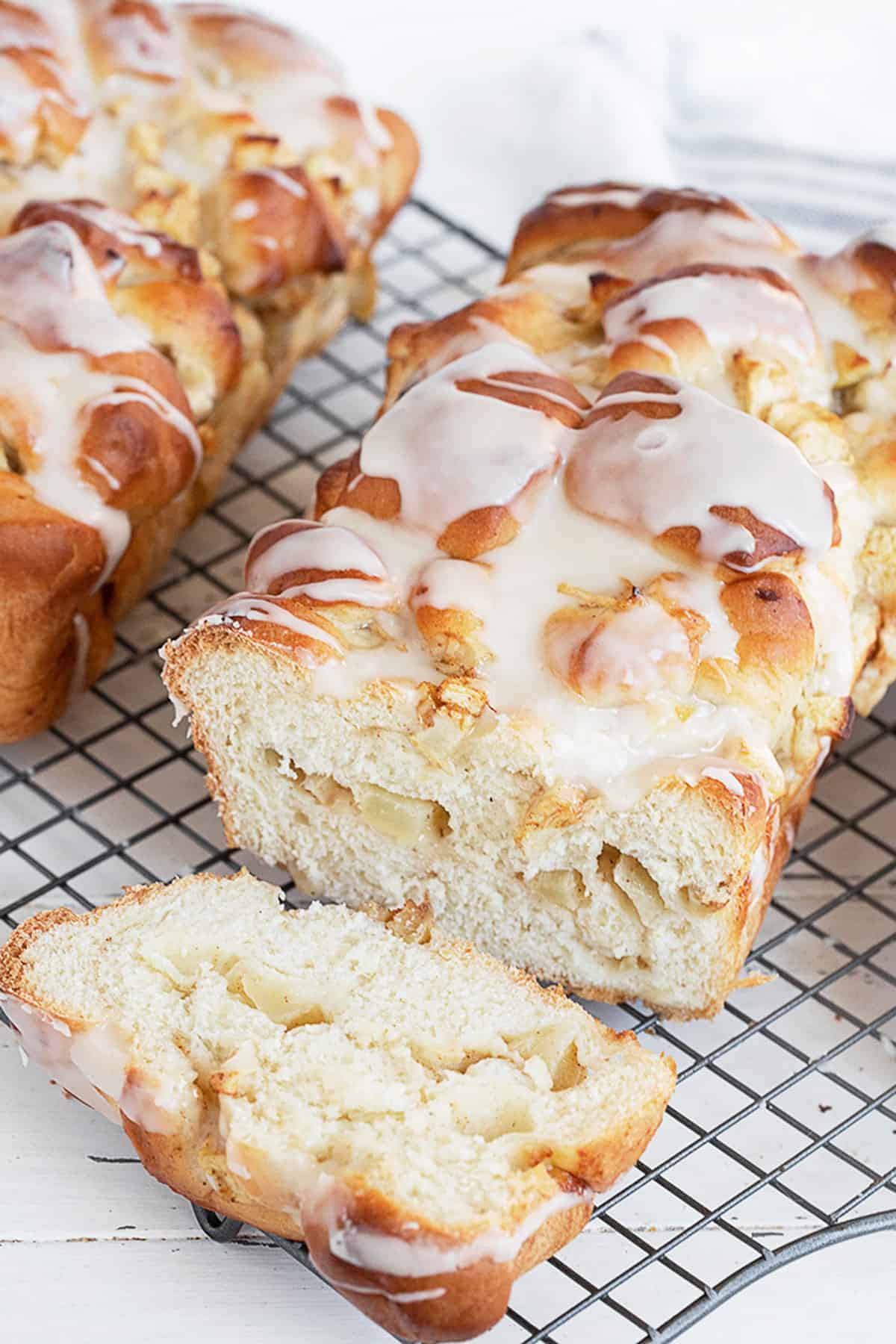 Get the Recipe:

Chunky Apple Yeast Bread
Chunky, apple-filled yeast bread with an optional sweet maple glaze. Makes 2 loaves.
Ingredients
3

tsp

active dry or instant yeast

,

not rapid or quick rising yeast

3/4

cup

water

,

lukewarm about 105F.

2/3

cup

milk

,

lukewarm, about 105F.

3

Tbsp

white granulated sugar

1

large

egg yolk

1

tsp

vanilla or vanilla bean paste

1 1/4

tsp

fine salt

,

reduce by 1/4 tsp if using salted butter

4

cups

all purpose flour

,

plus more, as needed

4

Tbsp

unsalted butter

,

at room temperature, cut into 4 pieces
Apple Filling:
1 1/2

lbs.

granny smith apples

,

peeled, quartered, cored and diced into 1/2-inch cubes

2

Tbsp

white granulated sugar

1

tsp

cinnamon

1

large

egg yolk
Maple Glaze (Optional):
1

cup

confections/icing sugar

2

Tbsp

maple syrup

1

Tbsp

milk
Instructions
In a large bowl or the bowl of your stand mixer fitted with the paddle attachment, add the yeast and warm water. Stir and let stand 5 minutes. Add the sugar, warm milk, egg yolk, vanilla and salt and stir to combine. Add 2 cups of the all purpose flour and mix to combine. Add the softened butter, 1 Tbsp at a time and mix in.

Switch to the kneading hook. Add 1 more cup of the flour and knead in. Begin adding the last cup of flour in small increments, adding only enough flour until the dough wraps around the kneading hook and cleans the bowl quite well. *You may not need all of the last cup OR you may need to add more than that last cup. Trust what you see in the bowl and add flour, as needed, to get your dough to that point.

Remove dough to a floured work surface. Knead for 1 minute, then form into a ball. Place in a greased bowl, cover with plastic wrap and let rise until doubled, about 1 hour.

When dough is almost doubled, prepare your apple filling. Prepare the apples by peeling, quartering, coring and cutting into 1/2-inch-ish cubes. Place into a large bowl. Sprinkle with white sugar and cinnamon and stir to combine. Add egg yolk and stir in to coat. Set aside.

Prepare two 8x4-inch loaf pans by greasing or spraying with cooking spray. Set aside.

Remove dough to a floured work surface. Divide dough into two equal pieces.

Take one piece of dough and roll into a roughly 10x15-inch rectangle. Scatter one half of the apple filling evenly overtop of the dough, then roll up, starting from the long side. Pinch seam together. Using a sharp knife or bench cutter, cut the log into 1-inch slices, then slice down the centre of the slices from one end to the other, making a bunch of smaller chunks. *If the cutting isn't clear, refer to the video above this Recipe Card to see how it's done). Scoop up your chunks and place into your prepared 8x4-inch loaf pan. Adjust the dough chunks slightly, as needed, so that the top is as even as possible. (Any pieces sticking up much higher than others has a tendency to over-brown, so we'll try to avoid that).

Repeat with the second piece of dough and the remaining apple mixture.

Cover both loaves with greased plastic wrap and set to rise until doubled, about 45 minutes.

Preheat oven to 350F (not fan assisted), with rack in the centre of the oven.

When ready to bake, remove the plastic wrap. Place loaf pans on top of a baking sheet (to catch any juicy bubble-overs).

Bake at 350F for about 45 minutes or until the breads internal temperature reaches 210F when tested with an instant read thermometer. Check bread at about 30 minutes and cover loosely with aluminum foil to prevent over-browning of the top.

Allow loaves to cool in pans for 5 minutes, then remove to a cooling rack to cool completely before slicing.

If glazing, prepare the glaze by mixing together the glaze ingredients until smooth. Drizzle over cooled loaves.
Notes
Nutritional information does not include optional glaze.
Bread freezes well, though best frozen without the glaze.
Be sure to read the Ingredient and Cook's Notes above the recipe card for more tips for making this bread.
Calories:
128
kcal
,
Carbohydrates:
23
g
,
Protein:
3
g
,
Fat:
3
g
,
Saturated Fat:
2
g
,
Cholesterol:
21
mg
,
Sodium:
126
mg
,
Potassium:
66
mg
,
Fiber:
1
g
,
Sugar:
6
g
,
Vitamin A:
106
IU
,
Vitamin C:
1
mg
,
Calcium:
16
mg
,
Iron:
1
mg
Adapted from a Sarabeth's Bakery recipe.
More Apple Yeast Bread Recipes You Might Like …
Apple Fritter Pull-Apart Bread
This delicious yeast-based, pull-apart bread has all the flavours of apple fritters, with roasted apples and a generous cinnamon-sugar filling.
www.seasonsandsuppers.ca
Cheddar Apple Yeast Bread
A delicious soft and cheese homemade bread, with a delicious not of apples. Absolutely perfect toasted with butter or try it as a sandwich bread.
www.seasonsandsuppers.ca