A wonderfully chunky and apple-filled yeast bread with an optional sweet maple glaze. Delicious eaten out of hand or toasted or makes great French Toast!
This is a fun and fruit-filled yeast bread, filled with lots of fresh apple. What makes it fun is that you get to cut it all up into chunks and toss it into loaf pans. What makes it fruit-filled is about 1 1/2 lbs. of fresh apple scattered out into the 2 loaves.
This is a great bread eaten out of hand, with butter or it makes great toast or French Toast. I've included an optional sweet, maple glaze, as well.
Jump to:
Ingredient Notes
Yeast - You can use either Active Dry Yeast or regular Instant Yeast (such as SAF Brand) without adjustment, as we are proofing the yeast in warm water to start. A quick or rapid-rise instant yeast is not recommended here, as this is a classic two-rise bread.
Flour - I always prefer unbleached all purpose flour for making breads, but regular, bleached all purpose flour will work just fine here, as well.
Milk - the addition of milk to yeast breads makes for a lovely tender and moist crumb, but if you prefer not to use milk, simply replace the milk with an equal amount of additional warm water.
Butter - soft butter is added to the dough in a sort of light brioche way, adding it to be incorporated into the dough as it kneads. If you don't want to use butter for some reason, you'll want to add some fat such as vegetable oil at the beginning of the recipe with the liquids. Use the same amount as specified for the butter. You will probably end up needing to add more flour at the end to compensate.
Apples - I used Granny Smith apples here, which are always a good option for this bread, as they are easily available year round. They are also nice and firm, so they keep their shape well. That said, they are also quite tart, so they will make for a loaf that is not a "sweet" apple loaf. You can use other apples, but try to stick with apples that keep their shape when cooked. Any apple you might use for a pie is good.
You will also need - Eggs (2), vanilla, cinnamon, white sugar, salt. If making the glaze, you will need powdered sugar, milk and maple syrup.
Cook's Notes
If you like to toast your bread, obviously the glaze is not ideal. If you want to keep all your enjoyment options open, glaze just one half of the loaf, leaving the other half un-glazed for toasting.
While this may look like a sweet apple bread, really only the glaze is sweet. That's great for eating out of hand with butter, as it's a nice balance with the tart apples. That said, an unglazed loaf is great for toasting, sandwiches or try it for French Toast or Bread Pudding.
If you're an adventurous bread baker, you could easily use this bread as a base for any number of fruit additions. Blueberries, peaches or pears, for example.
This bread freezes well. Ideally, freeze unglazed, as the glaze tends to get quite moist and soft after thawing.
You will have a couple of egg whites left-over from making this bread, which would be great for making macaroons or macarons.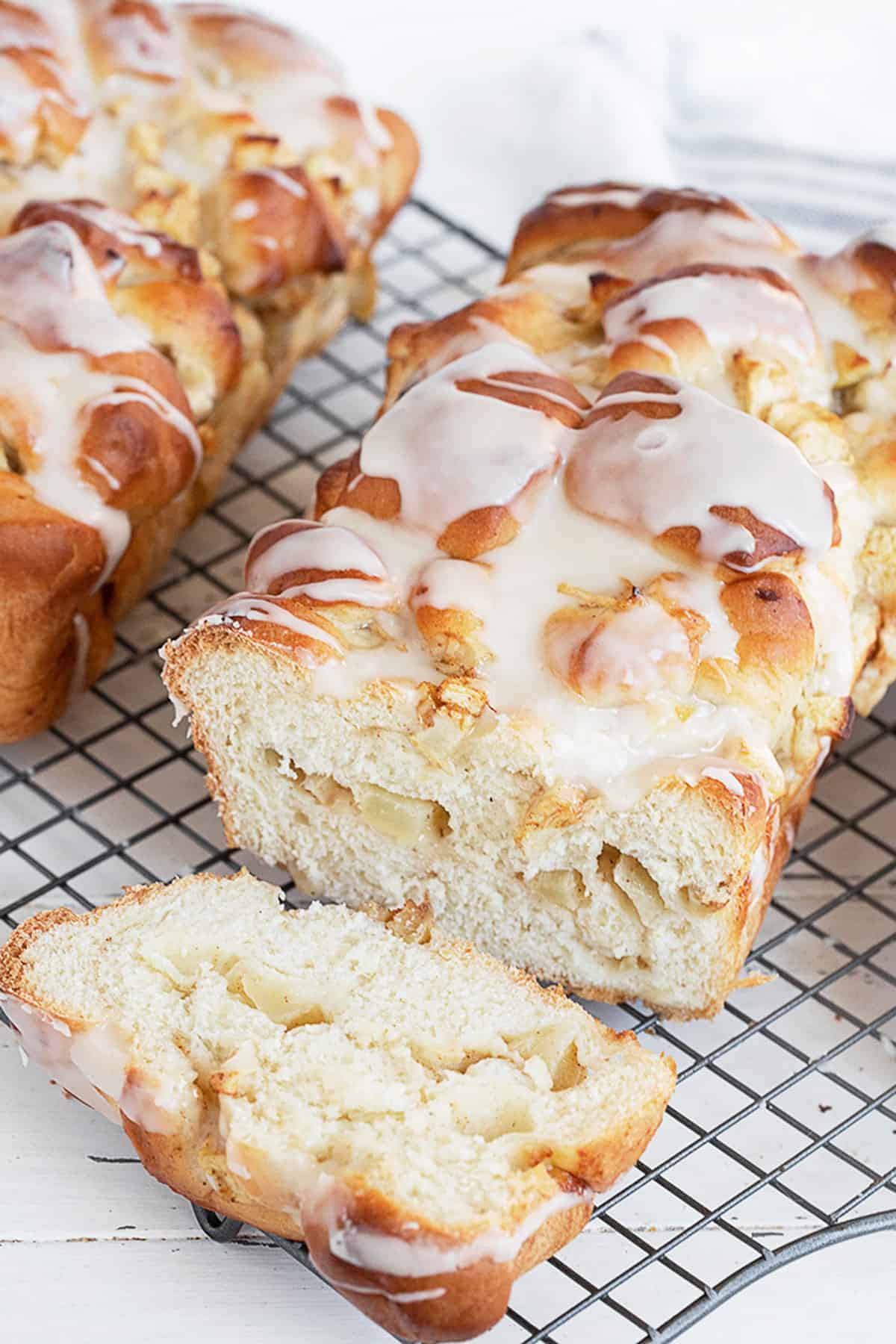 Recipe
Adapted from a Sarabeth's Bakery recipe.
More Apple Yeast Bread Recipes You Might Like ...
Save or Share This Recipe