Soft and chewy gingersnaps, flavoured with both powdered and fresh ginger. Rolling in raw sugar before baking gives them sparkle and great crunch.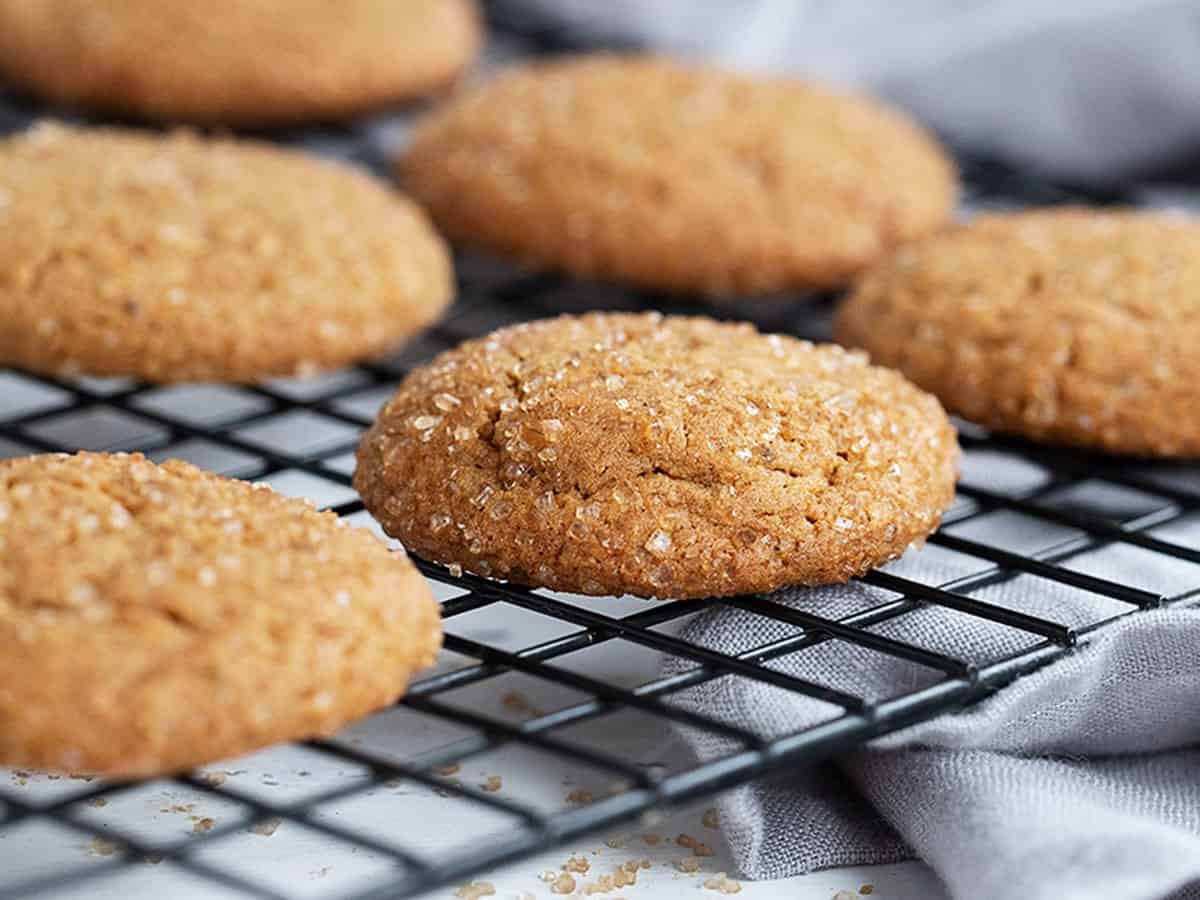 Gingersnaps are always nice to have around during the holiday season, but these ones are a favourite of mine to enjoy year round. They are a ginger cookie lovers cookie, with both powdered and fresh ginger. I also love how the bit of whole wheat flour in these cookies make them wonderfully chewy. And finally, the coarse turbinado sugar adds great sparkle and crunch to these cookies.
This recipe makes a large batch of cookies, but they keep well for days or you can freeze them, too, either before baking or after. They would also be great gifting cookies, as they would package up and travel well.
Jump to:
Ingredient Notes
Butter - Unsalted butter is specified, but you can use salted butter. Just be sure to reduce the added salt in the recipe accordingly, so your cookies don't come out too salty.
All-Purpose Flour - Use regular all-purpose (plain) flour. Standard bleached is the best option for cookies, but if you only have unbleached all-purpose flour, you can go ahead and use it. Your cookies might be very slightly less tender and possibly a bit lighter in colour.
Whole Wheat Flour - the addition of whole wheat flour to these cookies give them great texture, so I definitely recommend using it, if you have it. If not, you could simply replace it with more all-purpose flour, but note that the resulting cookies will be lighter and fluffier in texture.
Molasses - You'll want to use "Fancy" molasses for these cookies. I don't recommend Cooking or Blackstrap Molasses here, as they are both too harsh in flavour for these cookies, in my opinion.
Fresh Ginger - I prefer to use ginger paste, which is available in the produce section of most grocery stores these days. I just keep it in the fridge to make adding fresh ginger to sweet and savoury recipes super easy. Alternately, simply finely grate fresh ginger. As it is more potently ginger flavoured than the paste version, you may wish to use a bit less. If you have no fresh ginger, you can simply add a bit more powdered ginger (1/4 tsp more).
Turbinado Sugar - or raw sugar crystals. Alternately, you could use any granulated sugar, such as cane sugar or regular white granulated sugar.
You will also need - Egg (1), powdered ginger, powdered cloves, baking powder, baking soda, light brown sugar, salt and pepper.
Cookie Baking Tips
Use a good quality butter and make sure it is just brought just to room temperature before mixing. It will take about an hour in most cases, so plan ahead.
Be sure to chill the dough for the full 30 minutes, so the dough is nice and cold. This prevents the cookies from spreading too much.
A Cookie Scoop (affiliate link) makes sure the cookies are all the same size so they cook uniformly. Alternately, use a measuring tablespoon.
It's important to measure your flour correctly. Always use the "spoon and level" method of measuring flour. Stir your flour, spoon into your dry measuring cups to overflowing, then use the back of a knife to scrape off the excess (level with the top of the cup.)
Cookies are best baked on a heavy, light coloured pan. Dark pans tend to over-cook the bottom of cookies.
Don't crowd your pans. While it's always tempting to crowd the pan to cut down on the number of batches, if the cookies spread into each other and you have to cut them apart, you won't be happy with that, I'm sure. Have patience and do more batches and you will be rewarded with perfect cookies. (Also keep in mind that you don't have to bake all the cookies at once. You can shape the balls, roll them in sugar, flatten and freeze them. Then bake another batch later! You can bake right from frozen. Simply add a few minutes more baking time.
I always bake my cookies one pan at a time on centre rack.l While many recipes suggest baking cookies on two racks and switching them halfway through baking, I have found that I often end up with an un-even bake. I'm a one-batch at a time baker and highly recommend it.
Recipe
Adapted from a Redpath Sugar recipe
More Cookie Recipes You Might Like ...
Save or Share This Recipe