A classic British treat, these Cornish Splits are a lovely yeast bun, filled with jam and whipped cream. Perfect for a special dessert.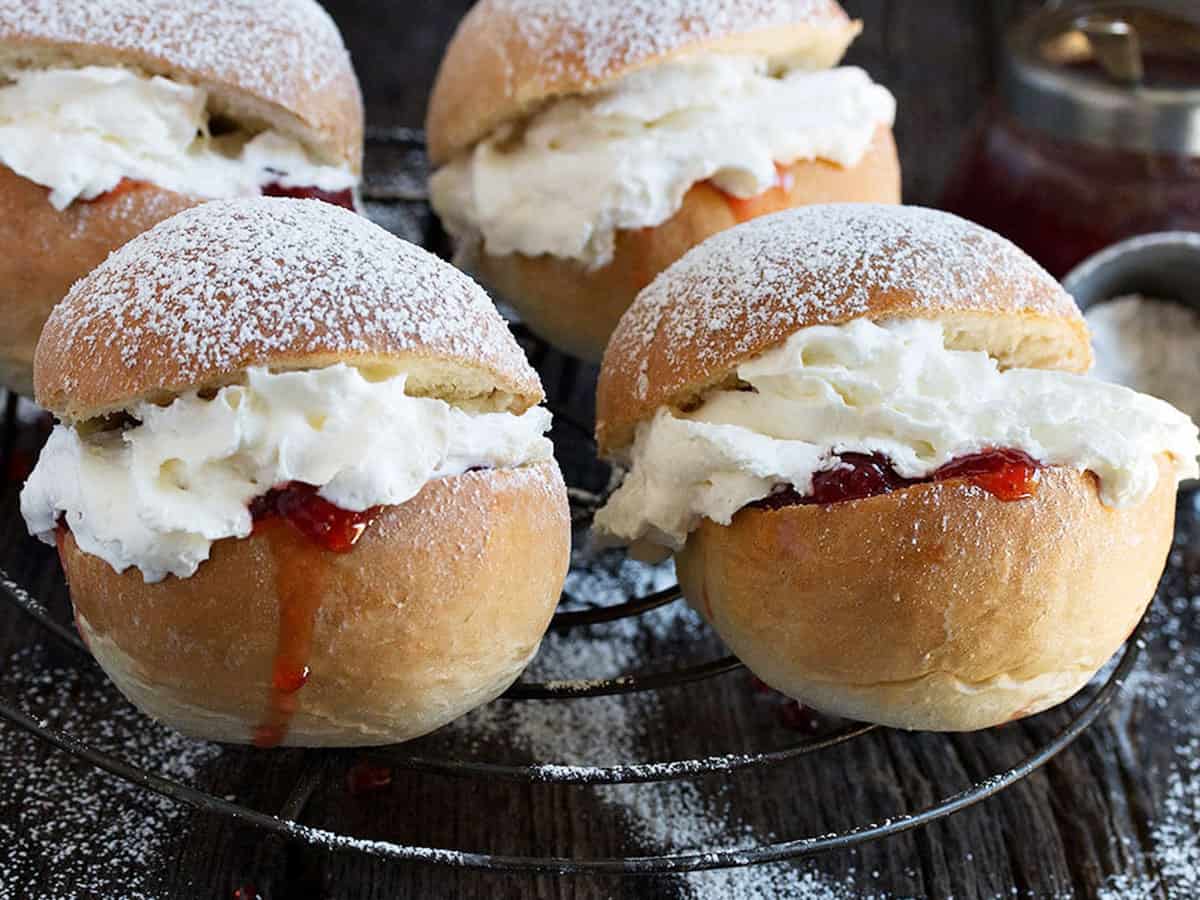 I only discovered Cornish Splits a short while ago and wondered how it was that this delicious little treat had escaped my notice until now. Cornish Splits are a classic British "cream tea" treat, that has somewhat fallen out of favour over the years, in favour of the scone. I suspect that has a lot to do with the ease of making scones vs a yeast bun and the longer shelf life of a scone vs a split.
Having now made and enjoyed these little buns, I think it's high time the Cornish Split made a come back!
Did you know? Cornish Splits and Devonshire Splits are really the same thing, except Cornish Splits have the jam on the bottom and the cream on the top and Devonshire Splits put the jam on top of the cream.
Traditional Cornish Splits have a (rather large) dollop of clotted cream on top of the jam. Given the rarity of clotted cream on this side of the Atlantic (and the cost and the very small jar :), I've used whipped cream here instead of clotted cream. If you have a plentiful source of reasonably priced clotted cream, or you make your own, definitely give the clotted cream version a go!
You can use any jam you like for this one, so it's a perfect use for your fresh Summer fruit jams! Try them with a variety of jams throughout the year.
Cook's Notes
This recipe will make 8 nice-sized buns. You could make them slightly smaller and get 10 from the dough.
The traditional cutting technique for Cornish Splits involves cutting on an angle from about 1/3 down the front angling down to about 2/3 down towards the back (almost, but not all the way through).
Traditionally, Cornish splits are served warm, but I found them just as nice at room temperature. That said, they don't stay fresh a terribly long time, so are best eaten on the day they are baked. They freeze beautifully though, so don't hesitate to freeze any extras for later.
As mentioned, you can use any jam you like, but a slightly runny jam works nicely here, as it soaks into the bun a bit. I used my Strawberry Platter Jam.
As for the whipped cream, I just used canned, real whipped cream here (being a bit lazy, yes :). You can certainly use cream that you whip yourself, either spooning it on or stabilizing a bit and piping it in. Or as noted above, substitute clotted cream.
Don't skimp on the filling. These are best a little over-stuffed and drippy :)
Take your bun, spread with clotted cream then drizzle with Lyle's Golden Syrup and you've made yourself a "Thunder and Lightning".
Get the Recipe:
Classic British Cornish Splits
A classic British tea-time treat, these yeast buns are sliced and filled with jam and whipped cream.
Ingredients
Buns:
2 1/4

cups

(

281.25

g

)

all-purpose flour

1/2

tsp

(

2.46

ml

)

salt

4 1/2

tsp

(

22.18

g

)

instant yeast

1

Tbsp

(

14.79

g

)

white sugar

2

Tbsp

(

29.57

g

)

butter

1 1/4

cup

(

305

ml

)

milk
Filling:
Jam of choice

,

I used my fresh Strawberry Platter Jam

Whipped cream

,

whipped from heavy cream with a little sugar or canned real whipped cream
Garnish:
Icing/confectioners' sugar

,

for dusting
Instructions
In a large bowl or the bowl of a stand mixer fitted with a kneading hook, stir together the flour, salt, yeast and sugar. Warm the butter and milk in a small saucepan until the butter has melted. Let the milk cool slightly, until it is just about cool enough to dip your finger in (about 120F).

Pour the milk/butter mixture into the flour and knead to form a soft and just slightly sticky dough. You may need to add additional flour.

Remove dough to a greased bowl and cover with plastic wrap to rise until doubled, about 1 hour.

Turn the dough onto a floured board and cut into 8 equal-sized pieces. Roll each one into a ball, placing them on a parchment lined baking sheet as you go.

Set the oven at 390F. Dust the buns lightly with flour and cover with a tea towel. let rise for 10-15 minutes more.

Bake for 18-20 minutes until they are pale golden on top and sound slightly hollow when tapped on the bottom.

Remove the buns from the baking sheet to a cool slightly. Enjoy warm (traditionally served warm) or fully cooled.

To serve make a cut in each bun from about 1/3 down in the front, angling back and down, to about 2/3 down the back, without cutting all the way through. Butter the bottom, then spoon a good dollop of jam inside. Spoon or pipe whipped cream on top. Dust with icing sugar to serve.
Calories:
282
kcal
,
Carbohydrates:
31
g
,
Protein:
5
g
,
Fat:
3
g
,
Saturated Fat:
2
g
,
Cholesterol:
9
mg
,
Sodium:
188
mg
,
Potassium:
114
mg
,
Fiber:
1
g
,
Sugar:
3
g
,
Vitamin A:
160
IU
,
Calcium:
51
mg
,
Iron:
1.7
mg