Easy and delicious baked bbq pork chops. No browning needed. Simply place in pan, pour over the easy, 5-ingredient homemade sauce and bake for 1 hour. Enjoy these tangy, always juicy pork chops!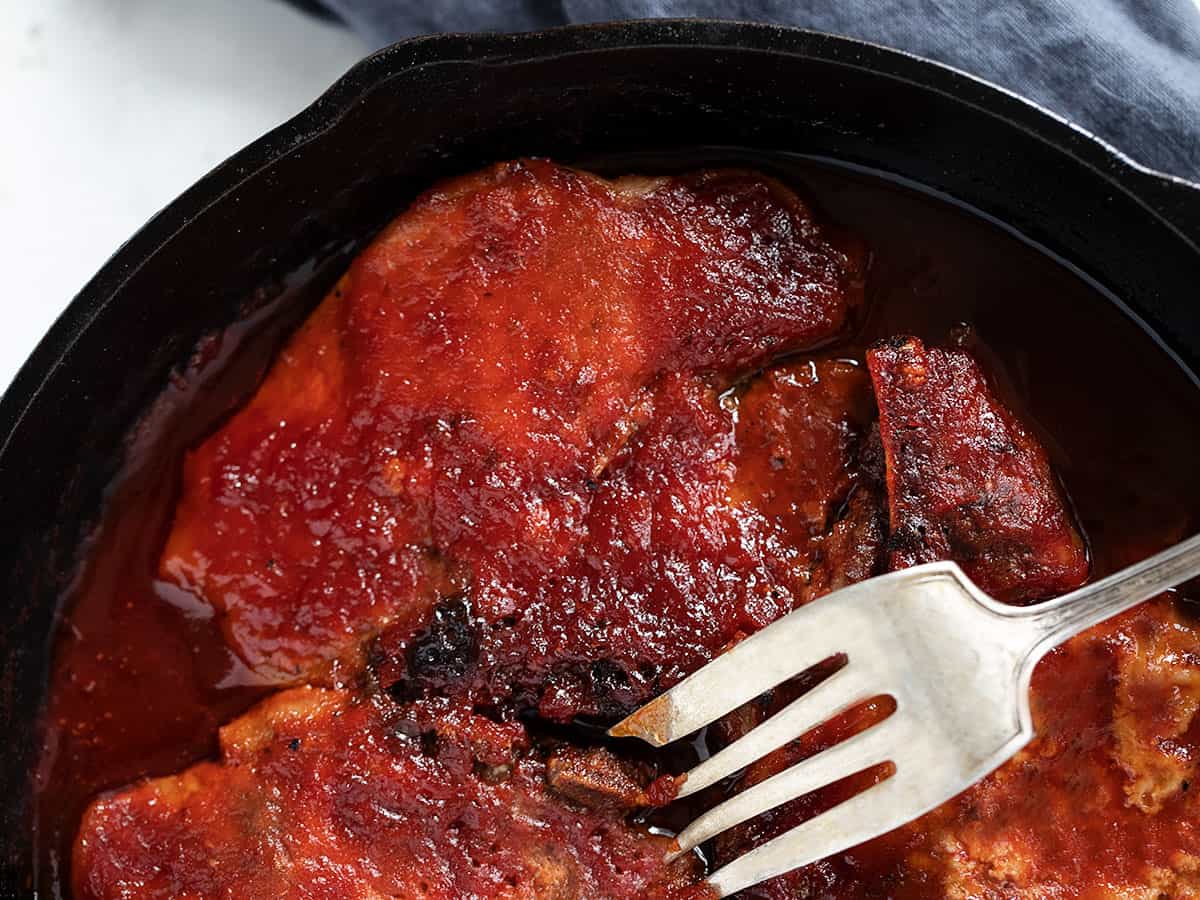 Pork chops are in regular rotation here, so I have a lot of pork chop recipes. These baked bbq pork chops might just take the prize for the one of the easiest recipes. Don't let the easy preparation fool you though. These pork chops are saucy and delicious!
Jump to:
Ingredient Notes
Pork Chops - you can use any pork chops for these - boneless, bone-in, thick or thinner. For thinner pork chops, you may need to reduce the baking time. Also, if your chops have a lot of fat on them, you may wish to trim a bit off before baking. Your call :)
Chili Sauce - I use Heinz™ brand Chili sauce. It is easily available at most grocery stores, usually found in/near the Ketchup. I highly recommend adding it to your grocery list if you don't have it on hand. And 1 bottle will be enough to make this dish twice. Using bottled chili sauce not only makes this dish super easy, it's a nice condiment to have around. Think of it as a spicy ketchup (it's nice on eggs!). That said, if you can't find it or just need to made due, I've included a Chili Sauce Substitute below.
Brown Sugar - use light or dark brown sugar here. Dark brown sugar will give a slightly richer flavour. You can probably cut the brown sugar back to about 1/3 cup, if you like.
Soy Sauce - you can use regular or low-sodium soy sauce or Tamari sauce.
Dry Mustard - this is the powdered mustard in the little yellow cans. If you don't have dry mustard on hand, you can substitute 1 1/2 tsp of prepared yellow mustard.
Chili Sauce Substitute
1/2 cup tomato sauce
2 Tbsp light or dark brown sugar
1 1/2 Tbsp white or apple cider vinegar
1/8 tsp cayenne or 1/4-1/2 tsp Sriracha
Pinch allspice
Step-by-Step Photos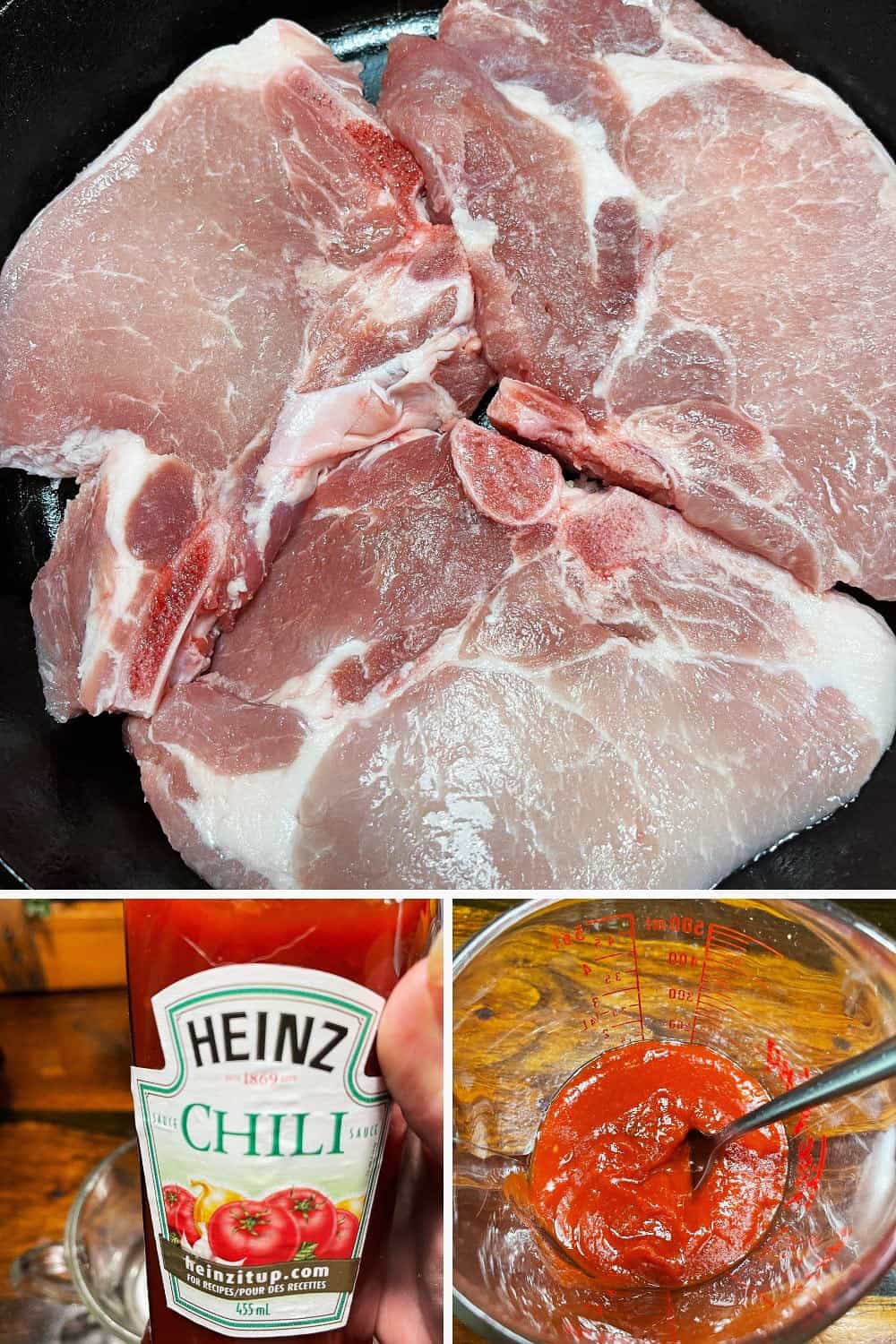 Step 1: Simply place pork chops into oven-proof baking dish or skillet. Season with salt and pepper. Mix up the simple sauce.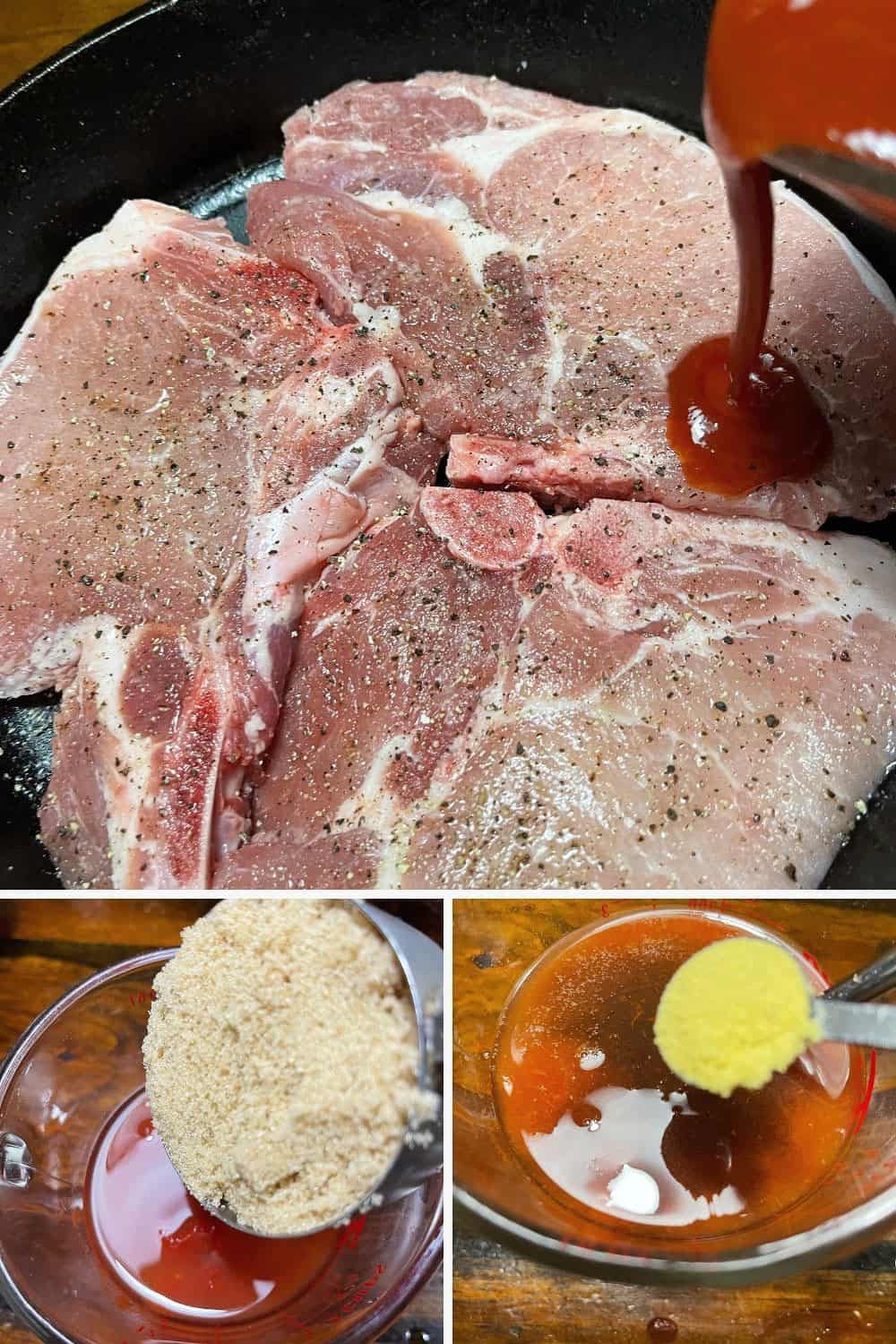 Step 2: Pour sauce over pork chops and bake, uncovered, for about 1 hour.
Cook's Notes
Chose a baking pan that doesn't leave too much room between your pork chops. You can even butt the right up against each other as I have done here. This keeps the sauce nicely on top of the chops, and prevents the sauce from cooking dry on the bottom of the pan, where it may darken and introduce a bitter flavour.
A cast iron skillet works nicely for these pork chops. Don't worry about the tomato sauce in the cast iron. It won't hurt it, though I don't suggest letting your pan sit too long after dinner. Rinse it out and wipe dry at the very least, if you won't be washing it until later.
I especially like bone-in, fat-marbled pork chops for this dish, though it is also nice with boneless pork chops.
I don't think you can beat mashed potatoes with these pork chops, though rice is an option, too. Add a green vegetable and enjoy a lovely and easy pork chop dinner!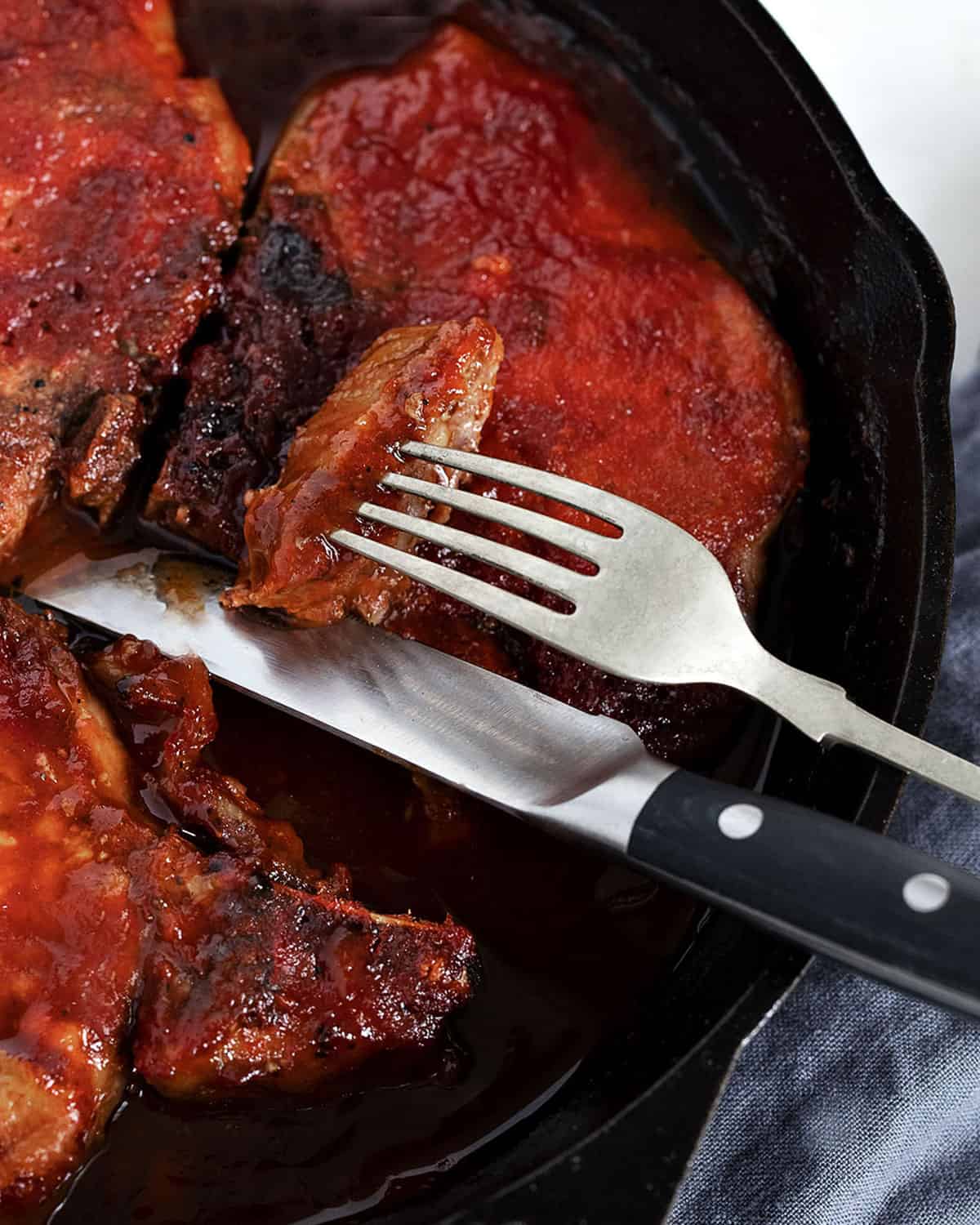 Recipe
More pork chop recipes you might also like ...
Save or share this recipe