Easy and delicious pork chop dinner, with sauteed apples and a hard cider pan gravy. Especially nice for a Fall dinner.
If you're looking for a delicious, easy and perfect-for-Fall dinner idea, look no further than these Pork Chops with Apples.
Pork chops are in regular rotation here, as they are a favourite of my husbands. I have to admit, I didn't always love them myself, but as I've learned a bit about cooking them over the years, I now consider myself a fan. What have I learned? Find the thickest pork chops, pan-sear them first to golden brown, then finish cooking them in the oven just to 145F.
Jump to:
Pork is such a wonderful meat for pairing with fruit and is especially nice with apples. Add to the mix is a lovely pan sauce that uses hard apple cider, for even more apple flavour and you have a wonderful, easy Fall meal.
Once you've found the perfect pork chops, grab a few apples and a can of hard cider and you're ready to go. The apples are simply cooked in the pan first, then removed to a plate. Brown the chops and pop them into a moderate oven to finish cooking. When the chops are ready, set aside on a plate to rest while you make a quick pan sauce. Bring it all back together to serve.
Ingredient Notes
Pork Chops: Look for pork chops that are 3/4 - 1 inch thick. The thicker the better, in my opinion. Thicker chops take a little longer to cook, but they are less likely to be over-cooked. In my experience, thin chops can easily be over-cooked just in the process of browning them.
You could also substitute a nice pork tenderloin here, instead of pork chops. Simply brown the same way as the chops and similarly, finish in the oven to 145F. internal temperature.
Apples: Pretty much any apple will work here, though I would stick with the red-skinned varieties. I used Pink Lady apples here. Just pick on you like. As different varieties will soften more quickly than others, be sure to cook just as long as they need to soften and get them out of the pan before they start to break apart.
Hard Apple Cider: Look for a dry, hard apple cider. I used Strongbow™, which was just perfect for this dish. I really recommend a hard cider here, if you can. If you prefer not to use alcohol, regular apple cider is an option. Even though it is usually unsweetened, it will be sweeter and with a more intense apple flavour than the hard cider.
Cook's Notes
Note that this recipe is for two servings, but can easily be doubled or tripled as needed.
You won't need the entire can of hard cider, so be sure to pour yourself the rest of it to enjoy with the finished dish :)
Cooking pork is a great time to bust out an instant read thermometer and making sure you only cook the chops to 145F. I always say, why guess when it's done?!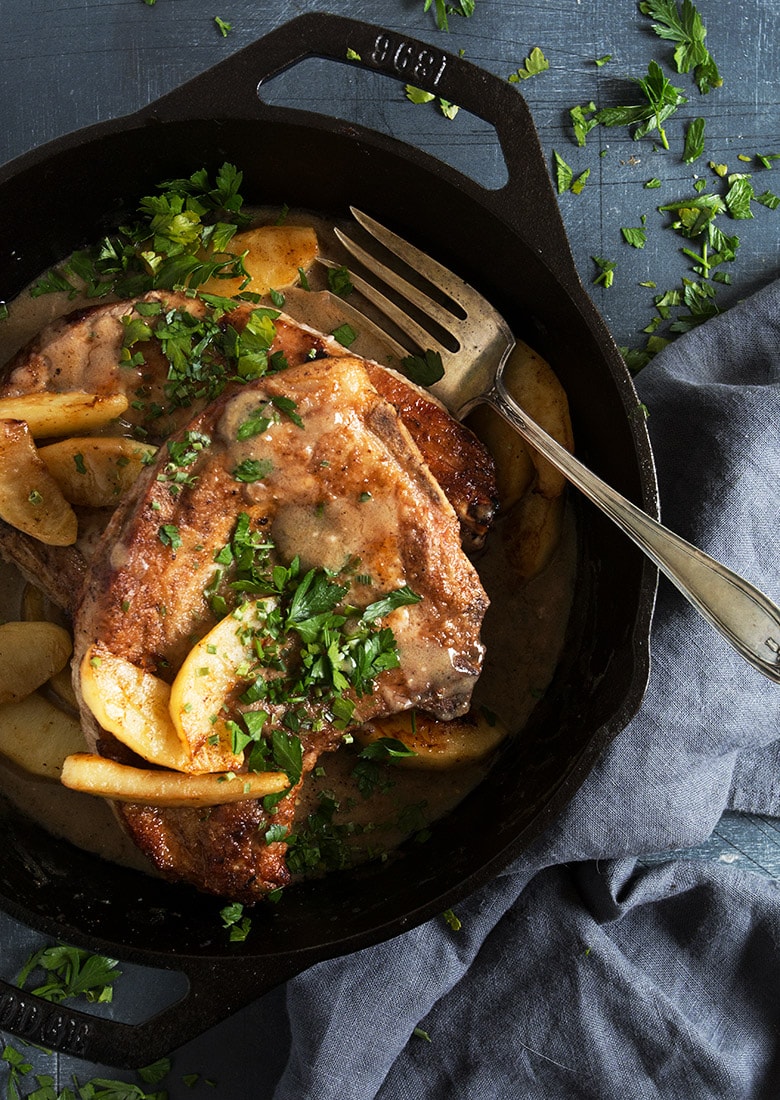 Recipe
More pork chop recipes you might also like ...