A delicious kale salad, combined with Brussels sprouts, broccoli, apple, dried cranberries and sunflower seeds. All tossed in a homemade poppy seed dressing.
This lovely kale and apple salad is one of the things I always look forward to when the Fall season arrives. It bring a delicious Fall spin to the usual salads of Summer. It's healthy eating that's perfect for the lunchbox, as a dinner side salad and is also an easy and pretty choice for a Thanksgiving table.
There is a whole lot of goodness going on in this salad, from greens to fruit to seeds, but it also manages to be seriously delicious at the same time. Win. Win!
My salad features Honeycrisp apples, dried cranberries and roasted sunflower seeds, combined with kale, finely chopped Brussels sprouts and broccoli. It's all topped off with a quick and easy homemade creamy poppy seed dressing. Oh ... and I threw in a bit of chopped, cooked bacon, as well, because I had some in the fridge. That's totally optional though, if you'd prefer to keep your salad vegetarian.
Jump to:
Ingredient Notes
For the salad, you will need ...
Kale, Brussels sprouts, broccoli, dried cranberries, sunflower seeds, apple and bacon (optional)
I prefer the tender baby kale, if I can find it. For regular kale, be sure to massage the tougher leaves before using.
Any type of apple will work in the salad. Just use what you like to eat.
Bacon is completely optional here. It's still delicious without it!
For the Poppy Seed Dressing, you will need ...
Sugar (or honey), white vinegar, mayonnaise (or Greek yogurt), Dijon mustard, vegetable or canola oil, poppy seeds and salt/pepper
If using honey, use a bit less that specified for the sugar. Greek yogurt works best as a substitute for the mayonnaise, as it is thicker.
Cook's Notes
This recipe will make one really large, two average sized or four side salads. For feeding a crowd, double or triple the recipe.
You can prepare the dressing ahead of time and refrigerate. The greens can also be chopped and refrigerated ahead. Dress and add the apple, cranberries and sunflower seeds just before serving.
If starting with a bunch of kale, be sure to give your kale a good massage (see below for how to massage kale) before adding to the salad. It makes all the difference when using fresh kale in a salad! To make this salad more quickly, start with baby kale (which doesn't need a massage) or pre-chopped kale.
How and why to massage kale for your salad
Kale is a delicious, healthy green, but can be tough and bitter, especially when it comes to salads. To transform your kale in to salad-ready goodness, simply give it a massage.
To massage kale, simply tear off the leaves, discarding the stem/rib portions and scatter on a cutting board. Add a sprinkling of salt and start rubbing the kale leaves against the cutting board. You'll notice your kale will shrink and become a darker green and you massage it. You are also releasing the natural sugars in the kale, so to know when you have massaged long enough, just do a quick taste taste shows to test if the bitterness has disappeared.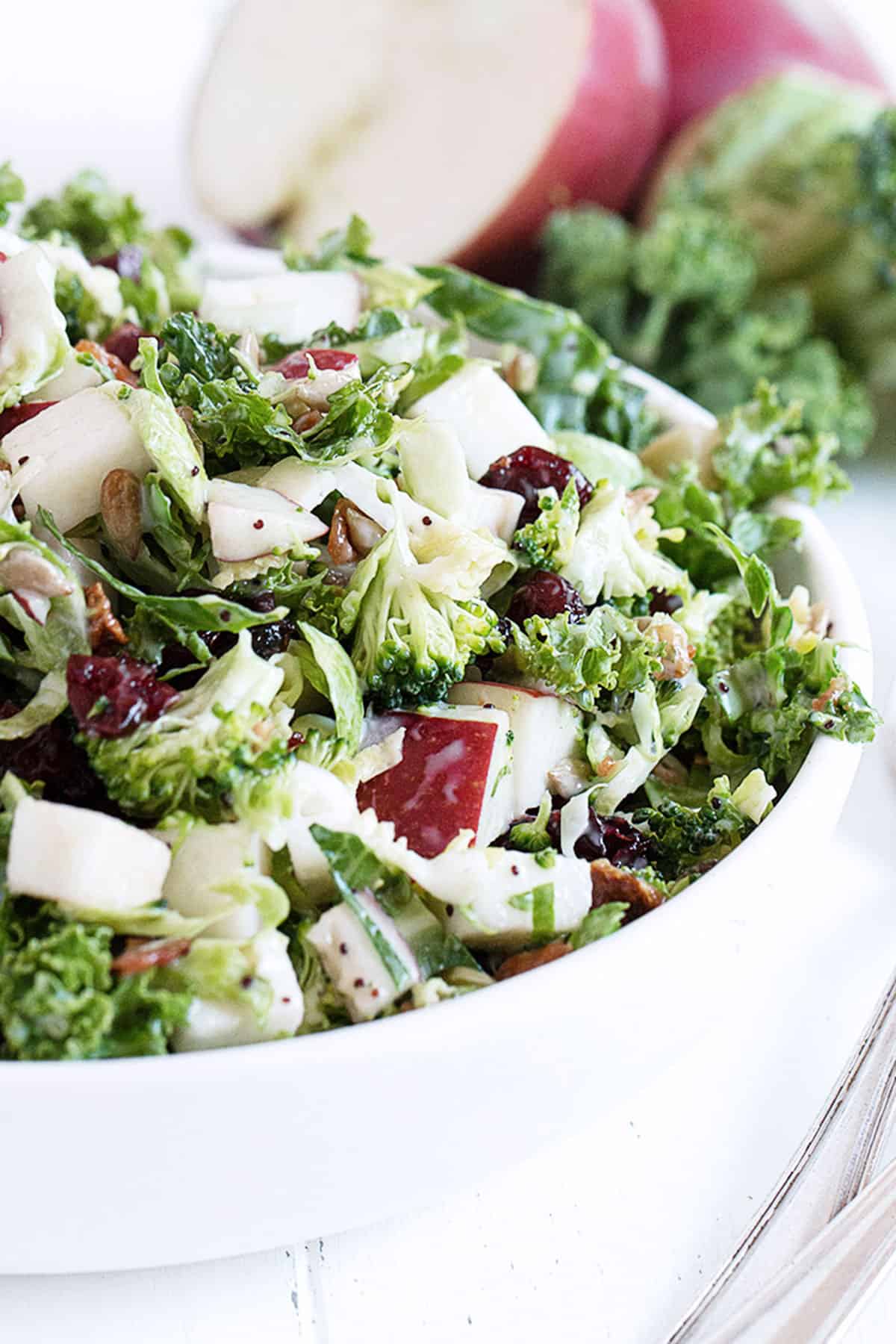 Recipe
More salad recipes you might like ...