A lovely Fall pear salad with goat cheese, dried cranberries, pecans and bacon, on top of romaine lettuce and with a
I don't like to pick favourite salads, but let's just say this one would be right up there! The combination of flavours is just a winner. It starts with ripe, firm Fall pears and is combined with dried cranberries, pecans, goat cheese and bacon. Yes, bacon is the perfect salty note in this salad and it pairs so well with the other flavours. It also provides a bit more heartiness for Fall.
As for salad dressing, I use a quick and easy homemade poppy seed dressing, then finish it all off with a drizzle of balsamic glaze. If you're not familiar with balsamic glaze, I highly recommend adding it to your pantry. It is essentially balsamic vinegar that is lightly sweetened and reduced in to a thicker liquid. It's sold in handy, dandy squeeze bottles, so it's easy to grab and drizzle on all kinds of things.
Jump to:
Ingredient Notes
Lettuce - I've used romaine lettuce here, but you can easily use another green or a mixture of greens, if you prefer.
Cheese - I used goat cheese, as I love the creaminess in this salad and it pairs beautifully with pears. Feta is another option, if you prefer.
Pears - As for which pears to use, I love Bosc pears, as they have a lovely texture and flavour, but Bartlett or Anjou pears are nice as well. Use pears that are ripe, but still have some firmness, for best results. If you want to change it up, try Red Pears. They are quite firm, even when ripe, with a more tart, almost apple-like flavour.
Bacon - The salty note from the bacon is a nice addition to this salad, but you can certainly omit for a vegetarian option.
Cook's Notes
You don't want to cut the pears for the salad ahead, as they will brown as they sit. Cut them just before serving. I don't peel mine. You can if you like.
Don't dress the salad too far ahead, as it will get soggy. I try to have everything chopped and ready, but stored separately, then I just bring them together, toss and dress shortly before serving.
What to serve with this Fall Pear Chopped Salad
I love this salad for lunch, on it's own, or for dinner, with something simple liked grilled chicken or pork.
Later in the Fall, it would be nice paired with my Braised Beef Stew with Cranberries. Add some mashed potatoes for a delicious and hearty meal!
For entertaining, maybe pair this lovely salad with pork tenderloin, roasted up with a simple balsamic glaze and sliced. Here are a few from the Seasons & Suppers archives ...
Cranberry Balsamic Pork Tenderloin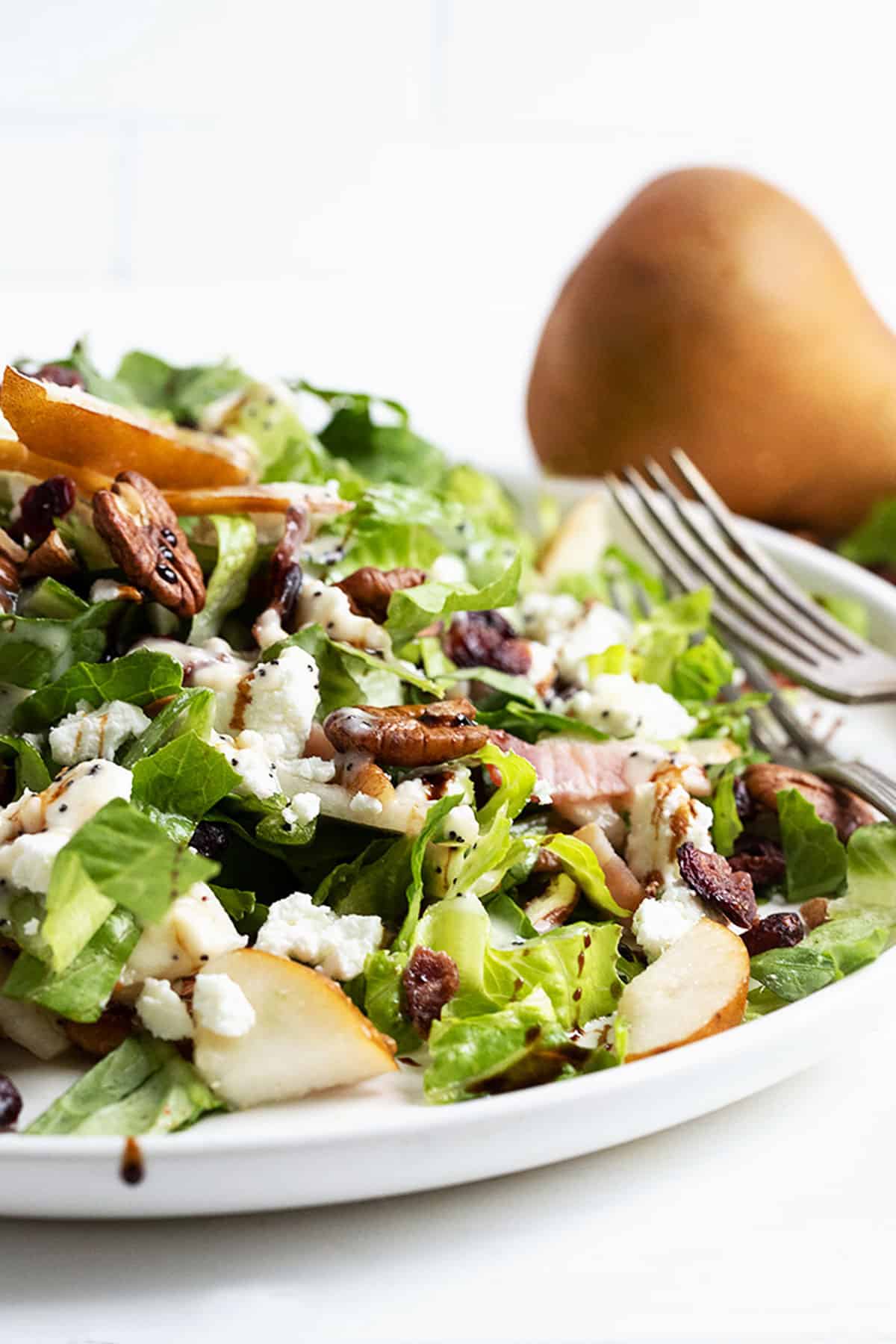 Recipe
More Fall Salads You Might Like
Save or share this recipe