These potato dinner rolls are incredibly soft, light and moist dinner rolls and the perfect choice for your holiday table or next to your Fall and Winter soups.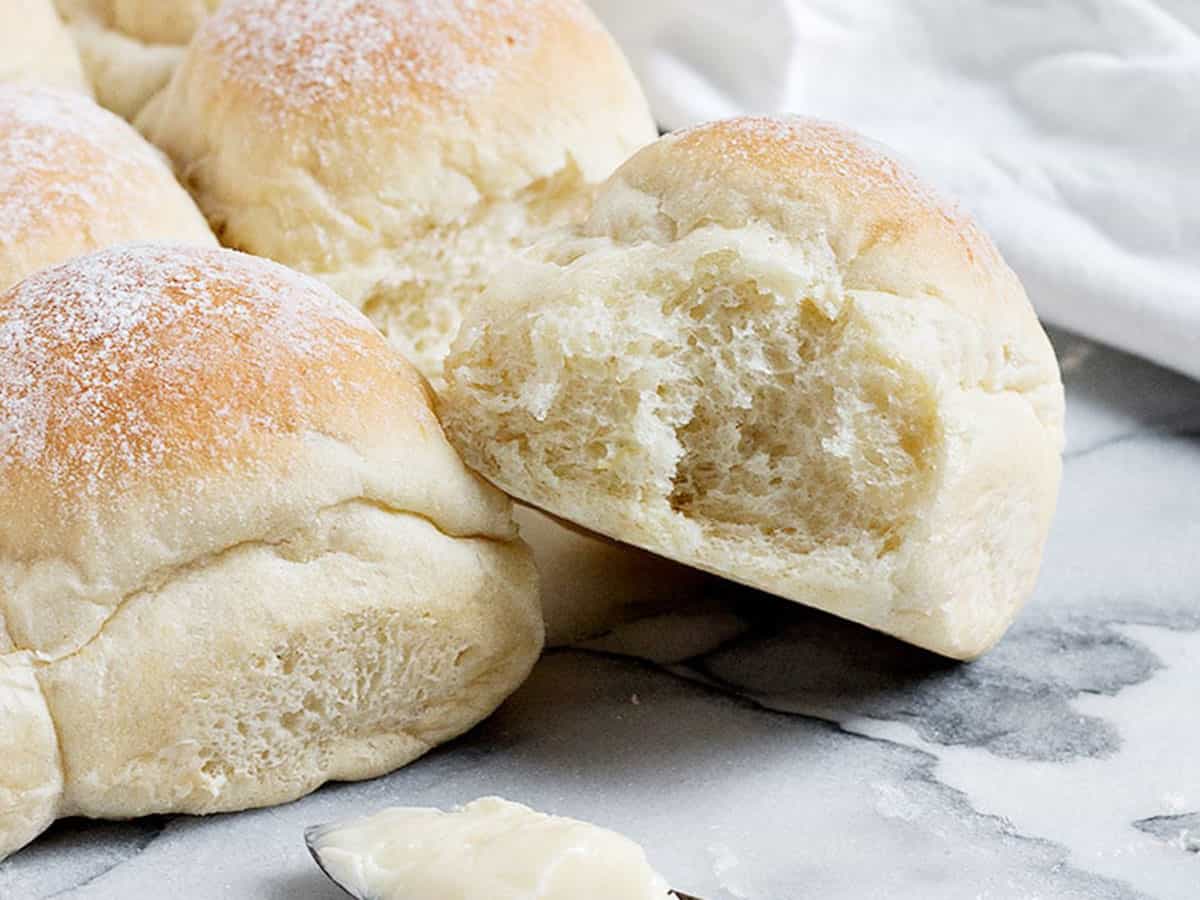 I am probably a little more bread obsessed that most, but who's with me in their love of a really great dinner roll? As I look forward to holiday season, it's not the turkey I'm thinking about right now. It's the rolls! So I thought I'd share what I think is the perfect dinner roll.
These potato rolls are incredibly soft, light and moist and not only that, they stay that way for days! That makes them perfect for all the leftovers. And these rolls are also easily made vegan. Simply use oil instead of butter and sugar instead of honey. This is always a nice option if you are feeding a crowd with varied diets.
These potato rolls start with just one large potato, that is boiled and mashed. If you happen to have leftover mashed potatoes on hand, you can even skip that part. I used a Yukon gold potato here, which gives these rolls a slightly yellowish tint to the rolls.
There is just something about potato (and potato cooking water) in bread dough that does the most wonderful things to the texture and flavour. It's my favourite and I think you will love these, too!
Jump to:
Ingredient Notes
Potatoes: You can use any type of potato here. Russets are fine, as are yellow-fleshed potatoes. You'll only need a couple of small potatoes. And as mentioned above, leftover mashed potatoes are just fine here. If the leftover mashed potatoes are buttered and salted already, you may want to reduce the amount of additional butter and salt you add to the dough a bit. In a pinch, mashed potatoes from instant potato flakes would also work.
Yeast: You can use instant or active dry yeast here. Rapid-rise yeast is not recommended.
Flour: I prefer to use unbleached all-purpose flour for all my breads, as it tends to produce a better bread. If you only have bleached flour, that's fine to use.
Cook's Notes
Don't forget you're going to need the potato cooking water, too, so be sure to drain the potatoes into a bowl or large measuring cup!
As you prepare the dough (and shape), add only enough flour to make a dough that isn't sticky, but that is still very moist - right on the edge of sticky. The more moisture/the less flour added, the more tender your finished rolls.
I use a fine mesh strainer to sift the flour on top after shaping. It makes for a nicer, finer finish that just scattering it by hand.
Baking time for these rolls will vary slightly, based on your oven and the pan you use to bake them. Watch them regularly after about 15 minutes. My pan/oven took about 20 minutes.
You'll want to take your rolls out when they are "just done" - lightly golden on top and not yet browning on the sides. Again, the less time in the oven, the more moist the rolls and the longer they will stay moist. If you have an instant read thermometer, you can check the roll in the middle of the pan and if it is about 172-175F. you're good to take them out.
This recipe makes 9 rolls. If you'd like more, double the recipe and bake in two 8-inch square pans.
These rolls freeze well, so you can make ahead and freeze. Thaw in the wrapping at room temperature, then warm wrapped in foil in a 350F. oven for 10 minutes or so.
My Best Tips for Baking with Yeast
I think most problems people have with baking with yeast, is treating yeast-based recipes like say, a cake recipe, where you just add all the ingredients together, mix as prescribed and bake as detailed.
Yeast recipes just can't be that precise. Things like temperature, moisture in the flour your are using, the season your are baking in and rising time that can differ from one kitchen to the next, make yeast recipes less consistent from one kitchen to the next.
Now that you know this though, that's more than half the battle :) Just trust what you see, how the dough feels and how much it has grown in size as it rises (rather than the clock) and it will all be good!
Be careful with the temperature of your proofing liquid before adding the yeast, so you don't compromise the yeast from the start. If the liquid is too cold, the yeast won't activate. Too hot and it will die. The best temperature range for proofing liquid is 105-110F for Active Dry Yeast. Instant yeast is a bit more forgiving and can take temperatures up to 120F. All yeasts die at about 140°F. An Instant Read thermometer is handy to have on hand to check.
Always treat the amount of flour specified in yeast-based recipes as "approximate". Flours will vary from kitchen to kitchen and by season, so the amount needed to make a smooth, soft dough will vary.
Given tip #2, I always hold back 1/4-1/3 of the flour specified in a recipe and add in only as much as is needed. If you dump all the flour in at the start, you may find that it is too much and it's difficult to adjust well after that.
Use a large glass measuring cup to proof your dough. It's easy to see when the dough has doubled.
Be patient. Rising times are also "approximate" and will vary as well. Trust what you see and not the clock.
Recipe
More dinner roll recipes you might also like ...