Lovely and light, this fresh blueberry yeast bread is wonderful eaten out of hand with butter or toasted. It's like having the jam in the bread!
If you've ever had fresh blueberries around and you've wondered if you could use them in yeast bread, I'm here to tell you that you absolutely can. In fact, I'm here to tell you that you absolutely should! I loved this bread. A lot. It was fabulous eaten out of hand with butter. It was great toasted. It's like having the jam already in the bread :)
Ingredients and Substitutions
Blueberries – you can use fresh blueberries or thawed frozen blueberries here. For frozen blueberries, thaw then pat dry. Toss in a bit of flour before using.
Yeast – you can use active dry yeast or instant yeast for this bread.
Lemon Zest – this is optional, but it does make a subtle, but lovely lemon note in this bread.
Recipe Tips
In order to not completely macerate all the blueberries, you'll want to keep the kneading to a minimum. That said, you do need to add them at the beginning of the dough making process, as it will be impossible to add them once the dough takes shape. As such, I left this dough quite moist and only minimally kneaded.
Let the dough rise until doubled, each rise. The timing will vary depending on the temperature of your kitchen.
Tips for Baking with Yeast
I think most of the problems people have with baking with yeast, is treating yeast-based recipes like say, a cake recipe, where you just measure the ingredients, mix them all together and bake.
Yeast-based recipes just can never be that precise. Things like temperature, moisture in the flour your are using, the season your are baking in and rising time can differ from one kitchen to the next. All that makes yeast recipes less consistent from one kitchen to the next.
Now that you know this though, that's more than half the battle :) Baking with yeast isn't just measuring, mixing and baking, like a cake, for example. You'll need to add to the mix a little trust in what you see (it looks sticky, so it needs more flour, regardless of how much flour the recipe says should go in), and a feel for the dough (does it feel smooth like a baby's bottom when you're done kneading?) and watching much it has grown in size as it rises (rather than watching the clock). Do that, and all will be good!
Be careful with the temperature of your proofing liquid before adding the yeast, so you don't compromise the yeast from the start. If the liquid is too cold, the yeast won't activate. Too hot and it will die. The best temperature range for proofing liquid is 105-110F for Active Dry Yeast. Instant yeast is a bit more forgiving and can take temperatures up to 120F. All yeasts die at about 140°F. An Instant Read thermometer is handy to have on hand to check.
Always treat the amount of flour specified in yeast-based recipes as "approximate". Flours will vary from kitchen to kitchen and by season, so the amount needed to make a smooth, soft dough will vary.
Given tip #2, I always hold back 1/4-1/3 of the flour specified in a recipe and add in only as much as is needed. If you dump all the flour in at the start, you may find that it is too much and it's difficult to adjust well after that.
Use a large glass measuring cup to proof your dough. It's easy to see when the dough has doubled.
Be patient. Rising times are also "approximate" and will vary as well. Trust what you see and not the clock.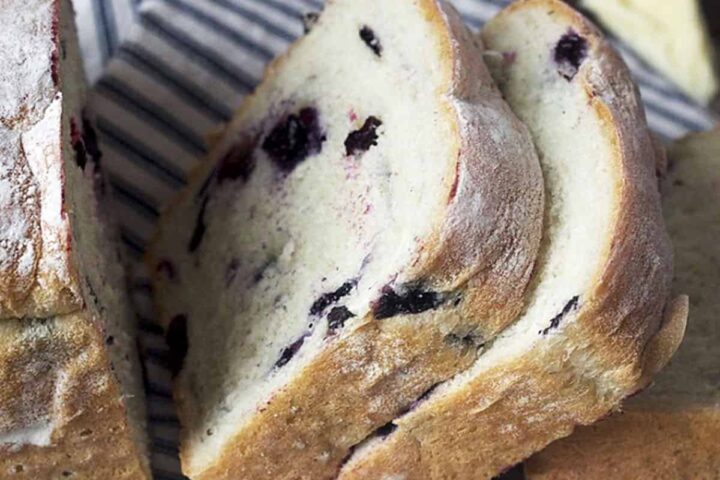 Get the Recipe:

Fresh Blueberry Yeast Bread
Light and lovely white bread, filled with fresh blueberries and a touch of lemon. It's lovely eaten out of hand with butter or toasted. It's like having the jam in the bread!
Ingredients
1 1/2

cups

warm water

1

Tablespoon

instant or dry active yeast

1/2

teaspoon

salt

1

teaspoon

lemon zest

,

optional

1/4

cup

white granulated sugar

1

cup

fresh or frozen blueberries

,

I usually add a few more than a cup

3 1/2 - 4

cups

all-purpose flour
Instructions
For frozen blueberries, thaw completely, pat dry and toss in a bit of flour before using.

Grease a 9x5-inch loaf pan and set aside.

In a large bowl or the bowl of a stand mixer with the kneading hook, combine the warm water, yeast, blueberries, sugar, salt and lemon zest. Let stand 5 minutes.

Add 2 1/2 cups of the flour and mix to combine. Begin adding the flour 1/4 cup at a time, just until the dough comes together in to a smooth and moist dough (but not too sticky). The dough should wrap the kneading hook and clean the bowl. If using a mixer, stop kneading when the berries seem to be crushing.

Remove to a floured surface and gently knead in a bit of flour until you have a smooth ball. Place in a greased bowl, cover and let rise until doubled (about 1 hour).

Remove dough to a floured surface and press out in to a 9x18-inch-ish rectangle. Starting with the 9-inch edge, roll up jelly-roll style. Place into prepared 9x5 loaf pan. Cover with greased plastic wrap and let rise until doubled (about 45 minutes).

Preheat oven to 350 F. (not fan assisted) Bake in preheated oven for 30-35 minutes, or until deep golden and cooked through.
Notes
Be sure to read the notes above this Recipe Card, for more tips on making this recipe.
Serving:
1
serving
,
Calories:
23
kcal
,
Carbohydrates:
5
g
,
Sodium:
97
mg
,
Potassium:
9
mg
,
Sugar:
5
g
,
Vitamin A:
5
IU
,
Vitamin C:
1.4
mg
More Blueberry Bread Recipes to Love!
Hi! I'm Jennifer, a home cook schooled by trial and error and almost 40 years of getting dinner on the table! I love to share my favourite recipes, both old and new, together with lots of tips and tricks to hopefully help make your home cooking enjoyable, stress free, rewarding and of course, delicious!