This phyllo apple tart is sweet, fruity and crispy and a quick and easy apple dessert as it start with store-bought phyllo dough! For ultimate enjoyment, serve warm with ice cream.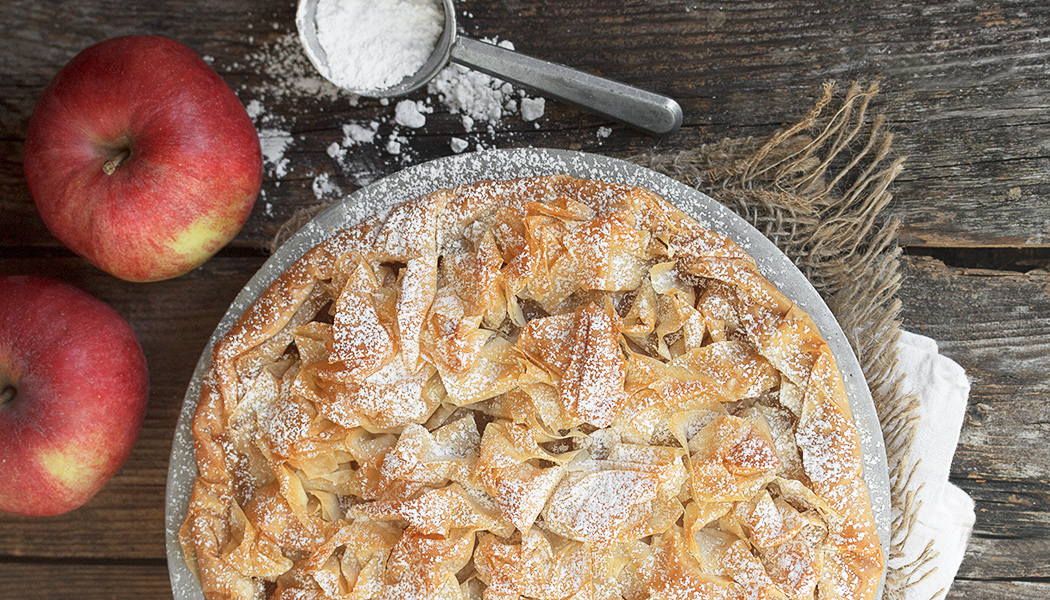 This week I was cooking with phyllo. I made a delicious quiche earlier in the week with a phyllo crust (you'll find the recipe on the Mushrooms Canada blog early next week!). With half the roll of phyllo left, this frilly fruity tart was born. It's great for using up left-over phyllo!
(As an aside, phyllo can be re-frozen, as long as it was keep moist while it was thawed. It will also keep (well-wrapped) in the fridge for about 2 weeks. I know this because I googled it a few days ago, but thought I'd share to save you the time, in case you were wondering :)
This apple tart is a quick and easy dessert that's perfect eaten warm with some vanilla ice cream. Although I baked it up in a pie plate I honestly didn't think I would be able to slice it as you would a pie. In fact though, I was surprised at how sturdy it ended up being. Nonetheless, I scooped it out with a spoon and plopped it in to to a bowl to enjoy.
If you're just serving adults, a splash of some booze in the filling would be a nice touch. Rum, brandy, whiskey, calvados – all good choices.


Tips for working with phyllo: Thawing in the refrigerator (in the box) is best. Don't get your phyllo out of the fridge until you have everything ready to go (melted butter/oven pre-heated) and your filling is cooked and cooled. You can use melted butter or cooking spray between your phyllo layers. Cooking spray is easier, quicker and of course, would have less calories that using butter (but if you're making a dessert, that is maybe a moot point ;). Be sure to have damp, clean tea towel handy to cover your phyllo while not working with it. Wrap any leftovers well as soon as you're done and refrigerate or freeze.
Get the Recipe:
Phyllo Apple Tart
Be sure to allow the apple filling to cool to room temperature or make ahead and use chilled, before assembling your tart. You can use any kind of apple for this one. For adults, a splash of rum, brandy, whiskey or calvados (apple brandy) would be nice in the filling.
Ingredients
For the apple filling:
4

Tbsp.

butter

5

medium

apples

,

peeled, cored and sliced in to 1/2 inch slices

1/2

tsp.

cinnamon

Pinch

salt

1

cup

brown sugar

,

packed

1/4

cup

heavy whipping cream

,

or a lighter 18 or 10% cream mixed with 2 tsp. of cornstarch

Optional: splash of rum

,

brandy, whiskey or calvados
For assembly:
5-6

sheets

phyllo dough

,

thawed

2

Tbsp.

melted butter
Instructions
Prepare the filling: Melt 4 Tbsp. butter in a frying pan over medium heat. Cut your peeled apples in to quarters, remove the core, then slice into 1/2-inch slices. Add apple slices to your pan and cook, stirring, until apples are tender. Sprinkle with cinnamon and a pinch of salt. Add brown sugar and cream. Stir to combine. Allow mixture to cook, bubbling, until sauce reduces and thickens slightly. Remove from heat and allow to cool to room temperature (or make ahead and refrigerate until ready to assemble).

To make tart: Preheat oven to 350° F. Melt butter and have a pastry brush ready. Have a damp, clean tea towel handy. Brush your pie plate with a bit of melted butter. Remove thawed phyllo from fridge. Take one full sheet and brush lightly with melted butter. Keep the remaining phyllo covered with damp towel while you aren't working with it. Drape the phyllo sheet over the pie plate. Don't try to press it down at this point, as it may tear. Butter another sheet of phyllo and lay it over the bottom sheet at an angle to the first one. Repeat with a third sheet of phyllo, buttering and then laying it over the pie plate at an angle to the first two. At this point, you should have covered all of the pie plate. If not, add another layer.

Gently press down in the centre of the pie plate to make a cavity. Using kitchen scissors, trim the excess phyllo to within 1 inch of the edge of the pie plate. Reserve scraps. Add your cooled or refrigerated apple filling to the pie plate. Fold the edges of the phyllo in towards the filling to make a neat edge. Brush with melted butter. Take the reserved phyllo scraps and one piece at a time, scrunch them up and place on top of the filling until the top is covered (you may need to use an additional sheet of buttered phyllo to cover it all). Dap lightly over the scrunched up phyllo with butter. Place pie plate on to a baking sheet and bake in the pre-heated oven for about 30 minutes. Be sure to watch closely near the end to ensure the phyllo doesn't burn. It should be a lovely over-all golden colour. As the filling is already cooked, you don't need to worry about the apples being cooked. Just be sure the phyllo is cooked and golden.

Transfer pie plate to a cooling rack and allow to cool for 10-15 minutes before eating. Lovely served with vanilla ice cream.
Calories:
406
kcal
,
Carbohydrates:
65
g
,
Protein:
1
g
,
Fat:
16
g
,
Saturated Fat:
10
g
,
Cholesterol:
45
mg
,
Sodium:
197
mg
,
Potassium:
230
mg
,
Fiber:
4
g
,
Sugar:
51
g
,
Vitamin A:
595
IU
,
Vitamin C:
7
mg
,
Calcium:
54
mg
,
Iron:
1
mg