I love pork tenderloin, but I always feel it needs a little something to bring some more flavour to the plate. Here are 3 of my favourite recipes that have a great glaze for pork tenderloin.
You'll love that two of these pork recipes these make use of jam for the glaze, which makes an easy glaze for pork tenderloin.
All three of these delicious pork tenderloin recipes are ready in just about 45 minutes or less (and most of that is passive oven time!).
Fig and Balsamic Pork Tenderloin
A delicious, one-pan pork tenderloin with fig jam and balsamic vinegar. Roast some mini potatoes right alongside the pork, if you like.
Get the recipe »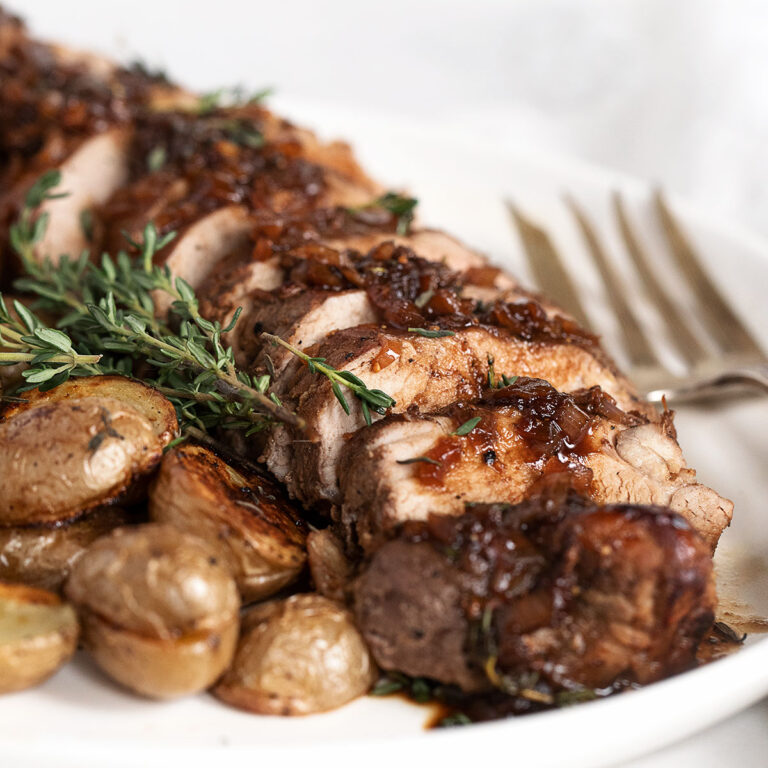 Apricot Glazed Pork Tenderloin
Super easy apricot glazed pork tenderloin, that cooks entirely in the oven (no pan searing needed). With a simple sauce of apricot jam, Dijon mustard and Balsamic vinegar.
Get the recipe »
Maple Mustard Pork Tenderloin
This quick and easy maple mustard pork tenderloin features a delicious maple mustard pan sauce, using just a few ingredients.
Get the recipe »
Top Pork Tenderloin Tip!
If you want your pork tenderloin to be juicy and tender (and never dry and tough), invest in a meat or instant read thermometer and cook pork tenderloin only to 140-145F internal temperature.
Allow the pork to rest 10 minutes before slicing. The pork will continue to cook a bit while it rests (adding another 3-5 degrees), so factor that in when deciding when to remove the pork.
When testing with the thermometer, test the thickest part of the pork tenderloin and be sure to insert the probe just into the centre. If you test too far in, you may pick up the heat from the pan and get a false temperature reading.
Hi! I'm Jennifer, a home cook schooled by trial and error and almost 40 years of getting dinner on the table! I love to share my favourite recipes, both old and new, together with lots of tips and tricks to hopefully help make your home cooking enjoyable, stress free, rewarding and of course, delicious!