This delicious asparagus quiche is a twist on the traditional, with shredded hashbrown potatoes replacing the typical pastry crust. Filled with asparagus and aged cheddar.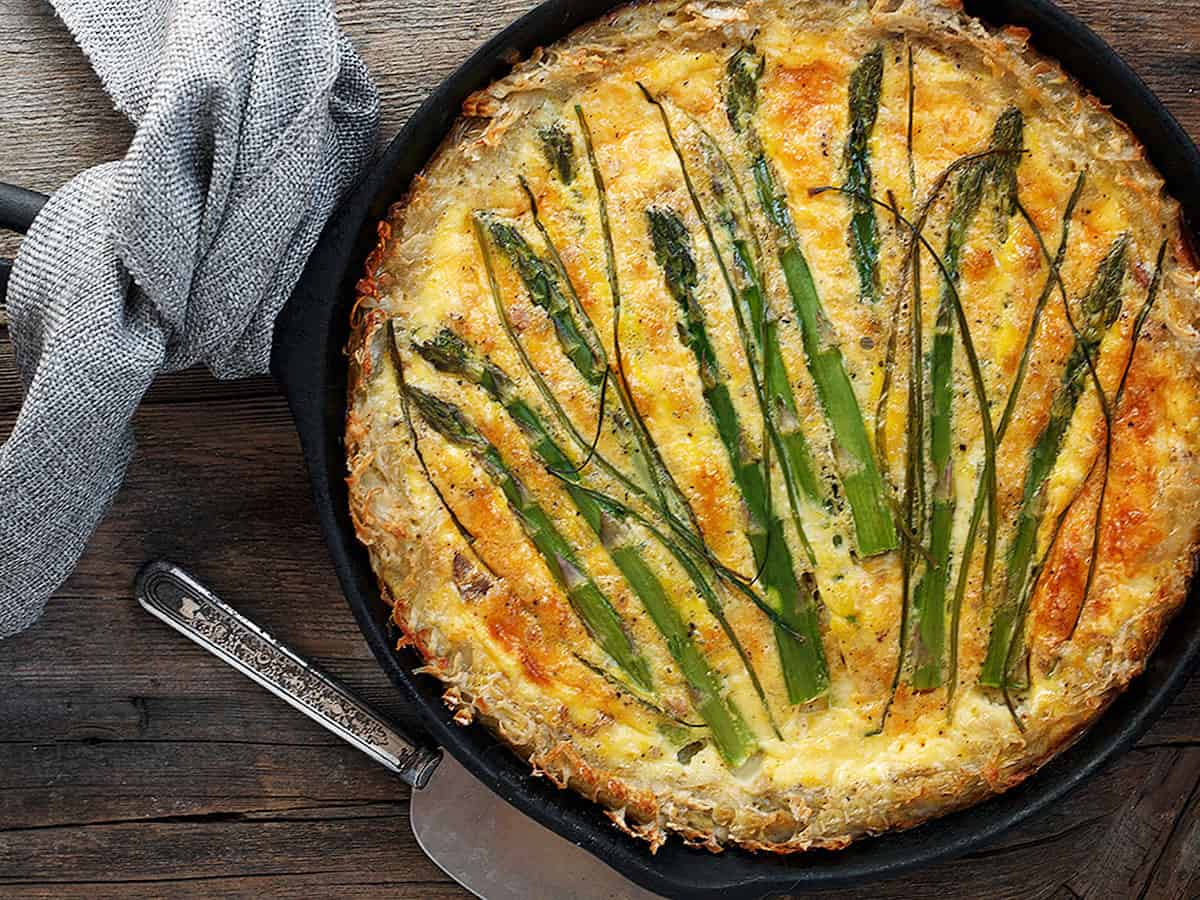 I spotted this recipe on Epicurious recently and was immediately drawn in by the hashbrown crust used in this quiche. And since it's asparagus season, I just had to add it to my weekly menu.
I adapted the recipe slightly, changing up the cheese based on what I had on hand, adding some chives and omitting the suggested tarragon. (I actually love tarragon, but I didn't have any fresh around and since I was using cheddar, instead of the suggested goat and fontina, I thought I'd forego it this time around).
The result was a wonderfully flavourful and hearty quiche, which was definitely "husband approved" :) Yes, the hashbrown crust was a little more work, but honestly, not that much. I'd definitely make this one again and would love to experiment with different cheese and herbs, as well.
So if you're looking for a lovely way to use Spring asparagus, I can definitely recommend this quiche!
Jump to:
Cook's Notes
Be sure to use all your muscles to wring out the moisture from the potatoes. The drier they are to start with, the better the end result. Also, don't skimp on the time needed to brown/set the crust on the stove-top before placing in the oven, as it's the key to a lovely crisp potato crust.
This quiche is a great base to experiment with different cheese - goat, Swiss, fontina would all be good choices, or a combination.
No shallots? Simply use a bit of yellow or red onion, instead.
Reading through the comments on Epicurious, I noticed that several people made this with thawed, frozen hashbrown potatoes and had good success with that route, if you'd rather skip the potato grating/wringing thing. I imagine they should be quite thawed so you can press them against the pan and make a solid base. I would also think the cooking time on the stove-top might be a bit less. If you try this, let me know how it worked!
Finally, do let the quiche sit a bit to set-up before serving. It's actually best slightly cooled, rather than straight from the oven (in my opinion :)
Recipe
More quiche recipes you might also like ...
Save or share this recipe