These heart shaped donuts are the perfect way to share the love on Valentine's Day! (Or just about any day :) Filled with the jam of your choice.
Those who know me in real life, know that the one thing I can never resist is donuts (or doughnuts, if you prefer :). So with Valentine's Day just a week away, I couldn't think of a better treat than these heart shaped donuts.
These donuts are the real thing – yeast-risen and deep fried! I can assure you though, they are not difficult to make and you don't need a deep fryer to make them (though it does make donuts easier). And they freeze well, so make up a batch this weekend and you'll be all set for Valentine's Day.
Ingredients and Substitutions
Yeast – you can use either Active Dry Yeast or Instant Yeast for these donuts.
Jam – Use a seedless jam for filling these donuts. Jam with seeds and chunks will clog up the piping tip and make for endless frustrations (and yes, that's the voice of experience there ;) If you only have jam with seeds, you can press it through a fine sieve to remove most of the seeds and chunks. Simply press down and rub with the back of a spoon through the sieve.
Recipe Tips
When it comes to deep frying, it's hard to beat a little deep fryer to make the job easy. A deep fryer does the one thing that makes stove-top frying tricky – it regulates the oil temperature for you. And when it comes to donut making, the oil temperature is very important. If the oil is too hot, the donut will cook on the outside before it is done on the inside. Oil that is not hot enough, will not cook and seal the outside, allowing the oil to saturate the inside of the donut.
All that said, if you don't have a deep fryer, start with a deep heavy pot (think Dutch oven or similar). Use a pot that has a lid and keep the lid handy (if you have any mishaps, simply put the lid on the pot to contain it). A candy or deep frying thermometer is super handy to monitor the oil temperature.
If not using a deep fryer, you'll only need about 2-3 inches of oil in the pot. Donuts cook as they float on top of the oil, so only about 1 inch of it is submerged in oil at any time. So just enough oil so that the donuts don't bottom out.
When deep frying, only cook 2-3 at a time. Adding too many at once lowers the temperature of the oil and impedes cooking.
Donuts should be deep golden when done, but it should take almost the full minute per side to get there. If yours seem to be browning much quicker than that, your oil is too hot. Likewise, if your donuts are pale-ish after 1 minute, your oil is not hot enough, so adjust accordingly.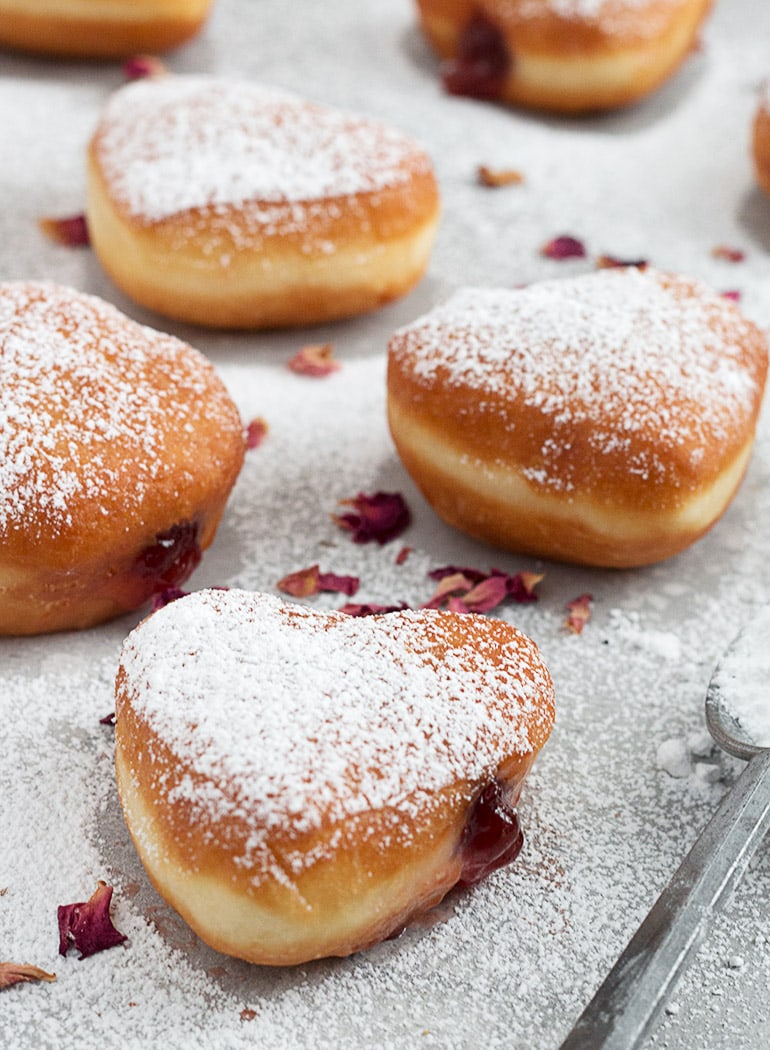 Making Ahead, Storing and Freezing
Donuts are always best when fresh, though they are still quite good into the next day.
These donuts will freeze beautifully. Simply allow to cool completely and fill with jam. Skip the icing sugar for now. Place on a baking sheet and place the baking sheet into the freezer for an hour or until firmed up. Transfer to a freezer bag. To enjoy later, thaw outside of the bag at room temperature for 30-40 minutes and dust with icing sugar before serving.
Get the Recipe:

Heart-Shaped Donuts
Easy heart shaped donuts, made with yeast, filled with jam and fried up in a little oil. Finish with a dusting of icing sugar.
Ingredients
3/4

cup

milk

3

Tablespoons

vegetable shortening

,

or substitute butter or lard

2 1/4

teaspoons

active dry or instant yeast

3

Tablespoons

warm water

,

95°F to 105°F

1

large

egg

,

beaten

2

Tablespoons

white granulated sugar

2

teaspoon

fine table salt

1/2

teaspoon

grated nutmeg

2 1/3

cups

all-purpose flour

,

spooned and levelled, plus more as needed

Oil for deep frying

,

amount depends on size of vessel you are frying in – you will want three (3 inches of oil (can substitute any other flavourless oil used for frying)

Piping Bag with 3/8-1/2-inch plain tip

Seedless jam or jelly

,

for filling

Icing/Confectioners' Sugar

,

for dusting
Instructions
Place the milk in a medium saucepan and heat over medium heat just until warm to the touch. (Can also be done in the microwave.)

Place the shortening in a bowl and pour warmed milk over. Stir until the shortening is completely melted. Set aside.

In a small bowl, sprinkle the yeast over the warm water and let stand for 5 minutes. It should get foamy. After 5 minutes, pour the yeast mixture into the bowl of a stand mixer and add the milk and shortening mixture, making sure the milk and shortening mixture has cooled to lukewarm.

Add the eggs, sugar, salt, nutmeg, and half of the flour. Using the paddle attachment of your mixer, combine the ingredients on low speed until the flour is incorporated and then turn the speed up to medium and beat until well combined.

Add the remaining flour, mixing on low speed at first, and then increase the speed to medium and beat well.

Change to the dough hook attachment of the mixer and beat on medium speed until the dough pulls away from the bowl and becomes smooth, approximately 3 to 4 minutes (for me this only took about two minutes). If you do not have a dough hook/stand mixer – knead until the dough is smooth and not sticky.

Transfer to a well-oiled bowl, cover, and let rise for 1 hour or until doubled in size.

On a well-floured surface, roll out dough to 3/8-inch thick. (Make sure the surface really is well-floured otherwise your doughnuts will stick to the counter).

Cut out dough using a heart-shaped cookie cutter. Set on floured baking sheet, cover lightly with a tea towel, and let rise for 30 minutes.

Preheat the oil in a deep fryer or Dutch oven to 365 °F.

Gently place the doughnuts into the oil, 3 to 4 at a time. Cook for 1 minute per side or until golden brown.

Transfer to a cooling rack placed on top of baking pan to catch any drips. Allow to cool completely.

To fill, use a sharp knife to cut a hole in the side of the heart and turn the knife around inside the donut a bit to make a pocket. Place seedless jam or jelly into a piping bag fitted with a plain tip. Insert tip into hole in side of donut and fill the pocket. Dust with icing/confectioners' sugar before serving.
Notes
Be sure to read the notes above this Recipe Card, for more tips, options, substitutions and variations for this recipe!
Serving:
1
donut
,
Calories:
239
kcal
,
Carbohydrates:
21
g
,
Protein:
3
g
,
Fat:
4
g
,
Saturated Fat:
1
g
,
Cholesterol:
18
mg
,
Sodium:
401
mg
,
Potassium:
61
mg
,
Sugar:
2
g
,
Vitamin A:
55
IU
,
Calcium:
25
mg
,
Iron:
1.2
mg
More Donut Recipes to Love!
Hi! I'm Jennifer, a home cook schooled by trial and error and almost 40 years of getting dinner on the table! I love to share my favourite recipes, both old and new, together with lots of tips and tricks to hopefully help make your home cooking enjoyable, stress free, rewarding and of course, delicious!