This Chunky Cheese Bread is soft and loaded with chunks of cheddar cheese, together with shredded cheese. Lightly flavoured with a bit of mustard and garlic and topped with sesame seeds.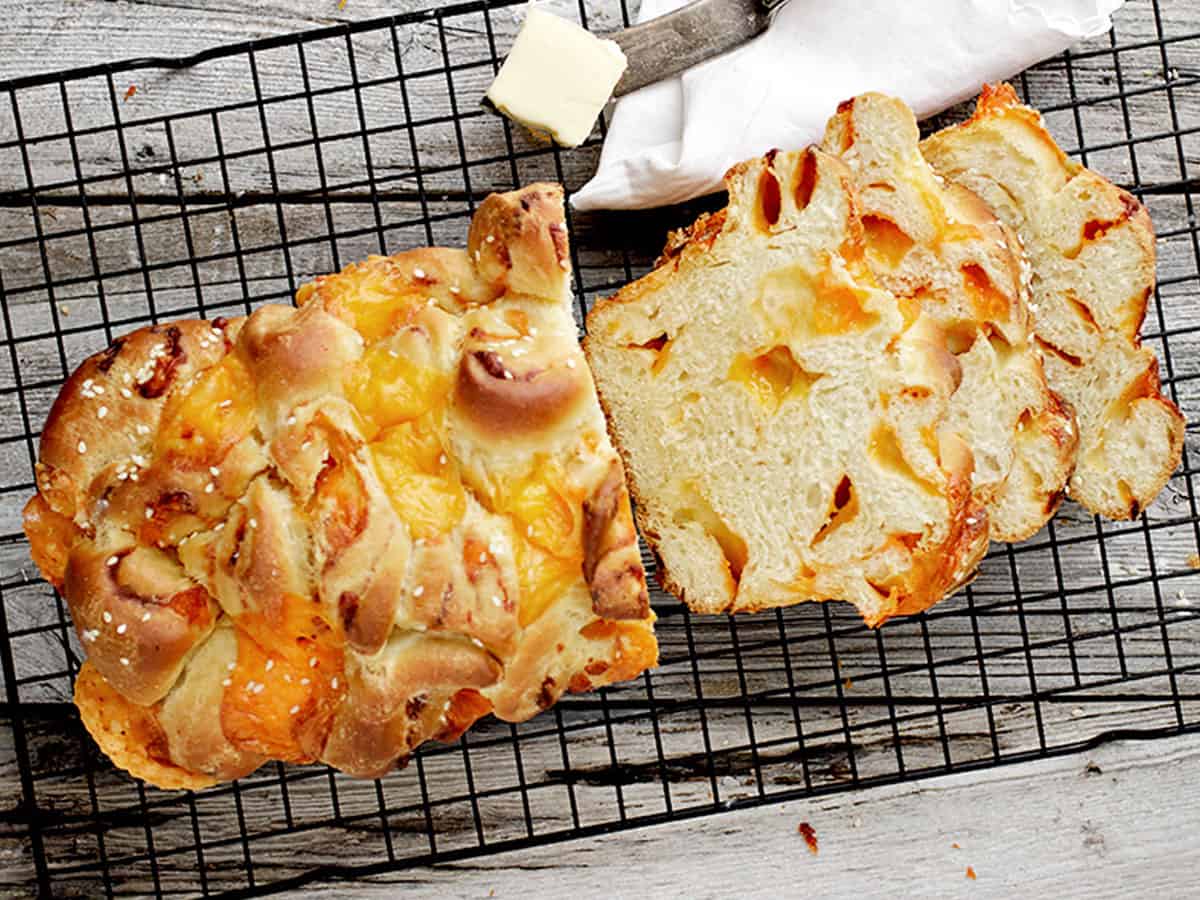 There's cheese bread and then there's cheeeeeese bread. This is definitely the latter. This is the bread you should make when you really want the full-on cheese bread experience. It's excellent eaten out of hand, with butter. It's great toasted or as a sandwich bread and of course, it makes a pretty much perfect grilled cheese.
This bread uses an interesting technique. First the dough is rolled out, then scattered with shredded cheese, then rolled up jelly-roll style. Then it's cut in half lengthwise and then cut into little pieces. Those pieces are scattered haphazardly into the loaf pans, mixed with a generous amount of cheese chunks. It's all topped off with a bit of melted butter, a pinch of garlic salt and a sprinkling with sesame seeds. It bakes up into a solid loaf, that's very sliceable, with no gaps that you often get with just jelly-rolled cheese bread.
Cook's Notes
If you've ever gazed longingly at those super cheesy breads at the grocery store, then been stopped short by the price tag, you'll be laughing all the way to the bank with this homemade version. You'll use less than 1/2 of standard large block of cheese for these two loaves, so maybe $2.50 - $3 for cheese, tops - for two large loaves. With minimal other ingredients, it makes a lot of sense to bake your own, not to mention that you know exactly what's in it!
When it comes to cutting the dough into small pieces, don't be too precise with it. Go all ninja on it and just cut haphazardly. It's good to have a variety of sizes and shapes, to fill in the pan spaces best.
Don't be in too much of a rush to remove the bread from the oven. It will look fairly browned at the 30 minute mark, but it needs to cook a little longer (35-40 minutes). Cover loosely with a piece of foil to stop the browning, if needed.
Don't skimp on the greasing of the loaf pans. It will make your life easier when removing the cooked bread later. I just use a generous spray of baking spray.


Love cheese bread? You might also like my Soft Cheese Bread recipe.
More cheese bread recipes you might also like ...