No need to buy salsa, when it is so easy to make your own at home! This easy fresh tomato salsa is ready in less than 2 hours, and is perfect for canning or freezing or simply refrigerate and enjoy!
I have been making this salsa for many, many years. It was first published by Canadian Living as "Peppy Salsa" back in 1994 and the first time I made it, I decided it was just a perfect salsa.
Over the years, I have adapted that original recipe to make a simpler, but it's just as delicious. So now it's simply perfect :) There is no better time than right now, when tomatoes are lovely, abundant and economical to make a batch of homemade fresh tomato salsa!
Why You'll Love This Salsa, Too
It's easy! I've ditched the step of peeling the tomatoes and I'm never going back. Peeling tomatoes is a chore this girl doesn't love and in my opinion, it's an unnecessary one for salsa. Skipping that step means making homemade salsa is infinitely easier.
I have simplified the pepper selection too, by using just red bell peppers, together with the requisite jalapeño peppers. While you can certainly seek out and use a variety of peppers in all manner of colours, I love the flavour of red bell pepper and using all red peppers makes for a pretty, red salsa.
Finally, I've also moved away from canning salsa, in favour of freezing. Salsa freezes really well and makes the job of salsa making another degree easier. No jars to sterilize and no water bath needed.
It's easy to control the heat! This salsa doesn't use any hot peppers in the salsa cooking (which can result in unpredictable heat levels in the finished salsa) and instead, adds hot sauce at the end of cooking. With this method, you can completely and easily control the heat level of your salsa. Simply add 1 tsp for mild, 2 tsp for medium and 3 tsp for hot (depending on the heat of your hot sauce, of course :)
It's customizable Not only can you easily control the heat level of this salsa, you can control the texture, by leaving it chunky or using an immersion blender a bit, to make a smoother salsa. Make salsa how you like it.
It's flexible It's easy to adjust this recipe to make just a little salsa or a lot. The base recipe makes 8 cups of salsa. If that's too much, you can halve it to make just 4-cups to refrigerate or go all in and triple the recipe and make lots, for canning or freezing.
It's delicious! I love the flavour of this salsa. It's slightly sweet, owing to the natural sweetness of the tomatoes and peppers and minimal salt. Combined with the heat from the hot sauce and salty tortillas, it's the perfect sweet/heat/salty flavour trifecta.
Ingredients and Substitutions
Fresh Tomatoes – you can use any type of fresh tomato here, but I prefer to use San Marzano or Roma/plum tomatoes, simply because they have more flesh and less seed and juice. They are also easily available in bulk and economical when bought at the end of the Summer. You will need about 4 lbs. of fresh tomatoes for a single batch.
I don't peel my tomatoes. You can if you like, but I find it a lot of work to blanch and peel them. I don't mind the skin in the salsa and it is so much easier to make salsa without having to peel dozens of tomatoes :) Just be sure to wash your tomatoes well before using.
Jalapeño – you'll need about 8-10 jalapeños, depending on their size. I generally core and seed, though I don't mind if a few seeds get in to the mix :)
Bell Pepper – I like to use all red bell pepper, as I think it makes a prettier salsa. Using yellow or orange tends to make a yellow or orange-ish salsa. That said, they all work. You'll need about 5 average bell peppers. If you like, you can add some Anaheim or Cubanelle peppers to the mix. Just stick to the total amount of pepper specified. I don't recommend adding any hot peppers to the mix, as it is really hard to control or judge the heat this way. Stick to adding the heat with the hot sauce at the end of cooking so completely control the heat level.
Onion – this is the regular yellow cooking onions. You'll need 4 or 5 of them.
Tomato Paste – You'll need one small, 5 1/2 oz. can of tomato paste.
Cider Vinegar – cider vinegar will give you the best flavour, but in a pinch, you could use white vinegar.
Hot Sauce – So rather than use hot peppers in the salsa, this salsa uses hot sauce at the end of cooking to add the heat. You can add as little or as much as you like and be assured that your salsa will come out exactly how you like it. I use Cholula™ Hot Sauce, but you can also use Tabasco™ or any hot sauce you like.
You'll also need – paprika, oregano, sugar, salt, cilantro or Italian flat-leaf parsley.
Step-by-Step Photos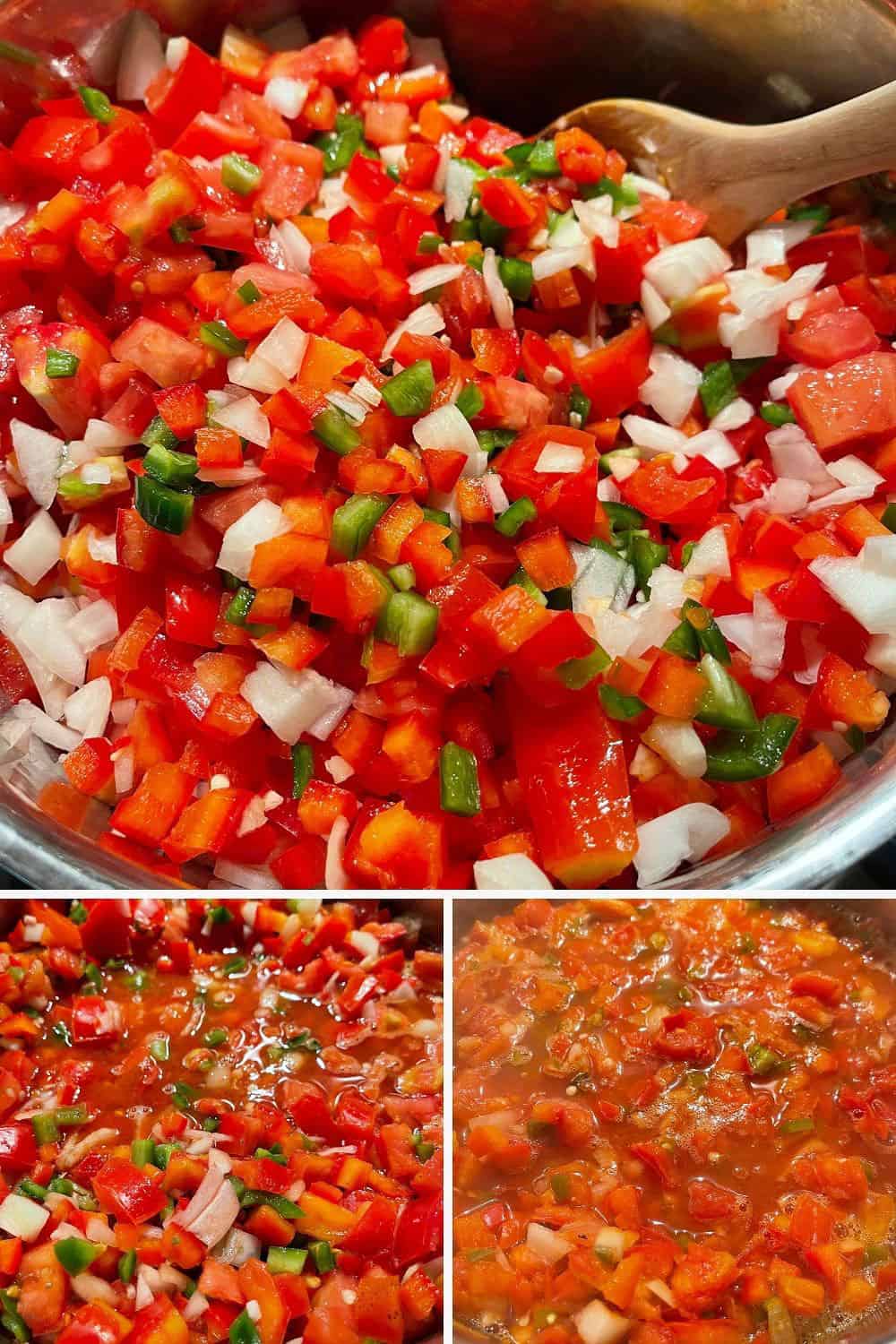 This salsa starts with lots of chopping. Recruit friends or family members to pitch in and you'll make short work of it. Add all the vegetables to a large pot, then add the rest of the salsa ingredients. Bring to a boil, then reduce heat to simmer, stirring regularly, for about 1 hour.
Once salsa has reduced and thickened nicely, you can give it a few pulses with an immersion blender, if you like a smoother salsa. Finally, remove the pot from the heat and stir in the cilantro (or parsley) and hot sauce, to taste.
Recipe Tips
It might be tempting to skip the vegetable chopping and bust out the food processor, which you can do, if you want. I will warn you though, that the texture of the salsa may suffer, especially if you like your salsa a little chunky. I've never been happy with using the processor and in fact, I find the process of preparing the vegetables quite satisfying. It also ensures an even-sized dice. So recruit a friend or family member to give you a hand and it will be done in no time!
While I love the natural sweet and heat of this salsa, if you find you prefer it a little less sweet, simply season with additional salt at the end of cooking, to taste.
As noted below, if you want to freeze the salsa, be sure to cook off most of the liquid from the salsa, so that the salsa won't be runny after freezing and thawing. I generally cook it about 10-15 minutes longer than the usual 1 hour.
Recipe Video
Canning or Freezing Salsa
If you intend to freeze your salsa, cook it a little bit longer, until there is a minimum of liquid left. This will ensure that the salsa won't be runny when thawed. I freeze this salsa in 2-cup lots, spooned into freezer bags. I press out as much air as possible before sealing. When I need some, I just move it from the freezer to the fridge to thaw. You can transfer to a jar once thawed, if you like, to make it easier to use from the fridge.
If canning, follow safe canning practices by using sterilized jars and lids. Fill to within 1/4-inch of the top of the jar, place lids on and finger-tighten, then process for 10 minutes in a hot water bath.
Alternately, you can just refrigerate the salsa. Do note that the salsa will not be safe in jars stored at room temperature unless properly sealed in a hot water bath.
Get the Recipe:

Easy Fresh Tomato Salsa
An easy and delicious homemade fresh tomato salsa. Easily adjusts to your heat preference. Perfect for canning or freezing.
Ingredients
Salsa:
2

cups

jalapeño pepper

,

seeded and diced (about 6-8)

8

cups

fresh tomatoes

,

chopped (about 4 lbs.) *see Note 1

2

cups

onion

,

diced (about 3 medium)

2

cups

cider vinegar

5

cups

sweet red bell peppers

,

diced (about 4 large) *See Note 2

4

cloves

garlic

,

finely chopped

5.5

oz

can tomato paste

,

156ml

2

Tablespoons

white granulated sugar

3

teaspoon

fine salt

2

teaspoon

paprika

1

teaspoon

dried oregano leaves
To be added after salsa is cooked:
1/3 - 1/2

cup

chopped fresh cilantro or flat-leaf parsley

1 - 3

teaspoon

hot pepper sauce

,

such as Cholula™ or Tabasco™ *Add 1 tsp. hot pepper sauce for mild salsa up to 3 tsp. for hot salsa
Instructions
Combine all the Salsa ingredients in a large, non-reactive (not aluminum) pot and bring to a boil on the stove-top over medium-high heat, stirring regularly.

Reduce heat to medium-low and simmer, stirring often, for about 1 hour, or until thickened. *If you intend to freeze your salsa, cook a little bit longer, until there is little liquid is left, so your salsa won't be runny after frozen and thawed.

Test your salsa: Place a tablespoon of salsa on a clean plate. Tip the plate. Salsa should flow as one mass, not break into pieces.

Remove pot from heat. Stir in fresh cilantro (or parsley) and hot sauce, to taste.

If canning: Spoon into sterilized 2 or 4-cup jars and fill jars to within 1/4-inch of top. Add sterilized seal/ring lids and tighten to finger-tip tight. Process in a hot water bath for 10 minutes. Once properly sealed in a hot water bath, salsa can be stored in jars at room temperature for up to 1 year.

If freezing: As noted above, cook salsa until there is little liquid left. Allow salsa to cool in the pot, then spoon into freezer bags or containers and freeze. Can be frozen for 6 months or more. Thaw in the refrigerator, to use.

If not freezing or canning, spoon salsa into jars, allow to cool in the jars slightly, then add lid and refrigerate. Salsa will keep in the fridge 3-4 months, or more.
Notes
1. I like to use Roma, plum or San Marzano tomatoes, as they are more tomato flesh, with less liquid and seeds. You can also use field tomatoes. You may wish to squeeze a bit of the liquid and seed out and discard, before chopping the flesh and measuring out.
2. I use all red bell peppers. You can use yellow or orange bell peppers, cubanelle, anaheim or sweet banana peppers are also options. I have found using different coloured peppers results in an orange-ish salsa, which tastes just fine, but isn't as pretty as a nice red-coloured salsa in my opinion.
Makes 8 cups of salsa.
Serving:
1
cup
,
Calories:
139
kcal
,
Carbohydrates:
28
g
,
Protein:
5
g
,
Fat:
1
g
,
Saturated Fat:
1
g
,
Polyunsaturated Fat:
1
g
,
Monounsaturated Fat:
1
g
,
Sodium:
1113
mg
,
Potassium:
1137
mg
,
Fiber:
7
g
,
Sugar:
18
g
,
Vitamin A:
5682
IU
,
Vitamin C:
188
mg
,
Calcium:
62
mg
,
Iron:
2
mg
More Tomato Recipes to Love!
Hi! I'm Jennifer, a home cook schooled by trial and error and almost 40 years of getting dinner on the table! I love to share my favourite recipes, both old and new, together with lots of tips and tricks to hopefully help make your home cooking enjoyable, stress free, rewarding and of course, delicious!