This easy homemade marinara sauce starts with Roma tomatoes, roasted with garlic, herbs and spices, then blended into a lovely sauce, perfect for freezing. No tomato peeling or canning required!
When I walked in the door recently with a 25 lb. box of roma tomatoes, my family thought I might just have lost my mind. As I slid the 5th and final batch of this Roasted Tomato Marinara Sauce in to the oven, I thought, just for a moment, that they might just be right ;)
Seriously though, how could I resist?. My box of roma tomatoes was only $7.99. For 25 lbs! I'd be crazy NOT to buy them! So I knew a lot of marinara sauce was in my immediate future, destined for the freezer so I could have delicious, homemade sauce all winter long.
I won't lie. It's a wee bit of a process when you start with 25 lbs. of tomatoes. But you don't have to go all in if you don't want to. The recipe below is written for starting with 5 lbs. of roma (or plum) tomatoes and yields 4 cups of finished marinara sauce.
This sauce makes the process super simple – no tomato peeling needed and it freezes beautifully so no need to jar and process. Simply package it up in 1 or 2-cup portions in freezer bags (laid flat for efficient storage), pop in to the freezer and you are all set.
Despite my whining above, this marinara is actually quite quick and easy to make and uses basic pantry items. There's not an awful lot of hands-on time. Simply slice the tomatoes in half and toss in the pan. Toss in the garlic. Add some seasoning and olive oil and pop in to a hot oven for an hour, stirring once half way through cooking. Below is a quick "before and after cooking" photo.
Not sure how to use all your marinara sauce? I've list 10 Great Uses for Your Homemade Marinara Sauce below the recipe!
Ingredients
Here are the simple ingredients you will need …
Roma or plum tomatoes
Garlic cloves
Olive oil
Balsamic vinegar
Dried oregano leaves
Dried basil leaves
Salt and freshly ground black pepper
Cook's Notes
I like to make this marinara without adding butter or onion, as it keeps the sauce as basic as possible and I can always add those things to the dish I use the marinara in.
For an efficient way to make big batches, double the recipe and cook two pans at a time in the upper and lower third of your oven, rotating the pan position half way through cooking. Hopefully you have two large roasting pans to use (I sadly didn't). If not, you can always do them one at a time.
You may find large pieces of tomato skin as you blend the sauce that you can remove if you like. I just leave them in and process them down to smaller sizes.
This sauce freezes beautifully. Simply portion into 1 or 2-cup freezer bags, seal and smooth flat, then freeze them all stacked up.
I noticed that each batch ended with a little bit more or less liquid left in the pan. If there was a lot, I scooped the tomatoes out of the pan with a slotted spoon, to leave most of it behind in the pan.
10 Great Uses For Your Homemade Marinara Sauce
The obvious … for a quick dinner with any pasta. You don't even need to thaw the marinara. Simply add frozen to a skillet and warm slowly over low heat, then add your cooked pasta. Add sauteed or roasted vegetables that need using up in your fridge for a heartier dish.
Turn your basic marinara in to another sauce. Add cooked pancetta and chili flakes and make it Arrabbiata. Add butter and cream and make it a Pink Sauce. Add sauteed diced carrots, celery, onion and ground beef and make it a Quick Bolognese.
Parmesan anything. As a topping for Chicken Parmesan or Eggplant Parmesan.
As a filling for lasagna or a topping for meat or cheese filled cannelloni or pasta shells.
Add some to any stew or ragout to give it an Italian spin.
Use it as a pizza sauce!
As a base for tomato or minestrone soup or other delicious soups.
With eggs. Eggs in Purgatory or the Middle Eastern Shakshuka or to top a frittata or omelette.
As a dip for cheese sticks or garlic bread.
As a topping for meatballs subs.
With fish or shrimp, like this Shrimp Marinara.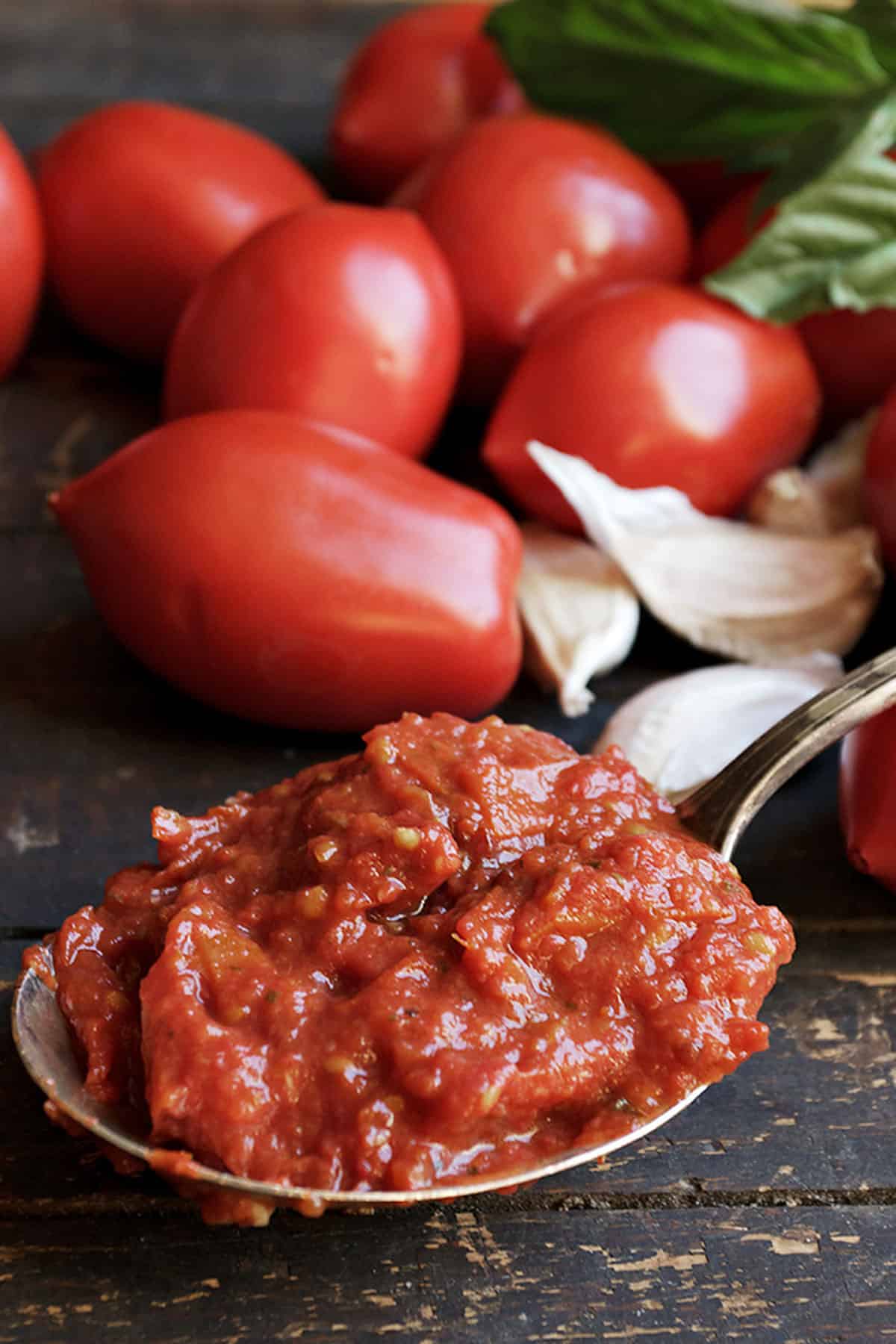 Get the Recipe:

Roasted Tomato Marinara Sauce
Easy homemade marinara sauce, starting with roma tomatoes that are oven roasted with garlic, olive oil and herbs, then blended and frozen. No peeling or canning required!
Ingredients
5

lbs

fresh roma or plum tomatoes

4

cloves

garlic

,

peeled and cut in half lengthwise

2

Tbsp

olive oil

1

Tbsp

balsamic vinegar

2

tsp

dried oregano leaves

2

tsp

dried basil leaves

1

tsp

fine salt

Freshly ground black pepper
Instructions
Preheat oven to 425 F.

Cut roma tomatoes in half lengthwise (no need to remove the stem bit). Place in a large roasting pan (mine is 11x16-inches and a couple of inches deep.) Scatter garlic over-top. Drizzle with olive oil and balsamic vinegar. Sprinkle with oregano, basil, salt and pepper. Toss with a large spoon to coat.

Place in preheated oven for 60-70 minutes, stirring well half way through cooking. The mixture shouldn't dry out completely and some of the tomato skins will char slightly. Stirring well half way through ensures that nothing gets too dark. Allow to cool.

Remove tomatoes from pan (if there is a lot of liquid in the pan, use a slotted spoon to remove, leaving most of the liquid behind). Blend in a food processor or use immersion blender to create a sauce with your desired chunkiness level. If I'm making a large batch, I tend to do a few smooth and leave a few chunkier.
Notes
Cooking time and nutritional information is PER BATCH. I love to buy a 20lb box of roma tomatoes in late Summer and roast off 4 or 5 batches in a day, then package up and freeze. Then I'm all set for the Winter with fresh homemade marinara sauce!
Calories:
172
kcal
,
Carbohydrates:
23
g
,
Protein:
5
g
,
Fat:
8
g
,
Saturated Fat:
1
g
,
Sodium:
611
mg
,
Potassium:
1365
mg
,
Fiber:
7
g
,
Sugar:
15
g
,
Vitamin A:
4725
IU
,
Vitamin C:
78.6
mg
,
Calcium:
70
mg
,
Iron:
1.9
mg
Hi! I'm Jennifer, a home cook schooled by trial and error and almost 40 years of getting dinner on the table! I love to share my favourite recipes, both old and new, together with lots of tips and tricks to hopefully help make your home cooking enjoyable, stress free, rewarding and of course, delicious!