Lightly sweet, these light and fluffy pumpkin rolls are a beautiful and delicious addition to your Thanksgiving table or next to your Fall soup.
One of my favourite parts of the Thanksgiving dinner is always the dinner rolls. A special dinner demands a special roll and this year, I'm all about these delicious Honey Pumpkin Rolls. They are perfect for Thanksgiving, as they make a large batch (24 rolls!) and the colour is so festive for the occasion.
The pumpkin in these rolls lends more in the way of colour, than in flavour, but it's still a nice background flavour note. Enjoy these rolls warm with spread of salted butter and it's a little bit of dinner roll heaven!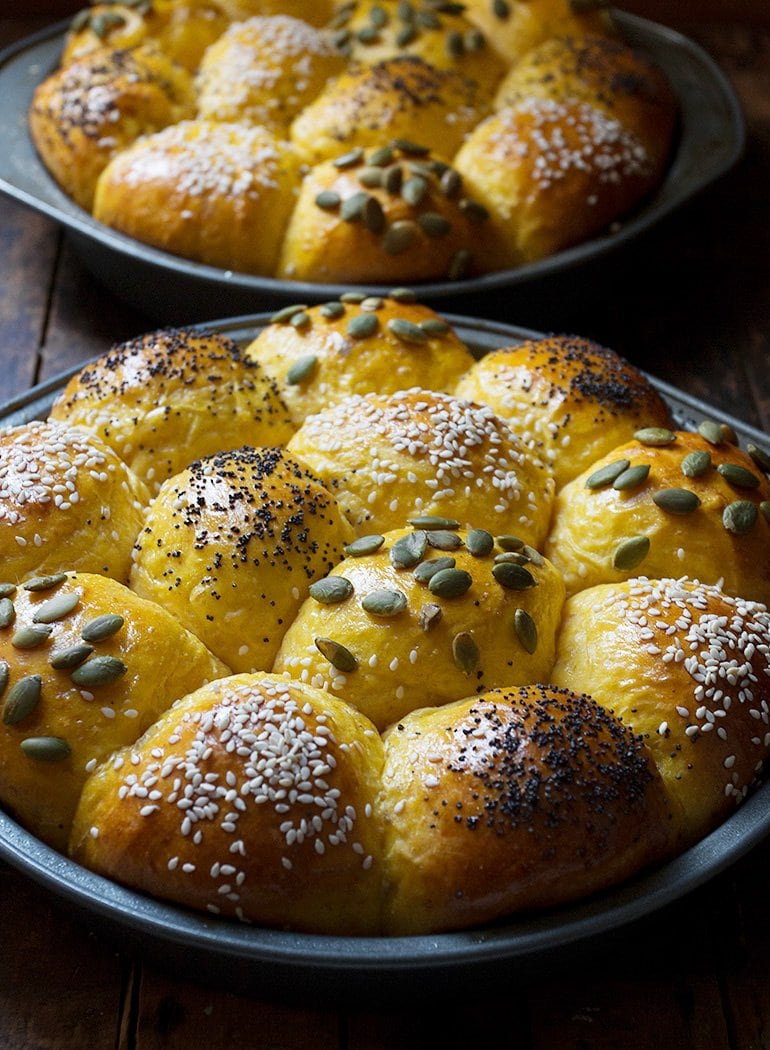 Ingredient Notes
Yeast: You can use instant or dry active yeast here. For dry active yeast, proof the yeast in 1/4 cup of warm water and reduce the milk to 1 cup.
Flour: I prefer unbleached all-purpose flour, but bleached flour is fine, as well.
Honey: Any mild tasting, liquid honey is fine here. If you have no honey, you can substitute maple syrup or brown sugar.
Pumpkin: You'll want to use pure pumpkin puree, not pie filling.
Seeds: Use one kind or use an assortment. I used sesame seeds, poppy seeds and pumpkin seeds here.
Cook's Notes
I dressed the top of my rolls in a trio of toppings – sesame seeds, poppy seeds and pumpkin seeds. It makes for a lovely presentation for a Thanksgiving table, but you could certainly use just one or two or none of the toppings.
While ripping off a hot from the oven roll is always a temptation, you'll want to avoid that and let these rolls cool completely, to prevent gummy rolls. This works perfectly for making ahead. To re-warm, simply wrap the round of rolls in aluminum foil and place in a 350F. oven for 8-10 minutes.
These baked rolls freeze beautifully, so don't hesitate to make a week or so ahead, wrap well and freeze. When you're ready to thaw them, let them thaw on the counter in their freezer wrappings until fully thawed, them re-warm as above, if desired.
Change it Up! Substitute any cooked and mashed squash for the pumpkin in this recipe. Butternut or acorn squash would both be great!
When it comes to dinner rolls, one of the most important things is to make sure all your rolls are the same size. Not only does it ensure that your rolls bake evenly, they just looks a lot nicer. I'm a bit of a stickler about this, so I bust out my kitchen scale and weigh them. I start by weighing the whole piece of dough, the divide by two to get two equal weight pieces. I then divide the weight of that piece by 12, to figure out how much each roll needs to be. I then weigh each one to the required weight. It doesn't take a lot of time. Just a bit of math :)
My Best Tips for Baking with Yeast
I think most of the problems people have with baking with yeast, is treating yeast-based recipes like say, a cake recipe, where you just measure the ingredients, mix them all together and bake.
Yeast-based recipes just can never be that precise. Things like temperature, moisture in the flour your are using, the season your are baking in and rising time can differ from one kitchen to the next. All that makes yeast recipes less consistent from one kitchen to the next.
Now that you know this though, that's more than half the battle :) Baking with yeast isn't just measuring, mixing and baking, like a cake, for example. You'll need to add to the mix a little trust in what you see (it looks sticky, so it needs more flour, regardless of how much flour the recipe says should go in), and a feel for the dough (does it feel smooth like a baby's bottom when you're done kneading?) and watching much it has grown in size as it rises (rather than watching the clock). Do that, and all will be good!
Be careful with the temperature of your proofing liquid before adding the yeast, so you don't compromise the yeast from the start. If the liquid is too cold, the yeast won't activate. Too hot and it will die. The best temperature range for proofing liquid is 105-110F for Active Dry Yeast. Instant yeast is a bit more forgiving and can take temperatures up to 120F. All yeasts die at about 140°F. An Instant Read thermometer is handy to have on hand to check.
Always treat the amount of flour specified in yeast-based recipes as "approximate". Flours will vary from kitchen to kitchen and by season, so the amount needed to make a smooth, soft dough will vary.
Given tip #2, I always hold back 1/4-1/3 of the flour specified in a recipe and add in only as much as is needed. If you dump all the flour in at the start, you may find that it is too much and it's difficult to adjust well after that.
Use a large glass measuring cup to proof your dough. It's easy to see when the dough has doubled.
Be patient. Rising times are also "approximate" and will vary as well. Trust what you see and not the clock.
Get the Recipe:

Pumpkin Honey Dinner Rolls
Delicious, light and fluffy dinner rolls, that are lightly sweet and beautifully coloured and moistened by the addition of a bit of pumpkin puree. Makes 24 rolls. Freeze well.
Ingredients
4 1/2

tsp

(

4.5

tsp

)

instant yeast

2

tsp

(

2

tsp

)

salt

1/4

tsp

(

0.25

tsp

)

nutmeg

6

cups

(

750

g

)

all-purpose flour

,

plus more, as needed

1 1/4

cups

(

305

ml

)

milk

,

2% or whole

1/2

cup

(

113.5

g

)

butter

,

cut in to 8 pieces

1/2

cup

(

56.5

ml

)

honey

,

mild liquid honey

1

cup

(

245

ml

)

pumpkin puree

,

not pie filling
Before baking:
1

large

(

1

)

egg

,

lightly beaten

Assorted toppings: poppy seeds, sesame seeds and/or pumpkin seeds
Instructions
In a large bowl or the bowl of a stand mixer fitted with the kneading hook, stir together the yeast, salt, nutmeg and 3 cups of the flour.

In a medium saucepan, combine the milk, butter and honey. Heat over medium heat, stirring, until butter is melted and mixture is about 120-130 F. (If it gets too warm, simply stir for a bit until temperature reduces in to this range). Add the milk mixture to the dry ingredients and mix at medium speed for about 2 minutes. Add pumpkin puree and mix for another 2 minutes. Begin adding additional flour, 1/2 cup at a time, to start, and then less as you progress, until you have a moist, smooth but not sticky dough. Turn dough out on to a floured surface and knead a few minutes. Move to a greased bowl, cover with plastic wrap and allow to rise until doubled, about 45 minutes to 1 hour.

Meanwhile, grease two 9-inch round cake pans and set aside.

*Note: I like to use a kitchen scale to ensure my rolls all come out the same size. It ensures even cooking and it looks nicer in the pan, as well. Simply weigh out the whole piece of dough. Divide that weight by 2 to determine the weight each half should be. To divide each half in to 12 equal pieces, divide the weight of the half by 12 and make all the rolls that weight.

One dough has doubled, remove dough to a floured surface and gently deflate. Divide dough in to 2 equal parts, then divide each part in to 12 equal size pieces, for a total of 24 pieces. Form each of the pieces in to a ball. Place 12 rolls in to each pan, with 9 around the outside and 3 in the middle. Cover with a clean tea towel and set aside to rise until doubled, about 45 minutes.

Preheat oven to 375F. about 15 minutes before rising is complete. Once rolls have doubled, brush the tops and sides of the dough with the beaten egg, then sprinkle tops with seeds. Doing 4 of each of sesame seed, poppy seed and pumpkin seeds is nice.

Place in preheated oven and bake for 22-25 minutes, or until cooked through and lightly golden brown. *Check at the 20 minute mark and loosely cover with aluminum foil if rolls are browned enough at that point. Allow to cool in the pan for 5 minutes, then remove as one piece from the pans to cooling racks to cool completely. Avoid tearing off rolls before the rolls have almost completely cooled to prevent gummy dough.
Notes
These rolls freeze well, so can be made ahead. Wrap tightly and freeze. Thaw in the same wrapping. Re-heat in a 350F. oven wrapped in foil until warmed, about 8-10 minutes.
Be sure to read the "Ingredient and Cook's Notes" (above the recipe card!), where I share more detailed

 

tips, variations and substitution suggestions for this recipe!
Calories:
182
kcal
,
Carbohydrates:
31
g
,
Protein:
4
g
,
Fat:
4
g
,
Saturated Fat:
2
g
,
Cholesterol:
17
mg
,
Sodium:
237
mg
,
Potassium:
86
mg
,
Fiber:
1
g
,
Sugar:
6
g
,
Vitamin A:
1740
IU
,
Vitamin C:
0.5
mg
,
Calcium:
25
mg
,
Iron:
1.7
mg
More Roll Recipes You Might Like
Simply Perfect Potato Rolls
These potato rolls are incredibly soft, light and moist and the perfect choice for your holiday table or next to your Fall and Winter soups.
www.seasonsandsuppers.ca
Easy Homemade Crescent Rolls
An easy homemade crescent roll, that freeze beautifully, so you can bake once and enjoy later. Perfect side for soup.
www.seasonsandsuppers.ca