Brighten up your Easter, Mother's Day or just Spring eating with these beautiful hydrangea cupcakes. Enjoy a sweet bouquet!
I think the only thing nicer than Spring flowers, is Spring flowers that come in cupcake form! You can make the cupcakes from scratch, or a vanilla cake mix will work just fine as well. Same for the icing. Make it yourself (recipe also below) or buy some vanilla icing and colour it to order. As you like.
Beyond that, you will need a piping bag, a Wilton 2D piping tip and some food colouring. See the "Cook's Notes" below the recipe for some more on that.
Ingredients and Substitutions
Food Colouring – I also picked up a couple colours of gel food colouring at Bulk Barn. I find these easier, as you buy the exact colour you want, without having to worry about mixing different colours to get your desired colour. A word of warning though, they pack a colour punch. Start with a dab (I like to use wooden popsicle sticks to add colouring to icing) and work your want up a bit at a time. As I mention above, you want to keep the intensity of the colours the same, so if you have a pastel purple, keep your blue in the pastel range, as well. Similarly, if you want a vibrant purple, go with a more vibrant blue.
Piping Bags and Piping Tips – For the frosting equipment, for Canadians, you can find the Wilton 2D tip (and some handy, dandy plastic disposable icing bags) easily at Bulk Barn. I suspect Michael's also has them. It's quite a commonly used tip, so any cake decorating store (or Amazon, if all else fails), should carry it.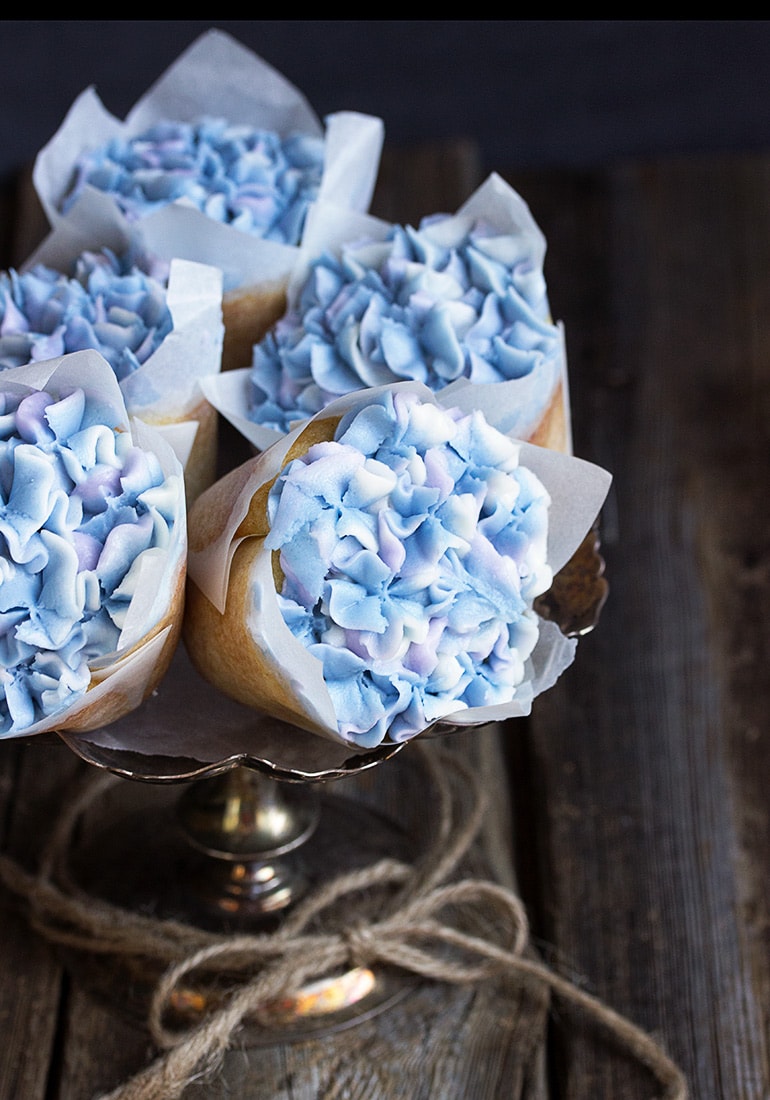 Frosting the Cupcakes
For my cupcakes, I used white, lilac and cornflower blue. These would also be pretty in a couple of shades of pink (with the white) or a combination of pink and purple, instead of blue and purple. I'd also love to try a cream, very pale pink and very pale Spring green some time (like the white hydrangeas you can buy this time of year).
After you have filled your piping bag, be sure to move the icing down the bag (towards the tip) very evenly, so all 3 colours move down together. It may help to unfold the bag completely, lay flat on the counter and use a the full length of your hand to move it evenly.
Recipe Tips
The cooking time for the cupcakes would seem to vary a bit. I would suggest you start checking at 14 minutes, but don't be surprised if they take longer.
If your frosting seems to have softened a bit as you filled your bag or as you pipe your cupcakes, simply take the whole bag and pop it in the fridge for 5 minutes to firm it up before proceeding.
Storing and Freezing
Store frosted cupcakes at room temperature if serving in the short term or refrigerate for longer storage or if the air temperature is high.
These cupcakes freeze well, either just the cupcakes made ahead or after they've been iced. If they have been frosted, simply freeze on a baking sheet first, then transfer to a freezer bag once the frosting is firm.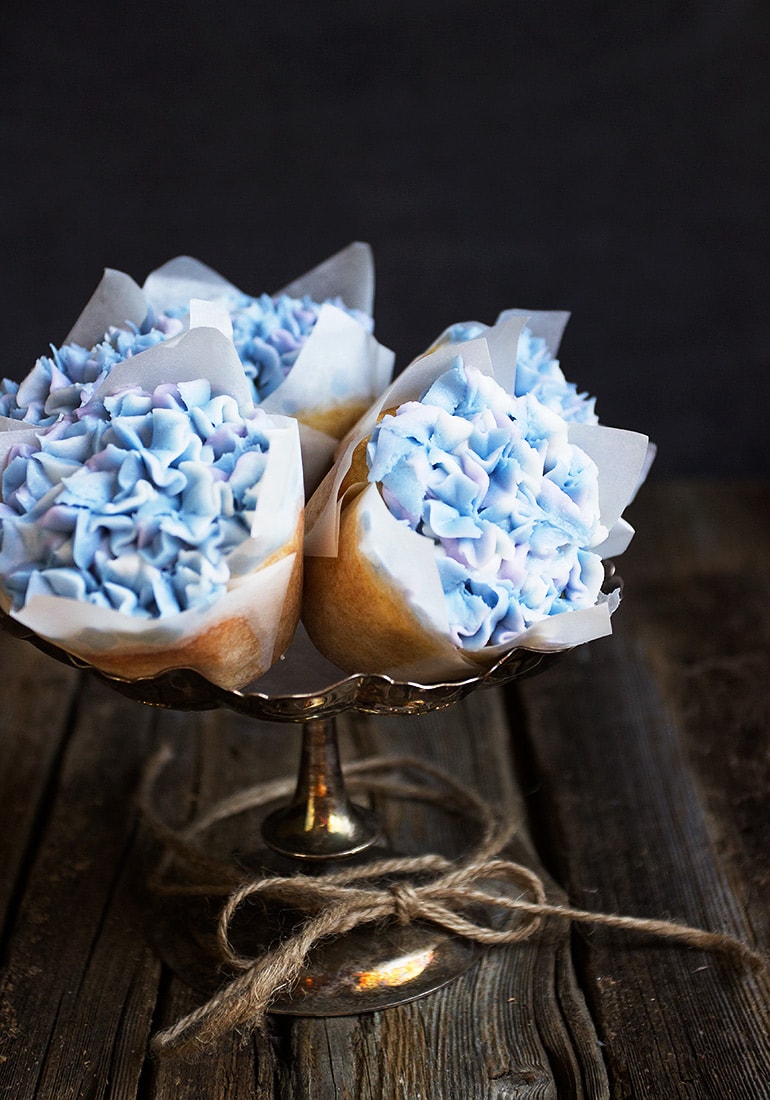 Get the Recipe:

Hydrangea Cupcakes
Pretty and delicious, these hydrangea cupcakes are easy to decorate with a basic buttercream icing, a Wilton 2D tip and some food colouring.
Ingredients
For the Vanilla Cupcakes:
1 1/4

cups

cake flour

,

can use all-purpose flour, but results will not be as tender

1 1/4

teaspoons

baking powder

1/2

teaspoon

baking soda

1/2

teaspoon

salt

2

large

eggs

,

at room temperature

3/4

cup

white sugar

1 1/2

teaspon

pure vanilla extract

1/2

cup

canola/vegetable or other neutral oil

1/2

cup

buttermilk

,

or 1/2 cup milk with 1 1/2 tsp. lemon juice and let stand 5 minutes
For the frosting:
3

cups

icing/confectioners' sugar

1

cup

butter

1

teaspoon

vanilla extract

1-2

Tablespoon

milk or cream

Lilac and Blue Food Colouring
Instructions
Preheat the oven to 350°F (regular bake setting/not fan assisted) and line 12 muffin cups with paper liners.

For the cupcakes: In a medium bowl, whisk together the flour, baking powder, baking soda and salt. Set aside.

In a large bowl with an electric mixer or the bowl of a stand mixer fitted with the whisk attachment, beat the eggs on medium speed for 15-20 seconds.

Add the sugar and continue beat on medium speed for about 30 seconds. Add the vanilla and oil and beat on medium speed for 1 minute.

Reduce mixer speed to low add about 1/3 of the flour mixture. Add half of the buttermilk, then a second 1/3 of the flour mixture, the rest of the buttermilk and finally the rest of the flour mixture. Beat until combined and smooth, scraping down the sides of the mixing bowl as necessary.

Pour batter into a lined muffin pan, dividing between the 12 muffin cups, filling to about 1/2 full.

Bake in preheated 350° F. oven 14-18 minutes, or until a tester inserted in the middle of a cupcake comes out clean. (Mine took 18 minutes to reach this point, but start checking at 14 minutes). Remove from oven and allow to cool in the pan for 15 minutes, them remove the cupcakes to a cooling rack to finish cooling completely before frosting.

For the frosting: Fit a large icing bag with the Wilton 2D Tip. Fold down the top of the piping bag so you have a top opening of only about 3 1/2 - 4 inches. Set aside.

Make your frosting by combining all the frosting ingredients in a bowl or the bowl of a stand mixer. Using an electric beater or a stand mixer fitted with the paddle attachment, beat until smooth. Add a bit more milk (if too thick) or icing sugar (if too thin) as needed to make a frosting of pipe-able consistency (holds it's shape, but is not too stiff).

Divide the frosting evenly between 3 bowls. Leave one bowl plain white. Using food colouring, colour the second bowl a light purple (lilac) and colour the third bowl a pretty cornflower blue. You don't want a huge shift in colour intensity between your two colours, so if your purple is lighter, keep your blue on the lighter side (not intense).

Take your prepared icing bag and, using your non-dominant hand, reach up under the fold and cup the top of the piping bag. Using a kitchen teaspoon, take a generous spoonful of the white icing and press it against the right side of the top opening, pressing against the inside edge of the piping bag and your hand until it sticks in place. Take a spoonful of the lilac frosting, and press a spoonful in the same manner in the middle of the inside edge. Finally, take a spoonful of the blue frosting and press a spoonful on the far right hand side. Unfold your piping bag a bit to give you some more room at the top and repeat this process with the remaining frosting, keeping the white to the left, the lilac in the middle and the blue to the right. Once all the frosting is in the bag, unfold the bag and lay on a flat surface. Use the full length of your hand to evenly more the frosting down towards the tip (so all three colours move down evenly. If frosting has warmed a bit from all the handling, pop the whole bag in the fridge for 5 minutes to firm up before frosting.

To frost the cupcakes: twist the top of the piping bag and squeeze until the frosting reaches the tip. Pipe out a few florets on to a paper towel, until you see all 3 colours coming out. Working with completely cooled cupcakes, start piping large florets around the outside of the cupcake, then fill in the middle completely. You don't want any space between them. They should flow in to each other, so keep squeezing your icing bag until the icing meets up with the floret next to it. Continue to ice all cupcakes.
Serving:
1
serving
,
Calories:
450
kcal
,
Carbohydrates:
52
g
,
Protein:
3
g
,
Fat:
25
g
,
Saturated Fat:
10
g
,
Cholesterol:
69
mg
,
Sodium:
307
mg
,
Potassium:
93
mg
,
Sugar:
42
g
,
Vitamin A:
530
IU
,
Calcium:
46
mg
,
Iron:
0.3
mg
More Cupcake Recipes to Love!
Hi! I'm Jennifer, a home cook schooled by trial and error and almost 40 years of getting dinner on the table! I love to share my favourite recipes, both old and new, together with lots of tips and tricks to hopefully help make your home cooking enjoyable, stress free, rewarding and of course, delicious!