Perfect for your Easter brunch or dinner, these Mini Pommes Anna (potato stacks), are pretty and tasty. Flavoured with garlic, thyme and butter, they are a treat. And, they can be made ahead!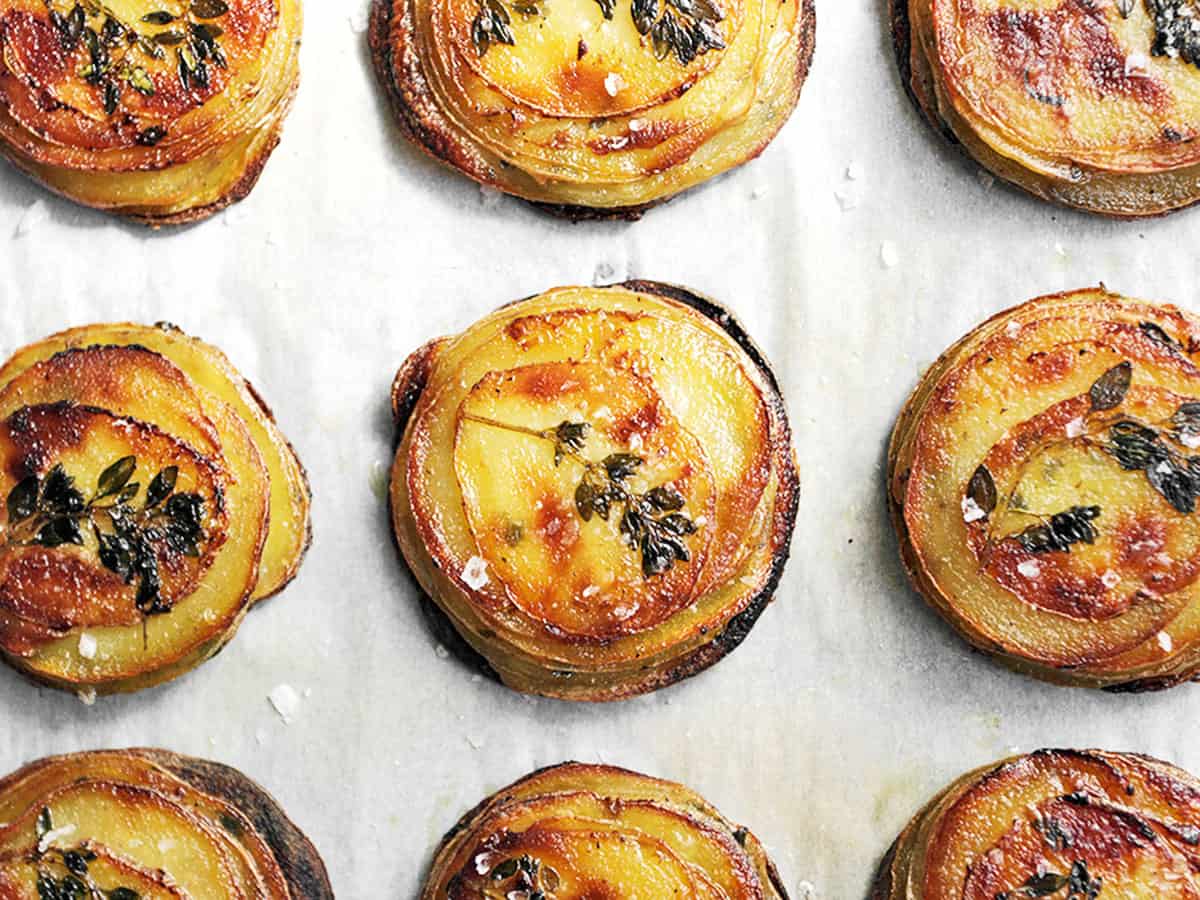 I love potatoes, in pretty much any shape or form, but when they are tasty AND pretty, well that's a bonus! These mini potato stacks are known as Pommes Anna, usually baked up in one large cake, but in this case, in to a dozen mini cakes. They bake up easily in a muffin tin.
These would be perfect for Easter brunch or dinner. You can do the first bake ahead, then refrigerate and do the final bake when you're ready to eat. See the Cook's Notes below the recipe for more tips on this recipe.
Cook's Notes
You'll want to use a waxy potato for these, such as yellow fleshed Yukon gold potatoes. Look for smaller potatoes. You don't want them any larger than the top diameter of the muffin cup opening (so they all will lay flat).
When layering your potatoes, your finished stacks will look prettiest if you place a well buttered small round potato slice evenly over the thyme sprig on the bottom, so the thyme is "framed" by the potato. After that, just layer, keeping one edge of each slice tucked right up to the side of the muffin cup and overlapping, until you fill to the muffin cup edge (don't stack potatoes in one layer straight up). I usually start with the smallest rounds at the bottom (where it's smallest) and working up to the larger slices for the wider top.
Watch during the final 8-10 minute bake when your stacks are thyme side down. The underneath will brown up, but you don't want it to get too brown, so maybe take a peek at the 6 minute mark or so and check on them.
It would be tough to slice the potatoes evenly thin without a mandoline, so that's really suggested. You'd need a steady hand and lots of patience to do it by hand.
Don't skimp on the garlic or the salt in these potatoes. Both add great flavour (especially the salt!).
Get the Recipe:
Mini Pommes Anna
Perfect for brunch or dinner side dish, these potatoes are both beautiful and tasty. And you can do the first bake ahead then refrigerate and do the final bake when you're ready.
Ingredients
1/2

cup

unsalted butter

12

small

fresh thyme springs

2

tsp

thyme leaves

,

coarsely chopped

1

clove

garlic

,

minced

1 1/2

lb

small waxy yellow-fleshed potatoes

,

(Yukon Gold)

2

tsp

kosher salt

Freshly ground black pepper
Instructions
Preheat oven to 350° F.

In a small saucepan over medium heat, melt butter. Brush 12 muffin cups generously with butter. Place 1 thyme sprig in center of each muffin cup.

Add chopped thyme and garlic to remaining butter in saucepan and stir over medium heat until fragrant, about 2 minutes. Remove from heat and set aside.

Using a mandoline, slice potatoes crosswise into very thin rounds (1/16"-ish). Place in a large bowl. Pour herb butter over potatoes and season with salt and pepper. Toss well to coat.

Divide potato slices among muffin cups, layering overlapping slices to create a circular pattern. When the muffin cup is filled to the rim, press down lightly with a fork to compact. Drizzle any remaining butter in bowl over potatoes.

Cover muffin tins tightly with aluminum foil. Place muffin tin(on a baking sheet and bake in preheated oven until potatoes can be easily pierced with a knife, about 35 minutes. Remove foil.

Prepare another baking sheet by lining with parchment paper. Invert muffin tins onto prepared sheet, banging it a bit to loosen potatoes. If any potatoes/thyme has stuck to the muffin tins, gently use a butter knife to loosen and place on potato stacks. [IF MAKING AHEAD, STOP HERAllow potatoes to cool a bit, then cover baking sheet with plastic wrap and refrigerate. Proceed with rest of recipe when ready.]

Increase oven temperature to 425° [If you made ahead, remove baking sheet with potatoes, remove plastic wrap and preheat oven to 425° F., allowing potatoes to sit at room temperature while oven heats]. Place into 425° oven and bake for 10 minutes. Remove from oven and carefully using a spatula, flip potato stacks over (thyme side dowand bake for another 8-10 minutes, until under-side is nice and golden. Remove from oven and flip thyme-side-up to serve. [If you made ahead and your potatoes were cold/room temperature when they went in to the oven, you may need a few minutes longer on each side.]
Calories:
101
kcal
,
Carbohydrates:
7
g
,
Protein:
1
g
,
Fat:
7
g
,
Saturated Fat:
4
g
,
Cholesterol:
20
mg
,
Sodium:
394
mg
,
Potassium:
234
mg
,
Fiber:
1
g
,
Vitamin A:
245
IU
,
Vitamin C:
6.8
mg
,
Calcium:
19
mg
,
Iron:
1.9
mg
Hi! I'm Jennifer, a home cook schooled by trial and error and almost 40 years of getting dinner on the table! I love to share my favourite recipes, both old and new, together with lots of tips and tricks to hopefully help make your home cooking enjoyable, stress free, rewarding and of course, delicious!