A lovely pear cake, made with fresh pears, nestled in a lightly sweet and moist almond cake. A perfect cake to enjoy any time of day.
This lovely pear cake is not a cake with pears in it. It's pears with some cake in it. It is classically Italian. It features 3 pears, peeled and halved that are placed on top of a thick batter flavoured with ground almonds. As it bakes, the pears sink in to the cake, just barely peeking out the top by the time it's fully cooked. For the last few minutes of baking, it's topped with a generous layer of sliced almonds, just to heighten the almond flavour.
This cake is lovely, moist and light, owing to the large amount of fruit. It's also lightly sweetened, so it's perfect to enjoy any time of day. For a special dessert, serve it topped with a dollop of whipped cream.
Jump to:
Ingredient Notes
Here are the simple ingredients you will need ...
Pears - If you can't find fresh pears, canned or jarred pear halves would also work in this cake. For fresh pears, start with pears that are ripe, but still have firmness to them.
Butter - you can use salted or unsalted butter. If using unsalted, you may want to add a small pinch of salt to the batter.
White granulated sugar
Eggs (2)
All purpose flour - haven't tested this recipe with gluten free flour, though I suspect a cup-for-cup gluten free flour should work here. I haven't tested with almond flour.
Ground almonds - not almond flour, which is more finely ground. Ground almonds have the texture of cornmeal and are easily found in the baking section of most grocery stores. Alternately, you can process whole blanched almonds in a food processor.
Baking powder
Flaked almonds - also known as sliced almonds
Icing sugar, for garnish
Cook's Notes
Prepare the pears by first peeling, then slicing in half from the stem end to the bottom. Use a small spoon to scoop out the seeds and also remove the thin, tough spine that runs up to the stem end.
As this cake is very moist and mostly pear, it is best enjoyed shortly on the day of baking.
Enjoy this cake on its own or with a dollop of whipped cream. For a really special dessert, try some mascarpone, mixed with a bit of powdered sugar to sweeten and flavoured with a little orange zest.
You can refrigerate any left-overs to stretch it to the next day.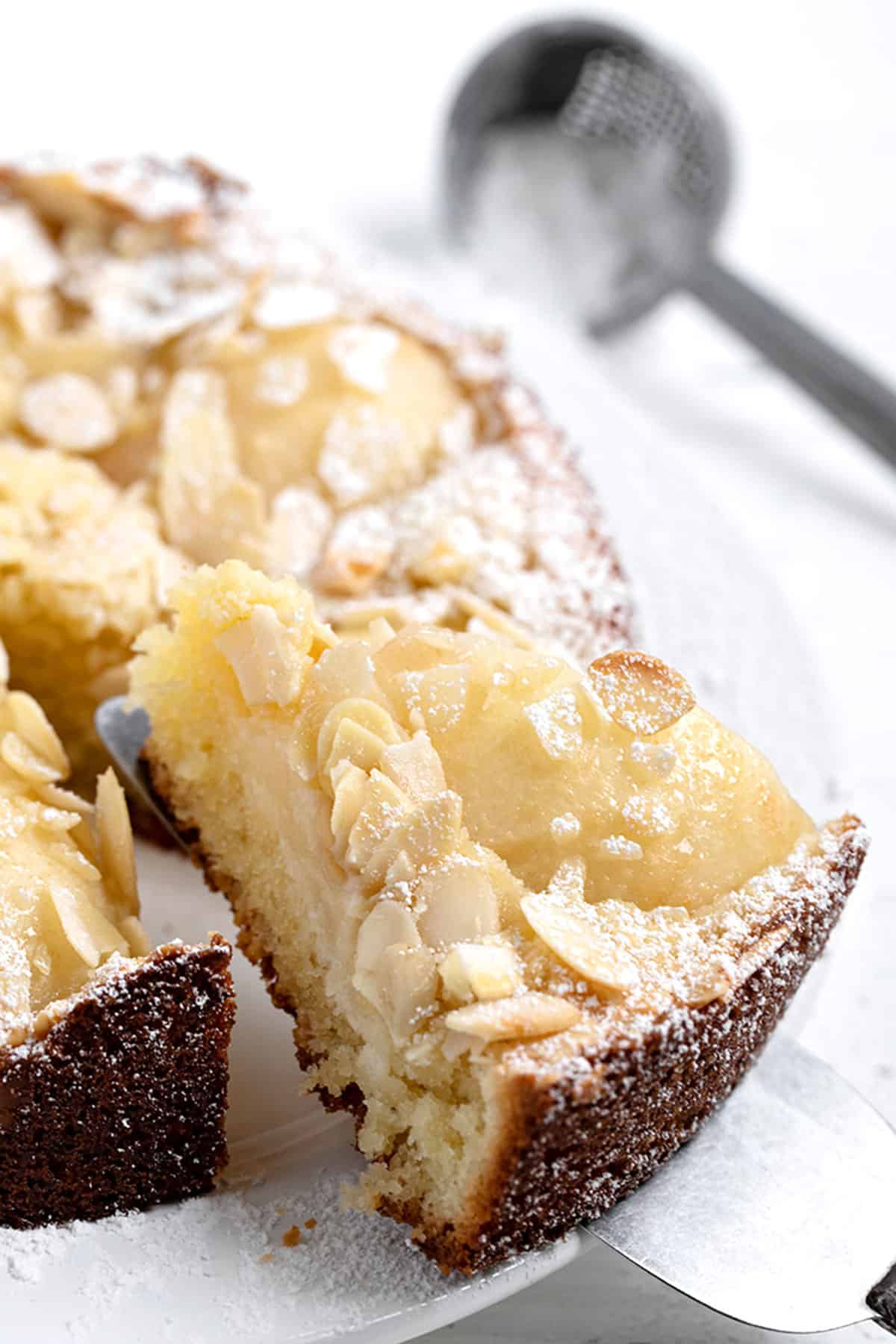 Recipe
More Pear Cake Recipes You Might Like ...
Save or Share this Recipe