A delicious pear cake, made with a bit of brown butter and topped with a cinnamon streusel, for a perfect Fall dessert.
Just want to take a moment to wish all my Canadian friends a most wonderful Thanksgiving this weekend! May it be filled with family, fun and great food!
I spotted this cake in the Fall Food & Drink magazine recently and was immediately drawn in by it! The pretty fanned pears on top, the browned butter and the fact that it's cooked in a skillet had my name all over it!
I have to confess though, that I took some liberties with the recipe. It seemed to have a lot more steps than I was bargaining on, for a simple, skillet pear cake. So I streamlined it a bit. Still pretty. Still delicious. Less fuss :)
This cinnamon pear cake is Fall in a skillet!
If you are looking for a perfect Fall dessert, I don't think you can go wrong with this one. Baked pear cakes never disappoint.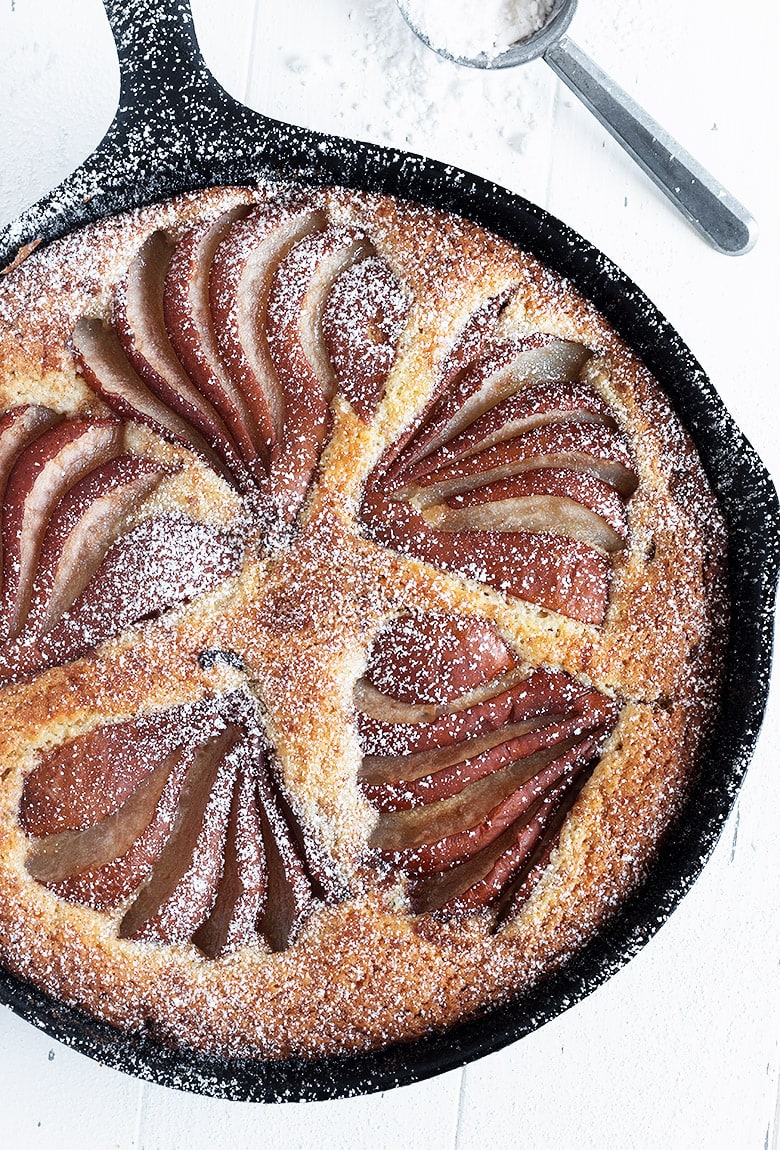 Ingredient Notes, Tips and Substitutions
Unsalted Butter: Unsalted butter is recommended for the browned butter, as it is less likely to burn. If you only have salted butter, it's fine to use, just watch it really carefully towards the end of cooking.
Pears: While the recipe specifies Bosc pears, the type of pear is less important than the ripeness of the pears. As so many pears are quite unripe and hard at the market, I'd go with whatever pear is closest to ripe, unless you are willing to wait a few days for them to ripen. Any pear you enjoy eating is fine here.
Sour Cream: Full fat sour cream is recommended here, as low/lower fat sour cream has a much higher water content and can negatively affect the finished cake. A full-fat yogurt would probably work here, in a pinch.
Top Tip! The ripeness of the pears is more important than the type of pear you use. Pick pears that are ripe, but still firm, to ensure that the pears cook nicely in the cake.
Cook's Notes, Tips and Suggestions
Ripe pears are key to making sure they bake up beautiful in the one-hour oven time. Still firm (not overly moist) pears are key to making sure that too much moisture isn't introduced to the cake while baking. So take care to make sure the pears you are starting with are ripe, but firm.
If you feel your pears are a touch on the hard side (not quite ripe), prepare and slice then, then place on a baking sheet and pop into a 350F oven for 10 minutes, to soften them up and give them a head start on cooking. Be sure they are cooled before placing on the batter.
If you'd like to peel the pears, you certainly can. The white pear would still contrast nicely with the cinnamon topping of the cake.
Note that the egg and sour cream should be at room temperature, so take them out of the fridge 20-30 minutes ahead of time.
How to Brown Butter: Start with a light coloured saucepan, so you can easily gauge the colour of the butter as it cooks. Melt the butter in the saucepan over medium heat. As the butter cooks, stir or swirl the mixture in the pan, so it cooks evenly and you can see the colour underneath. The butter will start to foam and turn from a yellow to a golden yellow colour. As it cooks further, it will start to develop a golden brown colour, with darker specks on the bottom of the pan. You will also notice a distinctly nutty aroma. When it reaches that point, immediately remove from heat and pour into a small bowl, to stop the cooking. You will see some dark sediment on the bottom of the bowl. Those are the browned milk solids. Use them along with the browned butter.
Storage, Freezing and Making Ahead Notes
Due to the amount of fruit in this pear cake, it is best enjoyed on the day it is baked. Into the second day, the cake part will become more moist as the moisture from the pears will seep into it.
While this cake will freeze, the process of freezing and thawing is likely to make the cake a bit more moist.
More Pear Cakes You Might Like