A delicious pear and cinnamon cake, made with a bit of brown butter and topped with a cinnamon streusel, for a perfect Fall dessert.
If you are looking for a perfect Fall dessert, I don't think you can go wrong with this pear and cinnamon cake. Baked pear cakes never disappoint and the delicious cake is a perfect accompaniment.
Ingredients and Substitutions
Unsalted Butter: Unsalted butter is recommended for the browned butter, as it is less likely to burn. If you only have salted butter, it's fine to use, just watch it really carefully towards the end of cooking.
Pears: While the recipe specifies Bosc pears, the type of pear is less important than the ripeness of the pears. As so many pears are quite unripe and hard at the market, I'd go with whatever pear is closest to ripe, unless you are willing to wait a few days for them to ripen. Any pear you enjoy eating is fine here.
Sour Cream: Full fat sour cream is recommended here, as low/lower fat sour cream has a much higher water content and can negatively affect the finished cake. A full-fat yogurt would probably work here, in a pinch.
Top Tip! The ripeness of the pears is more important than the type of pear you use. Pick pears that are ripe, but still firm, to ensure that the pears cook nicely in the cake.
Recipe Tips
Ripe pears are key to making sure they bake up beautiful in the one-hour oven time. Still firm (not overly moist) pears are key to making sure that too much moisture isn't introduced to the cake while baking. So take care to make sure the pears you are starting with are ripe, but firm.
If you feel your pears are a touch on the hard side (not quite ripe), prepare and slice then, then place on a baking sheet and pop into a 350F oven for 10 minutes, to soften them up and give them a head start on cooking. Be sure they are cooled before placing on the batter.
If you'd like to peel the pears, you certainly can. The white pear would still contrast nicely with the cinnamon topping of the cake.
Note that the egg and sour cream should be at room temperature, so take them out of the fridge 20-30 minutes ahead of time.
How to Brown Butter
Start with a light coloured saucepan, so you can easily gauge the colour of the butter as it cooks. Melt the butter in the saucepan over medium heat. As the butter cooks, stir or swirl the mixture in the pan, so it cooks evenly and you can see the colour underneath. The butter will start to foam and turn from a yellow to a golden yellow colour.
As it cooks further, it will start to develop a golden brown colour, with darker specks on the bottom of the pan. You will also notice a distinctly nutty aroma. When it reaches that point, immediately remove from heat and pour into a small bowl, to stop the cooking. You will see some dark sediment on the bottom of the bowl. Those are the browned milk solids. Use them along with the browned butter.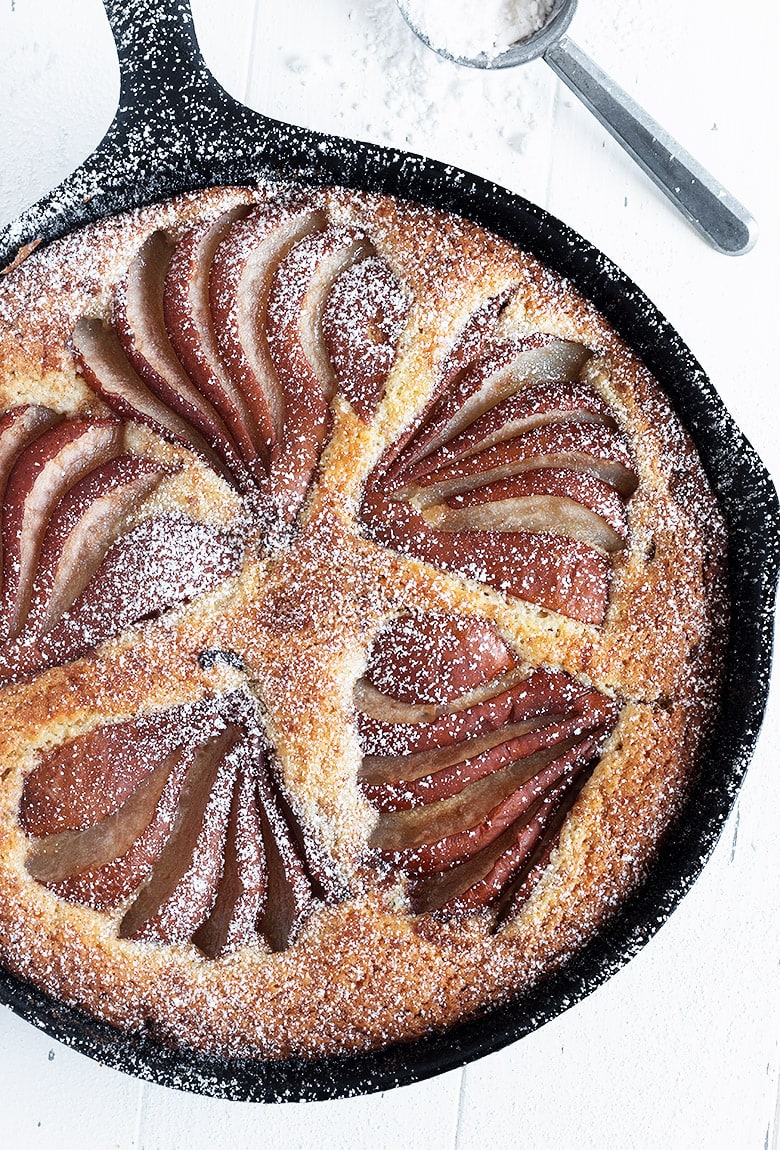 Storage, Freezing and Making Ahead Notes
Due to the amount of fruit in this pear cake, it is best enjoyed on the day it is baked. Into the second day, the cake part will become more moist as the moisture from the pears will seep into it.
While this cake will freeze, the process of freezing and thawing is likely to make the cake a bit more moist.
Get the Recipe:

Pear and Cinnamon Cake
A delicious pear and cinnamon cake, baked in a skillet and topped with a cinnamon streusel.
Ingredients
3

Bosc Pears

,

ripe but still firm
Cinnamon Streusel:
3

Tablespoons

all purpose flour

4 1/2

Tablespoons

brown sugar

1 1/2

teaspoon

cinnamon

2

teaspoon

butter

,

cold
Cake:
6

Tablespoons

unsalted butter

,

*see Notes below

Pinch

cinnamon

1 1/2

cups

all-purpose flour

1 1/2

teaspoon

baking powder

1/2

teaspoon

fine salt

1/3

cup

vegetable oil

,

or canola, sunflower etc.

1

cup

white sugar

1

large

egg

,

at room temperature

1

teaspoon

vanilla

2/3

cup

sour cream

,

full-fat, at room temperature
Instructions
Preheat oven to 350F. (regular bake setting/not fan assisted) and grease a 10-inch top diameter cast iron skillet (or 9-inch cake pan).

Make the cinnamon streusel: Stir together the flour, brown sugar and cinnamon. Add the cold butter and use your fingertips to rub the butter into the dry mixture until it is crumbly. Set aside.

In a small saucepan, add the 6 Tbsp of butter. Cook over medium heat until butter is foamy and golden-brown, about 5 minutes. Immediately pour into a small bowl (to stop the cooking). Add the pinch of cinnamon and stir. Allow browned butter to cool until just lukewarm.

In a medium bowl, whisk together the flour, baking powder and salt. Set aside.

Prepare the pears: Cut pears in half lengthwise. Using a small spoon, scoop out the core and scrape a bit of the tough spine that runs up to the stem away. Place pear halves on a cutting board, cut side down. Using a sharp knife, make 5 or 6 thin, even slices in the pear halves, starting from about 3/4-inch down from the top, stem-end of the pear. Set aside.

In a large bowl with an electric whisk (or hand whisk) or the bowl of a stand mixer fitted with the whisk attachment, add the cooled brown butter, the vegetable oil and the white sugar. Whisk together until light and well combined, about 1 minute. Add the egg and vanilla and whisk 1 minute more. Add the sour cream and whisk until well combined. Remove bowl from stand mixer, if using.

Using a spatula, add 1/3 of the flour mixture to the wet mixture and gently fold in until combined. Add half of the remaining flour mixture and gently fold in until combined. Add the remaining flour and fold in until no flour is visible. Batter will be quite thick.

Spoon batter into prepared cast iron skillet or baking pan and level. Sprinkle cinnamon streusel evenly overtop of the batter. Fan the sliced pear halves and place on top of the cake randomly, pressing into the batter just slightly. (You may only be able to fit 5 of the 6 pear halves, depending on the size of your pears).

Bake in preheated oven for about 1 hour, or until puffed and golden on top. Serve warm from the pan or at room temperature. Serve with whipped cream or ice cream, if desired.
Notes
Unsalted butter makes the best browned butter and is less likely to burn. You can use salted butter if that's all you have. Just watch extra carefully to avoid burning.
Be sure to read the notes above this Recipe Card, where I share more detailed

 

tips, variations and substitution suggestions for this recipe!
Serving:
1
serving
,
Calories:
376
kcal
,
Carbohydrates:
51
g
,
Protein:
3
g
,
Fat:
19
g
,
Saturated Fat:
13
g
,
Cholesterol:
50
mg
,
Sodium:
148
mg
,
Potassium:
194
mg
,
Fiber:
2
g
,
Sugar:
31
g
,
Vitamin A:
377
IU
,
Vitamin C:
2
mg
,
Calcium:
71
mg
,
Iron:
1
mg
More Pear Cake Recipes to Love!
Hi! I'm Jennifer, a home cook schooled by trial and error and almost 40 years of getting dinner on the table! I love to share my favourite recipes, both old and new, together with lots of tips and tricks to hopefully help make your home cooking enjoyable, stress free, rewarding and of course, delicious!