Classic Jamaican Jerk Chicken, marinated in a host of spices, onion, garlic and peppers, then cooked low and slow on the bbq or in the oven.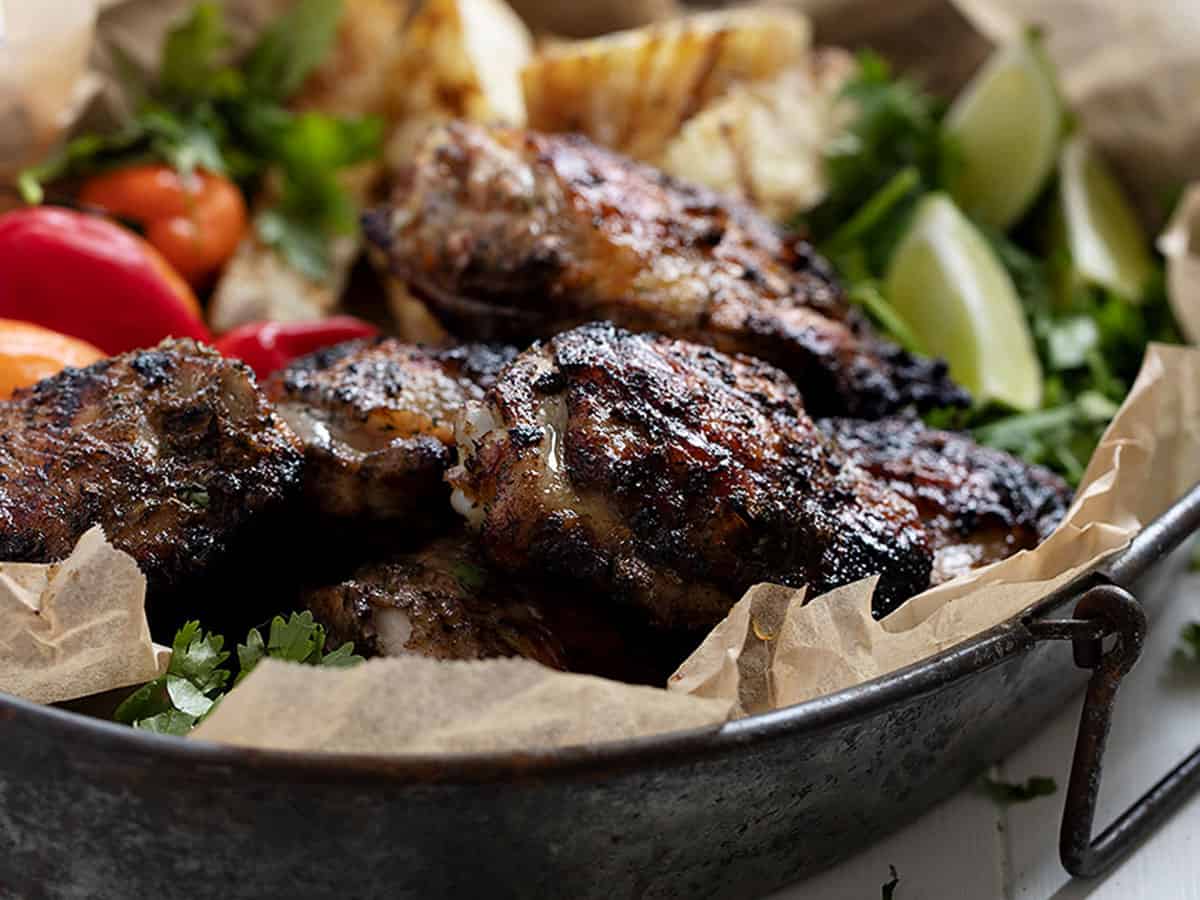 Jerk Chicken is, of course, a classic Jamaican favourite. This is my version, based on some guidance that found it's way to me from a quite reliable "how to do jerk" source. I love the unique blend of spices, the delicious coating and the wonderfully moist chicken that results from cooking it low and slow on the BBQ.
Jerk chicken is a made from a wonderful assortment of spices and can be spicy or not. I love it with just a bit of heat - not so much that it over-powers the other flavours going on. It's also an easy recipe for the BBQ, that can be set to marinade many hours ahead, then simply popped on the grill when you're ready to eat. This chicken can also be cooked in the oven, if you prefer.
Jump to:
Ingredients
Chicken - I love to make jerk chicken with skin-on/bone in chicken thighs. You can use other cuts of chicken, but for the best results, stick with skin-on/bone in.
Green onion - aka scallions. Use the green part and most of the white part.
Browning Sauce - a Caribbean favourite sauce. I've included an easy recipe to make it at home below, if you don't already have it on hand. Soy sauce is a good substitute.
Lime juice - from fresh limes is recommended
For the Jerk spices - Garlic powder, onion powder, allspice, dried thyme, paprika, parsley flakes (optional), chilli powder and cumin.
Step by Step Photos
Perhaps the easiest step-by-step photo collage I've done! Here are the easy steps ...
Step 1: Add all the ingredients (except the chicken :) to a food processor. Notice the orange bits? That's the Scotch Bonnet pepper. Handle with care! They are very hot. The pepper I used was about the size of a quarter and produced what I would call pleasant heat. Omit for no heat or increase for more heat. In any event, be sure to wash your hands after cutting.
Step 2: Whiz it all up to a moist, paste.
Step 3: Add the paste mixture to your chicken. Rub it on well. Cover and refrigerate the chicken for at least 3 hours or up to 8 hours. Grill (or bake) and enjoy!
FAQ
Can I use other cuts of chicken? Absolutely, but for best results, use skin-on/bone-in chicken.
Can I use garlic cloves and/or onion instead of the garlic/onion powder? You can, but my experience is that the fresh garlic and onion will burn on the outside of the chicken as it cooks and can sometimes introduce a bitter taste to the chicken. Also, you would need about 16 garlic cloves to replace the garlic powder :)
What is "browning sauce"? Browning sauce is also known as browning caramel. It is popular in Caribbean cooking. Grace™ is a popular brand, that you can usually find in with the gravy mixes at the grocery store. Browning caramel is very easy to make at home, as it is basically caramelized sugar with salt. I've included a quick recipe below if you'd rather not buy some.
What can I use instead of Browning sauce? Soy sauce is a decent substitute.
What can I use instead of Scotch Bonnet peppers? Habanero peppers are a good option. If all else fails, go for a jalapeno (but use more).
Can I cook jerk chicken in the oven? You can! Simply place on a baking sheet and bake in a 350F oven for 40-45 minutes, or until cooked through (165F internal temperature when tested with a thermometer).
What should I serve with Jerk Chicken? Grilled fruit (pineapple, mango etc) or Caribbean style "rice and beans" are good options. For a Summer BBQ, grilled corn is always a nice side!
How to Make Browning Sauce at Home
In a medium saucepan, combine 1 cup brown sugar (light or dark) with 1/2 cup water and 1 tsp coarse salt. Heat over medium heat, stirring until the sugar dissolves. Allow to come to the boil, then stop stirring. Allow to boil over medium heat, watching constantly, until the mixture turns a very deep golden, almost brown colour and the texture is somewhat syrupy (but not thick in texture and not black in colour). Immediately remove from heat and carefully pour into a jar. Allow the sauce to cool 10-15 minutes, then cover and refrigerate until needed. Browning sauce should be refrigerated at all times after cooking and will keep in the fridge for several months.
Top Tip
The key to great jerk chicken on the BBQ is to cook it completely on the top rack and to regulate your BBQ to stay somewhere around 350F, give or take. Low and slow. You want the chicken to end up a little charred in spots, but definitely not completely black. That's not very appetizing :) The only way to accomplish that is indirect heat. If you try to cook this right on the grill, the outside will char before your chicken is cooked through. Be prepared to hover over it a bit. Check often, flip several times and adjust the flame as needed. Your chicken will need a good 20-30 minutes on the BBQ to cook through, depending on the size of your chicken pieces.
Recipe
More recipes perfect for the BBQ ...