A cross between a shortbread cookie and a sugar cookie, these slice and bake lemon meltaway cookies have great texture, are lightly sweet and just the right amount of lemon flavour.
These Lemon Meltaways are a cross between a shortbread cookie and a sugar cookie, so the texture is nice and light. The amount of lemon flavour is spot on and they are just lightly sweet. All of this adds up to a cookie that you'll want to have in your cookie jar on a regular basis.
And as if these cookies could get any better, they are slice and bake easy and you can freeze the dough, to enjoy some now and some later. While these are cookies to enjoy all year round, they's be especially nice to bake up and have around for Easter, I think.
Ingredients and Substitutions
Butter – Baking recipes will often specify unsalted butter for a couple of reasons. First, unsalted butter has a shorter shelf life without the added salt, so the butter on the shelf if most likely fresher then the salted butter. And fresher butter is better butter.
Secondly, using unsalted butter allows you, the baker, to control the amount of salt in your baking. That makes for a better finished product, as you can salt to your taste.
All that said, if you only have salted butter, go ahead and use it, but reduce the amount of salt specified in the recipe, typically reduce it by 1/4 tsp for every 1/2 cup of butter used in the recipe. Since this recipe uses 1 cup of butter and only 1/2 tsp salt, you basically negate the need for added salt by using salted butter. Add a pinch, if you like.
Kosher Salt Once you eat one of these cookies made with the more coarse grained Kosher salt, you will understand exactly why it's specified here. As the coarse grains of salt don't melt as easily and disperse evenly into the cookie, you will find as you eat, you will hit a little salt "burst", from a bit of unmelted Kosher salt. And I mean this in the most pleasant way. In the most perfect sweet/salty way! I highly recommend using Kosher salt, if you can, but again, if you only have fine salt, go ahead and use it, using just slightly less that specified in the recipe (and less again if you used salted butter :)
Cornstarch Also known as corn flour. It is just called different things in different places.
Fresh lemon juice and zest – Fresh lemon juice is best, for the brightest lemon flavour. You will need to start with at least one fresh lemon, to get the lemon juice lemon zest specified in the recipe and you definitely want to add enjoy that zest in these cookies.
Recipe Tips
I found that cutting the rounds a little thicker, resulted in a more evenly cooked cookie. Allow a little extra cooking time for the thicker cookies.
These cookies keep really well, in fact, I'd say they get more flavour as they sit, so don't hesitate to make a full batch.
You can freeze the rounds of dough after wrapping. If you've frozen them, let the frozen log warm a bit before slicing, so the rounds don't crack.
Be careful not to overcook. They are done when you see a little golden colour starting around the outside edges. You don't want the whole cookie to start to colour. Check regularly after about 12 minutes of baking.
Top Tip!
Here's some tips to keep your cookies round. Once you roll into a cylinder and wrap, chill standing up, so the bottom doesn't flatten. Likewise, when you are cutting your cookies, you will be putting pressure on the roll, also flattening the bottom. After every 2-3 cuts, rotate the roll and roll gently on the cutting board to return to to a circle shape.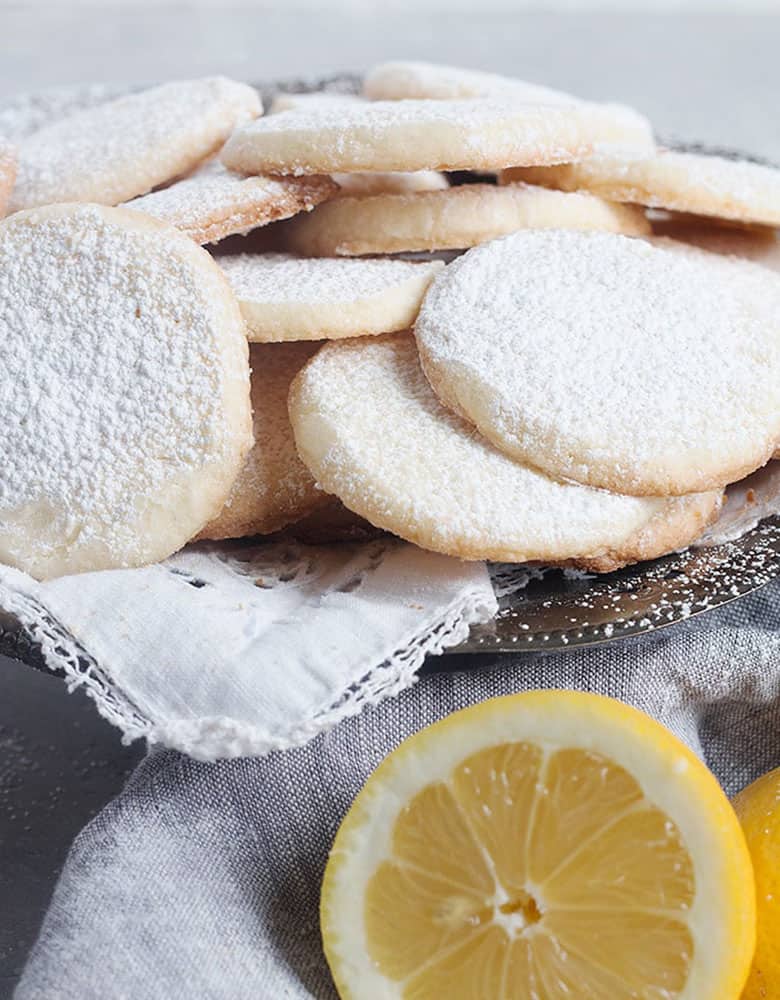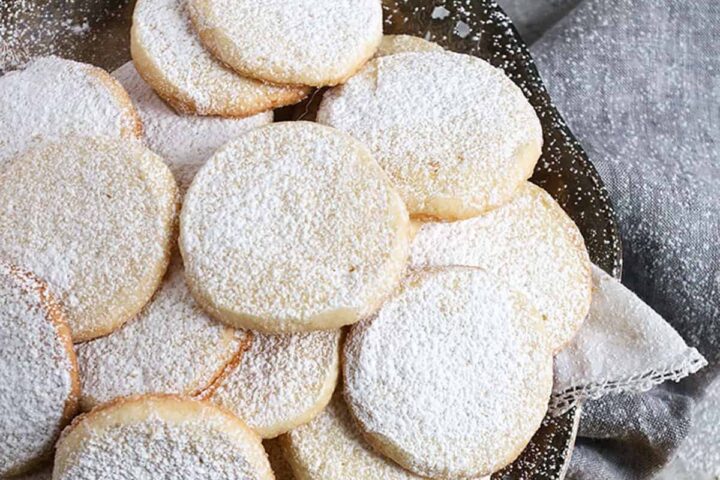 Get the Recipe:

Lemon Meltaways
A cross between a shortbread cookie and a sugar cookie. These cookies are lightly sweet, with a lovely texture and just the perfect amount of lemon flavour.
Ingredients
1

cup

unsalted butter

,

at room temperature

1 1/4

cups

icing/confectioners' sugar

,

plus more for garnish below

1

Tablespoon

finely grated lemon zest

,

finely grated and packed

2

Tablespoons

fresh lemon juice

1

egg yolk

2

cups

all-purpose flour

1/4

cup

cornstarch

1/2

teaspoon

kosher salt

,

just a pinch if using salted butter. 1/4 tsp if using fine salt and unsalted butter
For finishing:
Additional icing/confectioners' sugar

,

for dusting after baking
Instructions
In a medium bowl, whisk together the flour, cornstarch and salt. Set aside.

In a large bowl with an electric beater or the bowl of a stand mixer fitted with the paddle attachment, mix the butter with the 1 1/4 cups of icing sugar and lemon zest on low speed until the icing sugar is moistened, then turn the mixer to medium-high and beat until light and fluffy, about 3 minutes. Scrape down the sides of the bowl and add the lemon juice and egg yolk. Mix until combined.

Reduce the mixer speed to low, then add the flour mixture, mixing just until combined.

Divide the dough into 2 pieces and set each piece on a length of plastic wrap. Fold the plastic wrap over the sticky dough and roll and shape it with the palm of your hands to form it into a cylinder about 1 1/2 inches wide. Roll the cylinder a few times to help shape it, but don't worry if it isn't perfect. Chill the dough until completely firm, at least 2 hours. *I like to stand the cylinders on their end, to avoid a flat bottom.

(You can double wrap and freeze the one or both of cylinders at this point. To use later, remove from the freezer and let warm slightly before slicing, to avoid cracking in the dough. Baking from semi-frozen may take an extra few minutes.)

Preheat oven to 350F when ready to bake and line two baking sheets with parchment paper.

Slice the dough into rounds just about 1/4-inch thick (*see notes) and arrange them at least 1-inch apart on the prepared baking sheets. Bake the cookies for 12 to 15 minutes, rotating the pans from top to bottom and front to back halfway though baking. The cookies should be golden around the edges, but not brown all of the way through.

Set the pans on cooling racks and cool for a few minutes, then dust both sides of the warm cookies with the remaining 3/4 cup of icing sugar. Let the cookies cool completely on a cooling rack, then store at room temperature in an airtight container. You can dust with additional confectioners' sugar just before serving, if desired.
Notes
To keep your cookies round, after every two of three slices, rotate the cylinder and gently re-roll it into a circle before slicing a few more, Repeat every 2-3 slices and you will have round cookies!
Be sure to read the notes above this Recipe Card, where I share some valuable tips, options, substitutions and variations for this recipe!
Serving:
1
serving
,
Calories:
132
kcal
,
Carbohydrates:
19
g
,
Protein:
1
g
,
Fat:
7
g
,
Saturated Fat:
4
g
,
Cholesterol:
28
mg
,
Sodium:
50
mg
,
Potassium:
13
mg
,
Sugar:
9
g
,
Vitamin A:
245
IU
,
Vitamin C:
0.8
mg
,
Calcium:
5
mg
,
Iron:
0.5
mg
Hi! I'm Jennifer, a home cook schooled by trial and error and almost 40 years of getting dinner on the table! I love to share my favourite recipes, both old and new, together with lots of tips and tricks to hopefully help make your home cooking enjoyable, stress free, rewarding and of course, delicious!