Low and slow cooked maple baked beans, made from dried beans, real maple syrup, bacon and a touch of molasses.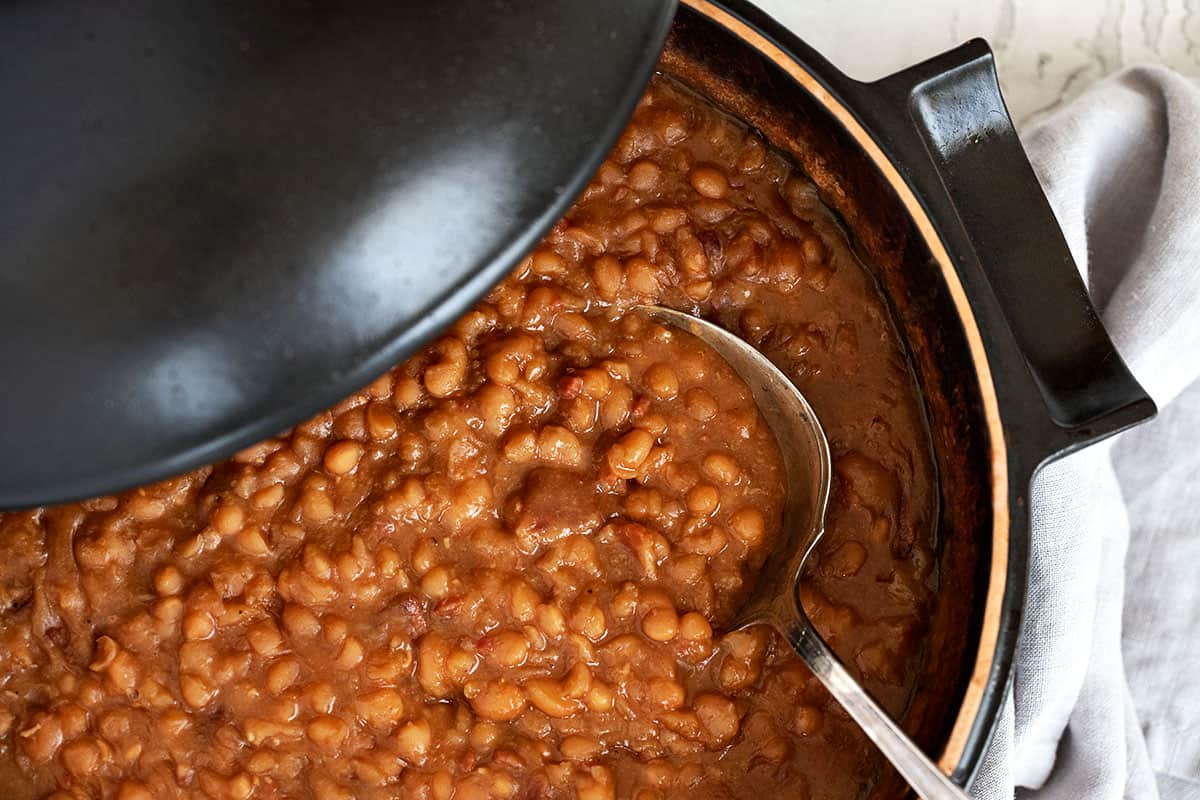 Why you'll love this maple baked beans recipe
Slow-cooked homemade baked beans are always a treat and these maple baked beans are no exception.
These baked beans have a touch of sweetness from the maple syrup, a touch of salty from the bacon and some richness from a bit of molasses. These have a lovely balance of flavours.
Maple baked beans make a perfect side dish for an Easter dinner, as it pairs beautifully with ham. They are also great for summer BBQs!
Making baked beans from dried beans takes a little extra time, but it's so worth it. I've got you covered with all my best tips for making baked beans, so you can be sure your baked beans are perfect.
Ingredients and Substitutions
Dried Navy Beans – also known as pea beans, these are easily found in the dried bean section of most grocery stores. I always buy a fresh bag of beans for baked beans.

Navy beans are not the same as Great Northern Beans, despite their somewhat similar appearance. Navy beans are the bean of choice for baked beans, in my opinion and I highly recommend using navy beans over Great Norther Beans. That said, in a pinch, Great Northern Beans will work, though with some difference in flavour and texture.
Maple Syrup – there really isn't a substitute for real maple syrup, so if you really want to enjoy maple baked beans at their best, spring for the real thing. You will need one cup of maple syrup. Grade B or Amber syrup has the richest maple flavour, but Grade A is fine, too.
Bacon – adds a great salty note to the baked beans and is recommended unless you want a vegetarian dish, in which case you can omit the bacon and increase the added salt accordingly.
Molasses – I recommend "Fancy" molasses, for the nicest flavour. Cooking molasses will work in a pinch, but Blackstrap molasses is probably too strong a flavour.
Dried Mustard – this is the powdered mustard. If you don't have powdered mustard, you can substitute with regular, yellow Prepared mustard as noted in the Recipe Card.
Making Maple Baked Beans: Step-by-Step
You'll need to soak the dried beans overnight, then the following day, drain the beans, add some fresh water to a large pot and gently simmer the beans, uncovered, until tender. This usually takes 45-55 minutes, but you'll want to taste-test the beans regularly, to ensure they are tender before you stop simmering them.
Drain the cooked beans and run under cold water to stop the cooking process. Add the beans to a casserole dish. Add the onion, bacon, maple syrup and molasses and some hot water (per the ingredient list in the Recipe Card below) and stir together.
COVER the casserole and bake for 4 hours, checking about every hour and adding addition hot water to the beans, if needed. You want to maintain the beans with enough liquid to see some puddles on top of the beans. Stir before adding additional water so you can accurately gauge the amount of liquid.
After 4 hours, add more maple syrup and return to the oven UNCOVERED, and allow to bake a further 30 minutes, or until bubbly and the sauce has thickened nicely.
How to avoid mushy baked beans
Beans get mushy when the skin of the bean is cracked or crushed, allowing moisture to get inside the bean, so here are ways to avoid that …
Use a fresh bag of dried beans. Even though beans are dried, they continue to dry further as they sit in the cupboard. If they are too dried out, they will not cook up well.
Soak the dry beans overnight in cold water. Don't skip this step. It's quick and easy and is a more reliable method than the one that skips the soak.
When pre-cooking the beans, simmer gently, UNCOVERED and don't stir too often.
Simmer just until the beans are tender (taste test regularly!) and no longer.
Rinse with cold water once beans are tender, to stop cooking.
While beans are baking, stir the beans gently to avoid crushing the beans.
Check the beans hourly and give a gentle stir to gauge the liquid level. Add additional hot water to the beans, as necessary, so they don't dry out and compact or crush. Add water until you have some puddles on the top.
Making ahead, storing, freezing and re-heating
Making ahead – These baked beans can be made ahead, refrigerated and served reheated later in the day or the next day.
Cooked baked beans can be refrigerated for 2-3 days.
Storing – Store cooked baked beans in the refrigerator. For longer storage, they can also be frozen, but only after they have been baked.
Freezing – Cooked baked beans can be frozen up to 3 months and maybe longer.
Reheating – Refrigerated or frozen baked beans can be reheated in the oven. For refrigerated beans remove from the refrigerator a bit ahead to take the chill off, then place COVERED (with lid or foil) into a 350F oven, until warmed through (about 20-25 minutes). If beans seem thick, add a splash of water and use a fork to gently distribute it through the beans to loosen. Avoid vigorous stirring, which could crush the beans and make them mushy.
Frozen baked beans can be re-heated in the oven from frozen. Allow 35-40 minutes of oven time to reheat. Once the beans are starting to heat and are no longer frozen, you can add a splash of water to the beans, if necessary, to thin them out a bit. If beans seem watery at all after freezing and reheating, simply leave in the oven uncovered for a few minutes and the excess liquid will cook off.
You can also reheat cooked baked beans in the microwave or even in a saucepan on the stove-top.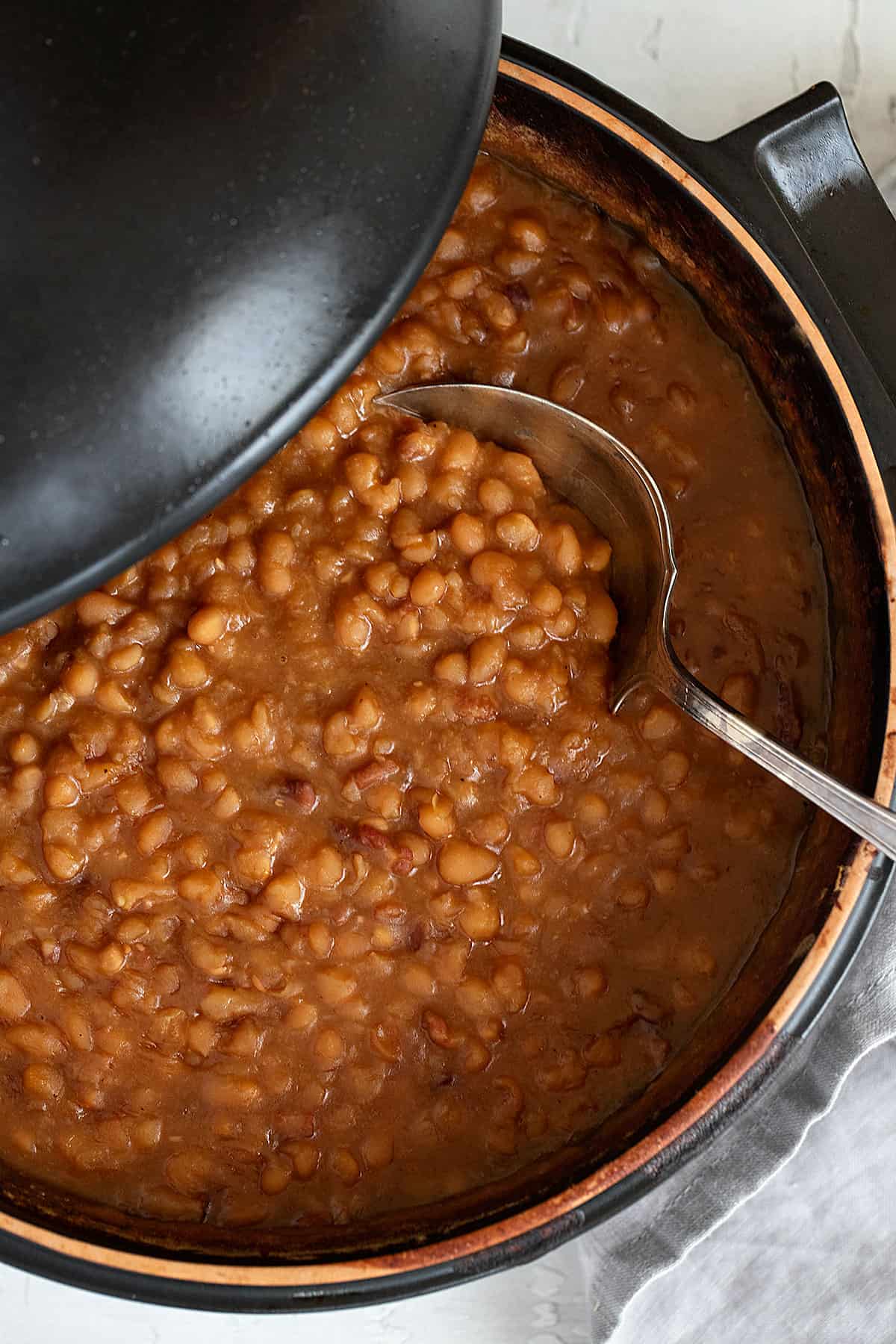 FAQ
Do I need to use real maple syrup?
As these are maple baked beans, the "maple" comes from real maple syrup. I understand that it can be expensive in places. Don't reach for the maple flavoured syrup, as you really don't want to use a cup of it in your beans. Instead, you could replace part (1/4-1/2 cup) of the maple syrup with brown sugar, mixed with water. Mix 1/4 cup hot water with 1/3 cup brown sugar to replace 1/4 cup of maple syrup. Double that to replace 1/2 cup of the maple syrup. Obviously this substitution will result in less maple flavour in the finished beans.
Can I make these baked beans ahead and reheat?
Yes! Properly made baked beans can be made ahead and re-heated nicely. See the "Making ahead" section below for more details.
Can I make these baked beans in the slow cooker or Instant Pot?
Maybe. I have never tried it. I always use the oven, as these are "baked" beans, after all :) This recipe may work in a slow cooker or Instant Pot, but you might be better to seek out a recipe specifically developed for the slow cooker or Instant Pot.

If you are looking to free up oven space, consider doing the baked beans ahead. They keep well in the fridge and re-heat nicely. Also, as these beans bake at 325F, you can bake them alongside a ham, for example, that can cook at the same temperature.
Aren't baked beans made with kidney beans?
Not in my part of the world :) Classic "baked" beans are made with navy beans.
Can I use canned navy beans instead of dried?
This recipe is specifically written for starting with dried beans. As canned beans are pre-cooked, the long oven cooking time of this recipe would be too long for canned beans. You can certainly experiment with the same ingredients and a shorter cooking time, but I can't offer much advice as I haven't tried it myself.
My baked beans are not tender. What did I do wrong?
Most often, it happens because the beans weren't simmered long enough at the start of the process. The beans need to be simmered until tender before going into the oven, as they will not soften much in the oven, even with the long baking time. Be sure to taste taste the beans to be sure.

It could also happen if you used old, dried beans or if you have extremely hard water.
I like a darker baked beans. Can I add more molasses?
Yes! It's really a matter of personal taste. Experiment by adding a bit more to start, maybe an extra Tablespoon or so and going from there. You'll want to try to keep a nice balance and avoid over-powering the maple flavour with the stronger flavoured molasses.
Are maple baked beans sweet?
Maple baked beans are sweeter than regular baked beans, but the added bacon, creates a lovely sweet/salty balance. If the finished beans taste a touch too sweet for your taste, stir in a bit more salt, at the end or alternately, add a little less maple syrup at the end.
What should I serve with maple baked beans?
Maple baked beans are a perfect side dish for ham, especially for Easter. Baked beans of any sort are always at home for a BBQ, alongside hamburgers, ribs or sausage. Finally, I love to use leftover baked beans warmed and spooned over toast for a quick and easy lunch or dinner.
Can I add a splash of bourbon to the maple beans?
Sure! Add a bit with the maple/molasses mixture at the start of cooking. Don't get too heavy-handed though, as you'll still want a nice balance of flavours. Start with just a splash. Always remember that flavours concentrate through long cooking.
When simmering the soaked beans, how do I know when they are "tender"?
The beans are "tender" when they have an even texture through to the centre of the bean. When they are undercooked, they have a soft outside, but when you bite into them, they are a bit chalky or raw-ish tasting in the middle. Once they have an even texture, they are done.

Note that the beans won't be as "soft" as finished baked beans at this point. That magic happens in the oven. You just need them to be tender after the simmering, and that generally happens after 45-55 minutes or simmering.
Get the Recipe:

Maple Baked Beans
Low and slow cooked maple baked beans, made from dried beans, real maple syrup, bacon and a touch of molasses.
Ingredients
2

cups

dried navy beans

1/2

cup

onion

,

diced

4

slices

bacon

,

cut into 1-inch pieces

1/2

cup

maple syrup

,

*plus see below for additional maple syrup to be added near the end of baking

1/4

cup

Fancy molasses

,

*see Note 1 below

1

teaspoon

dry mustard powder

,

or 1 Tablespoon yellow prepared mustard

1

teaspoon

fine salt

2

cups

hot water

,

plus more as needed while baking
To be added near the end of cooking:
Instructions
The night before baking: In a large bowl, add

6 cups

of cold water and

2 cups

of dried navy beans. Allow to soak overnight, uncovered.

Day of baking: Drain beans and place into a large pot. Add 6 cups of fresh water to the pot. (Water should be about 2-inches above the beans. You can add a bit more, if needed). Do not salt the water. Bring to a boil over medium-high heat, then reduce heat to medium-low or whatever level allows for a gentle simmer.

Simmer the beans until just tender, about 40-55 minutes. *Be sure to taste test beans for tenderness. I usually start at about 40 minutes and then regularly, after that. You want to simmer the beans until they are tender, but no longer.

Drain beans and run the drained beans under cold water to stop the cooking process. Add the beans to a casserole dish with a lid (2 1/2 quart size approx. for base 1X recipe) or a Dutch oven.

Preheat oven to 325F. (regular bake/not fan-assisted), with rack in the centre of the oven.

Scatter the onion and bacon overtop of the beans in the casserole. In a measuring cup, stir together the

1/2 cup

maple syrup, molasses, mustard powder and salt. Pour over the beans. Add the

2 cups

of hot water and stir gently to combine.

Cover the pot and place into the preheated oven. Bake for 4 hours covered, checking every hour for the first 3 hours, then every 30 minutes for the last hour of cooking, to be sure there is sufficient liquid in the pot. When checking, very gently stir the mixture so you can gauge the liquid level. You want the liquid in the pot to just cover the beans, so you should see some "puddles" on the top of the beans. If you don't and the mixture seems dry, add some hot water until you get the liquid to that level. It's not unusual to add

1/2 cup

of water a couple of times during the baking time.

You're always better to err on the more liquid side, than to allow the beans to dry out, which causes them to compress and get mushy. If you find you have a lot of liquid at the end, you can simply extend the uncovered baking time slightly to allow it to cook off.

After 4 hours of baking, remove from the oven. Add the remaining

1/2 cup

of maple syrup and gently stir in. Return to the oven and bake, UNCOVERED, for about 30 minutes or until the mixture is thickened and saucy. The beans will thicken a bit further as they rest after coming out of the oven.

Let stand, uncovered for 5 minutes or covered for 10-15 minutes before serving. If making ahead, let cool until they stop steaming, then cover and refrigerate up to 2 days. Reheat covered in a 350F oven until warmed through. If they thicken a bit, gently stir in a bit of water to loosen. (Don't add water until they start to warm though, as they will thin a bit naturally as they reheat).

Store left-over baked beans in the refrigerator for 2-3 days. You can also freeze baked beans after they have been cooked.
Notes
Fancy molasses is recommended for best flavour. If you only have Cooking molasses, you can use it, but as it is a stronger flavour, use a bit less. Blackstrap molasses isn't recommended as the flavour is too intense and will over-power the maple flavour.
I've included lots of tips on making baked beans above this recipe card, so be sure to scroll up and have a read, so you can be sure your baked beans are perfect!
Serving:
1
serving
,
Calories:
292
kcal
,
Carbohydrates:
54
g
,
Protein:
11
g
,
Fat:
4
g
,
Saturated Fat:
1
g
,
Polyunsaturated Fat:
1
g
,
Monounsaturated Fat:
2
g
,
Trans Fat:
1
g
,
Cholesterol:
6
mg
,
Sodium:
299
mg
,
Potassium:
719
mg
,
Fiber:
10
g
,
Sugar:
28
g
,
Vitamin A:
3
IU
,
Vitamin C:
1
mg
,
Calcium:
116
mg
,
Iron:
3
mg
More Baked Bean Recipes to Love!
Hi! I'm Jennifer, a home cook schooled by trial and error and almost 40 years of getting dinner on the table! I love to share my favourite recipes, both old and new, together with lots of tips and tricks to hopefully help make your home cooking enjoyable, stress free, rewarding and of course, delicious!