A Chicago style deep dish pizza, cooked in a cast iron skillet. Filled with cheese and sausage and uses a quick and easy homemade dough, all cooked up in a cast iron skillet!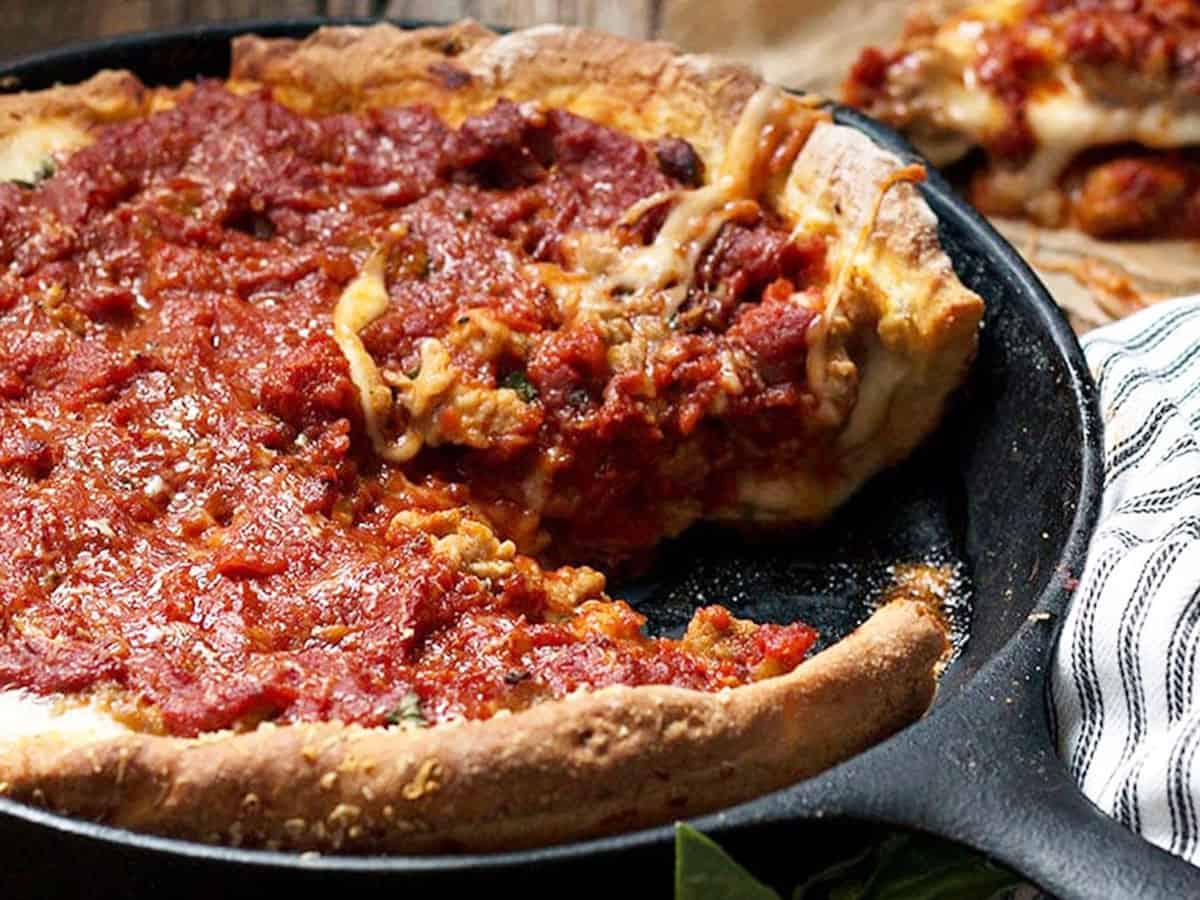 There's lots to love about this Chicago Style Deep Dish Pizza. It has lots of cheese and sausage and its topped off with a great pizza sauce and Parmesan cheese. And there's the easy homemade crust, sturdy enough to hold all the fillings and it cooks up perfectly in the cast iron skillet.
Jump to:
Ingredient Notes
Mozzarella - any block mozzarella will work fine here, though I'm partial to the low-moisture pizza mozzarella, for the best cheese pulls.
Pizza Sauce - I have included a recipe for a homemade sauce, which is delicious for this pizza. That said, if you are in a hurry, you can replace it with a nice, store-bought pizza sauce. Just note that you will need a good bit, so count on about 2 cups worth.
Sausage - I generally use Mild Italian Sausage, but you can use Hot, if you like a spicy pizza. Or, maybe a mixture of both. As you like.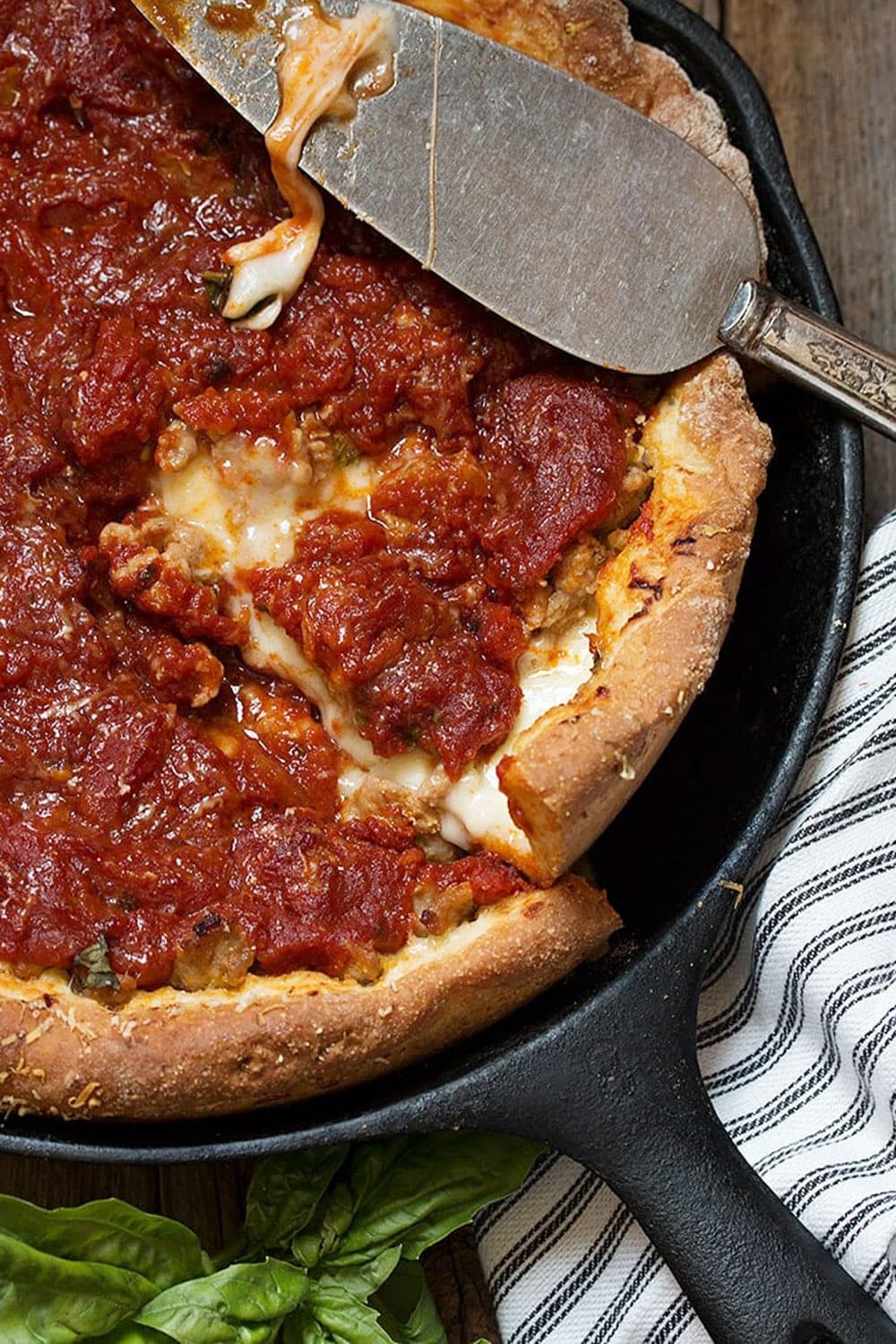 Tips
The amount of dough in the recipe below is perfect for a 10-inch top diameter skillet. If your skillet is larger, it will still work, but will be a little thinner, so cooking time may be a bit less.
The crust on this deep dish pizza is a special, thick, almost bread-like crust, so it isn't your typical pizza dough. It's perfect with the hearty fillings and part of what makes this dish sliceable :) As such, while you could use a ready-made pizza dough in place of this one, it will cook and taste differently and may not hold up as well with all the fillings.
Be sure to cut your mozzarella cheese in thick slices - 1/2 inch or so - to get the full, ooey-gooey, melted cheese experience. Likewise, cover the entire bottom of the pizza with cheese, for the best pizza experience :)
If you'd like even more meat, add a layer of pepperoni slices or cooked, crumbled bacon above the sausage.
Assembling the Pizza (Video)
Watch my pizza come together in the skillet and see it after it's cooked and how to get it neatly out of the pan!
Cook's Notes
Think of this one as an upside down pizza, as the cheese is on the bottom, followed by the meat and then topped with the sauce. While you may be tempted to put mozzarella on the top, trust me, a dusting of Parmesan is all you need, as there is plenty of cheese inside this one.
The crust on this one is different from my usual pizza crust. First, it has cornmeal in it, with gives it great flavour and texture. It cooks up to a crisp layer on the outside, but soft and a little more bread-like on the inside. As for the sauce, I sometimes use a good store-bought pizza sauce, but I've included a quick, homemade pizza sauce in the recipe card notes, if you need one.
This dough is also a nice quick-rise dough, so you don't need to start it far ahead. In fact, if you start an hour out, you can cook the sausage while the dough rises. Quickly assemble the pizza once the dough has risen for the hour and pop it in to the oven for 35-40 minutes. Once baked, this pizza is sturdy enough to be able to pop the whole thing nicely and easily out of the skillet and on to a cutting board.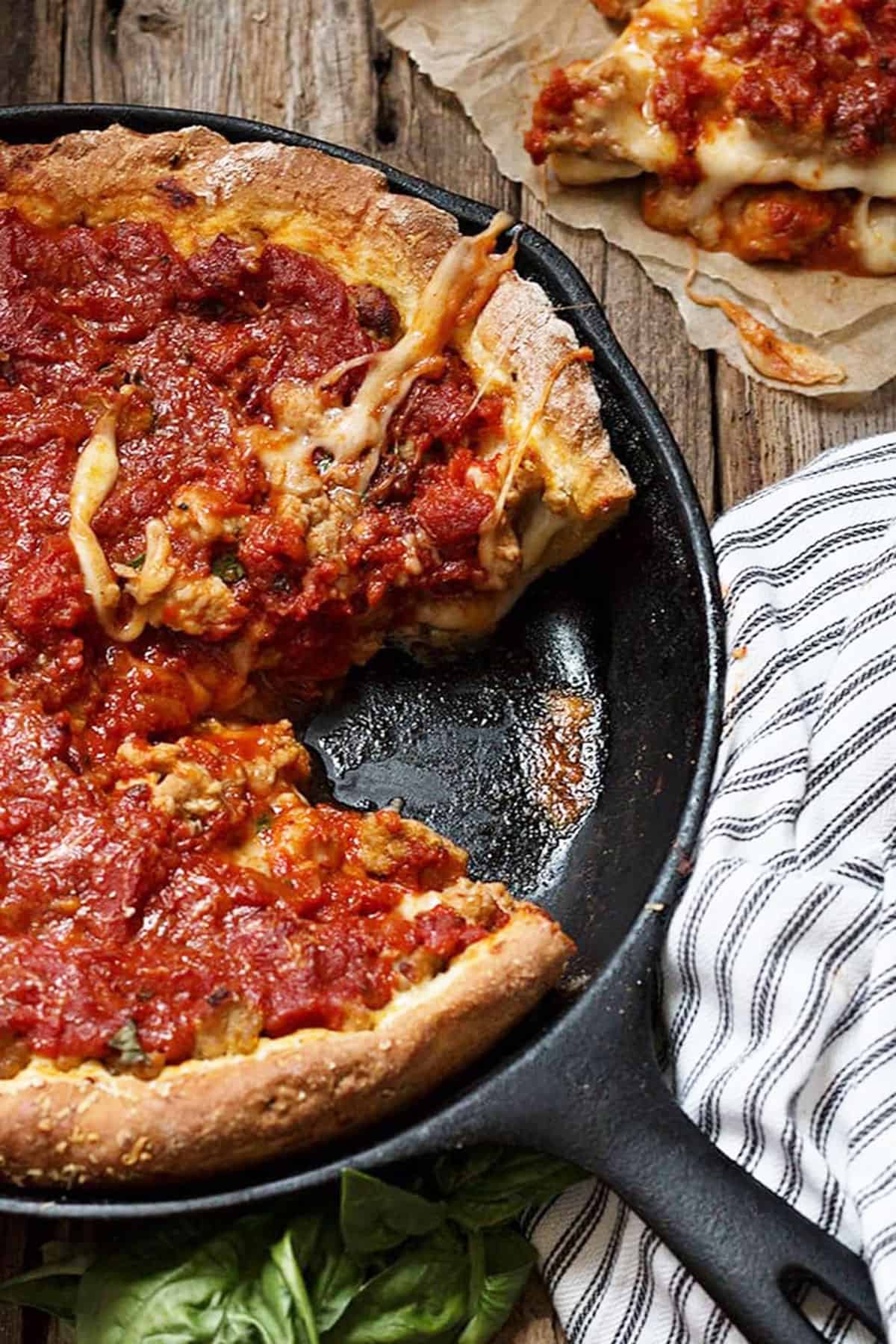 Recipe
More Pizza Recipes You Might Like ...