A delicious Chicago style deep dish pizza, with an easy homemade dough and filled with lots of cheese, sauce and sausage!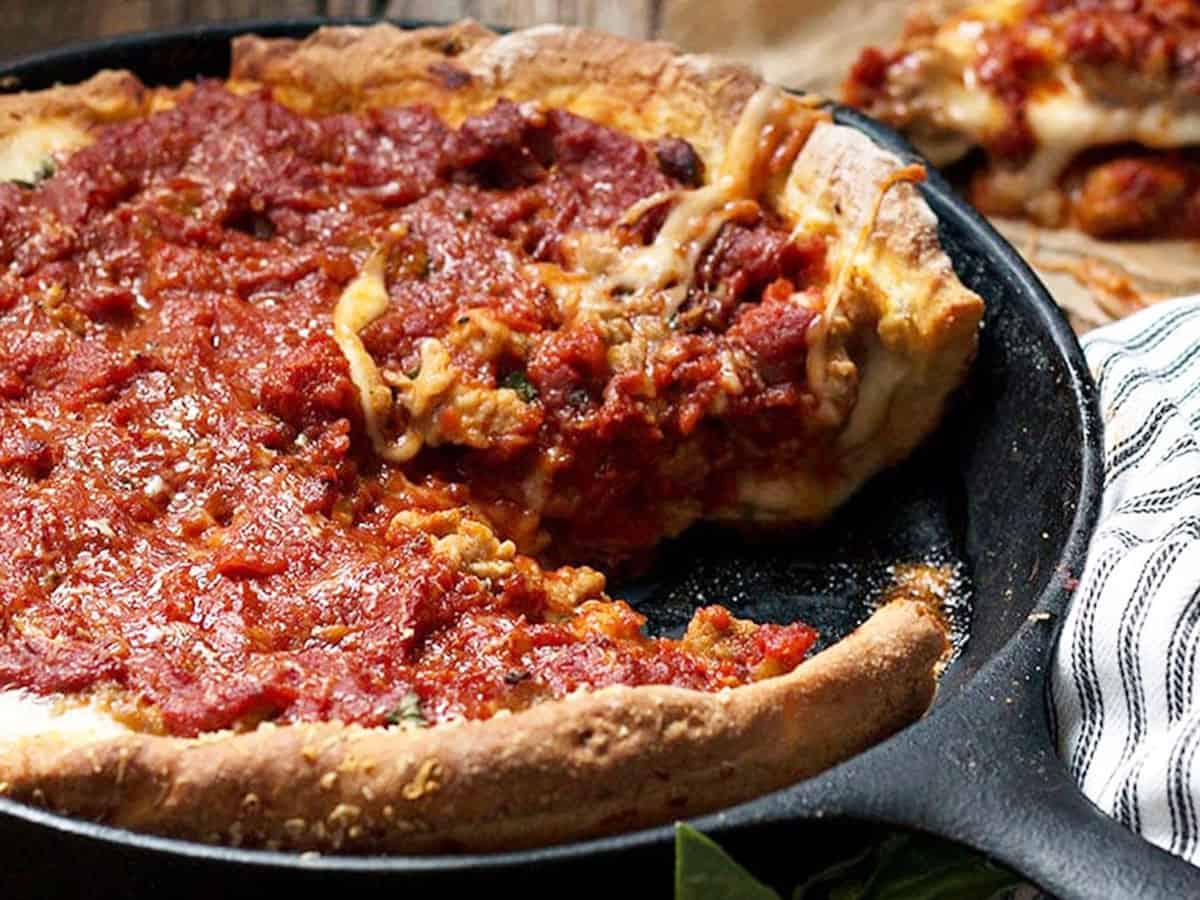 There's lots to love about this Chicago Style Pizza. This deep dish pizza has lots of cheese and sausage and its topped off with a great pizza sauce and Parmesan cheese. And there's the easy homemade crust, sturdy enough to hold all the fillings and it cooks up perfectly in the cast iron skillet.
Ingredient Notes
Mozzarella – any block mozzarella will work fine here, though I'm partial to the low-moisture pizza mozzarella, for the best cheese pulls.
Pizza Sauce – I have included a recipe for a homemade sauce, which is delicious for this pizza. That said, if you are in a hurry, you can replace it with a nice, store-bought pizza sauce. Just note that you will need a good bit, so count on about 2 cups worth.
Sausage – I generally use Mild Italian Sausage, but you can use Hot, if you like a spicy pizza. Or, maybe a mixture of both. As you like.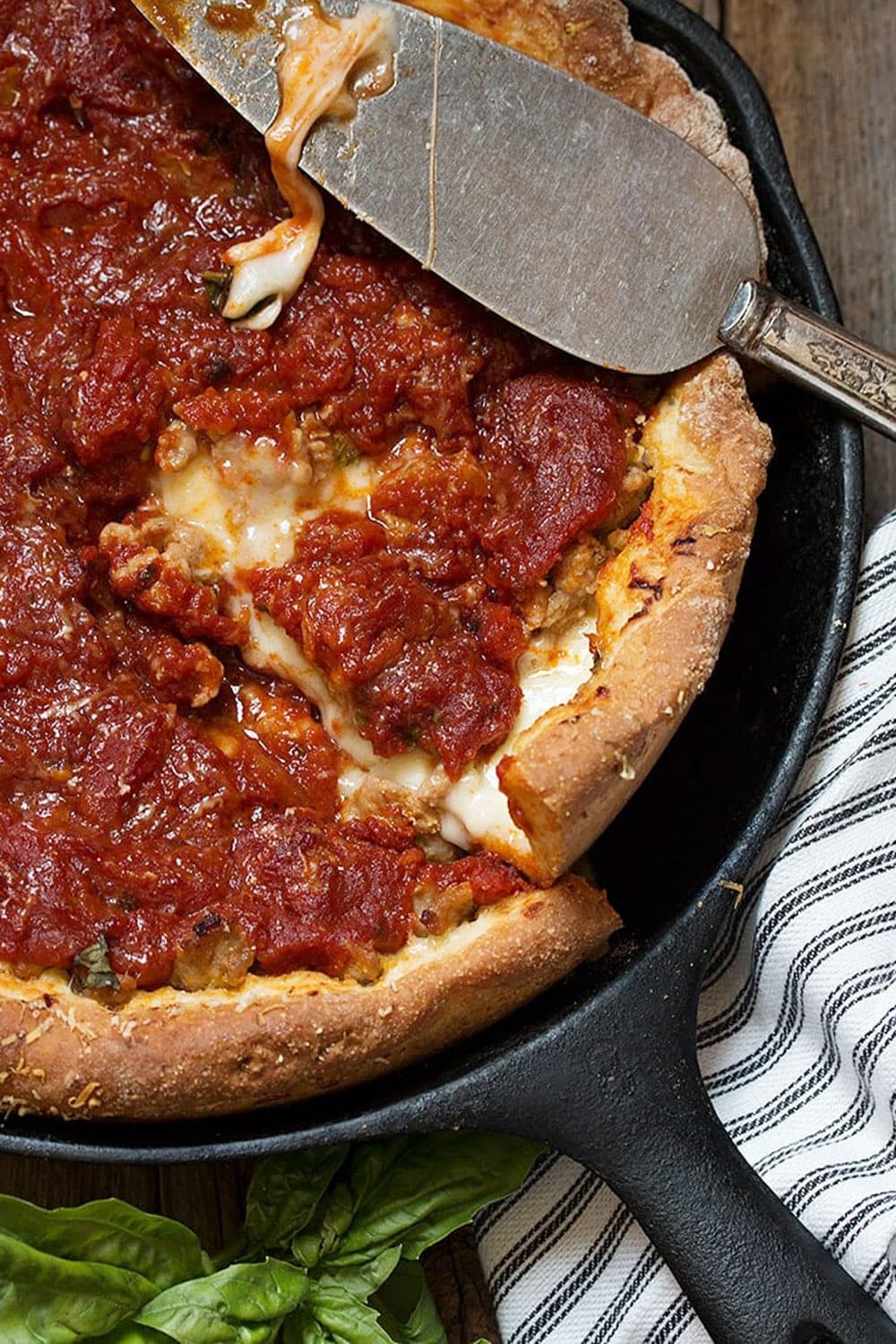 Tips
The amount of dough in the recipe below is perfect for a 10-inch top diameter skillet. If your skillet is larger, it will still work, but will be a little thinner, so cooking time may be a bit less.
The crust on this deep dish pizza is a special, thick, almost bread-like crust, so it isn't your typical pizza dough. It's perfect with the hearty fillings and part of what makes this dish sliceable :) As such, while you could use a ready-made pizza dough in place of this one, it will cook and taste differently and may not hold up as well with all the fillings.
Be sure to cut your mozzarella cheese in thick slices – 1/2 inch or so – to get the full, ooey-gooey, melted cheese experience. Likewise, cover the entire bottom of the pizza with cheese, for the best pizza experience :)
If you'd like even more meat, add a layer of pepperoni slices or cooked, crumbled bacon above the sausage.
Recipe Video
Cook's Notes
No cast iron skillet? No worries, use a 9-inch round baking pan instead!
Think of this one as an upside down pizza, as the cheese is on the bottom, followed by the meat and then topped with the sauce. While you may be tempted to put mozzarella on the top, trust me, a dusting of Parmesan is all you need, as there is plenty of cheese inside this one.
The crust on this one is different from my usual pizza crust. First, it has cornmeal in it, with gives it great flavour and texture. It cooks up to a crisp layer on the outside, but soft and a little more bread-like on the inside. As for the sauce, I sometimes use a good store-bought pizza sauce, but I've included a quick, homemade pizza sauce in the recipe card notes, if you need one.
This dough is also a nice quick-rise dough, so you don't need to start it far ahead. In fact, if you start an hour out, you can cook the sausage while the dough rises. Quickly assemble the pizza once the dough has risen for the hour and pop it in to the oven for 35-40 minutes. Once baked, this pizza is sturdy enough to be able to pop the whole thing nicely and easily out of the skillet and on to a cutting board.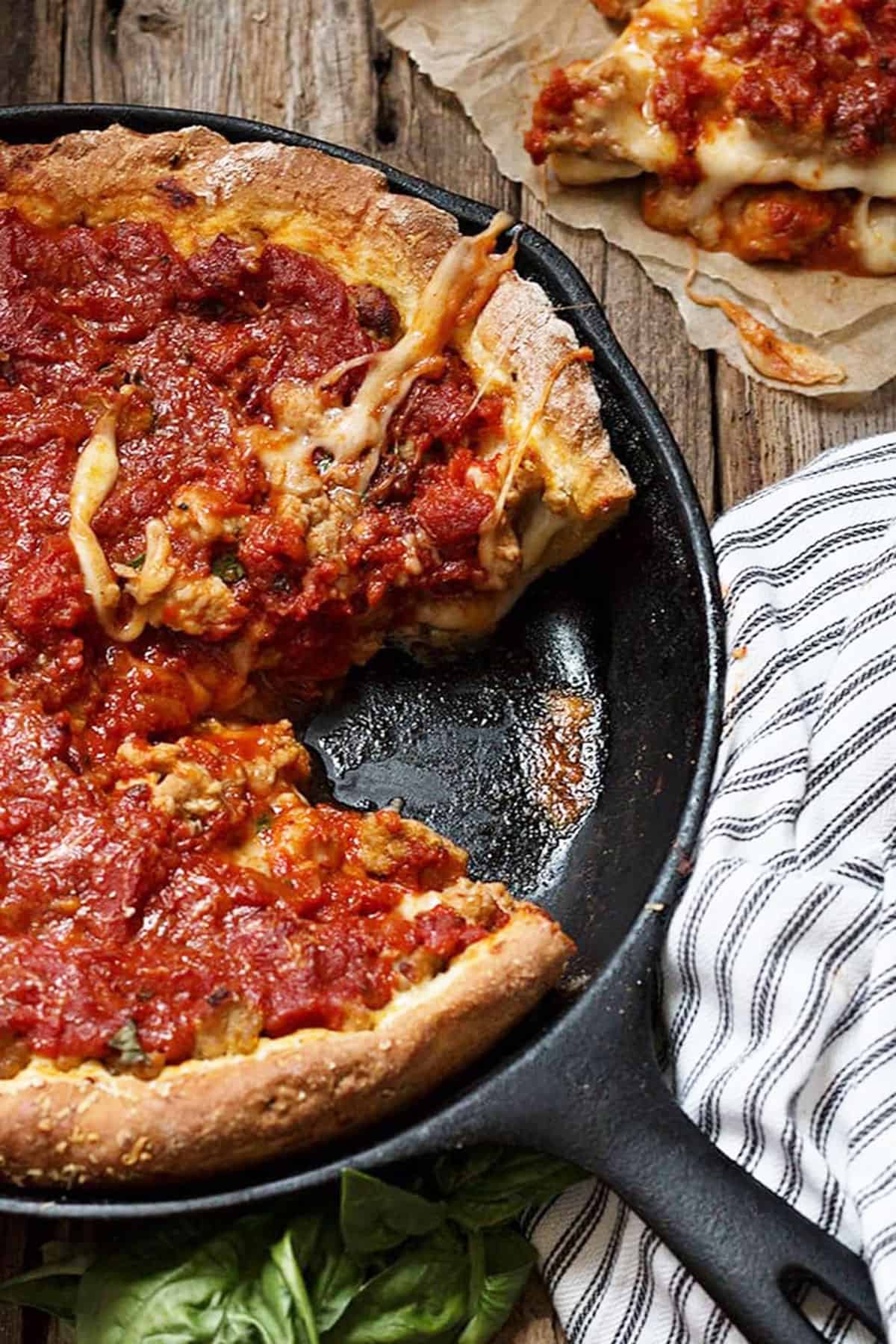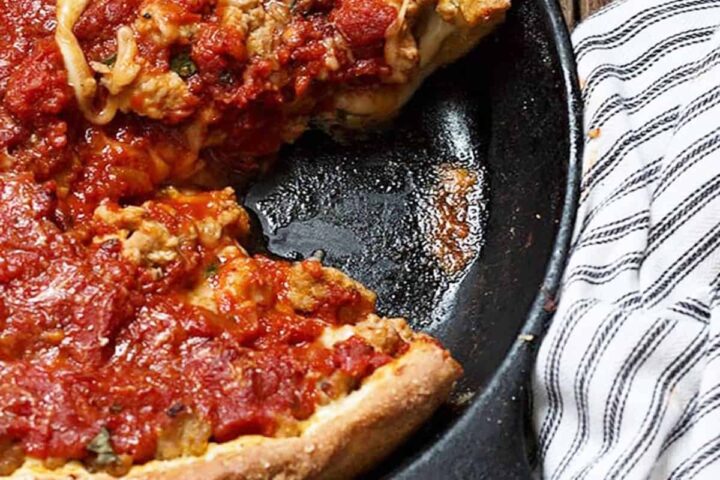 Get the Recipe:

Chicago Style Deep Dish Pizza
This is a deep and hearty and meaty pizza. Use the homemade pizza sauce recipe included or feel free to use a store-bought pizza sauce. For those wanting even more meat, a layer of pepperoni would be very nice in this pizza, as well.
Ingredients
For the dough:
3/4

cup

lukewarm water

1

Tbsp

active dry yeast

1/4

cup

cornmeal

1 1/2

cups

all-purpose flour

2

Tbsp.

olive oil

1

Tbsp.

honey

,

or white sugar
For the pizza:
10

oz

Mozzarella cheese

,

cut in 1/2-inch thick slices

4

8-inch

Hot or Mild Italian sausage links

,

casing removed, crumbled and cooked, or about 1 lb. loose sausage meat

1/2

cup

Freshly grated Parmesan cheese

,

for topping

2

cups

pizza sauce

,

store bought or see Note 1 below for an easy homemade pizza sauce recipe
Instructions
Combine the yeast and lukewarm water and let sit for 5 minutes.

In a large bowl or the bowl of your stand mixer fitted with a kneading hook, combine 1 cup of the flour and the cornmeal. Add the yeast mixture, olive oil and honey. Stir until moistened. Add more flour in small increments, until you achieve a soft dough that is neither too sticky or too stiff. Remove the dough to a well-oiled large bowl and let rise at room temperature for 1 hour.

While dough is rising, cook your sausage. If your sausage is links in casing, cut a slit down the casing and remove the sausage from the casing. Discard casing. Cook sausage in a skillet, breaking up into small pieces with a spoon, until cooked and browned. Turn off heat under skillet and set aside until needed. 

Preheat oven to 425° F. Grease the bottom and sides of cast-iron frying pan with olive oil and lightly dust with additional cornmeal.

When dough is ready, scrape onto a well-floured surface (dough will seem sticky at this point, but will be fine with the additional flour on the counter. With a rolling pin, roll dough into a circle a little bigger than the bottom of your skillet. If it's sticky, dust with more flour as needed. Transfer the dough to prepared cast-iron frying pan and press into bottom and up the sides about 2/3 of the way up. Cover the bottom of pizza completely with a generous layer of mozzarella cheese. Top with cooked sausage. Top with all of the pizza sauce, spreading it to cover the sausage. Sprinkle the top generously with freshly grated Parmesan cheese. *You don't want your crust to extend too much higher than your filling, or the exposed part at the top will overcook. If it extends too high once your filling is in, push or crimp it down to closer to the level of your filling.

Bake in pre-heated 425° F. oven for about 20 minutes. Check at 20 minutes and if crust is dark enough (it usually is at this point), cover loosely with a sheet of tinfoil and cook about at least 10 minutes longer or better yet, 13-15 minutes more (33-35 minutes total), to be sure the crust is cooked. Remove from oven and allow to cool in the pan for 5-7 minutes. Using a spatula, carefully remove pizza to a cutting board. Allow to stand a couple more minutes before cutting with a sharp knife.
Notes
Note 1:  To make your own pizza sauce. Drain a 28 oz. can of whole plum tomatoes. Crush the tomatoes with a fork or your hands, leaving them just a little chunky. In a saucepan, heat a little olive oil. Add some diced onion (about 1/4 cup) and cook until softened. Add a couple of cloves of minced garlic. Add the tomatoes. Season with some dried oregano, basil , salt and pepper. Simmer on a low heat, stirring often for at least 15 minutes. Remove from heat and allow to cool at room temperature until needed.

Be sure to read the "Ingredient and Cook's Notes" (above the recipe card!), where I share more detailed

 

tips, variations and substitution suggestions for this recipe!
Calories:
295
kcal
,
Carbohydrates:
28
g
,
Protein:
14
g
,
Fat:
14
g
,
Saturated Fat:
6
g
,
Cholesterol:
33
mg
,
Sodium:
650
mg
,
Potassium:
291
mg
,
Fiber:
2
g
,
Sugar:
5
g
,
Vitamin A:
554
IU
,
Vitamin C:
4
mg
,
Calcium:
264
mg
,
Iron:
2
mg
More Pizza Recipes You Might Like …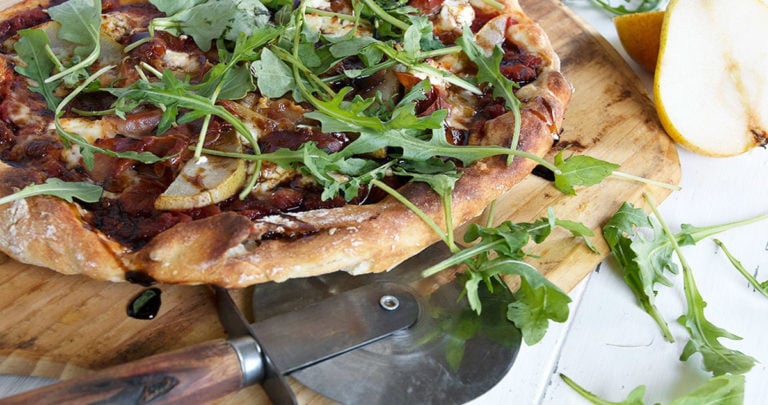 Pear Prosciutto Pizza with Arugula
Homemade pizza, topped with fresh pear, prosciutto, goat cheese and mozzarella. Finished with Red Wine Balsamic Glaze and arugula.
www.seasonsandsuppers.ca
BBQ Chicken Skillet Pizza
A delicious, from scratch BBQ Chicken Skillet Pizza, from the new Alaska From Scratch cookbook.
www.seasonsandsuppers.ca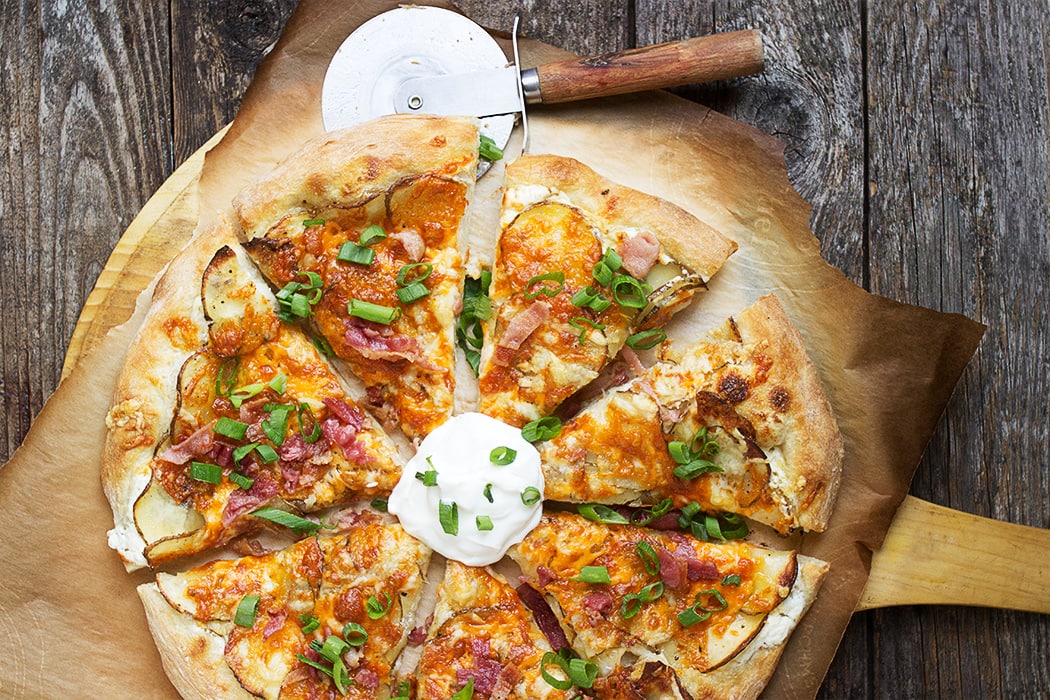 Spicy Perogy Pizza
Perogies meet pizza in this sliced potato-topped pizza, spiced with jalapeno and topped with bacon, green onion and lots of cheese. Serve with sour cream.
www.seasonsandsuppers.ca
Hi! I'm Jennifer, a home cook schooled by trial and error and almost 40 years of getting dinner on the table! I love to share my favourite recipes, both old and new, together with lots of tips and tricks to hopefully help make your home cooking enjoyable, stress free, rewarding and of course, delicious!