This spicy perogy pizza is perfect for football season eating or just about any time of year. Perogies meet pizza and it's very, very good!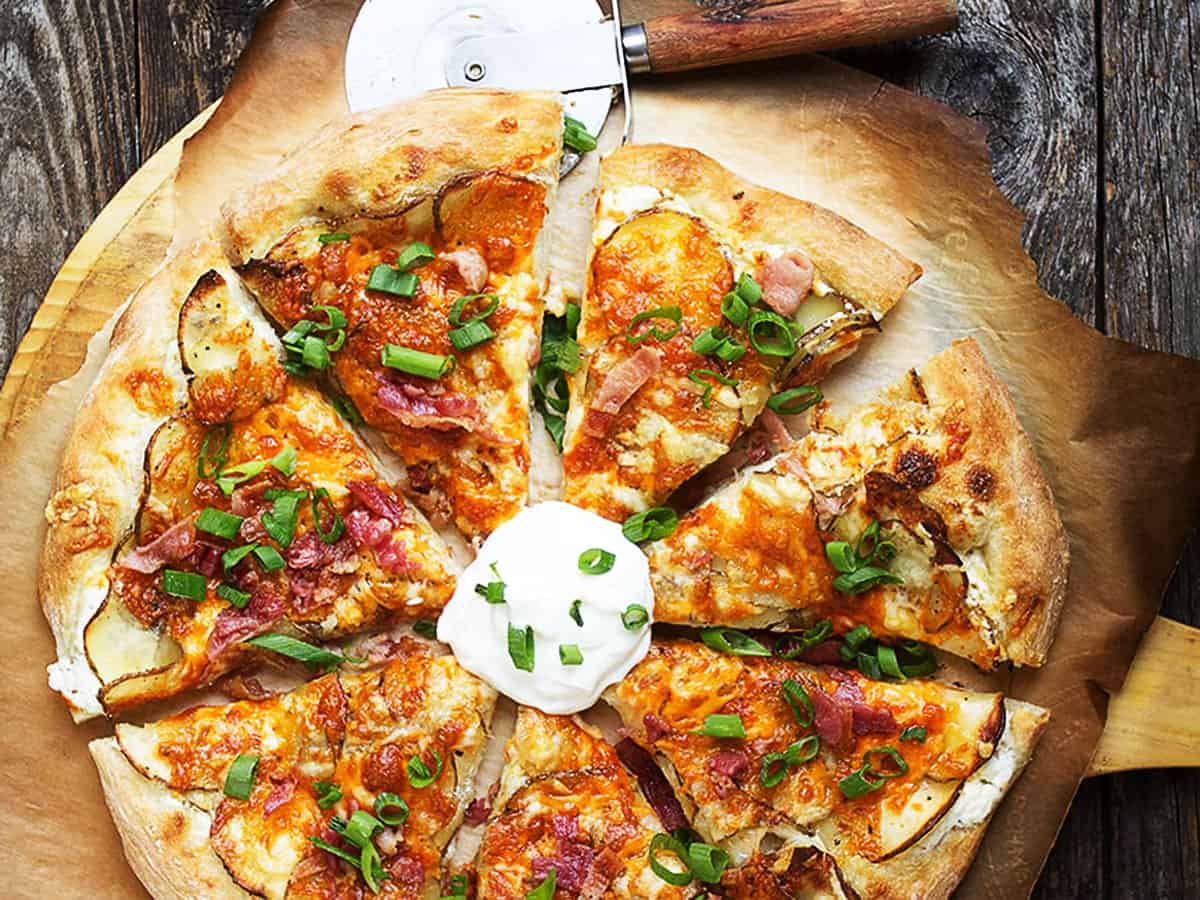 My husband is a big football fan. More specifically, he's a big Seattle Seahawks fan. Remember what happened to them in the last Super Bowl? Yeah, it was painful and some 7 months later, he's still not over it. A new football season is upon us though and I thought some great football food might help to ease the painful memories of last season and ease him into the new one.
This perogy pizza is inspired by one served at Canadian chain restaurant Boston Pizza. In the last few days before our daughter packed up and headed back to college, she enjoyed this pizza and strongly suggested that I recreate it at home. She did add the caveat that I do it when she was back home visiting, so if you're reading this K … sorry! (I promise I'll make it again :)
Now for this pizza … it starts, as always, with my favourite homemade pizza dough. It's Jim Lahey's No Knead pizza dough (just search for it) and you can follow that recipe and great instructions on how to make it. You can, of course, use your favourite homemade or store-made/bought pizza dough.
On top of the dough is a layer of sour cream. You might think you're going to miss pizza sauce, but trust me, you won't. If you like, you can serve this with a bowl of pizza sauce or marinara for dipping.
Cook's Notes
As for the potatoes, be sure to use a baking (Russet) potato, for best results. The potato slices are pre-cooked for a short time in a hot oven. It's important that they be tender before they go on the pizza, as they won't cook much more in the short time the pizza is in the oven. I used a mandolin to slice them thinly, but a steady hand and a sharp knife always works as well. You may need to extend the oven time if your slices are thicker.


The spicy part of this pizza is supplied by jalapeno peppers, that are roasted off with the potato slices. Feel free to adjust the amount according to your spicy tolerance.
Finally, be sure to adjust the amount of potatoes, based on your crust thickness. I like this pizza with a somewhat thin crust, so a generous single (over-lapping) layer of potatoes is fine. If your crust is thicker, add more potatoes, to keep the crust/potato ratio in order.
Get the Recipe:
Spicy Perogy Pizza
This recipe will make one 14-inch-ish thin crust pizza. If you like a thicker crust, increase the potatoes a bit, so you have a more generous layer to balance with the extra crust.
Ingredients
1

lb

Pizza dough

,

store bought or homemade
For the potatoes:
3

medium

russet (baking) potatoes

,

scrubbed but not peeled

1

jalapeno pepper

,

seeded and diced (about 1/4 cup diced)

Drizzle of vegetable or canola oil

Salt and freshly ground pepper
Cactus Sauce:
1/2

cup

sour cream

,

(plus more for garnish)

1/4

cup

Creamy Caesar Salad Dressing

2

Tbsp

parmesan cheese

,

grated

2

Tbsp

green onion

,

finely diced

1/8

tsp

crushed red pepper flakes
For topping:
1

cup

cheddar cheese

,

shredded

1

cup

mozzarella cheese

,

shredded

1/2

cup

bacon

,

cooked, diced (about 5 slices)

1/2

cup

fresh green onion

,

diced for garnish
Instructions
(Note: If you will be using a pizza stone to cook your pizza, insert it before you preheat for your potatoes, then place your baking sheet on top of the pizza stone. This will prevent having to put your cold pizza stone into a hot oven later, which is not recommended).

Preheat oven to 425° and line a baking sheet with parchment paper. Place sliced potatoes and diced jalapeno in a large bowl. Drizzle with a bit of vegetable oil and add some salt and pepper. Toss to combine well. Arrange potatoes on baking sheet in a single layer, slightly overlapping if necessary. Bake in preheated for 15 minutes or until potatoes are tender and just starting to turn golden on the edges (do not over-cook, but do be sure potatoes are tender, as they won't cook much further on top of the pizza). Remove from oven and allow to cool on the baking sheet for 15-20 minutes (or longer).

Increase oven temperature to 500° F.

Prepare the cactus sauce by stirring together the sour cream, Caesar salad dressing, Parmesan, green onion and red pepper flakes. Set aside.

Meanwhile, form pizza dough into a 14-inch circle (fairly thin). Add cactus sauce and spread into a thin layer, leaving the edges free. Arrange potatoes slices (with jalapeno) into a layer on top of sour cream. Take about 1/4 of the diced green onion and diced bacon and scatter over the potatoes. Top with cheddar and mozzarella cheese.

Bake in 500° oven until golden and bubbly, about 10-15 minutes. Remove from oven and top with remaining diced bacon and green onion. Serve with a dollop of sour cream in the middle.
Notes
Be sure to read the "Cook's Notes" in the original post, for more tips, options, substitutions and variations for this recipe!
Calories:
340
kcal
,
Carbohydrates:
43
g
,
Protein:
13
g
,
Fat:
13
g
,
Saturated Fat:
7
g
,
Cholesterol:
35
mg
,
Sodium:
613
mg
,
Potassium:
406
mg
,
Fiber:
2
g
,
Sugar:
5
g
,
Vitamin A:
447
IU
,
Vitamin C:
18
mg
,
Calcium:
200
mg
,
Iron:
2
mg