This old-fashioned rhubarb cake can be made with either fresh or frozen rhubarb. A beautiful, moist coffee-cake-style cake, with a brown sugar topping.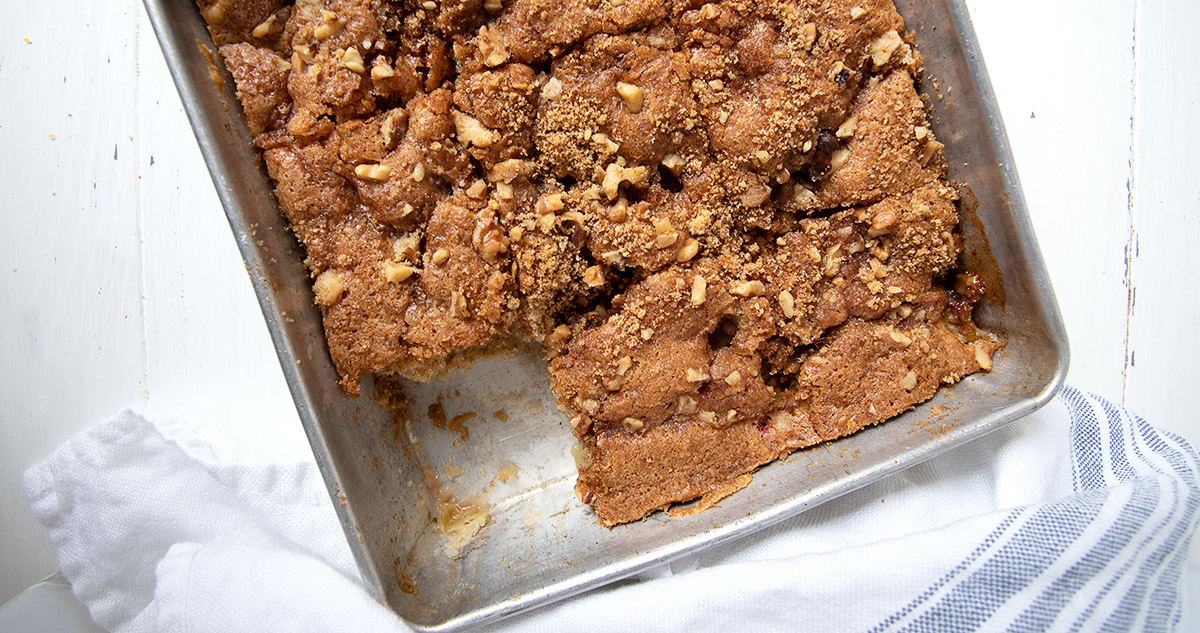 If you are a little further south than I am, your rhubarb may be coming up already. If not, you may (like me :), have some of last year's rhubarb in your freezer still. In this time of using what I have on hand, I baked up this simple old-fashioned rhubarb cake and enjoyed my first taste of Spring rhubarb (even if it was last Spring's rhubarb :).
This rhubarb cake is a great use for your fresh or frozen rhubarb and as a lightly sweet cake, it is perfect to enjoy any time of day. It bakes up with a brown sugar, cinnamon and nut topping, that provides a nice crispy foil for this lovely moist, coffee-cake-style cake. This cake is sometimes called "Lunar Rhubarb Cake", as this cake bakes up with large craters and crevices that resemble a moonscape.
I have halved what is normally a 9x13-inch cake and made it in an 8x8-inch pan here. It can be easily doubled, if you want or need more cake.
Jump to:
Ingredients
White sugar
Brown sugar - or more white sugar
Butter - salted or unsalted
1/2 egg, - see FAQ below
Vanilla
Buttermilk, milk or soured milk - see FAQ below
Baking soda
Baking powder
Cinnamon
Salt (omit if using salted butter)
Fresh or frozen rhubarb
Chopped walnuts or pecans - optional
Step by Step Photos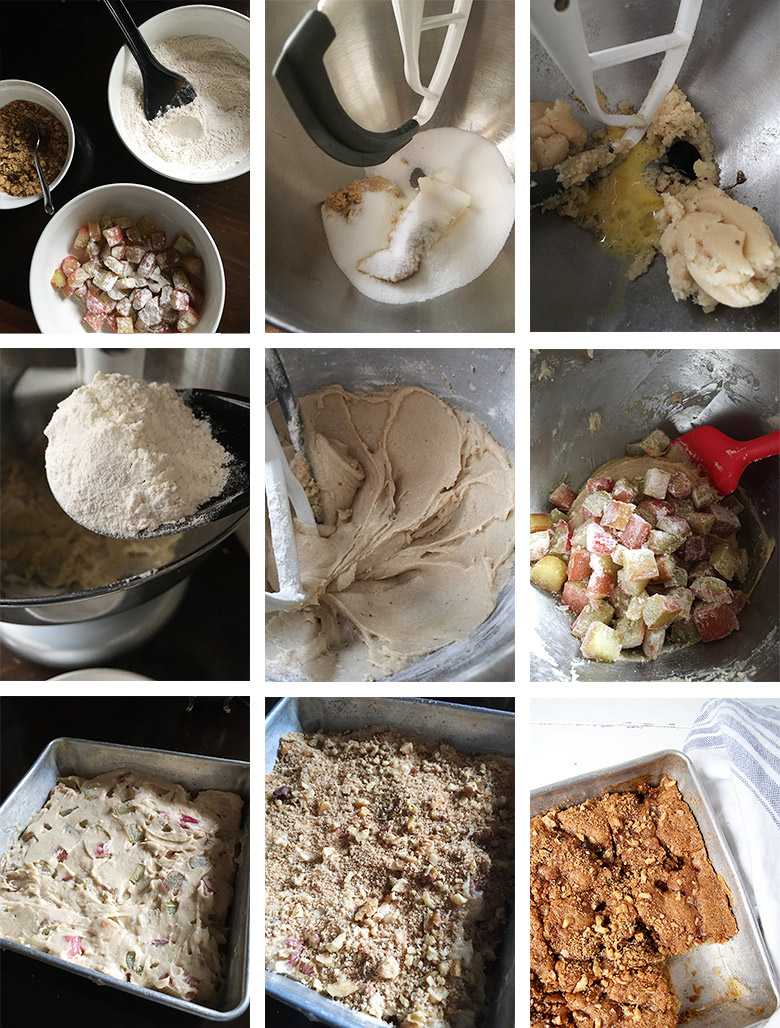 Step 1: Mix up your topping ingredients, dry ingredients and prep your rhubarb.
Step 2/3: Beat together the butter, sugars, egg and vanilla.
Step 3/4: Add the flour mixture and the buttermilk (or milk) and mix until well combined.
Step 5: Fold in the rhubarb (tossed in 1 Tbsp of the flour mixture)
Step 6: Spoon into prepared 8x8-inch baking pan.
Step 7: Sprinkle topping mixture evenly overtop of batter.
Step 8: Bake and enjoy!
FAQ
Can I double this recipe to make a large cake? Yes! Simply double the recipe and bake in a 9x13-inch baking pan. Increase the baking time by 5-10 minutes. Keep in mind that this cake has a fairly short shelf life (a couple of days), so be sure you can eat the larger cake up in that time to enjoy it at it's best.
Can I use frozen rhubarb? Yes! You can make this cake with either fresh or frozen rhubarb. No need to thaw the frozen rhubarb.
What is soured milk? "Soured milk" is a bit of an old-fashioned term for what we now refer to as homemade buttermilk, where regular milk is soured by adding either white vinegar or lemon juice and allowing to stand for 10-15 minutes before using.
Can I omit the nuts? Absolutely.
How do I add 1/2 an egg? Simply break an egg into a small cup. Beat with a fork and then divide the mixture in half (just eyeball it). Use one half in the cake, save the other half in the fridge and use for something else (add another egg or two to it for a small batch of scrambled eggs, for example).
Can I skip the egg? Yes! As I have used a halved recipe here, the egg measurement has come out to 1/2 an egg. If you have eggs, you can use 1/2 or put the whole thing in if you don't think you will use the extra elsewhere. Likewise, you can just skip the 1/2 egg completely.
Can I reduce the sugar? Probably a bit, but bear in mind that rhubarb is very tart. The amount of sugar in the cake, as written, produces a pleasantly, but not overly sweet cake. Reducing the added sugar too much might produce a quite tart cake.
Can I use all white sugar or all brown sugar? Yes! Simply keep to the total amount of sugar (3/4 cup) and use either all white or all brown sugar in that amount.
Storage and freezing
This cake is best on the day it is baked, especially to enjoy the lovely crisp topping. As it sits longer, the cake and the topping will start to pick up the moisture from the rhubarb and become more and more moist.
This cake can be frozen, though once thawed, would have to be eaten up fairly quickly to avoid an overly moist cake.
Recipe
More rhubarb recipes you might like ...