Easy and pretty, these edible flower ice cubes are sure to make any drink special. I've used pansies here.Great for entertaining! Also includes and easy Homemade Sparkling Lemonade recipe!
Pansies are also a wonderfully edible flower. Not only are the flowers themselves edible, but the green bits under the flower petals are too (I know that part has a technical name, but I'll be darned if I know what it is :). They are perfect for edible flower ice cubes!
With Mother's Day this weekend, I was thinking about an easy way to make the day special and I couldn't imagine anything more special than treating Moms to a drink with these beautiful ice cubes. And of course, it's a big bonus that they are dead easy to make, so it's a little project that Dads and kids can take on.
To really enjoy these special ice cubes, I'm also sharing a super easy Homemade Sparkling Lemonade. It's one of my favourite Summer drinks – a simply mixture of homemade lemonade and sparkling water. Dressed up with pretty ice cubes, lemon slices and mint sprigs, Mom is sure to feel super special as she puts her feet up with her special drink.
Cook's Notes
If you have pansies in your garden, they are the best choice for this, but you can use nursery stock. I like to rinse them well before using.
Look for the smaller pansies, as they are a better fit in the ice cube tray.
The flowers will float to the top. I push them down so they are under water a bit, but don't stress if they seem to be just floating on the top before they are frozen. As the ice forms, it will expand and cover the flower.
As for the Homemade Sparkling Lemonade, it probably goes without saying, but a splash of gin or vodka would certainly not be out of place in this one ;)
Be sure to add the sparkling water just before serving, so it keeps it's sparkle.


Make the simple syrup and lemon juice ahead and store in jars in your fridge. Then to make one glass at a time, simply combine 1/4 cup simple syrup, 2 1/2 Tbsp lemon juice and 1/2 cup water, then top up with 1/2 cup sparkling water.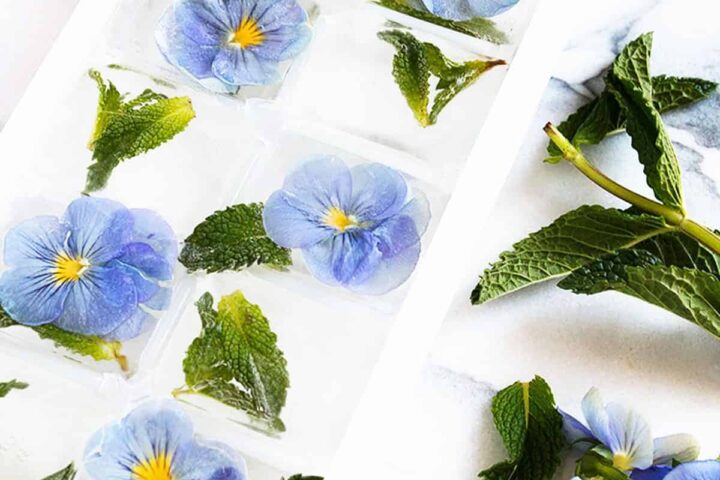 Get the Recipe:
Pansy Ice Cubes and Homemade Sparkling Lemonade
Easy and pretty pansy and mint ice cubes and a homemade lemonade with sparkling water to enjoy them in!
Ingredients
Simple Syrup:
3/4

cup

white sugar

1

cup

water
Lemonade:
2

cups

cold water

1/2

cup

+ 2 Tbsp freshly squeezed lemon juice

,

from 5-6 lemons

1 1/2 - 2

cups

sparkling water

,

such as Perrier
Garnish:
Pansy Ice Cubes

,

or regular old ice cubes

Lemon Slices or wedges

Mint Sprigs
Instructions
Make Pansy Ice Cubes: Fill a standard ice cube tray with water. Pinch off the flower at the top of the stem. Separate some small mint leaves and set aside. Add one small mint leaf, then a flower to an ice cube cup. Alternate a flower cup with an ice cube with just a mint leaf or two, until filled. Freeze until solid.

For the simple syrup: )**Making this hot sugar mixture is not an activity for kids, as it is extremely hot and capable of burning. Please, adults only for this part!) In a medium saucepan, stir together the white sugar and water. Heat over medium-high heat, stirring, until mixture boils. Allow to boil about 30 seconds, then turn off the heat and allow mixture to cool to room temperature. If making ahead, transfer to a small bowl or jar and refrigerate until needed.

To make the sparkling lemonade, add all of the (cooled) simple syrup to a pitcher. Add the cold water, lemon juice and sparkling water. Pour into 4 tall glasses or jars, leaving room for ice and garnishes. Add ice cubes, lemon slices and mint sprigs to glass. Enjoy!
Notes
Be sure to check out the Cook's Notes in the blog post for more tips and tricks for this recipe!
Calories:
151
kcal
,
Carbohydrates:
39
g
,
Sodium:
3
mg
,
Potassium:
31
mg
,
Sugar:
38
g
,
Vitamin C:
11.8
mg