Easy and delicious pasta, with Italian sausage chunks, red peppers and sun dried tomatoes. A hearty and delicious pasta, perfect for a weeknight meal.
I have been making this sausage and pepper pasta forever. It's one of those dishes that everyone loves and looks forward to, which is always a good thing.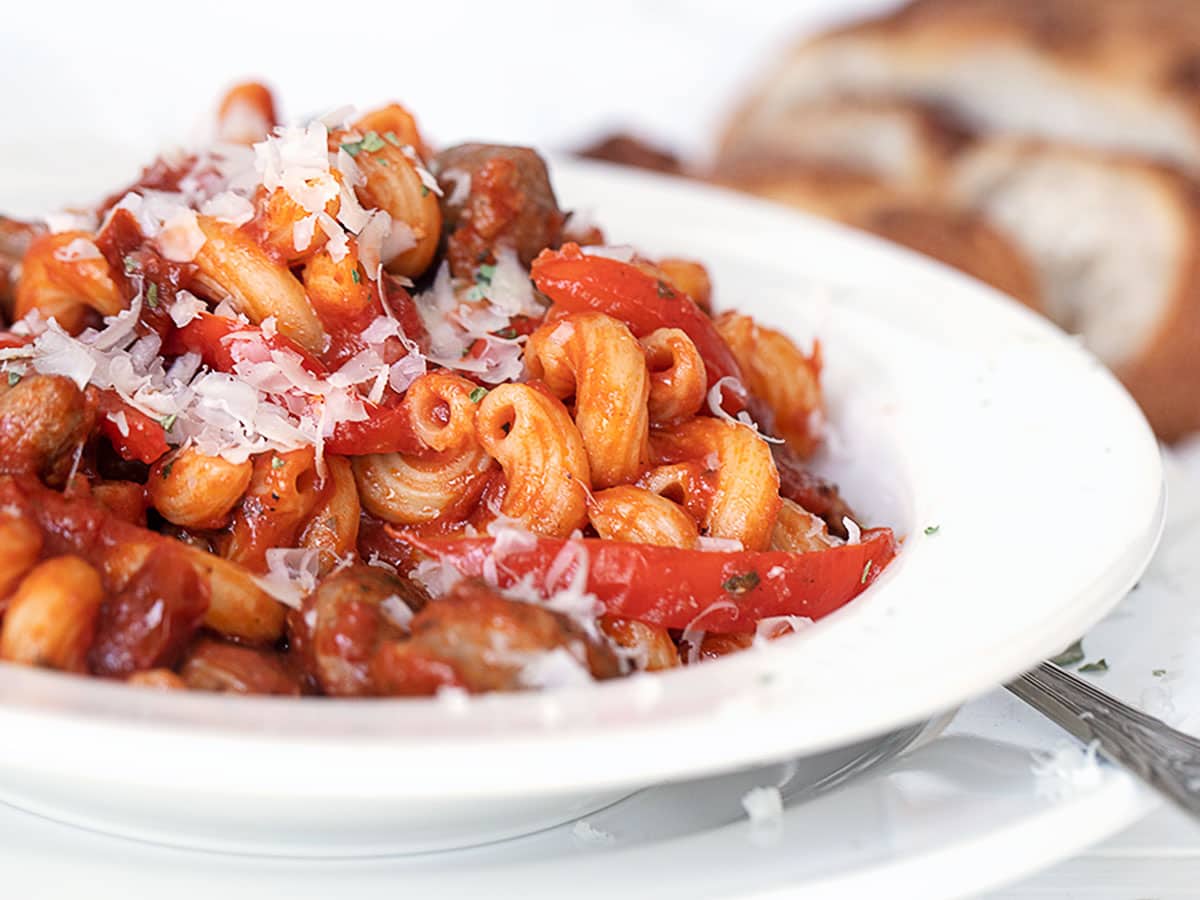 Not only is it hearty and delicious, with large chunks of Italian sausage, it has lots of bell pepper in the mix, too. The special ingredient in this dish is sun dried tomatoes, which really adds a rich tomato hit to the dish.
Jump to:
Ingredient Notes
Pasta - I think this dish works best with a short pasta. I have used a Cavatappi pasta here, which is the curly-cue shape, but fusilli, penne and rigatoni etc, also work well. That said, use what you have and enjoy
Bell Peppers - I generally use red bell peppers, as it is most often what I have on hand. Any colour is fine, but I think red, orange and yellow work best here.
Sun Dried Tomatoes - The sun dried tomatoes really make this dish, so I urge you not to skip them. I generally use sun dried tomatoes packed in oil, but the dehydrated variety that is re-hydrated in warm water before using is just fine, too. The benefit of the sun dried tomatoes packed in oil is the ability to use a bit of the oil for frying the sausage.
Tomato Sauce - Canned tomato sauce is simply tomatoes that have already been cooked down. It is a great choice for a fast tomato sauce as you can eliminate the simmering period. That said, there is quite a range of formulas for making tomato sauce and some are better than others. Use one you know you love the flavour of or look beyond the standard supermarket variety of canned tomato sauce, as there are probably some great other options available. I have used President's Choice Tomatoes First Tomato Sauce here. In a pinch, you can substitute canned crushed tomatoes, though you may wish to simmer the sauce a bit longer to cook off the raw tomato flavour.
Step-by-Step
Here is a visual walk-through of the steps to make this pasta recipe. Always refer to the complete instructions in the Recipe Card below when making the recipe.
Start a large pot of water boiling for the pasta. Gather and prepare the ingredients. In a skillet, fry the sausage until starting to colour. Add the red bell pepper and cook, stirring, until the peppers have softened. Add some red pepper flakes here, if you like. Add the tomato sauce.
Add some seasoning, including basil, salt and pepper. Stir in, then allow sauce to simmer over low heat. Add pasta to boiling and salted water and cook until al dente. Add drained pasta to simmering sauce and cook, stirring, about 2 minutes before serving. Serve with grated Parmesan cheese.
Cook's Notes
You may think that the ingredients don't sound like a lot when you look at them individually, but once combined together, it makes a generous skillet-full and will serve 4-5 people generously.
Don't add too much pasta. 8 oz (or 1/2 lb) of dried pasta is not that much. Refer to the picture above where you can see it in a small bowl. That is exactly 8 oz.
Be sure the red pepper strips are softened before adding the tomato sauce, as they won't soften much more even with simmering in the sauce. It takes longer to soften them than you probably expect, so taste-test to be sure.
This pasta keeps really well in the fridge for left-overs.
Recipe
More sausage pasta dishes you might also like ...