This hearty Italian sausage pasta, delivers a ton of flavour with the addition of roasted red peppers and sun dried tomatoes. Finished with a generous sprinkling of Pecorino cheese.
Beyond the lovely browned Italian sausage in this dish, is the addition of roasted red peppers and sun-dried tomatoes to the basic plum tomato sauce. As it all cooks together, it produces the most perfect rich, hearty sauce.
I love to serve this sauce with a short pasta. I've used rigatoni here. Top with lots of freshly grated Pecorino (or Parmesan) and some fresh chopped basil for an easy, quick and delicious meal.
Ingredients and Substitutuions
Pasta: While you can use any pasta you like or have on hand, I find a short pasta suits this sauce especially well. I've used rigatoni here. Penne, rotini or fusilli would also be nice.
If you have a scale, it's worth weighing out your dried pasta to 8 oz. (225g for metric folks). It's not as much as you may think :) If you don't have a scale, I usually do a rough calculation of the total weight of the bag or box and what portion would be roughly 8 oz (so if the box is 24oz, for example, 8 oz would be 1/3 of the box. That requires doing math though, so I think a scale is much easier :)
Roasted Red Peppers: I've mentioned before that I love the jarred roasted red peppers, as they are both easy and flavourful. Alternately though, you can roast off your own fresh red peppers and add into the dish in the same amount.
Sun Dried Tomatoes: Again, I love the jarred sun-dried tomatoes packed in oil. Not only are they easier to use than the dried variety (no re-hydration needed), the oil they are packed in makes a great addition to dishes, too.
Italian Sausage: You basically have two choices here generally – mild or hot. I'm a mild fan myself, but it you like it spicy, go for the hot. Sometimes I will split the difference and use some mild and some hot sausage.
Canned Tomatoes: Use whatever canned tomatoes your prefer. I love the flavour of San Marzano canned tomatoes.
Basil: Most of the year, I have a fresh basil plant growing on my window sill, as fresh basil is always my first choice. If you don't have any on hand, dried basil is fine in the sauce, as well.
Pecorino Cheese: I have been enjoying Pecorino cheese lately. It's a nice change from the usual Parmesan. Pecorino is made from sheep's milk, while Parmesan is made from cow's milk, so it has a slightly different flavour profile. Pecorino is often a younger cheese than Parmesan, so has a bit stronger and tangier flavour. I think it's a worthy addition to the cheese drawer, but if you only have Parmesan, it will work just fine here as well.
Cook's Notes
I like to thinly slice the garlic, rather than mincing, as it is less prone to burning and introducing a bitter taste to the sauce.
Don't rush the sausage-cooking part of this recipe. Keep it cooking until it browns well, as that browning in the pan adds great flavour to the sauce.
My Three Top Tips for Delicious Pasta Dishes
My pasta dish cooking technique has evolved over the years, to include a couple of techniques that I think produce the most satisfying pasta dishes …
Be sure to generously salt your pasta cooking water, to bring lots of flavour to your finished dish. It's adequately salted when it "tastes like the ocean".
Rather than draining pasta in the sink, scoop the cooked pasta right out of the boiling water with a spider strainer (or tongs, for long pasta) and put it directly into the hot sauce. Adding hot pasta to the sauce helps the pasta to absorb the flavours of the sauce more easily. It also allows for having the pasta-cooking water handy, in case you need to add some to thin your pasta sauce. Be sure to still drain the pasta well in the spoon before adding to the pasta, to avoid watering down your sauce.
Always cook the pasta with the sauce in a hot skillet (or saucepan) for a couple of minutes before serving. I've found that the perfect pasta dish needs to come together in a hot pan first, not in the serving bowl.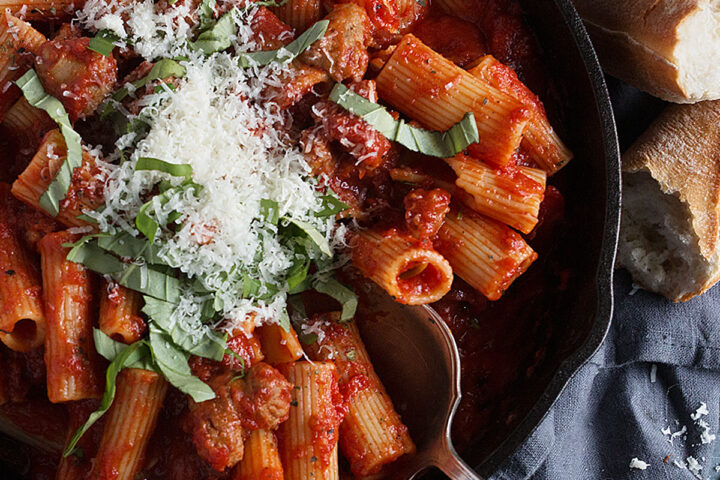 Get the Recipe:

Italian Sausage Pasta with Pecorino
Delicious and easy Italian sausage pasta with tons of flavour with the addition of sun dried tomatoes and roasted red peppers. Finished with a generous sprinkling of Pecorino cheese.
Ingredients
8

oz

short pasta

,

such as rigatoni, penne, fusilli or rotini

Salt for pasta cooking water
Sausage Tomato Sauce:
1

teaspoon

olive oil

3

links

Italian sausage

,

mild or hot or a mix of both

2

cloves

garlic

,

thinly sliced

Pinch

red pepper flakes

,

omit if using hot sausage

28

oz.

canned whole tomatoes

,

San Marzano recommended, hand-crushed*

1/3

cup

sun dried tomatoes

,

packed in oil, chopped

1/3

cup

roasted red pepper

,

jarred, drained and chopped

1/4

cup

fresh basil

,

chopped or 2 tsp-ish dried basil

2

teaspoons

fresh oregano

,

chopped or 1/2 tsp-ish dried oregano leaves

1/2

Tablespoon

butter

,

optional, to finish sauce

Salt and freshly ground pepper

,

to taste
For serving:
Additional chopped fresh basil

Freshly grated Pecorino or Parmesan cheese
Instructions
Start a large pot of water salted water boiling for the pasta.

Cut the sausage links into 1/2-inch slices. Heat olive oil in a large skillet or pan over medium heat on the stovetop. Add the sliced sausage pieces and cook, stirring, until cooked through and well browned. While sausage is cooking, slice up your garlic, sun-dried tomatoes, roasted red peppers and basil.

When pasta water is boiling, add dried pasta and cook to al dente.

When sausage is nicely browned, add garlic and red pepper flakes, if using. Cook, stirring, for about 1 minute more or until garlic is softened. Add the hand-crushed canned tomatoes, sun-dried tomatoes and roasted red peppers and stir to combine. Add the fresh or dried herbs and a bit of salt and freshly ground pepper. Bring sauce to a boil, then reduce heat to medium low and simmer the sauce at least 10 minutes. Stir in the 1/2 Tbsp butter, if using. Reduce heat under sauce to low to keep warm until pasta is ready, if necessary.

When pasta is cooked, increase the heat under the sauce to medium. Spoon pasta from the cooking water with a spider strainer or slotted spoon (let it drain well back into the pot!) and add hot pasta right into the hot sauce. Cook the pasta with the sauce for about 2 minutes, stirring regularly. Taste sauce and add additional salt and pepper, if needed.

Serve garnished with grated Pecorino or Parmesan cheese and some more freshly chopped basil.
Notes
*To handcrush canned whole tomatoes, simply empty into a large bowl and use your hand to squeeze the whole tomatoes to break them up. Be sure to keep your hand low to the bowl and point them away from you as you do this, as they tend to squirt seeds in a haphazard way.
Be sure to read the "Ingredient and Cook's Notes" (above the recipe card!), where I share more detailed

 

tips, variations and substitution suggestions for this recipe!
Serving:
1
serving
,
Calories:
676
kcal
,
Carbohydrates:
76
g
,
Protein:
30
g
,
Fat:
39
g
,
Saturated Fat:
13
g
,
Cholesterol:
85
mg
,
Sodium:
1445
mg
,
Potassium:
1391
mg
,
Fiber:
7
g
,
Sugar:
13
g
,
Vitamin A:
603
IU
,
Vitamin C:
40
mg
,
Calcium:
156
mg
,
Iron:
6
mg
More Sausage Pasta Recipes to Love!
Hi! I'm Jennifer, a home cook schooled by trial and error and almost 40 years of getting dinner on the table! I love to share my favourite recipes, both old and new, together with lots of tips and tricks to hopefully help make your home cooking enjoyable, stress free, rewarding and of course, delicious!