Delicious, thick Pork Chops with Peppercorn Sauce are one of my favourite ways to enjoy a pork chop dinner!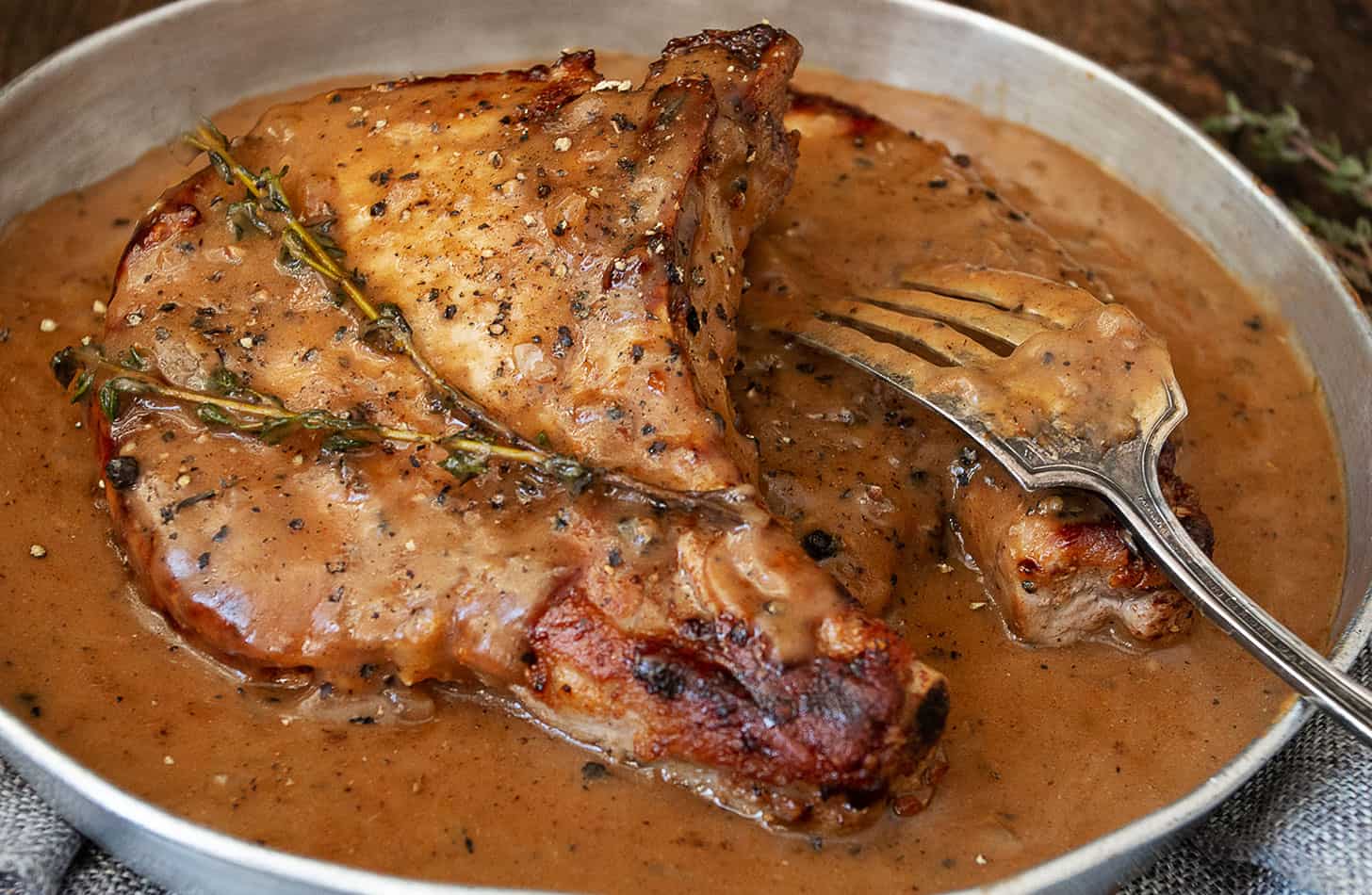 Why I Love Pork Chops with Peppercorn Sauce
This easy pork chop recipe is one of my favourites! The awesome peppercorn sauce is plate-licking good and it's perfect flavour with pork chops. It's also very tweak-able, by switching up the wine (or omitting it altogether, if you prefer) and adding as much pepper as you're comfortable with.
When it comes to pork chops though, I quickly learned that the secret to a great pork chop is to brine them. Brining pork chops in a salt/water solution, changes the cellular structure of the meat, resulting in a more tender finished pork chop. And if you're ever dug in to a pork chop and found it a bit like shoe leather, you'll appreciate that!
I've never been much of a briner, but I've discovered the benefit that this simple preparation step can have on pork chops, so I try to plan for a little brine whenever pork chops are on the menu.
Ingredients and Substitutions
Pork Chops – nice, thick, centre-cut pork chops are always nice, though you can make this recipe with any pork chops, bone-in or boneless. Only the cooking time will change.
Peppercorns – you can use black peppercorns, or a mixture of red, green and black if you happen to have that on hand. Starting with whole peppercorns allows for larger bits of pepper. Do be sure to crush the peppercorns though. You can use a mortar and pestle if you have one or if not, put the peppercorns in a little zipper bag and whack them with a rolling pin. Don't whack too much though. You don't want powdered pepper. You really just want them not to be whole. Large pieces are fine. Adjust the amount of pepper in the sauce to your taste.
Wine – As mentioned above, you can vary the wine depending on what you have on hand. White or red is fine, or even some nice dry Marsala wine works well. Same with the broth choice. I prefer chicken broth with white wine, myself, but beef broth (especially with red wine) is also nice.
Cream – Dairy free? This sauce is still lovely without the cream at the end, so if you're avoiding dairy (or just don't have cream on hand), just skip it!
How to Brine Pork Chops
My basic formula for a brine is 1/4 cup kosher salt with 4 cups water. I like to add a bit of sugar to mine, as well (to balance out the saltiness). In order to get the salt and sugar to dissolve, you'll want to mix them first with boiling water, then cool it down with some cold water. So here's how it breaks down then …
1/4 cup kosher salt (or 2 Tbsp fine table salt)
2 Tbsp brown sugar
2 cups boiling water
2 cups cold water
Dissolve the salt and brown sugar with 2 cups of boiling water, then add 2 cups of cold water to the mixture, which will cool it. Check the temperature of the brine and be sure your brine is not too warm when adding your meat. Allow to cool a bit more if necessary.
Add brine to a container deep enough to hold all the brine and allow you to submerge your pork chops. You may need to put a weight on top to keep them down in the brining liquid. Cover with plastic or foil wrap and always refrigerate while brining.
How Long to Brine Pork Chops
The ideal time to brine nice 1-inch + thick chops would be about 8 – 10 hours, so perhaps you start the brining process in the morning for that evening's' dinner. That's the ideal and as we all know, things don't always go as planned. So know that you can brine for as little as 30 minutes, if that's all the time you have to work with. A little brining is better than no brining. On the other end of the spectrum, it is not recommended to brine your pork thick chops any more than about 12 hours. Large cuts of pork (such as a pork loin roast) can brine longer, but smaller cuts are best kept under 12 hours. Thinner pork chops should ideally brine about 4 hours.
What to Do After You Brine Your Pork Chops
Once your pork chops have brined, rinse several times to remove any surface salt and dry well. Allow to stand at room temperature for 10-15 minutes, to come to room temperature. Season with a bit of salt and pepper and cook. If you like, you can dredge your pork chops in flour, which will give your fried pork chops a nice crust and colour.
Add Some Flavour to Your Brine!
If you like, you can replace some of the water in your brine with other liquids to add flavour to your pork chops, such as beer, cider, wine or vinegar. You can also add fresh herbs to the brining liquid, such as rosemary, sage, thyme etc. For this peppercorn pork, a few peppercorns added to the brining liquid would be a great idea.
Cook's Notes
While I'm sold on the benefits of brining my pork chops, it's an optional step. As noted above though, if you can squeeze in even a short brining time (even 30-45 minutes), it's worth it.
If you own a cast iron skillet, it should definitely be your cooking pan of choice for this dish :)
Don't forget to salt your sauce at the end. While pepper is the star here, the sauce needs a good salting to really round out the flavours.
Get the Recipe:

Pork Chops with Peppercorn Sauce
Beautiful thick bone-in pork chops, served with a delicious, lick-the-plate-clean creamy peppercorn sauce.
Ingredients
2

bone-in centre cut pork chops

,

one-inch thick and brined if you like *See Notes

1 1/2

Tablespoons

butter

1

Tablespoon

olive oil

Salt and freshly ground pepper

2

Tablespoons

flour
Sauce:
1

Tablespoon

butter

1/4

cup

shallots or onion

,

very finely chopped

2 - 3

teaspoons

crushed peppercorns

,

from whole black peppercorns

1/4 - 1/3

cup

red or white wine

,

or dry Marsala wine

1

cup

chicken or beef broth

1/2

teaspoon

Dijon mustard

2 - 3

thyme sprigs

,

or about 1/4 teaspoon dried thyme leaves

1/4

cup

heavy cream

,

or lighter cream and add more thickener (can omit for dairy-free)

Salt and freshly ground pepper

,

to taste
To thicken gravy (add only as much as needed):
2

Tablespoons

cornstarch

1

Tablespoon

cold water
Instructions
Preheat oven to 400F. (not fan assisted)

Heat olive oil and butter in an oven-proof or cast-iron skillet over medium-high heat. Pat dry pork chops and season with salt and pepper. Scatter flour on plate and dredge pork chops lightly on both sides. Sear chops in hot skillet until lightly golden on both sides. Pop the skillet with pork chops into preheated oven and cook until pork reaches 135F, about 10-12 minutes (depending on thickness of chops). Note that this is a little undercooked because it will cook a bit further on the stove-top and a bit more as it rests, so it will get to the recommended 145F in the end.

Remove from oven and place over medium-high heat on the stove-top. Quickly brown the chops on the stove-top, then remove to a plate to rest.

In the hot skillet, melt the

1

Tbsp butter, then add the onions and peppercorns. Cook, stirring, until onions are golden, about 1 minute. Add wine and cook, stirring until mostly evaporated, about 1 minute. Add broth, Dijon mustard and thyme sprigs. Reduce to medium heat and allow sauce to simmer/reduce for a few minutes. Add cream and stir in. Taste sauce and add salt, as needed.

To thicken gravy, make a cornstarch slurry by combining the cornstarch and water in a small bowl and whisk until smooth. Add a bit at a time to your hot gravy, stirring, until desired thickness is achieved.

Spoon hot sauce over pork chops. Finish with a generous grind of freshly ground black pepper.
Notes
Brining pork chops is a great way to improve the finished texture of your chops. See the instructions above this Recipe Card. Recipe timing does not include the time for brining.
You can use any pork chop, bone-in or boneless, with this delicious peppercorn sauce!
You can use whole black peppercorns, or green peppercorns, red peppercorns or a mixture, if you like. Crush with a mortar and pestle or place in a zipper plastic bag and smash with a rolling pin.
White wine works well with chicken broth, while red wine is best paired with beef broth, but you can mix and match, as you like.
Cream is optional and can be omitted for a dairy-free peppercorn sauce. 
For a little extra flavour, a bit of alcohol to flavour the sauce, such as brandy or cognac would not be out of place.
The peppercorn sauce recipe is also great with any cut of pork or steak!
Be sure to read the notes above this Recipe Card, for more tips on making this recipe!
Serving:
1
serving
,
Calories:
578
kcal
,
Carbohydrates:
16
g
,
Protein:
51
g
,
Fat:
41
g
,
Saturated Fat:
19
g
,
Cholesterol:
234
mg
,
Sodium:
717
mg
,
Potassium:
962
mg
,
Vitamin A:
950
IU
,
Vitamin C:
10.6
mg
,
Calcium:
73
mg
,
Iron:
2.4
mg
More Pork Chop Recipes to Love!
Hi! I'm Jennifer, a home cook schooled by trial and error and almost 40 years of getting dinner on the table! I love to share my favourite recipes, both old and new, together with lots of tips and tricks to hopefully help make your home cooking enjoyable, stress free, rewarding and of course, delicious!