These quick and easy lemon squares are made with just a few simple ingredients and a simple stir, pour and bake filling. A wonderful lemon treat.
These easy lemon squares are made with just a few simple ingredients, they are also super quick to make and always turn out perfectly delicious. With a tender and sweet shortbread crust and an easy "stir, pour and bake" lemon topping, these lemon squares have a perfect balance of sweet and tart.
Ingredients and Substitutions
Lemons – Freshly squeezed lemon juice is always best for lemon squares. You will need 2 medium or 1 large lemon to produce the 1/4 of lemon juice needed for this recipe. In a pinch, I suppose bottled lemon juice would work, but would I would still recommend waiting until you have some fresh lemons.
Eggs – You will need 3 large eggs. Be sure to take them out of the fridge well in advance so they are at room temperature when you are ready to bake. Count on at least an hour for them to come to room temperature naturally. If you forgot and need to bake right away, place the eggs in a bowl of barely warm water and they will warm to room temperature in 10-15 minutes (make sure it's not hot water, or you'll cook the eggs :)
Butter – The recipe calls for unsalted butter and is the best choice if you have it on hand. If you don't, salted butter will work, but omit the added salt in the crust. Don't forget to take it out of the fridge ahead, as well.
White Sugar – Lemon always needs a good amount of sweet from sugar to balance out the tartness of the lemon juice. Beyond that though, the sugar contributes to the set of the squares. Reducing the amount of sugar added to the filling is not recommended, as the results may be disappointing.
You will also need – All-purpose flour, icing/confectioners' sugar, salt.
Step-by-Step Photos
1. Make and bake the shortbread crust: I recommend cooking these lemon squares in a parchment-lined baking pan. I like to spray the pan with baking spray first, as it helps the parchment to stay in place. To do this, I cut two strips of parchment and lay one in one direction and the other in the opposite direction. This prevents those scrunched up corner issues :) The strips of parchment extend beyond the sides of the pan by a couple of inches, so that it's easy to grab and remove from the pan after the squares are cool.
Whisk together the flour, confectioners' sugar and salt, then cut the butter in until the mixture is evenly crumbly. Pour into the parchment lined pan and press in evenly flat. Bake until set and starting to colour a bit. Don't start the lemon filling until the crust comes out of the oven, to give it a chance to cool a bit.
2. Make the lemon filling: Add all the filling ingredients to a medium bowl and stir until smooth.
3. Pour the filling over the baked crust and bake: I like to use a whisk, but you shouldn't "whisk" the filling. Just use the whisk to stir the filing until smooth. You don't want to whip too much air into the filling. Pour filling over baked crust and return to the oven to bake until the filling is completely set. Be sure to test by giving the pan a gentle tug. There should be no jiggle. Make sure it is set right to the centre.
Can I double the recipe to make more? Yes! Simply double all the ingredients and bake up in a 9×13-inch pan instead.
FAQ
Do I need to line the pan with parchment? No, you don't absolutely need to (you can simply grease it), but I find that lining the sides and bottom of the pan not only make it easier to remove the squares from the pan, but it keeps the sides of the squares from over-browning. I do recommend using parchment, if you have it.
Why are my lemon squares runny? If your lemon squares are runny, they weren't baked long enough. It's important that you test with a gentle tug on the pan and make sure that the filling doesn't jiggle at all, before removing them from the oven. That said, all is not lost if your squares are runny. Simply enjoy them with a knife and fork, rather than as hand-held squares :)
Do I need to refrigerate lemon squares? Yes, lemon square should be kept in the refrigerator. They will keep in the fridge for 3-4 days. You can enjoy the squares cold, from the fridge or set them out ahead to come to room temperature.
What is the best way to cut lemon squares? I like to refrigerate lemon squares before cutting, so once cooled and before dusting with icing sugar, I pop them into the fridge (in the pan) for an hour or so. Then I lift them out of the pan, cut them and dust with icing sugar. I find they cut nice and neatly this way.
Can lemon squares be frozen? Yes they can! In fact, they freeze beautifully for up to 3 months. Be sure to thaw in the refrigerator.
How did you get the design on top of the lemon squares? I used a cake stencil, but you could also use a paper doily laid over-top and then sprinkled with icing sugar.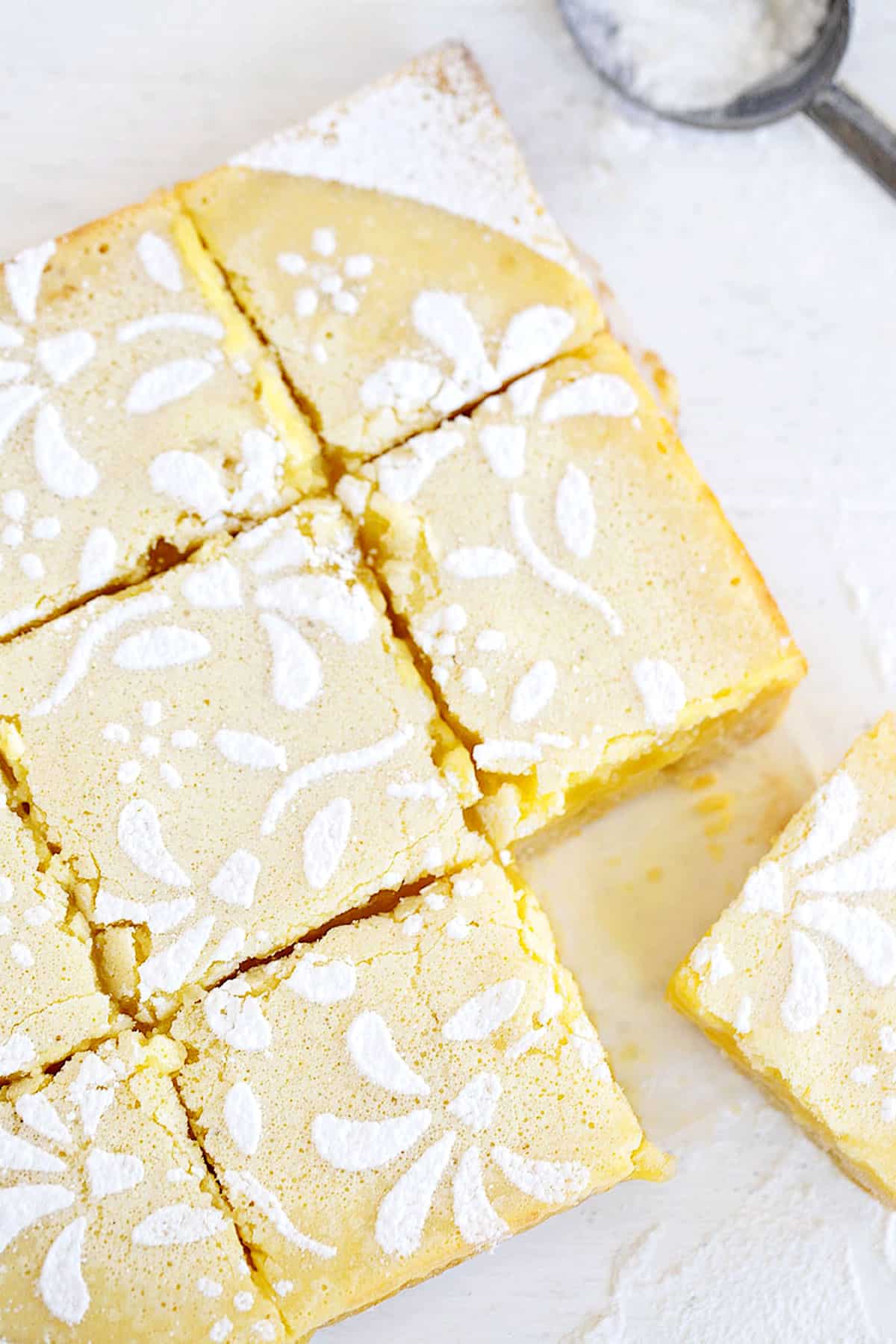 Top Tip
Be sure to bake these squares until they don't jiggle at all when you give the pan a gentle tug. Be sure they are set right to the centre of the pan.
Get the Recipe:

Quick and Easy Lemon Squares
These easy lemon squares are made with simple ingredients and with a mix, pour and bake lemon filling.
Ingredients
Shortbread Base:
1

cup

all purpose flour

1/4

cup

confectioners' sugar

1/2

cup

unsalted butter

,

at room temperature, cut into 8 pieces

1/8

tsp

fine salt

,

omit if using salted butter
Lemon Filling:
1 1/2

cups

white granulated sugar

1/3

cup + 1 Tablespoon

all purpose flour

3

large

eggs

,

at room temperature

1/4

cup

fresh lemon juice
For topping after baking:
Additional confectioners' sugar
Instructions
Take your eggs and butter out of the fridge ahead of time, so they both come to room temperature before starting the recipe.

Preheat oven to 350F (not fan-assisted), with rack in centre of the oven.

Prepare an 8-inch square metal baking pan with parchment paper, covering bottom and sides and overhanging the sides to use as handles to remove from the pan later. Set aside. *For glass pans, reduce oven temperature by 25F.

Prepare the Shortbread Base: Whisk together the flour, confectioners' sugar and salt. Add the cubed butter and cut into the flour mixture with a pastry cutter or just use your fingertips to rub it in to the flour. Pour into prepared baking pan and press firmly and evenly into the bottom. Bake in preheated oven for 15-18 minutes, or until set and just starting to colour. Remove from oven and let cool while you mix up the filling. (Leave oven on at 350F).

Make the Lemon Filling: combine all the filling ingredients in a medium bowl and whisk together well until smooth. *Don't "whisk" too vigorously, but rather use the whisk like a spoon and stir the mixture. You don't want to whisk too much air into the batter.

Pour filling over the baked crust and return to the oven. Bake until the filling is completely set and it doesn't jiggle at all when lightly tugging the pan, about 20-25 minutes. *Important that you test by jiggling the pan. If there is any jiggle at all, leave in the oven a few more minutes until there is no jiggle. In my oven, that is usually 23-25 minutes.

Remove from oven and let cool completely in the pan. *I like to refrigerate for an hour or so for easiest slicing, but it is not necessary. Just be sure they are completely cool. Lift squares out of pan by lifting with the edges of the parchment paper. Use a large, sharp knife to slice into 9 squares. Sift top with confectioner's sugar just before serving. Store in the refrigerator or they also freeze well.
Notes
Be sure to read the notes above the Recipe Card for more tips on making this recipe. You'll also find Step-by-Step photos of the process of making these squares.
Serving:
1
square
,
Calories:
346
kcal
,
Carbohydrates:
56
g
,
Protein:
5
g
,
Fat:
12
g
,
Saturated Fat:
7
g
,
Trans Fat:
1
g
,
Cholesterol:
89
mg
,
Sodium:
58
mg
,
Potassium:
60
mg
,
Fiber:
1
g
,
Sugar:
37
g
,
Vitamin A:
406
IU
,
Vitamin C:
3
mg
,
Calcium:
17
mg
,
Iron:
1
mg
More Easy Square Recipes to Love!
Hi! I'm Jennifer, a home cook schooled by trial and error and almost 40 years of getting dinner on the table! I love to share my favourite recipes, both old and new, together with lots of tips and tricks to hopefully help make your home cooking enjoyable, stress free, rewarding and of course, delicious!