An easy and delicious creamy pasta, with cherry tomatoes, roasted red peppers, goat cheese, Parmesan and basil, all in a creamy sauce.
This is creamy tomato and roasted red pepper pasta is one of my favourite pasta dishes. It can easily be made year round, with simply a jar of roasted red peppers in the pantry and some cherry tomatoes. Added to the mix is goat cheese and Parmesan, some cream and milk and lots of fresh basil.
Despite the cream, this is not a heavy pasta dish at all. I credit the cherry tomatoes for that, that release their lovely juices into the sauce, lightening it up and giving it great flavour and colour. And of course, goat cheese always lends a tangy note to any dish.
Jump to:
Ingredient Notes
Pasta: I find a short pasta is best for this dish. I've used a penne lisce pasta here, which is the smooth version of penne. It works well with chunky sauces like this one. Normal ridged penne or rigatoni also works nicely, as does Farfalle (bowtie) pasta.
Garlic: Fresh garlic cloves are best here. I like to thinly slice them rather than mince, as they are less prone to burning and bringing a bitter taste to the sauce.
Roasted Red Peppers: While I often roast off my own peppers for other dishes, when it comes to pasta sauces, it's hard to compete with the flavour of jarred roasted red peppers. That's what I recommend here, for best results. Of course, if you don't have any at hand, you can just go ahead and roast some red peppers yourself under the broiler in your oven.
Cherry Tomatoes: Any cherry or grape tomato works here. This time, I used a variety of red and orange cherry tomatoes.
Goat Cheese: It's always goat cheese for me, but if you are looking for a substitute, any soft cheese that will melt into the sauce (Boursin, for example) would work. Mascarpone or even cream cheese would also work here.
Heavy Cream: Heavy cream (aka whipping cream) is recommended both for its thickness and creaminess, but also because it resists splitting when cooked with acidic food, such as tomatoes. While you can substitute a lighter cream, it will result in a less thick sauce and may split or form small lumps. If using a lighter cream, I might suggest stirring in a teaspoon of cornstarch with the lighter cream before adding to the dish. This will thicken the sauce a bit and may also help with the sauce splitting or curdling, as well.
Milk: The addition of a bit of milk ensures a plentiful sauce, but does thin the sauce a bit. If you would like a thicker sauce and don't mind having a bit less of it, you can omit the milk. If using, milk you'll want to use at least a 2% milk here, for best results.
Basil: Fresh basil is best here, if you have some. If not, add a sprinkling of dried basil to the simmering sauce.
Cook's Notes
Once you've added the cherry tomatoes to the sauce, you want to minimize the amount of cooking and stirring, to avoid turning them to mush. Remove from heat to let sit while the pasta finishes cooking, rather than letting it simmer and cook only until warmed through once the pasta is added.
Don't forget to season this dish with salt and pepper as you go along. Be sure to salt your pasta cooking water well. Season your tomatoes as they sauté. Finally, season the finished dish with salt and freshly ground pepper.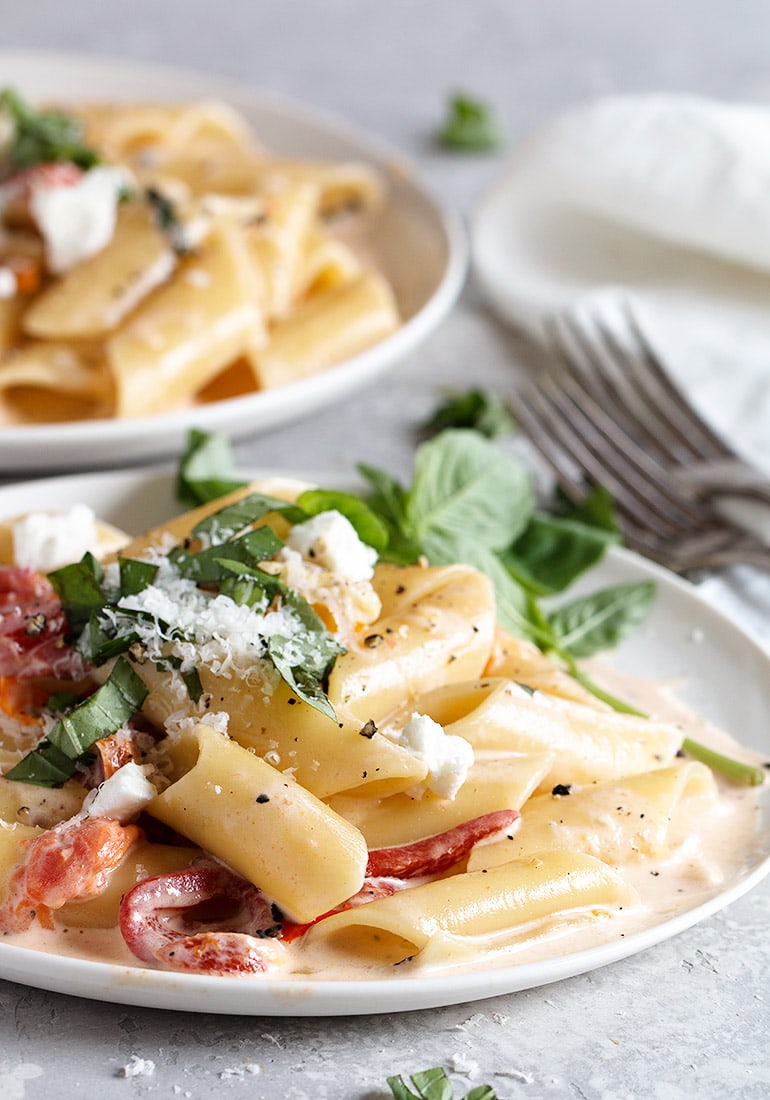 Recipe
More pasta recipes you might also like ...