A delicious rhubarb cake, with a rhubarb filling between a biscuit dough. Use fresh or frozen rhubarb. A great way to use lots up your Spring rhubarb crop!
So just to be clear, what we have here is a buttermilk biscuit dough, rolled and filled like a pie and called a cake. This rustic rhubarb cake is wonderfully delicious though, so it really doesn't matter what you call it. I urge you to use some of your Spring rhubarb to bake up one of these and enjoy warm with a scoop of vanilla ice cream.
This is the rhubarb recipe to make when you have a lot of rhubarb to use up, as it uses 5 cups of diced rhubarb for the filling!
Jump to:
Ingredient Notes
Rhubarb - You can use fresh or frozen rhubarb here. If frozen, measure out before thawing, then allow the rhubarb to thaw in a colander, allowing the extra moisture to drip off. Pat dry before proceeding. You'll need about 5 cups of diced rhubarb, but if you find yourself a little short of rhubarb, I don't think you can go wrong topping it up with some diced strawberries.
Buttermilk - Real buttermilk is always best, if you have it. If not, make your own buttermilk by combining 1 cup milk with 1 Tbsp lemon juice or white vinegar and letting stand 10 minutes. If that isn't an option, you can just use milk here without issue.
You will also need - all purpose flour, baking soda, salt, white sugar, butter, egg (1).
Process Photos
This is a quick visual summary of the process of making this recipe. Always refer to the complete instructions in the Recipe Card below when making the recipe.
The dough starts by cutting butter into the flour mixture. You can do this with a pastry cutter, or simply rub it in with your fingertips. You want an even crumb with pea-sized butter pieces. Add the buttermilk/egg mixture a bit at a time, stirring as you go and adding only as much liquid as you need to moisten all the flour. You may not need all of it (or you may need a splash more).
You are aiming for a moist, but not sticky dough. Remove the dough to a work surface and knead gently a bit, adding a bit of flour, if necessary, then divide the dough into 2 pieces.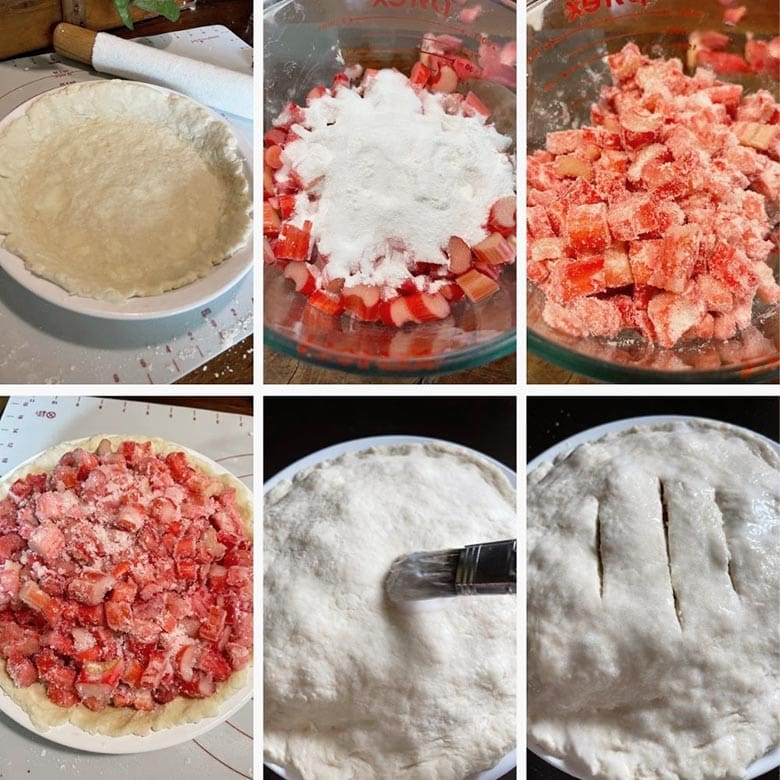 Roll one piece of the dough into a roughly 10-inch circle and place into a greased pie plate. Prepare the rhubarb filling by combining the diced rhubarb with the sugar/flour mixture. Add to the pie plate. Roll the second piece of dough and place on top. Brush with buttermilk and sprinkle some white sugar over-top. Cut some slits in the top and bake!
Baker's Notes
The 1 cup of sugar added to the rhubarb is what I would consider as minimum for rhubarb. It will allow a little of the rhubarb tartness to shine through. If you prefer a sweeter rhubarb experience, add the extra 1/4 cup of sugar.
When mixing the biscuit dough, add only as much of the buttermilk as you need to create a moist, but not sticky dough. You may not need to use all of it or you may need a splash more.
Don't hesitate to add a sprinkling of flour when rolling if the dough is sticking at all. Work quickly though, so the butter in the dough doesn't warm too much.
Be sure to bake close to 50 minutes, to ensure that the rhubarb is nice and soft. You may need to cover the top loosely with a sheet of aluminum foil if it is nicely browned before that. Then allow to continue baking.
This cake will have some liquid in it after baking, especially when made with fresh rhubarb. The bit of sweet rhubarb juice soaks nicely into the biscuit crust in a cobbler kind of way, so just spoon it over or under a slice and enjoy.
To serve, you can slice this one like a pie or just spoon it out, if you prefer.
This cake is best enjoyed within 24 hours of baking. While it will still be fine beyond that point, the biscuit will continue to absorb liquid from the fruit and become quite moist.
Recipe
More rhubarb recipes you might also enjoy ...
Save or share this recipe