A delicious and easy rhubarb bread pudding, all topped with a creme anglaise sauce custard sauce. A wonderful Spring dessert.
I think bread pudding is the ultimate comfort food and cooked rhubarb sauce is right up there in the comfort food department, too. So I thought I'd combine the two. This pudding starts with a layer of cooked and sweetened& rhubarb on the bottom of the pan, followed by the bread that is lined up in neat rows. Pour over the egg/milk mixture, then a bit more of the stewed rhubarb is then spooned on top, along with some almonds.
Of course, bread pudding is the go-to destination for slightly stale bread. If you only have fresh bread around, cut the slices and you can place them on a baking sheet in a 350 F. oven for a few minutes to dry them out a bit.
Cook's Notes
For the rhubarb, you can cook it down just until just broken down a bit and leave it a little chunky, or allow to simmer down to a thick sauce. Either way it's great. Just be sure your rhubarb is nice and soft. Do taste once it's cooked down and add a bit more sugar if you find it too tart for your taste.
I love to take the time to make a Creme Anglaise for bread pudding, but it's really optional. The pudding is lovely without it (it's just lovelier with it ;) You can make it ahead and keep it in the fridge for a hours. The rhubarb can also be cooked ahead and refrigerated.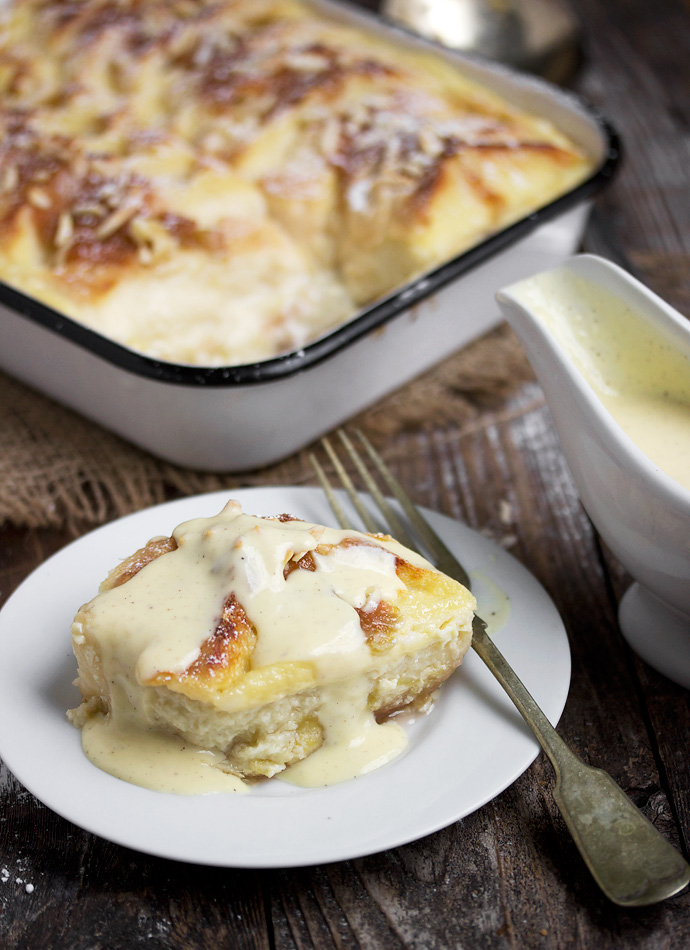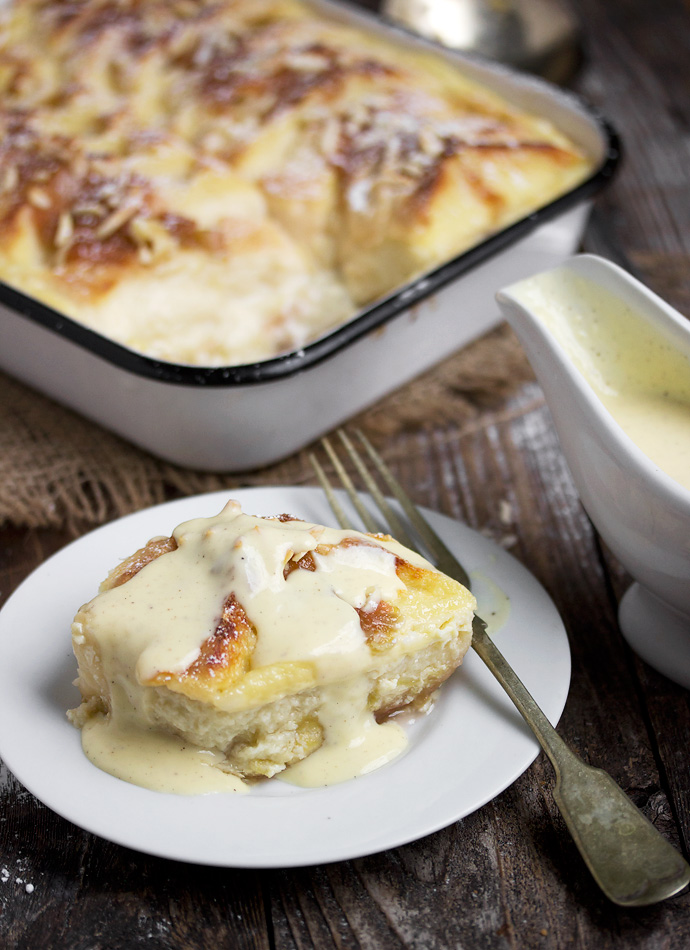 Get the Recipe:
Rhubarb Bread Pudding with Creme Anglaise
Classic comfort food bread pudding, meets stewed rhubarb. Perfect use for your frozen rhubarb, but you can also make this with fresh rhubarb. I love to serve this with a Creme Anglaise sauce (recipe below), but it's lovely without it as well. Be sure to start with slightly stale bread. If your bread is fresh, simply slice, place on a baking sheet and pop into a 350° F. oven for a few minutes to dry it out a bit.
Ingredients
For the Creme Anglaise:
1/2

cup

whole milk

1/2

cup

whipping cream

1

tsp

vanilla

,

or vanilla bean paste

3

large

egg yolks

3

Tbsp

white sugar
For the Stewed Rhubarb:
4

cups

rhubarb

,

chopped, fresh or frozen

1

cup

white sugar

1 1/2

Tbsp

water

,

(omit if using frozen rhubarb)
For the Bread Pudding:
1

Day-old baguette

4

large

eggs

1/2

cup

white sugar

1/2

cup

whipping cream

2 1/2

cups

whole milk

2

tsp

vanilla

,

or vanilla bean paste

1

Tbsp

white sugar

,

for topping

Sliced or slivered almonds

,

(Optional)
For garnish:
Icing/confectioners' sugar
Instructions
For the Creme Anglaise: Combine the milk, cream and vanilla in a heavy medium saucepan over medium heat. Bring milk mixture to simmer. Remove from heat.

Whisk egg yolks and sugar in medium bowl to blend. Gradually whisk hot milk mixture into yolk mixture. Return the custard to saucepan. Stir over low heat until custard thickens and leaves path on back of spoon when finger is drawn across, about 5 minutes (do not boil). Strain sauce into bowl. Cover and chill. (Can be made 1 day ahead.)

For the Stewed Rhubarb: Combine rhubarb, sugar and water in a large saucepan over medium heat. Stir well to combine and stir regularly until the sugar dissolves. Reduce heat to medium-low. Simmer until rhubarb is soft and thick. (*You can simmer less if you'd like a chunkier sauce or cook more for a less chunky sauce). Remove to a bowl to cool or make ahead and refrigerate until needed.

For the Bread Pudding: Preheat oven to 350° Slice baguette into 1/2-3/4 inch slices and set aside. Meanwhile, in a bowl, combine the eggs, sugar, cream milk and vanilla. Whisk well to combine.

Lightly grease and 8x8-inch baking pan. Spoon 2/3 of the stewed rhubarb into the bottom of the pan. Lay the sliced bread in two rows on top of the rhubarb. Pour the egg mixture over-top (it should all fit, but if not, let pudding stand 5 minutes, then add the rest). Sprinkle the exposed top of the bread with 1 Tbsp. of white sugar, then spoon the remaining stewed rhubarb down the middle of each row of bread. Stop with sliced or slivered almonds, if using.

Place your baking pan on to a baking sheet (to catch any bubble-overand bake in the preheated oven for 40-45 minutes, or until set (I test with a knife. It should come out without any runny buts on it).

Allow to cool slightly, then dust with icing sugar. Serve warm with some Creme Anglaise poured over-top.
Notes
Be sure to read the "Cook's Notes" in the original post, for more tips, options, substitutions and variations for this recipe!
Calories:
380
kcal
,
Carbohydrates:
52
g
,
Protein:
8
g
,
Fat:
15
g
,
Saturated Fat:
8
g
,
Cholesterol:
163
mg
,
Sodium:
223
mg
,
Potassium:
312
mg
,
Fiber:
1
g
,
Sugar:
38
g
,
Vitamin A:
690
IU
,
Vitamin C:
3.9
mg
,
Calcium:
176
mg
,
Iron:
1.3
mg