A hearty cinnamon raisin bread, with the addition of oats and some whole wheat flour. A wonderful morning bread that makes great toast!
This cinnamon raisin oatmeal bread is perhaps the perfect morning bread. It has a lovely crispy crust, but a moist and flavourful crumb. It is delicious eaten out of hand with butter and it makes great toast (that smells wonderful as it toasts, as well!) That said, don't limit yourself to breakfast for this bread, as this bread makes a wonderful sandwich, French toast or bread pudding.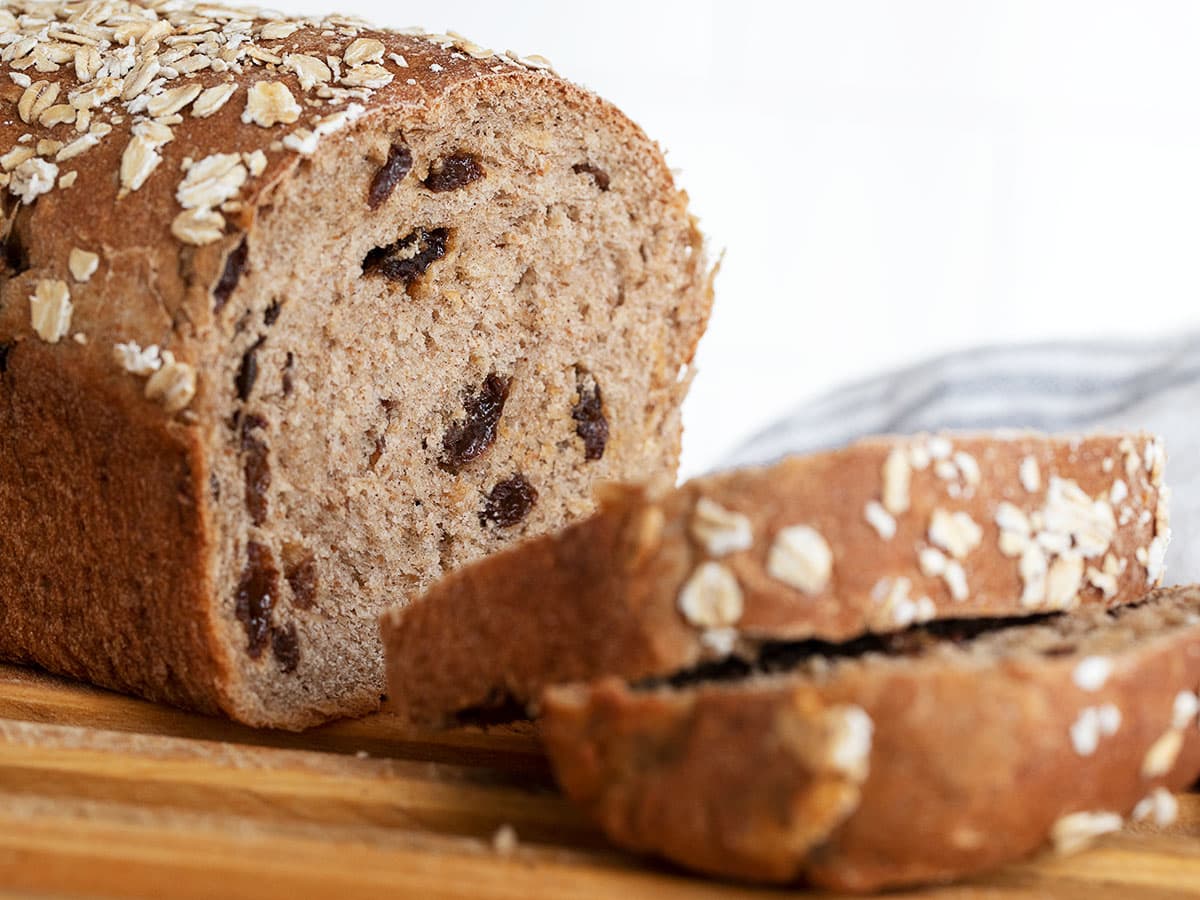 Jump to:
Ingredient Notes
Yeast - You can use either Active Dry or regular Instant yeast (such as SAF Brand) for this bread. Quick or rapid-rise instant yeast is not recommended for this classic two-rise loaf.
Rolled Oats - Large flake, old-fashioned rolled oats are recommended, though quick oats will work in a pinch. Using quick oats may affect the over-all amount of flour you will need for the loaf. Instant oats are not recommended.
Raisins - I like to use Thompson raisins in bread like this, though any raisin or sultanas is just fine, as well.
Whole Wheat Flour - The bit of whole wheat flour is a nice addition to this loaf, and is recommended if you have some on hand. If you don't have any whole wheat flour, you can replace it with additional all-purpose flour, but do note that the over-all amount of flour you will need to add to the loaf may change (you may need a little more).
Milk - If you'd prefer not to use milk, simply replace with water.
Honey - You can substitute maple syrup for the honey, if you like. Alternately, you can use 1 tsp of white sugar for the honey, if you don't have honey or maple syrup on hand.
Vegetable Oil - or canola oil or any neutral-tasting oil is fine here. If you prefer you can use the same amount of melted butter, as well.
You will also need - all purpose flour, salt and cinnamon.
Process Photos
This is a visual summary of the process for making this bread. Always refer to the complete instructions in the Recipe Card below when making the recipe, as all steps may not be illustrated here.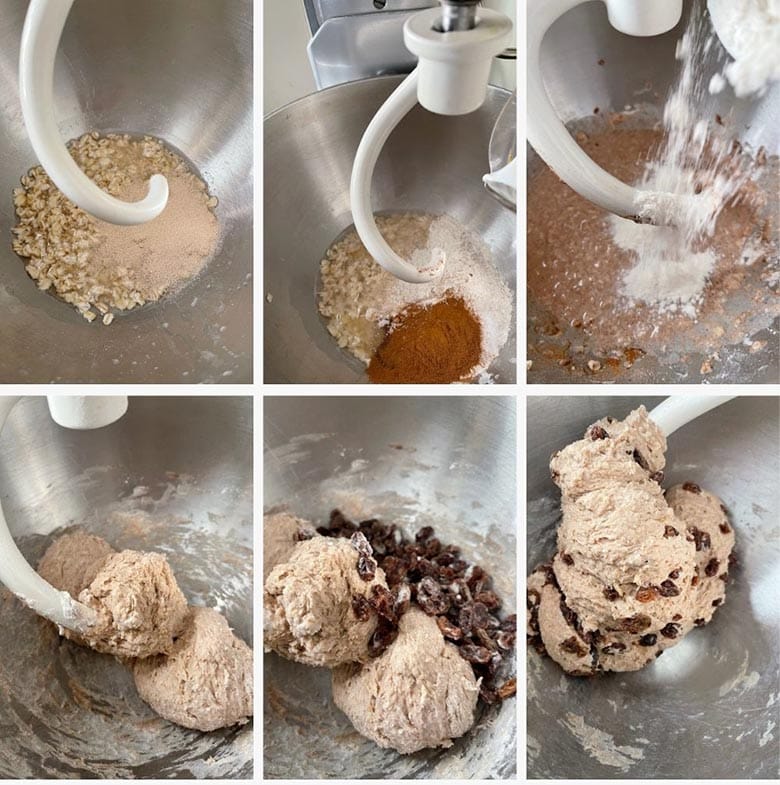 Baker's Notes
As with all yeast breads, add only as much flour as needed to bring the dough together. You may not need all the amount listed or you may need a little more.
I find oatmeal breads make for a quite moist dough, that can look sticky, even when it has enough flour. So avoid the urge to add too much flour in the bowl. It should just wrap the kneading hook and clean the bowl. At that point, remove it to the counter to knead, where you can add a bit more flour as needed, if the dough is sticky there.
Rising times in yeast bread recipes are always approximate and will vary from kitchen to kitchen, depending on the temperature of your kitchen. In a cooler Winter kitchen, it will take longer. In your hot Summer kitchen, it will rise more quickly. Just keep an eye on it and let the dough rise for as long as it takes to just double.
Do note that while the oven will be preheated to 450F, you will reduce it to 375F as soon as the loaf goes in the oven. Don't forget that part, or it won't end well :)
You can double the recipe without issue, but do be sure your stand mixer can handle this bulky dough. If it seems to be straining, remove to the counter and finish adding flour and kneading there.
As noted above, if you have a little of your loaf left-over, this bread makes great French toast or bread pudding.
This bread will freeze beautifully up to 3 months.
Recipe
More bread recipes you might also like ...
Save or share this recipe