A hearty cinnamon raisin oatmeal bread, with the addition of oats and some whole wheat flour. A wonderful morning bread that makes great toast!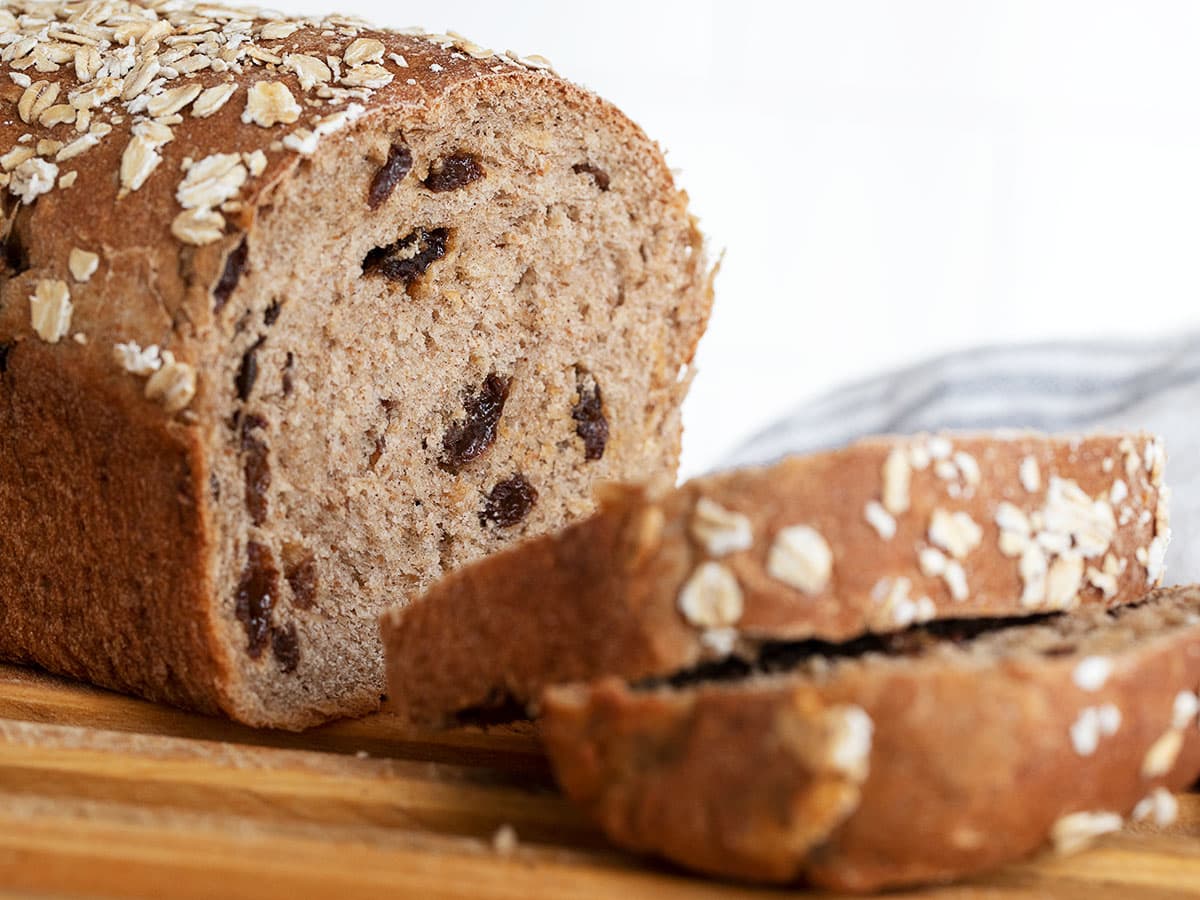 This cinnamon raisin oatmeal bread is perhaps the perfect morning bread. It has a lovely crispy crust, but a moist and flavourful crumb. It is delicious eaten out of hand with butter and it makes great toast (that smells wonderful as it toasts, as well!) That said, don't limit yourself to breakfast for this bread, as this bread makes a wonderful sandwich, French toast or bread pudding.
Ingredients and Substitutions
Yeast – You can use either Active Dry or regular Instant yeast (such as SAF Brand) for this bread. Quick or rapid-rise instant yeast is not recommended for this classic two-rise loaf.
Rolled Oats – Large flake, old-fashioned rolled oats are recommended, though quick oats will work in a pinch. Using quick oats may affect the over-all amount of flour you will need for the loaf. Instant oats are not recommended.
Raisins – I like to use Thompson raisins in bread like this, though any raisin or sultanas is just fine, as well.
Whole Wheat Flour – The bit of whole wheat flour is a nice addition to this loaf, and is recommended if you have some on hand. If you don't have any whole wheat flour, you can replace it with additional all-purpose flour, but do note that the over-all amount of flour you will need to add to the loaf may change (you may need a little more).
Milk – If you'd prefer not to use milk, simply replace with water.
Honey – You can substitute maple syrup for the honey, if you like. Alternately, you can use 1 tsp of white sugar for the honey, if you don't have honey or maple syrup on hand.
Vegetable Oil – or canola oil or any neutral-tasting oil is fine here. If you prefer you can use the same amount of melted butter, as well.
You will also need – all purpose flour, salt and cinnamon.
Step-by-Step Photos
This is a visual summary of the process for making this bread. Always refer to the complete instructions in the Recipe Card below when making the recipe, as all steps may not be illustrated here.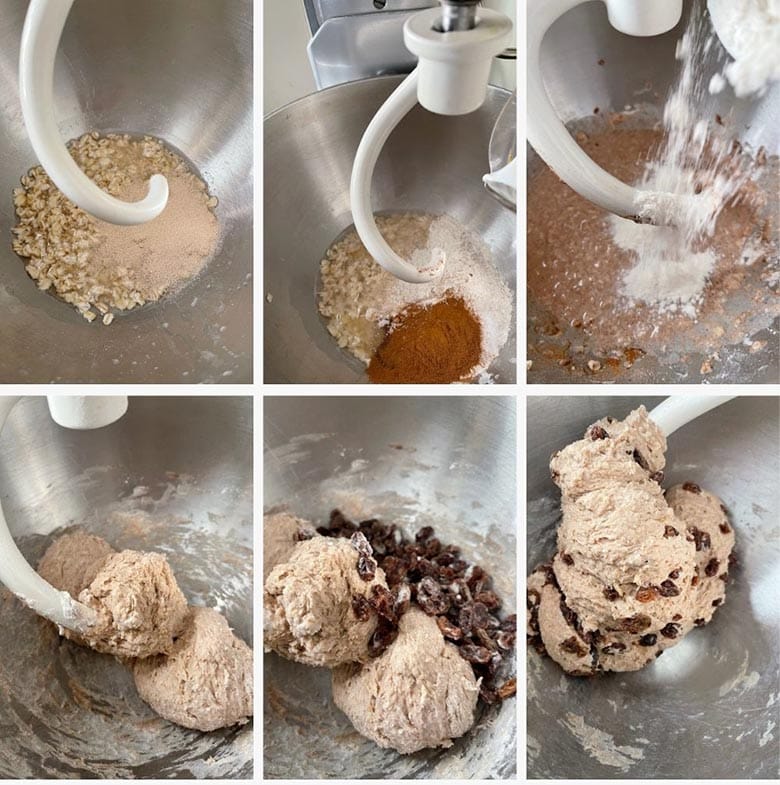 Recipe Tips
As with all yeast breads, add only as much flour as needed to bring the dough together. You may not need all the amount listed or you may need a little more.
I find oatmeal breads make for a quite moist dough, that can look sticky, even when it has enough flour. So avoid the urge to add too much flour in the bowl. It should just wrap the kneading hook and clean the bowl. At that point, remove it to the counter to knead, where you can add a bit more flour as needed, if the dough is sticky there.
Rising times in yeast bread recipes are always approximate and will vary from kitchen to kitchen, depending on the temperature of your kitchen. In a cooler Winter kitchen, it will take longer. In your hot Summer kitchen, it will rise more quickly. Just keep an eye on it and let the dough rise for as long as it takes to just double.
Do note that while the oven will be preheated to 450F, you will reduce it to 375F as soon as the loaf goes in the oven. Don't forget that part, or it won't end well :)
You can double the recipe without issue, but do be sure your stand mixer can handle this bulky dough. If it seems to be straining, remove to the counter and finish adding flour and kneading there.
As noted above, if you have a little of your loaf left-over, this bread makes great French toast or bread pudding.
This bread will freeze beautifully up to 3 months.
Get the Recipe:

Cinnamon Raisin Oatmeal Bread
A hearty and delicious cinnamon raisin bread, with the addition of oats and whole wheat flour. A lovely morning bread and makes great toast! Makes 1 loaf.
Ingredients
Dough:
1/2

cup

(

50

g

)

large flake old-fashioned rolled oats

3/4

cup + 2 teaspoons

(

187

g

)

boiling water

2 1/4

teaspoons

(

7

g

)

active dry or instant yeast

3

Tablespoons

milk

1

Tablespoons

honey

2

Tablespoons

vegetable or canola oil

1

teaspoon

fine sea salt

2 1/2

teaspoon

ground cinnamon

1/2

cup

(

72

g

)

whole wheat flour

1 3/4

cups

(

225

g

)

all purpose flour

,

approximately

2/3

cup

(

100

g

)

raisins

,

soaked in hot water for 15-20 minutes, drained and patted dry
Topping:
Additional large flake rolled oats
Instructions
In a large bowl or the bowl of a stand mixer fitted with the kneading hook, add the rolled oats and pour the boiling water over. Stir, then let stand about 20 minutes.

Meanwhile, add the raisins to a bowl of very hot water and allow to sit in the water for about 20 minutes, to plump.

Check and make sure the oat/water mixture has cooled to about 105F for active dry yeast or 115F for instant yeast. *Important that the mixture be cooled, so you don't kill the yeast. If you don't have a thermometer to check, test with your finger and make sure the mixture is just lukewarm and doesn't feel hot at all.

Sprinkle in the yeast, then add the milk, honey, vegetable oil, salt cinnamon and whole wheat flour. Mix to combine. Begin by adding 1 cup of the all purpose flour and kneading in. Start adding additional flour, in small increments and kneading in between additions, until you have a moist dough that wraps around the kneading hook and is starting to clean the sides of the bowl. Drain and pat dry the raisins and toss in a bit of flour. Add the raisins to the dough and knead in, adding a bit more flour, as needed, until you have a moist dough that cleans the bowl well.

Remove the dough to a floured work surface and knead briefly. Form into a ball and place in a greased bowl. Cover with plastic wrap and allow to rise until doubled, 1 – 1 1/2 hours.

Remove dough to a floured work surface and gently deflate. Pat dough into an oval shape roughly 9 inches long and 5 inches wide. Grab the edges of the dough on the long side and bring them together to meet in the middle and pinch together where they meet, right to the ends of the dough. Flip over, with seam on the bottom. Place into a greased 8 1/2 x 4 inch loaf pan. Cover with plastic wrap and set aside to rise until the dough has crested the pan by about 1-inch in the middle, about 45-60 min.

Meanwhile, preheat oven to 450F. (regular bake setting/not fan assisted)

Remove plastic wrap. Brush the top of loaf with water and sprinkle with additional rolled oats, pressing them down lightly so they will stick.

Place loaf in preheated 450F oven, then immediately reduce the oven temperature to 375F. Bake for 20 minutes, then rotate the pan front to back. Bake an additional 15-20 minutes, or until the loaf registers 200-205F when tested in the centre with an instant read thermometer. *If loaf seems at risk of over-browning, cover loosely with a sheet of aluminum foil for the last part of baking.

Remove loaf from oven and immediately remove the loaf to a cooling rack to cool completely before slicing. (Avoid slicing while warm to avoid a gummy crumb).
Notes
Be sure to read the notes above this Recipe Card for substitution suggestions and tips for making this recipe. You will also find Process Photos showing the process of making this bread.
Serving:
1
serving
,
Calories:
133
kcal
,
Carbohydrates:
25
g
,
Protein:
4
g
,
Fat:
3
g
,
Saturated Fat:
2
g
,
Cholesterol:
1
mg
,
Sodium:
171
mg
,
Potassium:
125
mg
,
Fiber:
2
g
,
Sugar:
1
g
,
Vitamin A:
8
IU
,
Vitamin C:
1
mg
,
Calcium:
16
mg
,
Iron:
1
mg
More Oatmeal Bread Recipes to Love!
Hi! I'm Jennifer, a home cook schooled by trial and error and almost 40 years of getting dinner on the table! I love to share my favourite recipes, both old and new, together with lots of tips and tricks to hopefully help make your home cooking enjoyable, stress free, rewarding and of course, delicious!