A lovely molasses bread, with added oats and whole wheat flour for extra goodness. Makes great toast and sandwiches!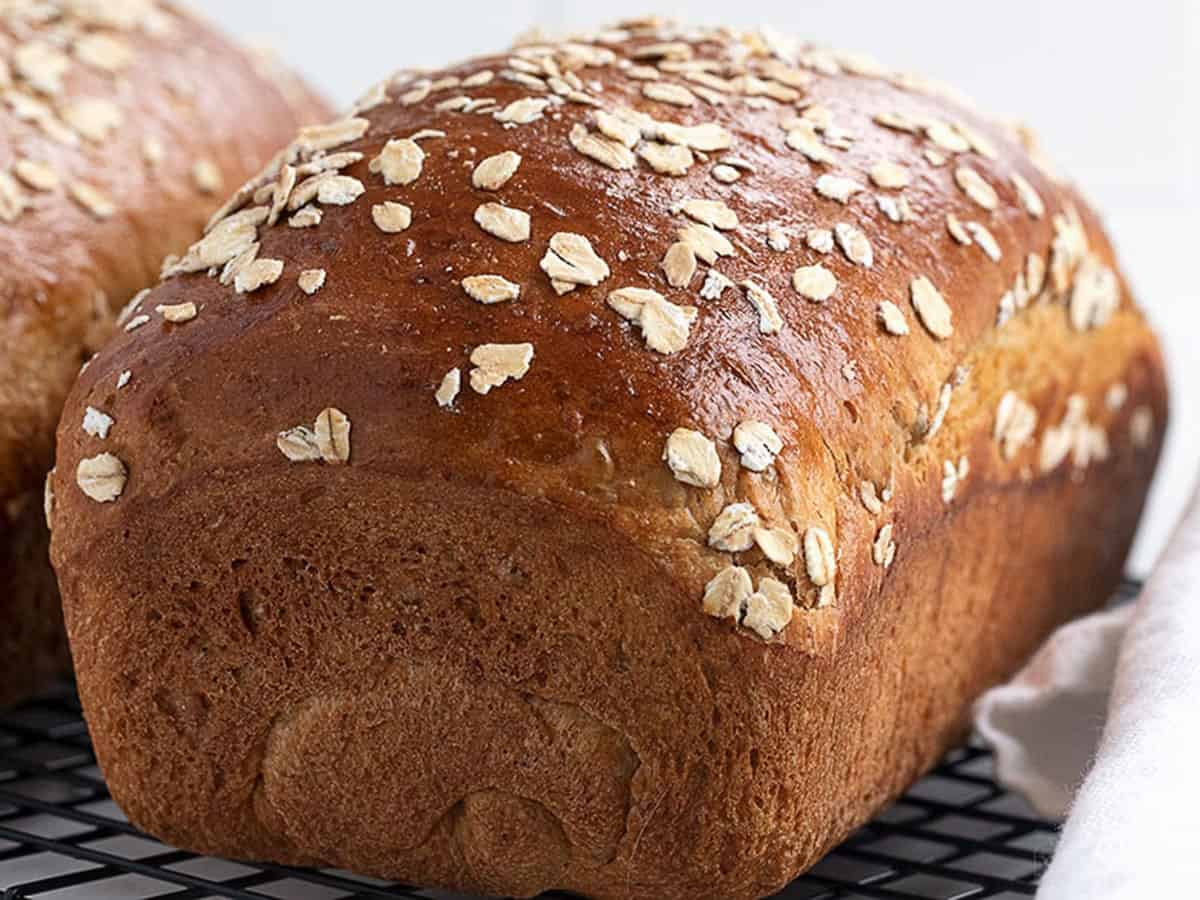 Winter here means not only soup season, but hearty bread season. This Oatmeal Molasses fits that bill perfectly! This lovely molasses bread also has added oats and whole wheat flour, for extra goodness. This bread is delicious eaten out of hand with butter, toasts beautifully and makes great sandwich bread, too!
This two-loaf recipe is also great for doing one weekly bake, keeping one out and freezing the second loaf for later in the week. An extra loaf also makes a great and welcomed gift for family, friend or neighbour :)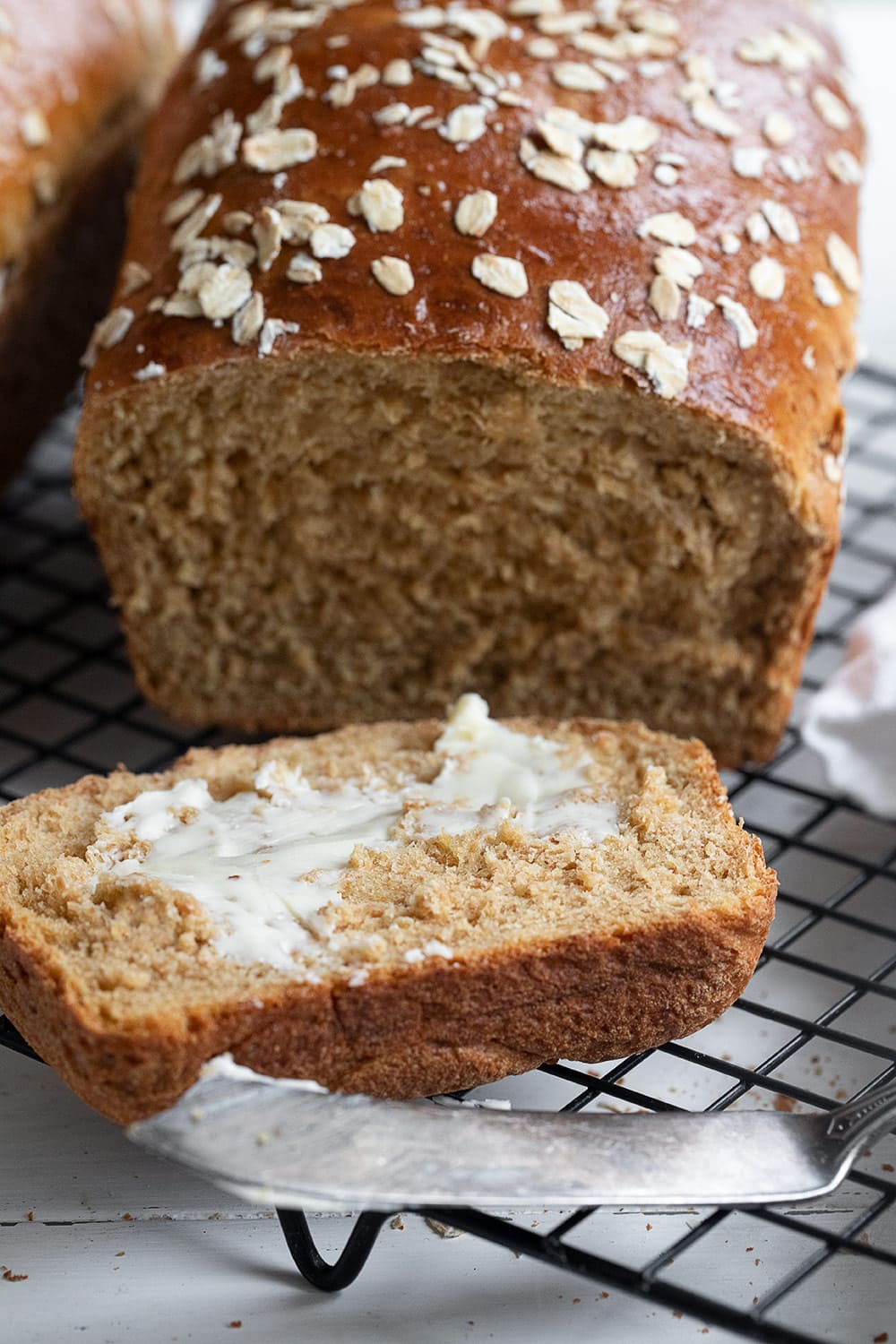 Jump to:
Ingredient Notes
Oats - Large-flake, old-fashioned rolled oats are recommended here. In a pinch, you could probably use quick-cooking oats. Instant oats are less idea.
Molasses - For best results, use "Fancy" molasses, rather than Cooking or Blackstrap molasses, which has a much stronger and harsher flavour. If you only have Cooking molasses on hand, you could try using half molasses/half honey, to temper the molasses a bit.
All-purpose flour and whole wheat flour - This recipe uses a combination of all purpose flour, together with some whole wheat flour. I have only tested this recipe with the specified ratio of all purpose to whole wheat flour, so it is recommended that you keep to these amounts for best results. If you don't have whole wheat flour on hand, you can replace with more all-purpose flour. You may need to use additional flour over-all with this substitution.
Yeast - you'll want to use regular Active Dry or Instant Yeast, such as SAF Brand for this bread. Quick or rapid-rise yeast is not recommended, as this is a two-rise recipe.
You will also need - Eggs (2), salt, white sugar, butter (can use vegetable oil instead in same quantities).
Step-by-Step Photos
This is a summary of the steps to make this bread. Always refer to the Recipe Card below for complete ingredients and instructions.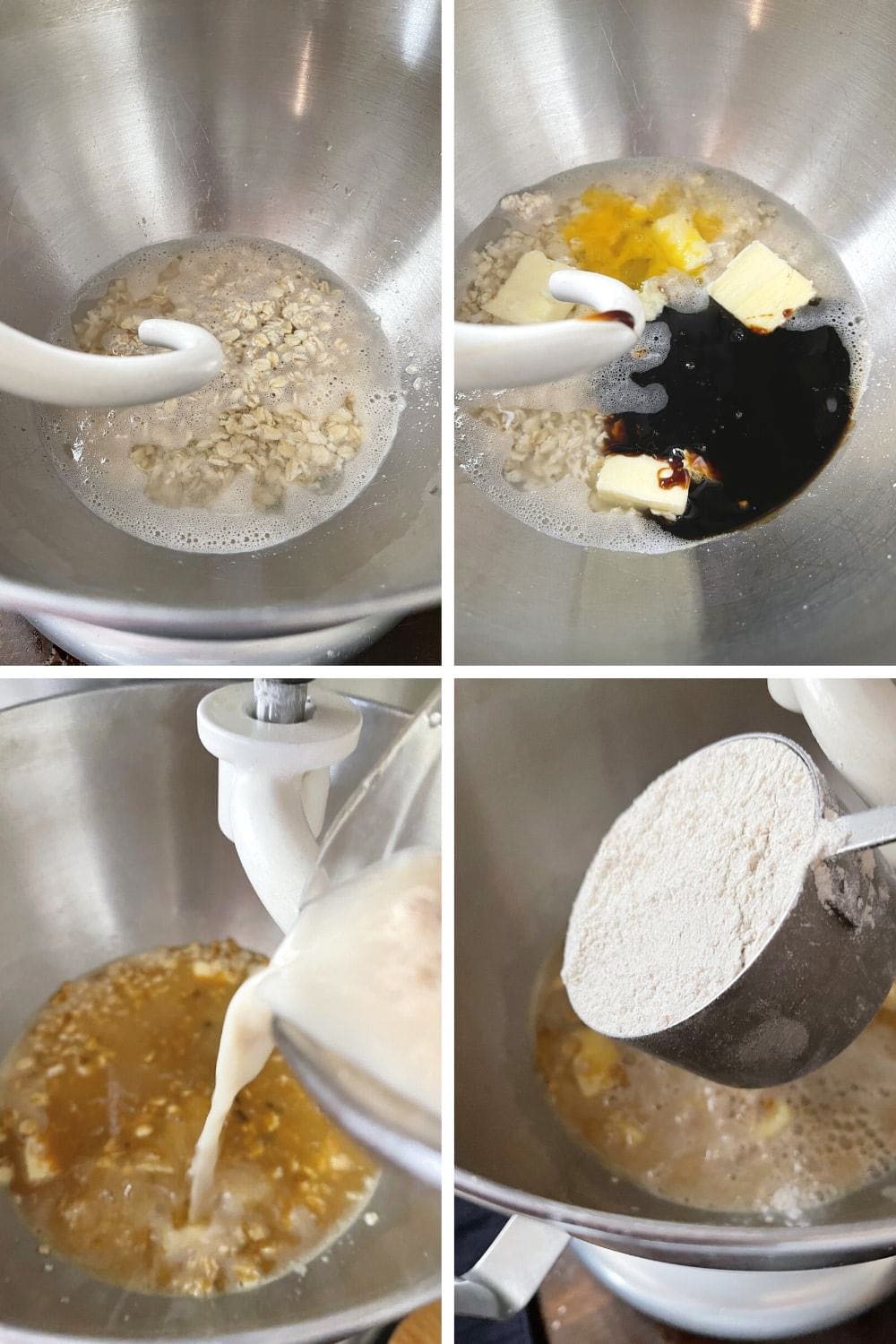 Start the dough by soaking the rolled oats. Be sure the mixture is cooled sufficiently before proceeding. If it's too hot, it could kill the yeast. Add the rest of the dough ingredients, but holding back 1 cup of the all purpose flour.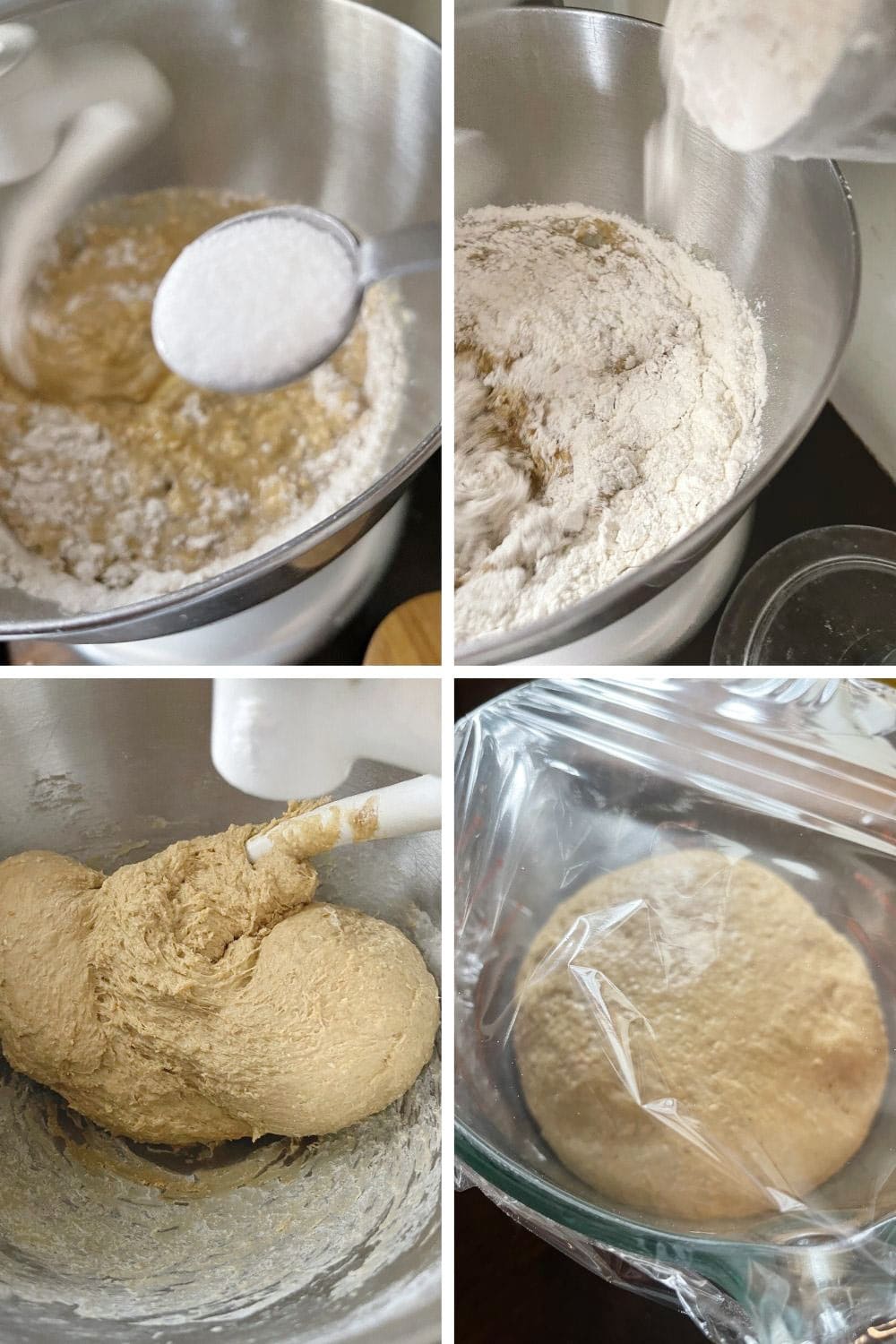 Add as much of the last cup of all purpose flour as needed, to bring the dough together. Note that this is quite a moist dough. It's about ready when it wraps the hook and cleans the bowl a bit (but not completely.). Remove to a floured work surface and knead 1 minute, adding a bit more flour if it is sticking to your hands or the counter. Place in a greased bowl, cover and let rise until doubled, about 60-75 minutes.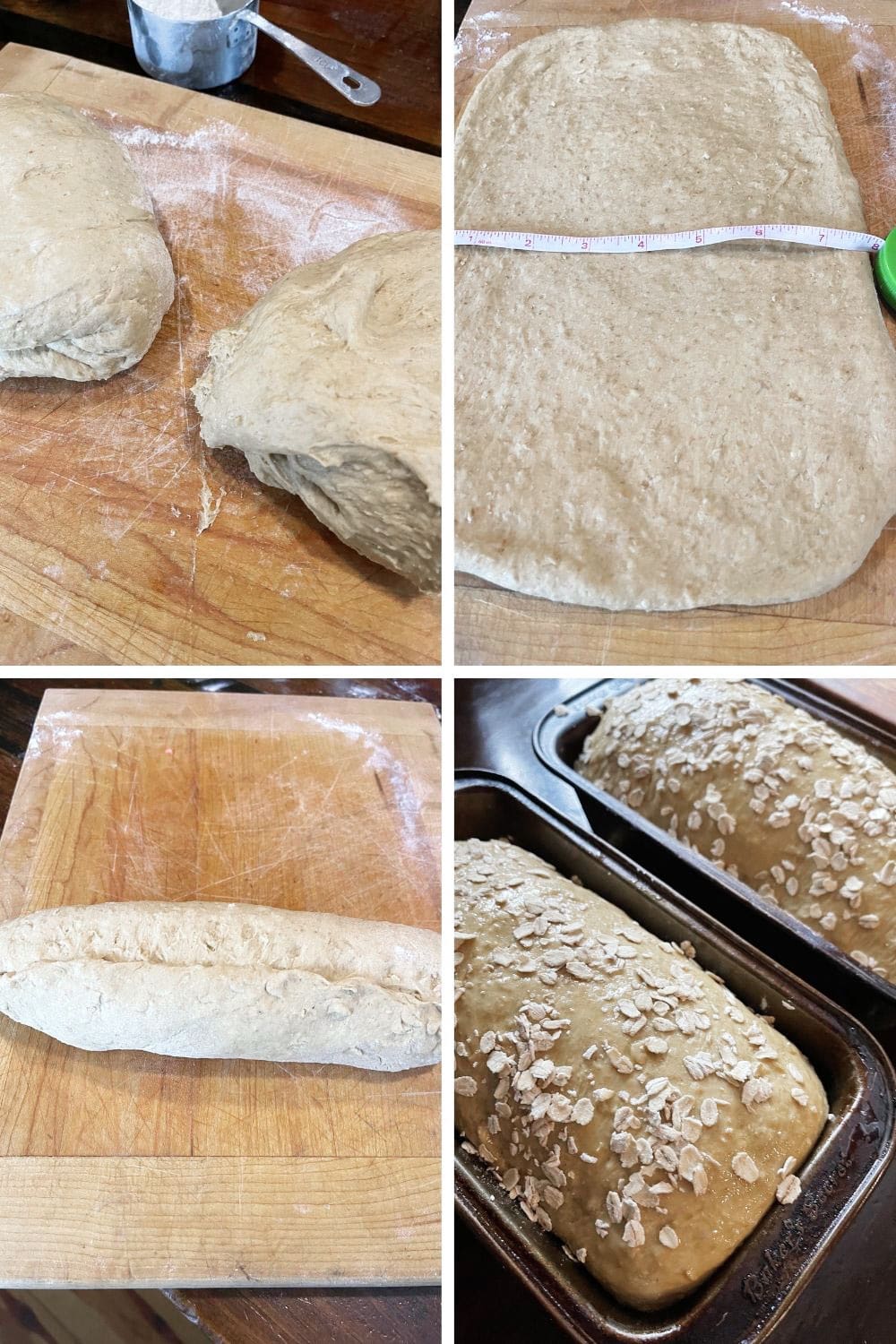 Divide dough into 2 equal pieces (I like to weigh them, so they are the exact same size). Roll into a rectangle, then roll up jelly-roll style from the short side. Pinch seam together and place into greased loaf pans. Cover and let rise until doubled and cresting the pan by about 1 inch in the centre of the pan. Brush top with egg wash and sprinkle with more rolled oats right before baking.
Baker's Tips
Bread recipes often list the flour amounts as "approximate", since the exact amount you will need varies from kitchen to kitchen. You may need less or more flour than specified and that's perfectly normal. For that reason, I always hold back about 1 cup of the flour and add the last part in small increments and only as needed to bring the dough to the desired texture. You don't need to use it all and likewise, if you need more, add more.
It is also worth reminding that dough rising time will vary from kitchen to kitchen. I like to include a rough estimate of rising time, just so people understand the approximate time involved, but you should always trust what you see and not the clock. It's done rising when it's doubled, however long that takes. Check regularly on the rising progress, to avoid over-proofing, in the event it is rising faster in your kitchen than it did in mine.
If you are a new or novice bread baker, you may wish to take a read of my Getting Started with Yeast Bread Baking resource page.
An instant-read thermometer is invaluable for bread baking. Often a loaf will look done, when it isn't ready at all. Loaves like this one, with rolled oats, hold a lot of moisture, so the loaf will brown on the outside, but the inside will be still moist and under-cooked. Testing with a thermometer takes the guess work away. Inserting it in the centre of the loaf to test will tell you exactly when your loaf is ready. Typically, you want a loaf at least 190F. With moist loaves like this one, I want to see at least 200F and up to 210F.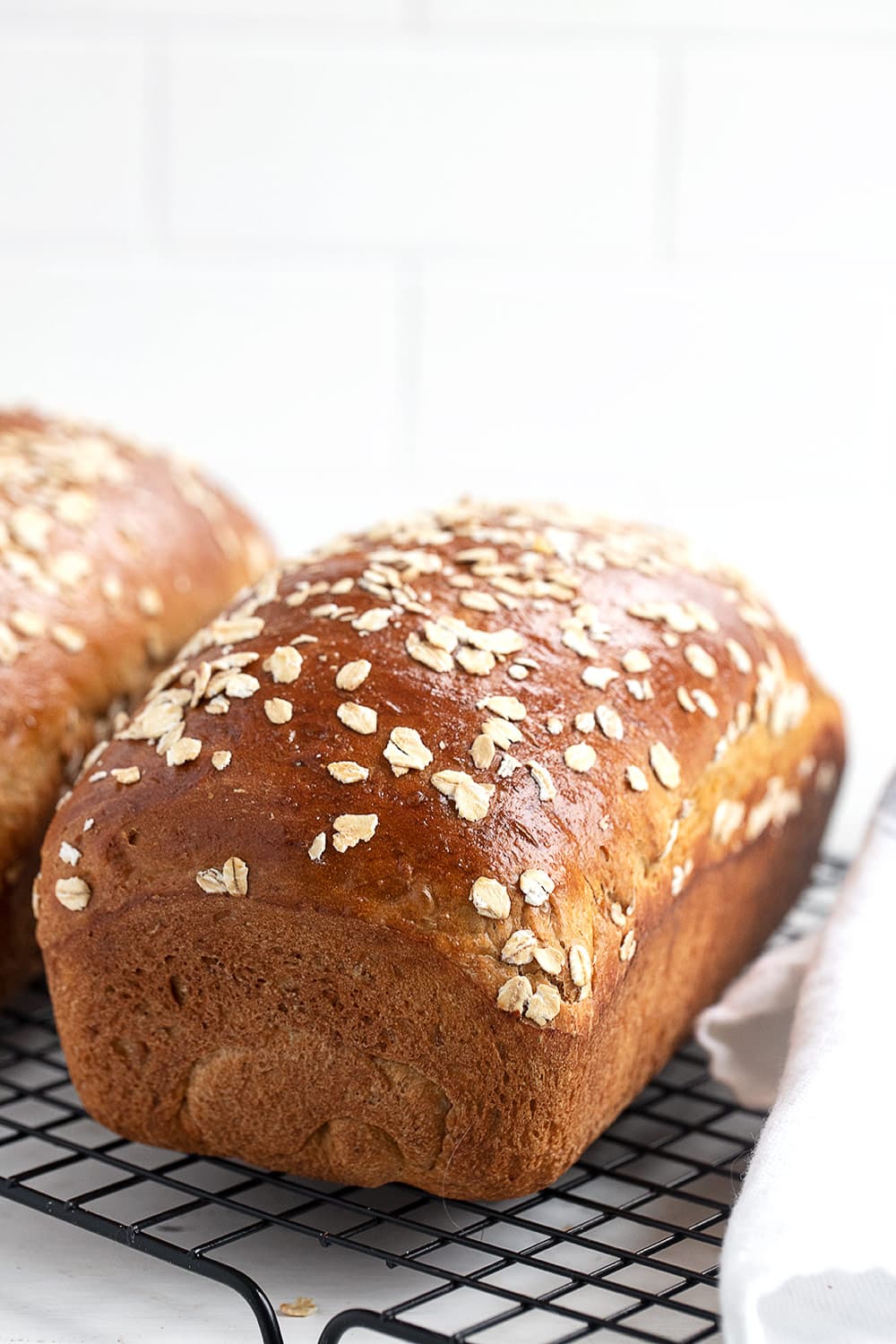 Recipe
Web Story for Oatmeal Molasses Bread »
Adapted from a Canadian Living recipe
More yeast bread recipes you might like ...