This easy balsamic sheet pan pork tenderloin with Brussels sprouts cooks entirely in the oven and is ready in just about 30 minutes!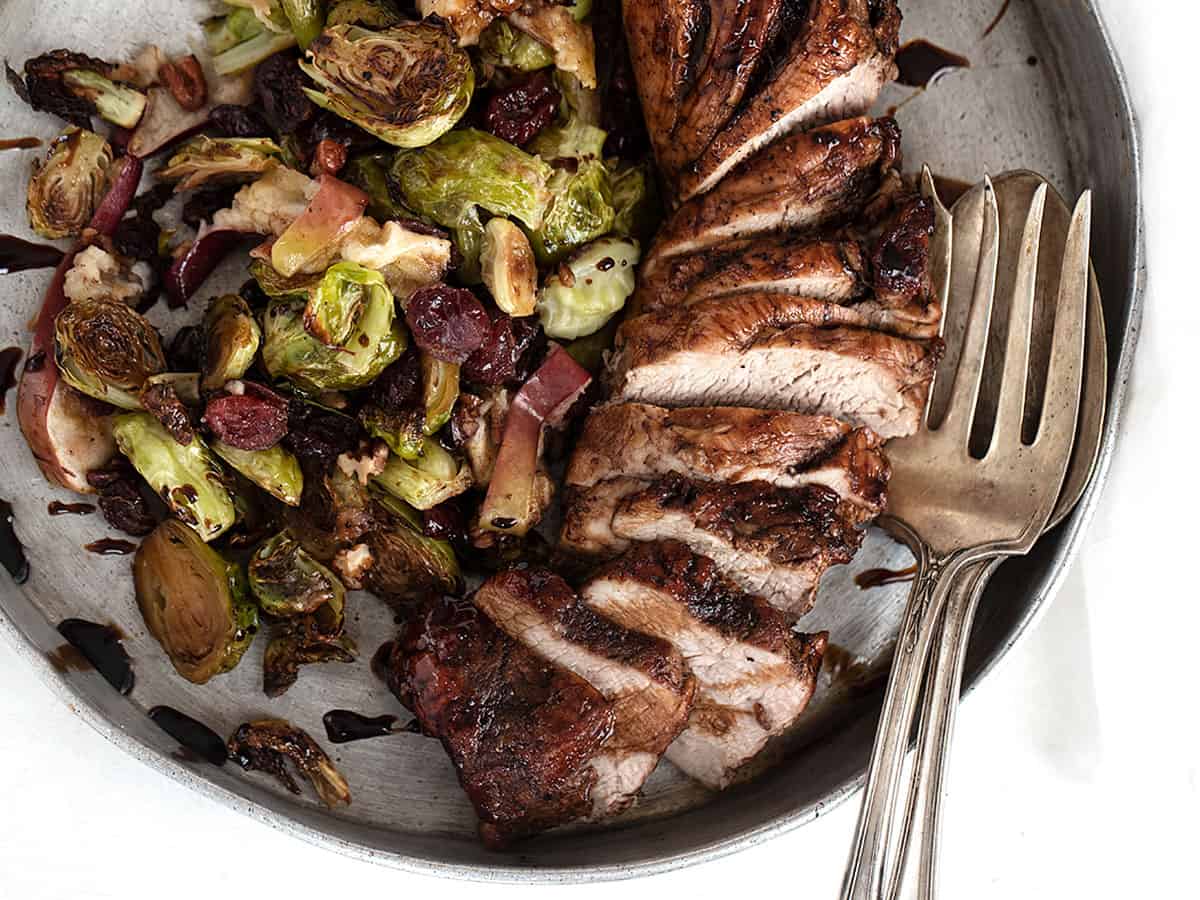 If you are looking for a super easy, but delicious dinner, look no further than this sheet pan pork tenderloin!
Sheet pan meals are always welcome here and I especially love this one, as there is very little prep time. No need to even sear the pork! The always tender pork tenderloin is topped with balsamic glaze, so it's guaranteed to have great colour even without searing. Alongside the pork there is roasted Brussels sprouts, with added apple, pecans and dried cranberries.
While I enjoy this dish any time, I think it's especially suited for a Fall dinner, with the cranberry and apple with the Brussels sprouts.
And it's ready in just about 30 minutes!
Key Ingredients
Pork Tenderloin – Any size of pork tenderloin will work here, A very large pork tenderloin may need a few more minutes in the oven.
Balsamic Glaze – I am such a fan of bottled Balsamic Glaze. And in case you're wondering if it has lots of extra ingredients that we can't pronounce, let me assure you it doesn't. It's simply balsamic vinegar and some cane sugar reduced to syrupy goodness.
If you don't have bottled, you can make your own by reducing regular balsamic vinegar and a bit of brown sugar in a small saucepan and simmering until it is syrupy.
Brussels Sprouts – For roasting, fresh Brussels sprouts will work best. If you only have frozen Brussels sprouts available, you won't be able to cut them in half, but you can still roast them whole and they should cook in roughly the same time.
Apple – Adding apple is totally optional, but roasted apple is always such a nice flavour with the sprouts. Any type of apple will work here, though I think a red-skinned apple works best.
Pecans – Again, adding pecans is optional, but nice. The pecans will be added near the end of cooking, with the apples, so they toast up a little bit, for extra flavour.
Dried Cranberries – if you only add one thing with your Brussels sprouts, make it the dried cranberries. They add such a bright flavour. We'll "plump" them before adding to the sprouts by soaking them in hot water for a bit.
Step-by-Step Photos
Cook's Notes
Ideally, the pork and Brussels sprouts will be ready at the same time, but if not, it is easy enough to remove the sprouts or the pork ahead and let the other part cook a little longer.
The apples will be quite soft after 10 minutes in the oven and may fall apart when you toss with the sprouts. I don't mind that, as I don't mind the apple flavour spreading around a bit. If you would like your apples to keep their shape, don't add them to the pan until the last 5 minutes of roasting.
An instant-read or meat thermometer is the best for knowing when your pork is done. Cook it until it is about 145F internal temperature, for best moistness and tenderness. Always let the pork rest for about 5 minutes, before slicing.
There are different varieties of Balsamic Glaze that are available and would make a nice flavour variation for this dish, such as Cabernet Merlot or Strawberry Fig.
Brussels sprouts recipe inspired by a Cookie and Kate recipe
More pork tenderloin recipes you might also like …
Save or share this recipe