Delicious Skillet Rhubarb Crisp<, with a crunchy layer on both the top and bottom and a sweet and saucy rhubarb layer in between - it's rhubarb perfection!
I finally got my hands on some garden fresh rhubarb this week. Thanks Dad! I know some of you were enjoying garden-fresh rhubarb a while ago, but things come a little slower in these parts. Right now here, the leaves are just fully out and we are in full-on black fly season. It's one of nature's cruel twists, since we wait through a long winter just for nice weather and once it comes, so do the black flies to drive us back inside.
Black flies are just about the worst bugs ever. They come in droves and swarm around your head and get in your hair. They can also take a huge chunk out of you for such a little bug. I happen to have a black fly bite allergy (where I swell up in all sorts of unpleasant ways), so I'm especially careful this time of year. Fortunately, their life span is short. All we need is a bit of hot weather to kill them off and since we're enjoying a run of 25° C. days (80° F.), I'm hopeful their visit this year will be short!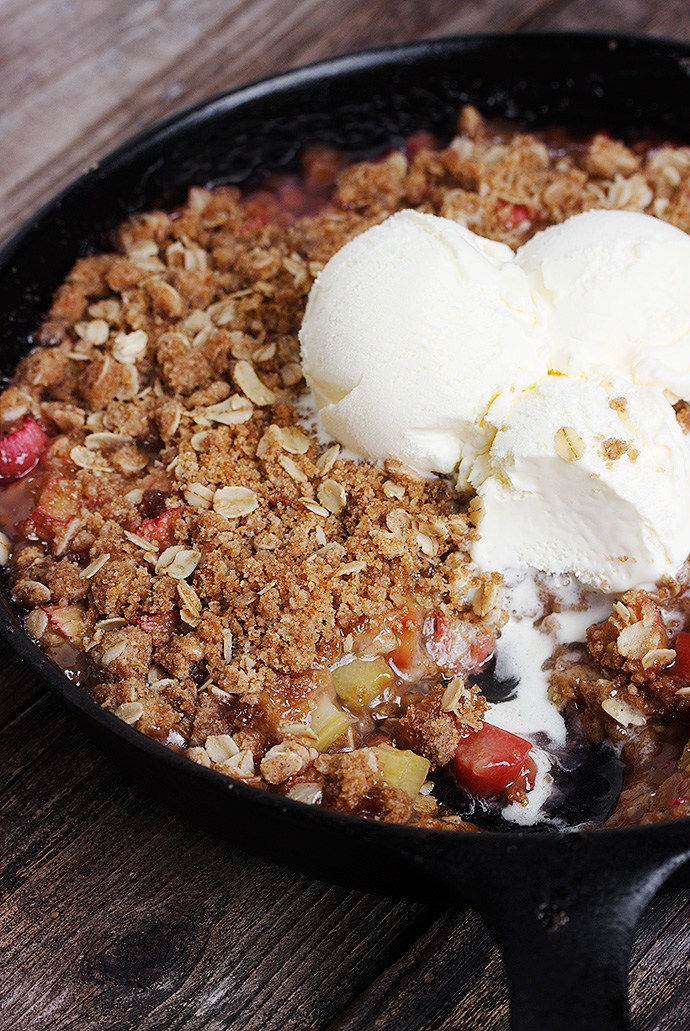 So since I can't spend too much time outside, I have lots of time for baking still. I think is the quintessential rhubarb dish. It one-ups a crisp with a crunchy layer on both the bottom and the top. In between, fresh chopped rhubarb is topped with a thickened sugar syrup, that cooks up in to just the right amount of sweetness. I haven't made this dish with frozen rhubarb, but my experience says it should work just fine.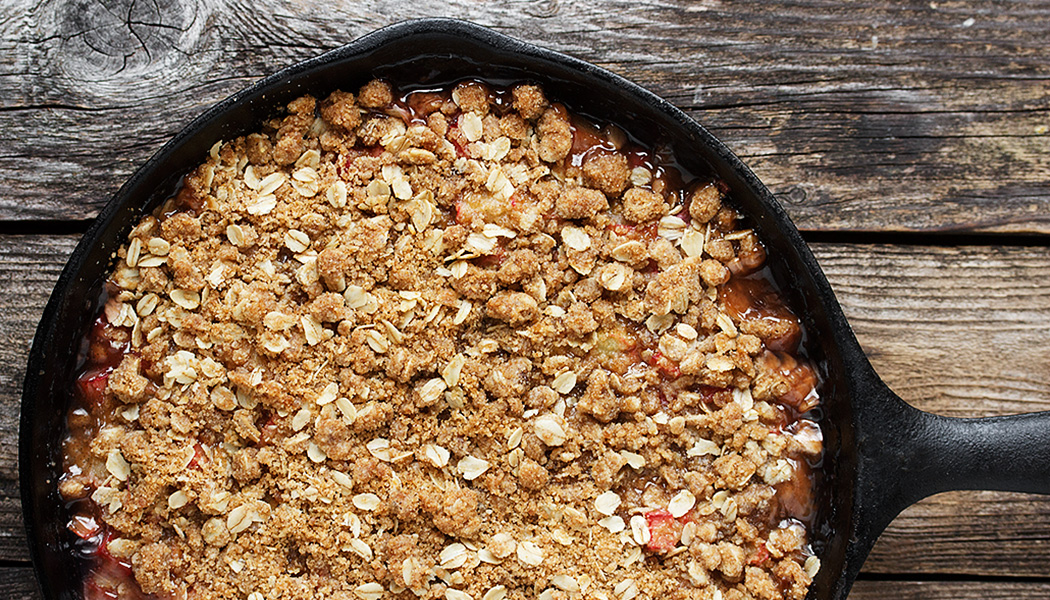 Skillet Rhubarb Crisp
The perfect way to enjoy Spring rhubarb! This dish has a crunch layer on both the bottom and the top. In between is fresh rhubarb cooked in a sweet sugar syrup. You can bake this in an 8x8-inch baking dish as well.
Ingredients
4

cups

rhubarb

,

fresh, chopped into 1/2-inch pieces
Crunch:
1 1/4

cup

all-purpose flour

1

cup

large-flake rolled oats

1 1/4

cup

light brown sugar

,

packed

1/2

cup

butter

,

melted

1

tsp

ground cinnamon
Syrup:
1

cup

granulated white sugar

2

Tbsp

cornstarch

1

cup

water

,

cold

1

tsp

vanilla
Instructions
Chop rhubarb and set aside. Butter an 8-inch skillet (or 8-inch round or 7x11-inxh oven-proof baking disand set aside. Pre-heat oven to 350° F.

In a large bowl, whisk together the flour, oats, cinnamon and brown sugar. Add the melted butter and stir until all the dry ingredients are moistened.

Scatter 1/2 of the crumb mixture over the bottom of the buttered skillet and press lightly.

Prepare the sugar syrup by combining the sugar, cornstarch and water in a medium saucepan. Stir until well combined. Heat over medium-high heat until mixture is thick, clear and bubbly, stirring occasionally. Remove from heat and stir in vanilla.

Add the chopped rhubarb on top of pressed-in crumb mixture in the skillet. Pour sugar sauce evenly over rhubarb.Top with remaining crumb mixture.

Bake at 350° F until edges are bubbling and crumb topping is browned, about 30-35 minutes. (Note: You may wish to set your baking dish on to a baking sheet, if you are using one with short sides. The sauce does bubble up and may drip over the sides). Serve warm with a scoop of vanilla ice cream, if you like.
Notes
Be sure to read the "Cook's Notes" in the original post, for more tips, options, substitutions and variations for this recipe!
Nutrition
Calories:
461
kcal
Carbohydrates:
85
g
Protein:
4
g
Fat:
12
g
Saturated Fat:
7
g
Cholesterol:
30
mg
Sodium:
114
mg
Potassium:
278
mg
Fiber:
2
g
Sugar:
59
g
Vitamin A:
415
IU
Vitamin C:
4.9
mg
Calcium:
96
mg
Iron:
1.7
mg
Nutritional information provided for general guidance only and should not be relied upon to make personal health decisions.
Never miss a new recipe!
SIGN UP for email updates!