Delicious, tender cream scones, these rhubarb scones can be made with either fresh or frozen rhubarb. A wonderful treat and they freeze beautifully!
Jump to:
Why you'll love these rhubarb scones
You'll love the the sweet and tart flavours of these rhubarb scones!
The use of heavy cream makes for a wonderfully rich and buttery scone.
These rhubarb scones freeze beautifully. Bake up a batch and freeze the extras to enjoy later.
These scones are an excellent use for a small amount of leftover rhubarb, either fresh or frozen.
Key Ingredients
Rhubarb - you can use fresh or frozen rhubarb for these scones. For frozen rhubarb, thaw in colander to allow the excess moisture to drain off, then pat dry well, without squeezing or crushing.
Cream - the recipe specifies heavy, whipping cream (35% b.f.), together with a little milk. You can use a lighter cream, if you prefer, though it will obviously produce a less rich scone. Swapping in a lighter cream may mean that you'll need to use less of the liquid to moisten the dough.
Step-by-Step Photos
This is a visual summary of the steps to make rhubarb scones. Always refer to the complete instructions in the Recipe Card below when making the scones, as not all steps may be shown here.
Step 1: In a large bowl, whisk together the flour, sugar, baking powder and salt. Add the cold butter pieces and using your fingertips rub the butter into the flour until you have a just pea-sized pieces of butter. Add about 2/3 of the cream mixture and stir to combine. Add the remaining cream mixture as needed, until you have a very moist, but not super wet dough.
Step 2: Remove the dough to a lightly floured work surface and pat into an oval about 1-inch thick. Scatter the rhubarb over-top of the dough. Fold the dough in half, encasing the rhubarb pieces. Fold in half again, then roll or pat into a 1-inch thick piece. Use a cutter to cut scones and remove to a baking sheet. At this point, pop the baking sheet with the cut scones into the freezer to chill for 15-20 minutes.
Before baking, brush the tops of the scones with cream and sprinkle with sugar. Bake and enjoy!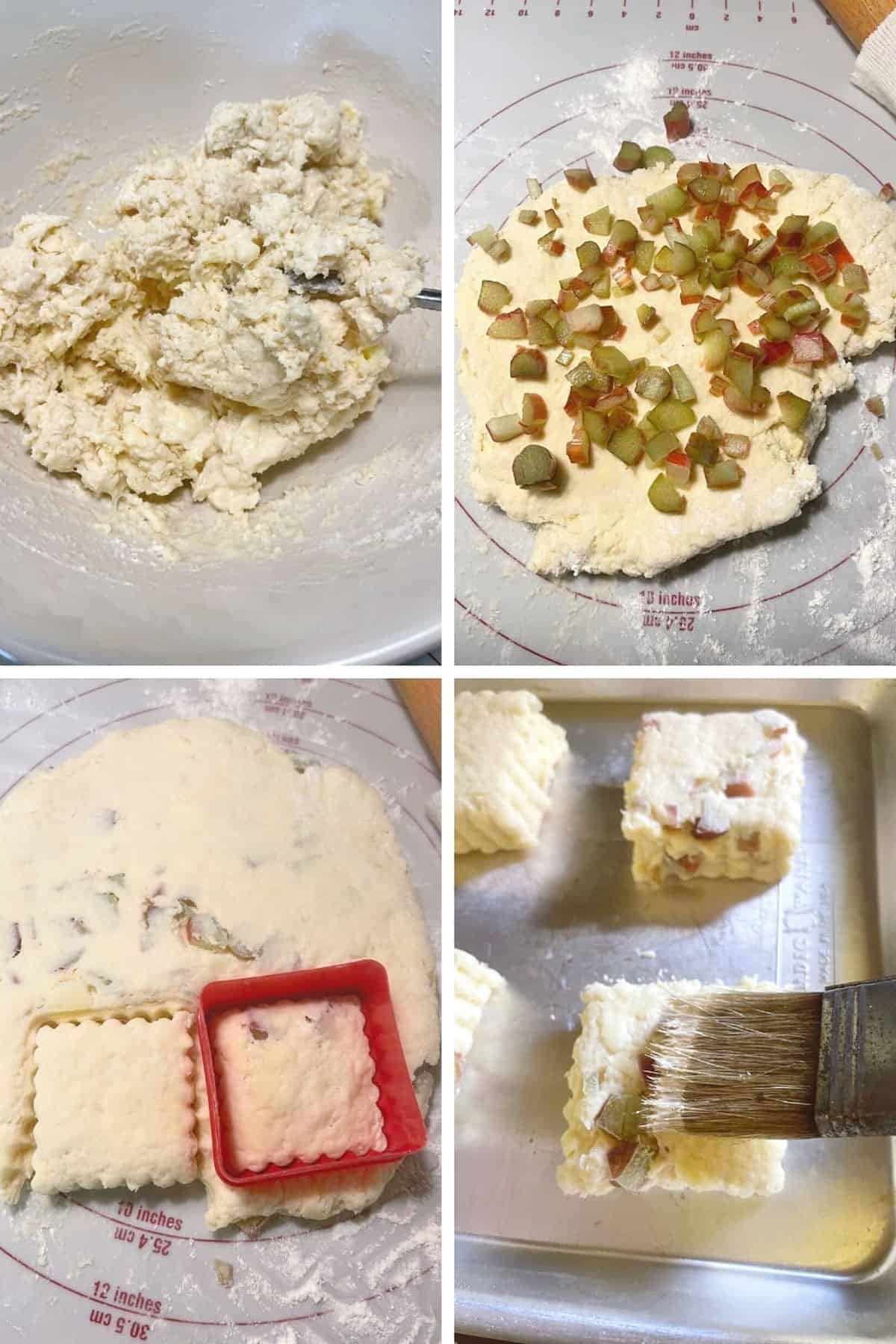 Baker's Tips
When adding the liquid to the flour/butter mixture, add only about 2/3 of it first, then add the last part only if needed. You want the dough to be very moist, but not super sticky. You will be able to add a touch more flour when you turn the dough out in order to be able to shape and fold it.
Be sure to dice the rhubarb into a fairly small dice, as it will be easier to shape, cut and bake the scones without large chunks of rhubarb in the dough.
You can add as much rhubarb as you like, but don't use too much. First, the scone may be too tart (as the rhubarb is essentially unsweetened) and secondly, the scone will be crumbly and difficult to cut with too much rhubarb in it.
Don't skip the trip to the freezer. The cold scones will keep their shape as they bake and won't spread out.
Making ahead, storing and freezing
Scones are always best enjoyed freshly baked, but they are still great anytime on the day they are baked.
Store baked and cooled scones in an airtight container for up to 3 days, though they do tend to soften a bit as they sit.
You can freeze both baked and unbaked scones up to 2 months. If freezing unbaked scones, bake from frozen, allowing a couple of extra minutes of bake time.
Tips for making great scones!
Always start with cold butter, cold cream and a cold egg.
Work quickly, so you don't warm and soften the butter.
Don't be afraid to adjust the liquid amount, adding less or more, as needed, until the dough is very moist, but not super sticky. Different flours will absorb differently, so the exact amount will vary from kitchen to kitchen.
It's ok to add a dusting of flour when shaping and cutting the scones, to prevent major sticking, but don't over-do it. Use just what you need.
Don't over-work the dough. This warms and softens the butter.
Fold the dough over several times before rolling and cutting. This creates layers and a better rise.
Chill the cut scones before baking. This re-chills the butter and ensures the scones retain their shape, layers and don't spread.
If adding fruit, keep the fruit as dry as possible, to avoid adding extra liquid to the dough.
When brushing the tops of scones with cream, be sure to brush carefully so that only the top is moistened with the cream. Don't use so much that it drips down the sides of the scones, as it can affect the rise by sealing the sides and not allowing steam to escape out the sides, which is what rises scones into lovely layers.
Recipe
More rhubarb recipes you might also enjoy!