You won't miss the meat with this Grilled Vegetable and Goat Cheese Pizza! With grilled portobello mushrooms, orange and yellow peppers and red onions and topped with a generous sprinkling of goat cheese.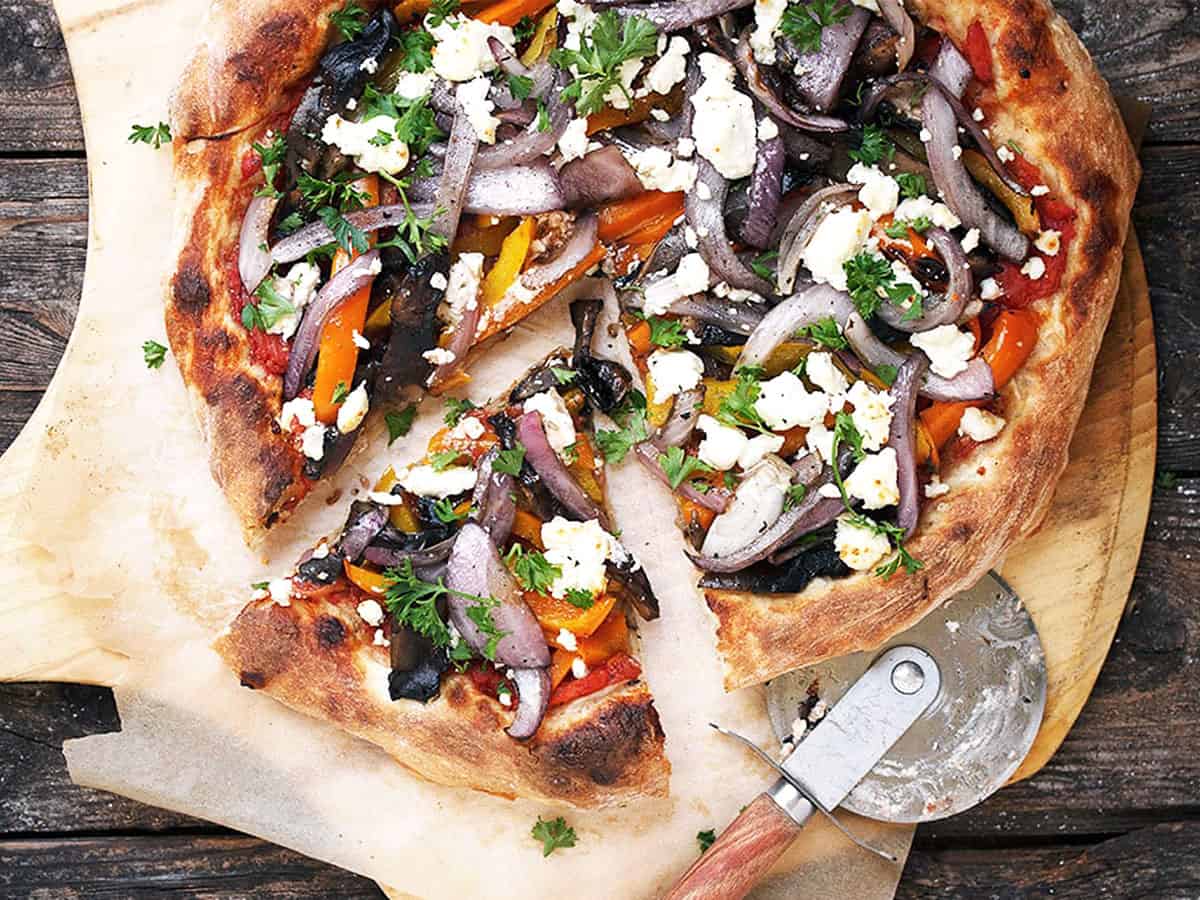 I mentioned last week that my daughter is home for the summer and that she came home with a raging sweet tooth. Well, she also came home pretty firmly settled into the vegetarian camp. Truth be told, she was never a meat lover as a child. She never really enjoyed the taste and texture of meat and I recall her spending a lot of time just moving it around the plate. So this change in eating habits is hardly surprising.
It has, however, made for some minor adjustments to this meat-eating household. While she's quite happy to eat around our meat dishes, eating the sides with maybe an extra serving of something, I've been trying to think up a few vegetarian dinners that we can all enjoy (and when I say "we", I guess I really mean my meat and potatoes husband ;) This grilled vegetable pizza is hearty enough for all of us.
Cook's Notes
My pizza started with Jim Lahey's no-knead pizza dough crust. It's my favourite. I won't include the recipe here, because it's all over the internet. I usually make a half-batch, which will make two 12-inch pizzas. A store-bought dough would be fine as well. While I am usually a thin-crust lover, I like to keep it a little thicker for this type of pizza, to keep all the toppings safely on top.
Rather than a pizza sauce, I used hand-crushed canned plum tomatoes, mixed with salt, pepper and a bit of oregano and simmer down to a thick sauce. If you're in a hurry, you don't even have to simmer it. Simply put some hand-crushed canned tomatoes right on to your pizza.
I go back and forth as to whether I like this pizza best with goat cheese or feta. They are both great and honestly, it's a toss up. Goat cheese is a tangy, creamy foil for the veggies, while feta is a nice, salty bite. You can't lose, either way.


Ooops … I was in such a hurry to get some photos so I could eat this pizza, that I forgot to put the balsamic glaze on top. It's a must for me, so if you have some, I highly recommend. A splash of regular balsamic on your grilled veggies before baking would also work well.
Get the Recipe:
Grilled Vegetable and Goat Cheese Pizza
This is a rather loose recipe. The quantities depend on how big or how many pizzas you are making. I like to grill a lot of veggies, as any leftovers are great for sandwiches or salads, so they never go to waste.
Ingredients
1

ball

Homemade or Store-bought pizza dough

2

bell peppers

,

mixed colours in nice

2

Portobello mushrooms

,

stem removed and thickly sliced

1

medium red onion

,

sliced in half lengthwise, then thickly sliced

1 1/2

cups

Pizza sauce or hand-crushed canned plum tomatoes

,

seasoned with salt, pepper and oregano and simmered down

Goat cheese or feta cheese

,

crumbled

Balsamic glaze

,

for drizzling

Chopped fresh parsley

,

for colour
Instructions
Pre-heat your BBQ (or grill pan) to medium-high. Place cut vegetables in perforated grilling basket and grill until soft and starting to brown. Remove from BBQ and set aside while you assemble your pizza. At the same time, hand-crush tomatoes from a can of good plum tomatoes. Season with salt, pepper and some oregano and simmer on the stove-top over medium-low heat until thickened. Set aside to cool a bit. (*Note: if you're in a hurry, you can skip the simmering and just place some hand-crushed tomatoes right on to your pizza dough).

Pre-heat oven to 500° F. with pizza stone on middle rack (if using). Press out your pizza dough and spoon on tomatoes or pizza sauce. Top with grilled vegetables and top with crumbled goat cheese. Bake in pre-heated oven for 10-15 minutes, until crust is golden and toppings are hot.

Top with a drizzle of balsamic glaze and sprinkle with chopped parsley, if desired.
Calories:
401
kcal
,
Carbohydrates:
79
g
,
Protein:
14
g
,
Fat:
4
g
,
Saturated Fat:
1
g
,
Sodium:
1593
mg
,
Potassium:
830
mg
,
Fiber:
6
g
,
Sugar:
19
g
,
Vitamin A:
3015
IU
,
Vitamin C:
112.6
mg
,
Calcium:
30
mg
,
Iron:
5.4
mg