A lovely cinnamon raisin twist bread, with veins of cinnamon and sugar running through it and dotted with raisins. Looks pretty and it's delicious, too. Makes great toast!
This is my favourite raisin bread recipe, that gets a swirl of cinnamon for extra goodness. If you've ever made a cinnamon swirl bread by just rolling it up jelly-roll style, you may have experienced the bread having gaps inside after it's cooked. Using the simple twist technique, this bread doesn't have any of those problems. You'll just get veins or cinnamon throughout and a dusting on top that gives the bread great crust.
Cook's Notes
You can halve all the ingredients if you want to make just one loaf.
This bread freezes beautifully!
This bread makes great toast, as well as eating out of hand. I also discovered the beauty that is using toasted raisin bread for a ham, swiss and mayo sandwich (try it! :) The recipe makes two large (9×5) loaves. If you don't have 9×5 loaf pans, you can divide the dough in 3 and bake in three 8×4 loaf pans instead.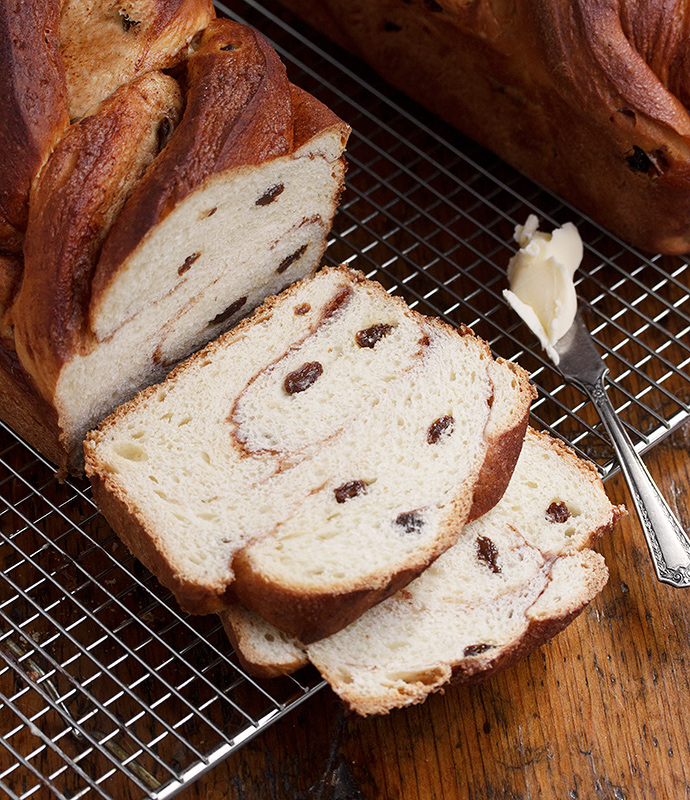 Get the Recipe:
Cinnamon Raisin Twist Bread
Raisin bread with a swirl of cinnamon. A simple twist technique makes for a pretty loaf. Makes 2 large (9x5) loaves, or make three 8x4 pans. This bread freezes well.
Ingredients
1 1/2

cups

(

366

ml

)

milk

1/2

cup

(

125

ml

)

warm water

2 1/4

tsp.

(

11.09

g

)

active dry yeast

3

large

(

3

large

)

eggs

1/2

cup

(

100

g

)

white sugar

1

tsp.

(

4.93

g

)

salt

1/2

cup

(

113.5

g

)

unsalted butter

,

softened

1

cup

(

145

g

)

raisins

,

plumped (*see instructions)

6

cups

(

750

g

)

all-purpose flour
Filling:
1/2

cup

(

100

g

)

white sugar

1 1/2

Tbsp.

(

22.18

g

)

cinnamon
Instructions
Warm the milk in a small sauce pan on the stove until it just starts to bubble, stirring occasionally. Remove from heat and let cool until lukewarm, about 120-125 degrees. Add raisins to a small bowl and cover with hot water. Let stand 10-15 minutes, then drain well. Set aside.

Dissolve yeast in warm milk and set aside until yeast is frothy, about 10 minutes. In a large bowl or the bowl of a stand mixer fitted with a kneading hook, add proofed yeast mixture. Then mix in 1/2 cup warm water, eggs, sugar, butter and salt. Add 4 cups of the flour and mix well. Continue to add flour gradually to make a smooth dough. As you near the point the dough is coming together, add raisins gradually, alternating with a bit of flour.

Knead the dough on a lightly floured surface for a few minutes until smooth, then place in a large, greased bowl and cover with greased plastic wrap. Allow to rise until doubled, about 90 minutes.

Grease two 9x5 (or three 8x4) loaf pans and set aside. Mix together the white sugar and cinnamon and set aside.

Divide dough into 2 equal pieces (or 3 if using 8x4 pans). Roll each piece out on a lightly floured surface into a large rectangle about 1/2 inch thick.

Sprinkle a generous, even layer of the cinnamon/sugar mixture evenly on top of the dough and press down with the palm of your hand.

Roll up jelly-roll style, starting to roll from the longer side. The roll should be about 3 inches in diameter. Using a sharp knife, cut the roll in half length-wise and set the two pieces side-by-side, perpendicular to you, with the cut side facing up. Pinch the two pieces together on the far end. Take the piece on the right side and lift it up and over the left side piece. Straighten up the two pieces and repeat, again taking the right side piece and placing it over the left side. Pinch together the ends closest to yourself. Push the ends toward the center to shorten the loaf to the approximate length of your loaf pans (9-inches or so). Using a spatula or bench scraper, carefully lift the loaf into the prepared pan. Sprinkle a little more cinnamon sugar in to the cuts if you like. Repeat with other piece of dough, for two loaves.

Cover loaves with greased plastic wrap and let rise in warm place, until loaves double and rise above the edge of the pan.

Preheat oven to 350° F. Remove plastic wrap and bake for 30 minutes. After 30 minutes, rotate pans front to back and covr loosely with aluminum foil if necessary, to avoid over-browning. Continue to bake for an additional 15-20 minutes (45-50 minutes total) or until loaves are lightly browned and sound hollow when tapped.

Remove from oven and let cool on rack in pans for 5 minutes. Use a knife to loosen the sides of the loaves and then remove from pan to cool completely on a cooling rack.

This bread freezes well.
Calories:
216
kcal
,
Carbohydrates:
38
g
,
Protein:
4
g
,
Fat:
4
g
,
Saturated Fat:
2
g
,
Cholesterol:
34
mg
,
Sodium:
98
mg
,
Potassium:
122
mg
,
Fiber:
1
g
,
Sugar:
9
g
,
Vitamin A:
185
IU
,
Vitamin C:
0.3
mg
,
Calcium:
39
mg
,
Iron:
1.8
mg