Classic bread stuffing recipe for your Thanksgiving or Christmas turkey, with an easy oven-baked stuffing option, as well.
With Canadian Thanksgiving in just a few days and being in full-on preparation mode, I thought I'd share the classic bread stuffing recipe I've used for many years. In addition, I also wanted to share something I was experimenting with this week!
Jump to:
I have always stuffed my turkey personally. There is no question in my mind that bread stuffing that is allowed to baste inside the bird for hours is the gold standard of bread stuffing. That said, there are a couple of things that aren't completely ideal with turkey stuffing.
First, unless your turkey is really, really big, it's sometimes difficult to cook as much stuffing inside the bird as you need to adequately feed the number of people who may be gathering around the Thanksgiving table.
Secondly, there's those lovely crispy bits of stuffing deliciousness that are sticking out of the turkey when you take it out of the oven and wishing there was more of that.
And finally, even if you have enough stuffing for the dinner, there is seldom any stuffing left to enjoy with the turkey leftovers.
So I started wondering if I could take my classic bread stuffing recipe and adapt it to an oven-baked version, so I could make more and maybe enjoy more of those crispy bits.
So I cooked up a couple of batches to get it just right and I have to say, I'm pretty pleased with the results. Is it as good as the stuffing cooked in the turkey? Nope. Not going to lie :) But I didn't expect it would be, either. I just wanted to know if I could make some stuffing in the oven that would be still lovely and crispy and I think I have.
I'm planning to do both, this year :)
Top Reader Tip!
"One of the things I have learned ... is to buy extra turkey wings and place them on top of the filled baking dish, cover with foil for the first 30 minutes, then remove the foil and finish baking. This method provides moisture, turkey flavor from the rendered wings, but also allows the edges to become crispy – so you tend to get similar to 'turkey stuffed' stuffing and crispy bits. Delicious!!!" - Reader Barbara
Ingredients Notes
Butter: You can use salted or unsalted butter here, but if you are doing the oven-baked version, just be conscious of the added salt to the dish, as the stock will add additional saltiness as well. Low-sodium broth helps.
Fennel: I don't love fennel, so I use all celery in my stuffing, but if you are a fennel lover, go ahead and use half celery and half fennel.
Bread: While technically you can use any bread here, I prefer to stick with a basic white bread. I look for the bakery, unsliced white loaves, as they are easier to tear up. A French loaf works nicely as well. If you can get either off the "day old" rack, all the better, as it won't be too moist.
Herbs: I always use dried herbs for my dressing, with the exception of the fresh parsley. If making the oven-baked version, dried parsley is probably a better choice, as it is less prone to burn in the oven.
Stock or Broth (for Oven Version): You can use turkey or chicken broth here. I had no luck sourcing turkey broth, so I used chicken here, though I think turkey broth or stock is the best option here, if you can find or make it. As mentioned above, starting with a low-sodium stock or broth is a great way to control the saltiness of the finished dressing.
Cook's Notes
The one thing I always do when it comes to bread stuffing is to go out and buy fresh, dried herbs, for the best flavour. Here in Canada, Bulk Barn is my destination, so I can just buy in the quantities I need. It makes such a difference!
Dry bread makes the best stuffing as fresh bread will go a little mushy. I buy either whole, unsliced white bread or the softer-crusted French bread for my stuffing. Simply tear into pieces and spread on a large baking sheet. Let sit on the counter for several hours to dry out before making your stuffing.
I always check the "day old" bread rack at the grocery store for my stuffing bread first. It's already a little dryer than the fresh-baked bread (and half price!). If you can't find any old bread and you don't have the time to let your bread dry on the counter, you can quickly dry any bread in the oven, Simply spread onto a baking sheet and pop into a 300F oven for 5-10 minutes.
This stuffing recipe is suitable for stuffing a 15-16 lb. turkey. If you have a giant turkey, you'll probably want to scale the recipe up accordingly.
Top Tip! Oven baked stuffing also offers the opportunity to make some stuffing for vegetarian guests. Simply swap out the chicken or turkey broth for vegetable broth, for delicious, vegetarian bread stuffing!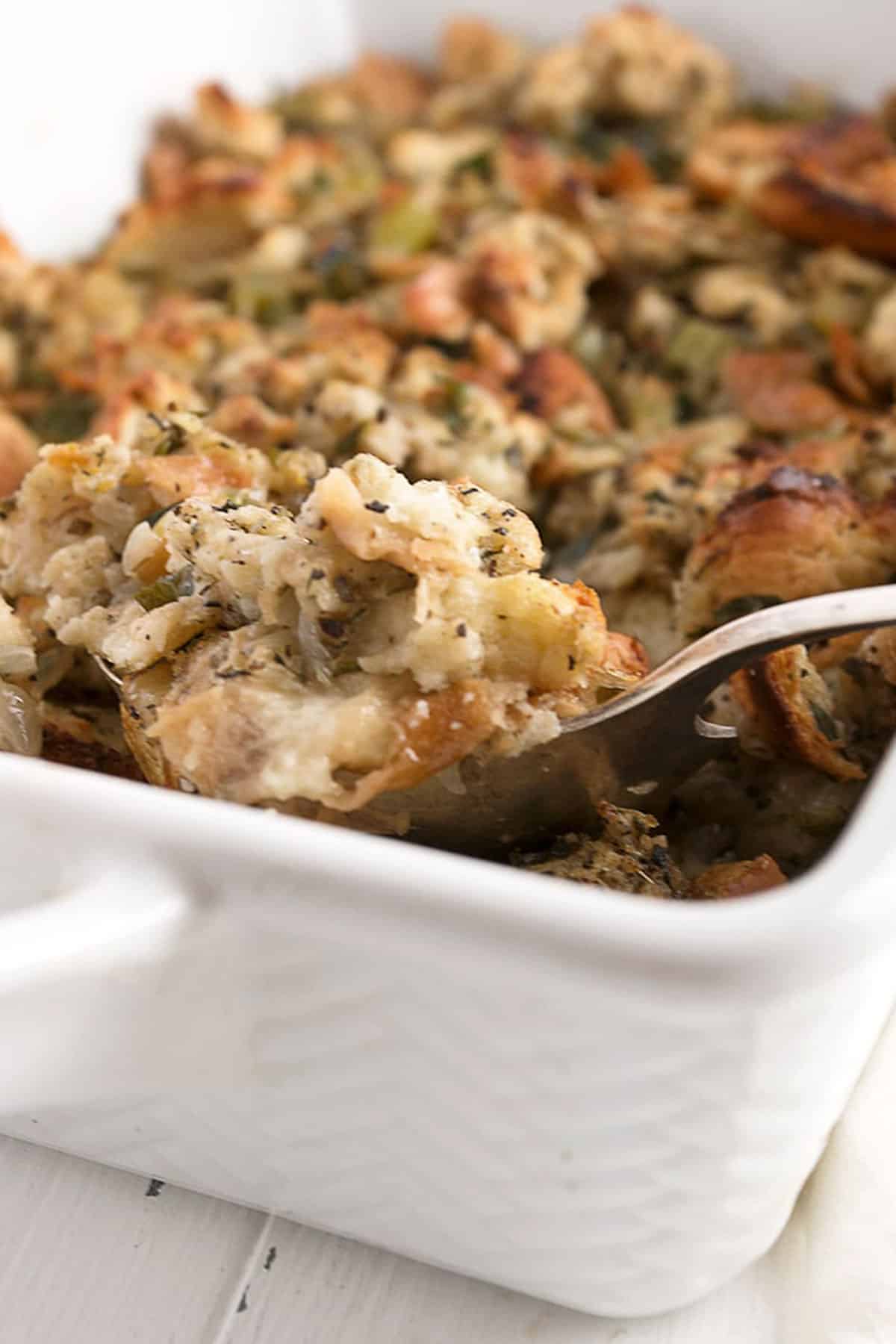 Food Safety for Stuffing
The warm, moist uncooked stuffing mixture is an ideal breeding ground for bacteria, so once mixed up, it must be cooked immediately, either inside your turkey or by immediately baking. *You can make the butter/onion/celery mixture ahead and refrigerate apart from the bread, then mix with the bread before stuffing. The butter mixture will need to be re-heated slightly though, as the butter will solidify in the fridge.
If stuffing your turkey, be sure to cook until the internal temperature of the stuffing mixture reaches 165F and IMMEDIATELY remove the stuffing from the turkey once the turkey is out of the oven. Refrigerate if not eating right away.
For oven-baked stuffing, the same internal temperature should be reached (165F). The stuffing should go right into the oven after mixing and be fully baked. You can do this a day ahead, if you like. Once baked, cover with aluminum foil and refrigerate. Re-heat, covered, in a 350F oven for 15-20 minutes, or until warmed through.
More Classic Thanksgiving Recipes
Recipe