A classic roasted butternut squash soup, flavoured with a little apple and maple syrup. Vegetarian and dairy-free options, as well. A perfect Fall soup!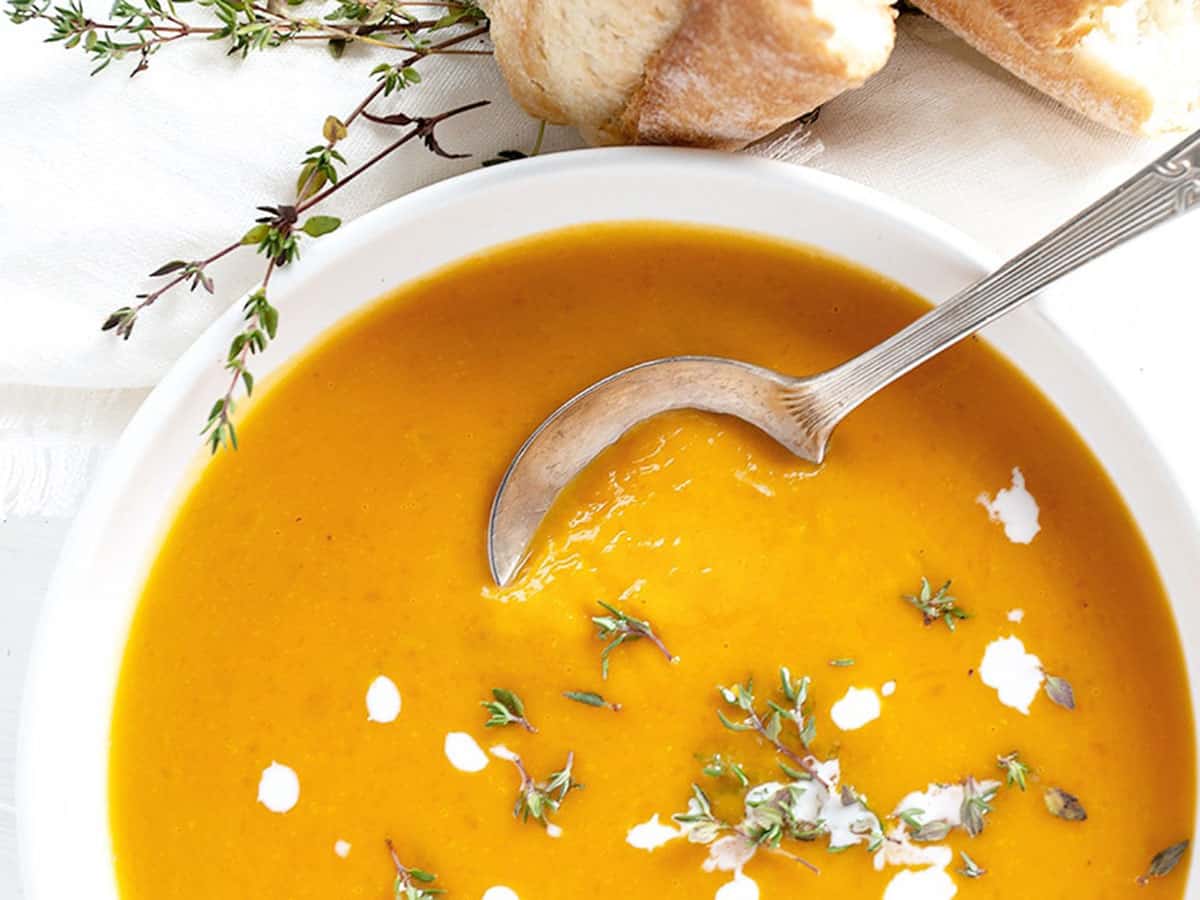 I know there are dozens of versions of roasted butternut squash soup out there, but this is the one that I make and have made for years, so I though I'd share it. It's simply perfect and if you're craving a simple and satisfying squash soup this Fall, I promise you won't regret making this one.
This soup starts with roasted squash. Roasting the squash really brings a wonderful flavour to this soup. It also means you don't have to peel or cut the butternut squash into chunks, and if you've ever done that, you know that's a bonus! Added to this roasted squash soup is a bit of onion, apple and thyme and it is finished with bit of maple syrup and heavy cream. This soup is truly Fall in a bowl and a perfect way to celebrate the season!
Jump to:
Ingredient Notes
Here are the simple ingredients you will need for this soup ...
Butternut squash - you'll need about 2 medium whole butternut squash to yield the 6 cups of roasted squash that you'll need for the soup. Look for two equal-sized squash, as they will roast more evenly.
Chicken Broth - use your favourite chicken broth. Alternately, substitute a vegetable broth for a vegetarian soup.
Apple - any apple will do. There is just a small amount in the soup. It can be omitted if you don't happen to have an apple on hand, but it does offer a subtle acidic note to the soup that is very lovely. A bit of pear might work as well.
Thyme - it's hard to beat fresh thyme in this soup, so it's well worth it if you have some. If not, use a lesser amount of dried, thyme leaves.
Maple Syrup - again, it's hard to beat the flavour of the real thing, so real maple syrup is recommended here. In a pinch, a splash of pancake syrup will provide the flavour, at least. Use less to start, to avoid an overly-sweet soup.
Cream - heavy whipping cream will provide the best results, as it will produce a lovely thick soup, without being overly rich. You can use a lighter cream, though it will produce a less thick soup. For a dairy-free alternative, substitute coconut milk (stirred) or omit entirely.
Other Ingredients You Will Need - Butter (or substitute cooking oil), Onion, Salt and Pepper.
Cook's Notes
The amounts for the maple syrup and the cream are flexible. Start with the lesser amount, taste and add a bit more if you feel it needs it. You should be able to detect a very subtle maple flavour.
Seasoning is the key to a great soup! Be sure to taste the soup at the end of cooking and add salt, as needed and some freshly ground pepper. If you feel "it needs a little something", it's probably more salt :)
When it came time to garnish my soup for photos, I kept it simple with just a few drops of heavy cream, that I ran a skewer through and a few fresh thyme leaves. For a heartier version, garnish with some simple homemade croutons (or maybe bacon-fat crisped croutons!).
FAQ
Can I make this soup ahead? Yes! I'll often roast the butternut squash off ahead, maybe the night before or the morning of the day I'll be making the soup. Simply roast, let cool a bit, then scoop the roasted flesh out in to a bowl and refrigerate. You can also make this entire soup ahead and re-heat, which is perfect for Thanksgiving. If the soup thickens while sitting in the fridge, simply thin with a little more chicken stock, if needed, but re-heat first, then add stock as necessary (it will thin a bit as it heats).
Can I make this soup vegetarian? Yes! Simply swap out vegetable broth for the chicken broth.
Can I make this soup dairy-free/vegan? Yes! Simply use coconut milk instead of the cream (or omit the cream altogether).
Can I freeze this soup? Yes! This soup freezes well. As with making ahead, if soup is too thick after re-heating, simply add a splash of broth to thin it.
Can I change up the flavours? Yes! This is my favourite version of this soup, but when I'm looking to change it up a bit, I'll omit the maple syrup and bring on the spice. Add a bit of curry powder or smoked paprika instead. Or add a little heat with some cayenne pepper. So many ways to make this soup your own :)
Recipe
More Butternut Squash Soup Recipes You Might Like ...
Save or Share this Recipe