You can make this quick, easy and delicious cream of mushroom soup in just 20 minutes! Perfect for a comforting homemade mushroom soup any time.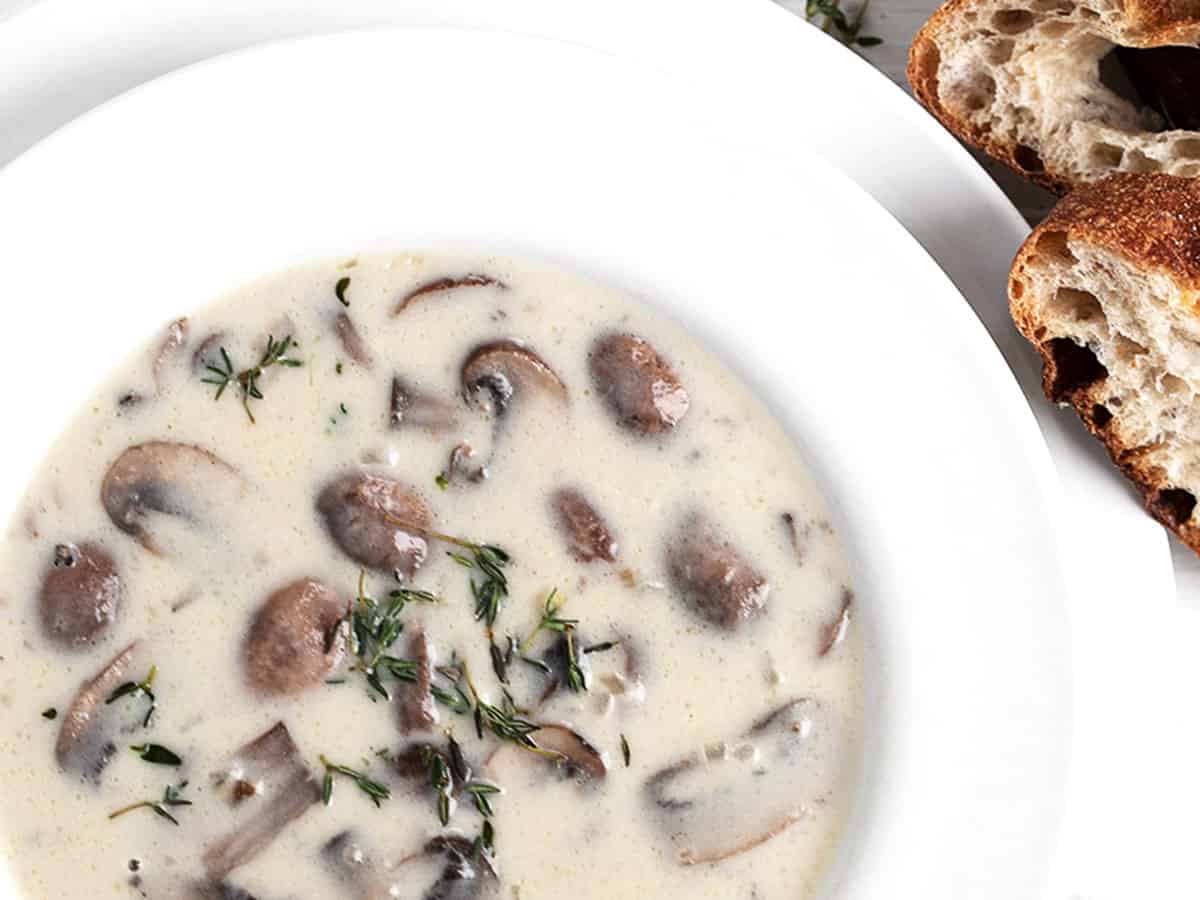 I have been sharing some classic recipes in the past few weeks that, while not glamorous, are just solid recipes for every-day dishes. They are simply perfect. This classic cream of mushroom soup recipe is one of those.
Beyond being incredibly delicious, this soup is ready to eat in just about 20 minutes. Just let that sink in for a few seconds ... delicious ... soup ... 20 minutes. You'll never open a can of mushroom soup again!
The real beauty of this soup is that you can walk in to the kitchen, throw together just a few ingredients and then walk out with a bowl of delicious and comforting soup in minutes. There are not a lot of recipes you can say that about!
Jump to:
Ingredient Notes
Mushrooms - I will often use cremini mushrooms for this soup, though regular white button mushroom as just fine, too. I buy the whole mushrooms and slice them myself, as I like the extra chunkiness. Pre-sliced mushrooms are just fine here, too.
Chicken Broth - you can swap in vegetable broth if you'd like to make this soup vegetarian.
Cream - If I have it, I'll always use heavy, whipping cream (35% butterfat) in this soup. It doesn't need a lot and it doesn't put this soup over the top in the richness department. It also makes for a thicker/creamier soup. If you don't have or want to use heavy cream, I'd suggest mixing whatever lighter cream or milk you use with a couple of teaspoons of cornstarch before adding to the soup. It will thicken up the lighter cream. For a dairy-free option, try coconut milk (stirred).
Flour - This recipe uses all purpose flour as a thickener. If you'd like to make it gluten free, you can use a gluten-free flour in place of the all purpose flour, or skip the flour altogether and thicken the soup a bit at the end of cooking by mixing up a slurry or 2 Tbsp cornstarch with 2 Tbsp water and adding to the soup a bit at a time, until it thickens.
Cook's Notes
This mushroom soup is not super thick, at least not like the gelatinous canned version. It's pleasantly thick. If you like, you can puree a bit and add it back in to the soup to thicken it more, as well. The thyme is the perfect spice for mushroom soup. It's subtle, but present and complements the mushrooms without overpowering them. I often just use plain, old pre-sliced button or mini bella mushrooms, but a combination is nice, as well. Whatever you like or you have around is fine.
This recipe makes 2 large bowls or 3 smaller ones. I keep the recipe in these increments since it equates to one standard "tray" of mushrooms and the better part of one carton of chicken broth. I'm also only cooking for 2 or 3 most often. That said, you can double or triple the as needed, to feed more. Use the handy "2X" or "3X" buttons above the recipe ingredients below, to double or triple the ingredients.
Be sure to taste your soup before serving and adjust seasoning as necessary. While the chicken stock will have some salt, you will probably want to add a bit more. And some freshly ground pepper is always nice! If you taste it and it seems like it needs something, it's probably salt!
This soup will store well in the fridge for about 2-3 days. While you can freeze this soup, you may notice a small texture change after thawing and re-heating, due to the cream.
Recipe
More Mushroom Soup Recipes from Seasons and Suppers
Save or Share this Recipe