These lovely lemon pudding cakes magically bake up with pudding at the bottom and a light as air cake on top. Make in individual servings or as one large pudding.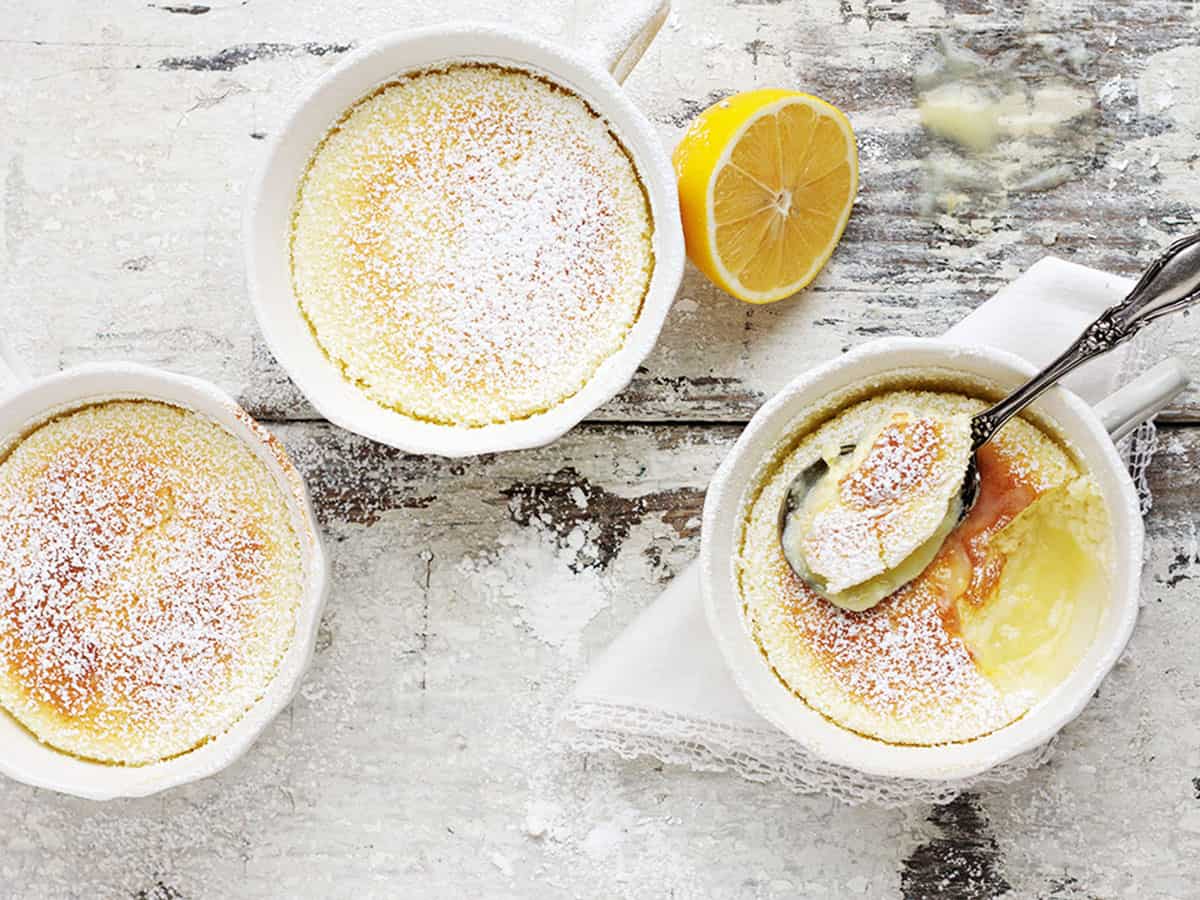 I am a sucker for anything lemon, but warm lemon pudding cakes might just be my favourite way to enjoy lemon. Preparing these pudding cakes involves a couple of steps.
First you make the lemony pudding base, using egg yolks, lemon juice, lemon zest, sugar and a bit of flour, for thickening. Then separately, you whip up the egg whites with a bit of sugar. Both of these parts are then gently folded together. As it bakes, the creamy lemon pudding cooks on the bottom while the egg whites float to the top and cook up into a soft meringue-like "cake".
I should point out that it really isn't cake, as we typically think of it. It's very light. Souffle-like. I've offered some tips on both these things below in the Cook's Notes!
If you're looking for a dessert that is light and not too sweet, this is a perfect choice. It would be great for finishing a special meal as the flavour is fresh, but it's light enough to be enjoyed on top of a big meal. This pudding kept well in the fridge, without suffering much at all, if you need to make it ahead a bit. Just cover with plastic wrap once cooled, refrigerate and re-warm slightly before serving.
Note: The cups that I baked my puddings in are marked as oven-safe. I wouldn't suggest using cups that don't clearly indicate they will be safe in the oven, as bad things could happen to them and I'd feel terrible about that.
Cook's Notes
You can make these lemon pudding cakes with regular lemons or Meyer lemons, if they happen to be in season Use slightly more lemon juice if using Meyer lemons.
Separate your eggs carefully. Even the smallest amount of yolks in your whites will cause your egg whites not to whip up well.
If using the same bowl for both the cake and egg whites, be sure to wash well in between. Egg whites will not whip up well if there is any grease or oil in the bowl.
Recipes always just say "whip the egg whites and fold in", with the assumption that it's a breeze and everyone knows exactly how to do that. Since it took me some time to really understand and master the process, I thought a little instruction might be handy. So here's a quick primer ...
How to Whip Egg Whites
Always start with a squeaky clean and completely dry bowl. Any bit of water or grease in the bowl will interfere with the egg whites whipping well.
Starting with fresh, room temperature egg whites is best.
If using a stand mixer, use the whisk attachment. Start mixing the egg whites on LOW speed until they are very foamy (like a bubble bath!). Increase the mixer speed to MEDIUM speed and continue mixing until soft peaks form. To test for soft peaks, you would stop the mixer. Dip the whisk or beaters in the egg whites then lift out and turn upside down with the peak at the top. Soft peaks will form, but then start to droop. The soft peak stage is typically when sugar is added to the egg whites. Add sugar slowly, with the mixer on low. For stiff peaks, continue mixing on medium speed a little longer, testing regularly. When you lift the beater and turn upside down, the peak will form and stay upright, without drooping. You know you have stiff peaks if you could hold the bowl of whipped egg whites over your head and stay clean :)
How to Fold in Egg Whites
Once you have your perfect egg whites, be sure you don't stir out all the wonderful lightness you just whipped in. "Folding" involves using a rubber spatula to carefully incorporate the egg whites with the batter. Since the batter is much heavier than the whites, you need to do this slowly and lightly.
Once you've spooned the whites over the batter, use a rubber spatula using the following technique: Using the edge of the spatula like a blade, slice through the mixture from 12 o'clock position to 6 o'clock position. When you get to 6 o'clock, twist the spatula blade clockwise, then use it to lift some of the batter at the bottom over the egg whites. Rotate the bowl slightly and repeat this motion. Keep doing this until the whites are combined with the batter.
More Lemon Recipes from Seasons and Suppers