Enjoy this classic and authentic pork schnitzel, which is wonderful German comfort food! I'm sharing all my tips and tricks for making authentic pork schnitzel perfectly at home.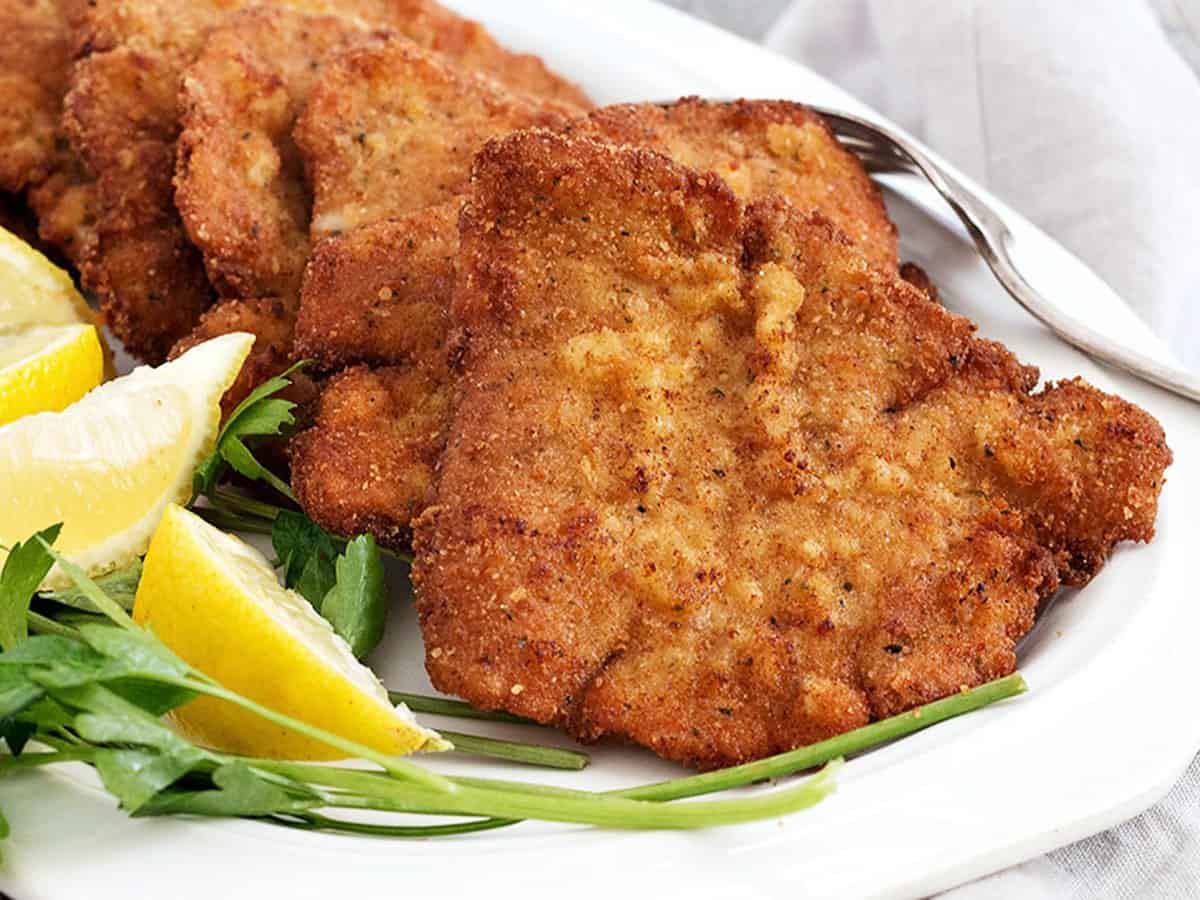 Schnitzel and I go way back! You see, I went to university in the Kitchener-Waterloo area of southwestern Ontario. And Kitchener-Waterloo happens to be home to the largest Oktoberfest celebration outside of Germany. So needless to say, some time was spent knee deep in the world of beer, Oktoberfest sausage and schnitzel during my time there.
I picked up a few tips for schnitzel making back then, that have served me well over the years of making schnitzel at home. And I'm going to share all the little tips and tricks with you, so you can enjoy perfect, authentic the pork schnitzel experience. So don't be put off by my wordiness. Schnitzel is easy, I just take my schnitzel seriously :)
Jump to:
What makes this pork schnitzel recipe authentic?
I've seen a lot of "schnitzel" recipes online and while I'm sure they are delicious, they definitely aren't authentic!
First, schnitzel is never made with panko. It may be the breading of choice these days, but not when it comes to schnitzel. Dried breadcrumbs are the only breading that schnitzel should be wearing.
Secondly, schnitzel that is more than 1/4-inch thick is not schnitzel. It's a breaded pork chop. Again, delicious perhaps, but not schnitzel.
Finally, schnitzel is perfect in its simplicity. Schnitzel breading should never contain garlic or garlic powder or be cooked in butter or olive oil. Simple and minimal seasoning and classic frying in a good frying oil is where it's at for schnitzel.
Step-by-Step Recipe Video
Schnitzel FAQ
What type of pork should you use for pork schnitzel?
While pork schnitzel can be made from a variety of cuts, the easiest for home use are centre-cut boneless pork chops. They usually have a thin strip of fat along one side, but no fat marble in the meat. To prepare the pork, trim any visible fat away, pound very thin and using a sharp knife, cut a couple of 1/4-inch slits evenly along that edge. This will help keep the schnitzel flat as it cooks (for even cooking), as this area may shrink up as it heats and curl, otherwise.
What type of breadcrumbs should you use for Schnitzel?
I always use store-bought dried breadcrumbs for schnitzel. While I use panko for other breading, I never use it for schnitzel, because classic, authentic schnitzel is made with breadcrumbs. Fresh breadcrumbs will not work at all and I feel like homemade dried breadcrumbs are likely to be both not dry enough or not uniformly fine enough for great schnitzel.
Store-bought, plain dried breadcrumbs are what I generally use, and I season them myself with seasoning salt. Seasoned breadcrumbs will also work. As they are already seasoned, you can skip any additional seasoning. Avoid Italian seasoned breadcrumbs however, as they are seasoned with special herbs and spices best suited for Italian dishes and not schnitzel.
How thick should the pork for schnitzel be?
Not thick at all. Schnitzel needs to be thin. Really thin. So you will need to pound even thin pork chops thinner. Hopefully, you have a meat pounder (affiliate link) to do the job, if not, grab your cast-iron skillet and use it to pound the pork. Do this on a cutting board. Keep pounding until it is as thin as it can possibly be without tearing or falling apart. I can't stress the thin thing enough. When you cut into schnitzel, the pork shouldn't be obviously visible. If it is, it's a breaded pork chop, not schnitzel! The thickness of the pork should be no more than the combined thickness of the top and bottom cooked breading. That's a schnitzel :)
How to keep the breading on the Schnitzel?
This is the single best tip for the perfect schnitzel right here!
Top Tip! The single best tip for cooking schnitzel at home is to allow the breaded pork to rest in the fridge for one hour before frying. Simply bread the pork, then lay on a cooling rack in a single layer. Place into the fridge, uncovered, for one hour before cooking. This step dries the breading and ensures it will stick perfectly to the meat during the frying process. As long as you fry in hot oil, it will come out perfectly crispy with all of its breading intact!
How to get schnitzel perfectly crispy
The absolutely best way to perfect schnitzel is to shallow-fry them in neutral-tasting cooking oil (Vegetable, Canola, Peanut, Sunflower). So you don't need to use a lot of oil, but you want to use enough oil so that your schnitzel will "float" in the oil as it cooks and not touch the bottom of the pan. I usually aim for about 1/2-inch-ish of oil to start and I will top it up as I go, if necessary.
Heat oil over medium-high heat in a large skillet or frying pan. Test the oil by dropping a tiny speck of the schnitzel breading into the oil. If it doesn't almost immediately sizzle and then rise to the top of the oil, your oil isn't hot enough yet. When oil is ready, add 2 or 3 pieces of breaded pork. Do not crowd the pan and do not overlap them. They need to lay flat with a nice bit of space between. You will probably need to cook in batches.
Using tongs, check the browning of the underside regularly and lower/raise the temperature if it seems to be browning too quickly or slowly. It should take about 3 minutes to brown the underside.
Cook until the underside is very golden brown, then flip and cook the other side until golden. Remove to a cooling rack with a sheet of paper towel underneath it to catch any drips. (If making a lot of batches, you can also place on a baking sheet and keep warm in a 200F oven)
Ingredient Notes
Breadcrumbs: Again, as noted above, I find store-bought, dried plain breadcrumbs to be the best option and I season them myself. Alternately, start with seasoned dried breadcrumbs and skip any additional seasoning. You can certainly make your own, but they will need to be very dry and very uniformly fine for the best results. Steer clear of the typical Italian seasonings and stick with the basic seasonings.
Eggs: Any egg size is fine. You will need to thin your egg wash with a bit of water, milk or even cream. Any of those options is fine.
Flour: Use unbleached all purpose flour if you have it on hand, otherwise regular, bleached all purpose flour is fine.
Oil: As noted above, use a neutral-tasting cooking oil. Vegetable, canola, peanut or sunflower oil are all good choices.
Seasoning: If starting with plain dried breadcrumbs, you'll need some salt, pepper and seasoning salt for seasoning the flour and breadcrumbs.
Cook's Notes
If you're cooking many batches of schnitzel, you may need to top up the oil level after a few batches. Allow it to re-heat thoroughly again before proceeding. If cooking a lot of schnitzel, it's probably worthwhile to replace all the oil and reheat it part way through, as it will start to get "dirty" and affect the finished quality of the schnitzel.
Don't fear the shallow frying, but do shallow fry safely. Use a deep, heavy-bottom pan/skillet. Keep a lid (or a baking sheet large enough to cover the entire top of the pan) handy. In the very unlikely event that the oil ignites, you can immediately extinguish it by placing the lid on top. Keep kids out of the kitchen when hot oil is happening on the stove.
Don't be tempted to deep fry schnitzel. Schnitzel should not be that crispy and it's way more work than is necessary.
What to serve with (and on top of) Classic Pork Schnitzel?
Traditionally, schnitzel is served with potatoes - either potato salad, fried potatoes or sometimes boiled potatoes. I think mashed potatoes are a fine side, as well. Add a salad or a veg to round it out, if you like.
As for what to put on your schnitzel, there are a number of options. A simple squeeze of lemon from lemon wedges is the perfect foil for the fried schnitzel. A mushroom gravy makes it a Hunter's Schnitzel. A local restaurant with an Austrian chef who makes the most fabulous schnitzel serves his with Lingonberry sauce and it's absolutely delicious. You may recognize that name from the Swedish jam that you can buy at Ikea. The Ikea jam might do nicely with schnitzel or I think a cranberry sauce would be a similar flavour profile and easier to make at home.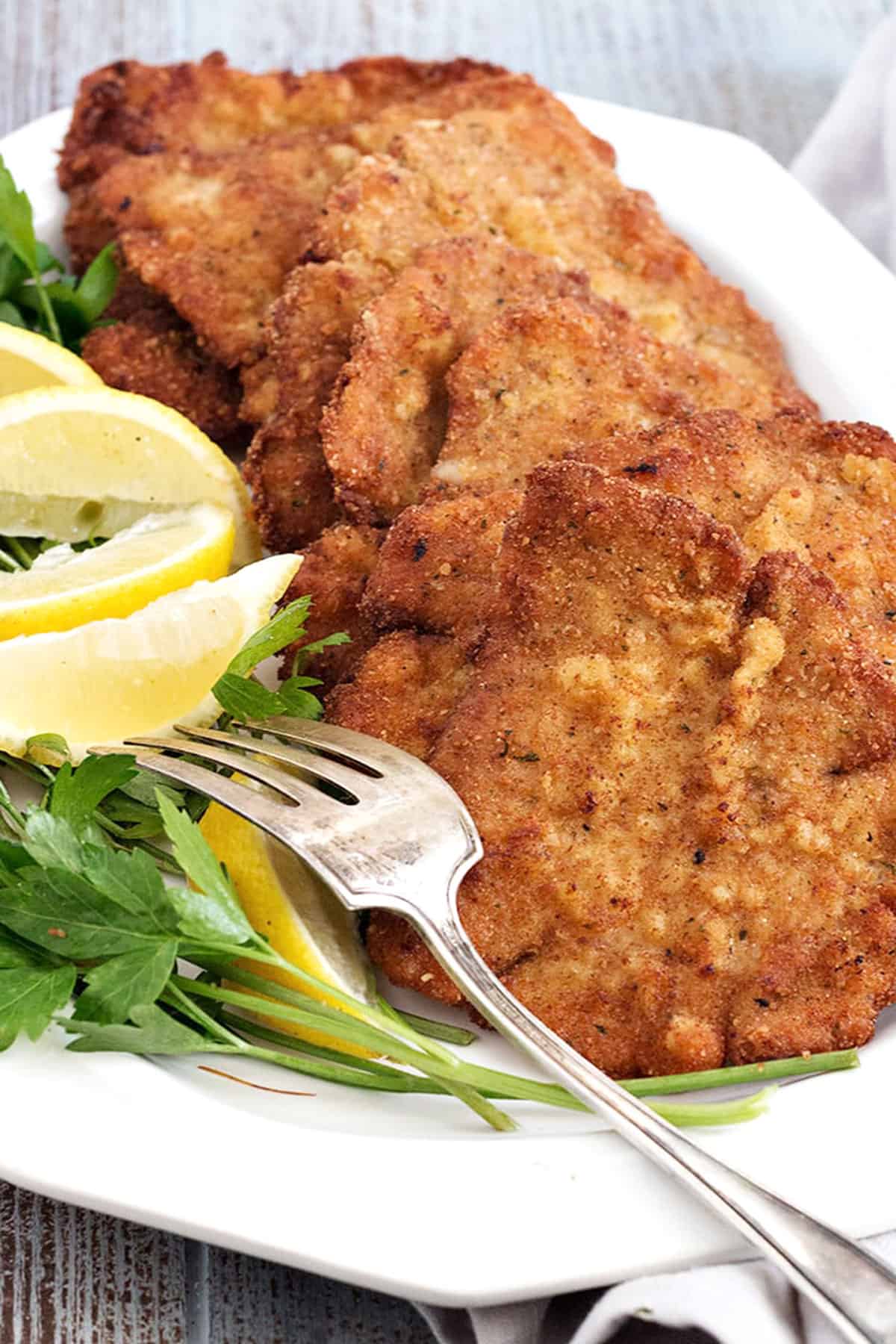 Recipe
Classic Pork Schnitzel
Classic Pork Schnitzel is perfect comfort food and so easy to make at home!
Ingredients
6

boneless, centre-cut pork loin chops
Breading:
1/2

cup

all-purpose flour

,

unbleached recommended

Salt and freshly ground pepper

,

just use a bit if using seasoned bread crumbs

2

eggs

2

Tbsp

water

2

cups

dried plain or seasoned breadcrumbs

,

plus more as needed.

1/2 - 1

tsp

seasoning salt

,

omit if using seasoned bread crumbs

Vegetable, canola, peanut or sunflower oil

,

for shallow frying.

Lemon slices

,

for serving
Instructions
Trim the pork of any fat along the edge and using the tip of a knife, cut about three 1/4-inch slits along the edge where you trimmed the fat. Pound each piece of pork with a meat pounder/hammer until it is VERY thin - almost, but not quite to the point that it will tear and fall apart. Using the tip of a sharp knife, cut small nicks every 2-inches around the outside edge. Set aside.

Set up a breading station with 3 shallow plates (large enough to lay a piece of your pork flat). Add the flour to the first plate, spreading it into an even layer. Season with some salt and freshly ground pepper. On the second plate, use a fork to whisk together the eggs and water. Scatter the breadcrumbs on the 3rd plate and add the seasoning salt. Stir to mix in well. To bread your pork: first press the pork into the flour, flouring both sides and shaking off any excess. Next lay the floured pork into the egg mixture and swirl it around a bit. Flip over and do the same on the other side. Lift and let excess egg drip off back onto the plate. Finally, lay the pork onto the plate with the breadcrumbs. Use your fingers or a spoon to move some of the breadcrumbs onto the top of the pork. Press down gently so that the underside gets nicely coated in crumbs, then flip over and press down again. Make sure you have an even layer of crumbs covering the entire piece of pork on both sides. If there are bare spots, sprinkle breadcrumbs over that area and press down onto the meat with the palm of your hand.

Place the breaded pork onto a cooking rack set on top of a baking sheet. Repeat with each piece of pork, placing onto the cooling rack without overlapping at all. Place the baking sheet/cooling rack with the breaded pork into the fridge, UNCOVERED, for one hour.

When it has been almost an hour, start heating your oil. Add oil to a heavy-bottomed, high-sided skillet to about 1/4-inch (or about 1/2 the height of your breaded pork). Heat oil over medium-high heat until hot. Test by taking a few crumbs from the pork and dropping them into the oil. They should immediately sizzle and quickly float to the top.

Add 1-2 pieces of pork to the hot oil. Don't crowd the pan or overlap them. The schnitzel should lay flat and have a nice bit of space between. Allow to cook for about a minute, then use tongs to regularly check the progress of browning on the underside. You may need to adjust your heat down if they seem to be browning too quickly or up a notch if they aren't browning quickly enough. It should take about 3 minutes per side with the right temperature of oil and the proper thinness of the schnitzel. Once the underside is a deep golden brown, flip and brown the other side. Remove to a cooling rack with a piece of paper towel under it to catch drops (not directly under the meat, under the cooling rack). Repeat with remaining pork pieces. *If making lots and you want to keep them warm, place on a baking sheet in a 200F oven to keep warm and crispy.

Serve with lemon slices or try lingonberry jam (my favourite!).
Notes
Be sure to read the "Ingredient and Cook's Notes" (above the recipe card!), where I share more detailed

 

tips, variations and substitution suggestions for this recipe!
Nutrition
Sodium:
621.35
mg
|
Calcium:
87.71
mg
|
Vitamin C:
1.08
mg
|
Vitamin A:
156.4
IU
|
Sugar:
2.38
g
|
Fiber:
2.24
g
|
Potassium:
642.37
mg
|
Cholesterol:
143.4
mg
|
Calories:
382.27
kcal
|
Saturated Fat:
2.65
g
|
Fat:
8.27
g
|
Protein:
38.6
g
|
Carbohydrates:
35.45
g
|
Iron:
3.39
mg
Nutritional information provided for general guidance only and should not be relied upon to make personal health decisions.
Never miss a new recipe!
SIGN UP for email updates!
Save or share this recipe